On this page:
---
Travelling gourmets won't be able to resist the many delights served up along the Vallée de la Gastronomie–France®, which runs from Dijon down to the Mediterranean coast.
France is the undisputed mecca for foodies around the globe, so why not indulge your senses on a gourmet trip through the heart of the Vallée de la Gastronomie–France® on your next visit?
The route has been designed to offer visitors a chance to meet local artisans and producers, taste authentic produce, enjoy unique experiences and learn more about the food and drink of France. Between Dijon and Marseille, the route crosses the rich terroirs of Burgundy, Beaujolais, Lyon and Provence. Explore this mosaic of landscapes and traditions with a picnic in the lavender fields, a visit to an oil mill, a vineyard tour or a truffle tasting. There are hundreds of remarkable experiences guaranteed to please the most insatiable of gastronomes.
Indulge your senses: exploring wine and culinary delights
Wine-lovers will want to visit cellars and learn about the 32 Grands Crus of Burgundy spread over the Côtes de Nuits and the Côtes de Beaune, explore the vineyards of the Côtes du Rhône and taste the famous rosés of Provence. But that's not all there is to tickle your taste buds. Along the route, taste sensations include: Dijon mustard, poultry from Bresse, nougat from Montélimar, calissons from Aix, rice from the Camargue.
And in each place, you can meet the producers and share their passion for their work. For instance, in the Drôme, you can learn blending tips to create your own cuvée in Suze-la-Rousse, or in Valence glean recipe secrets from Anne-Sophie Pic, who currently holds ten Michelin stars worldwide.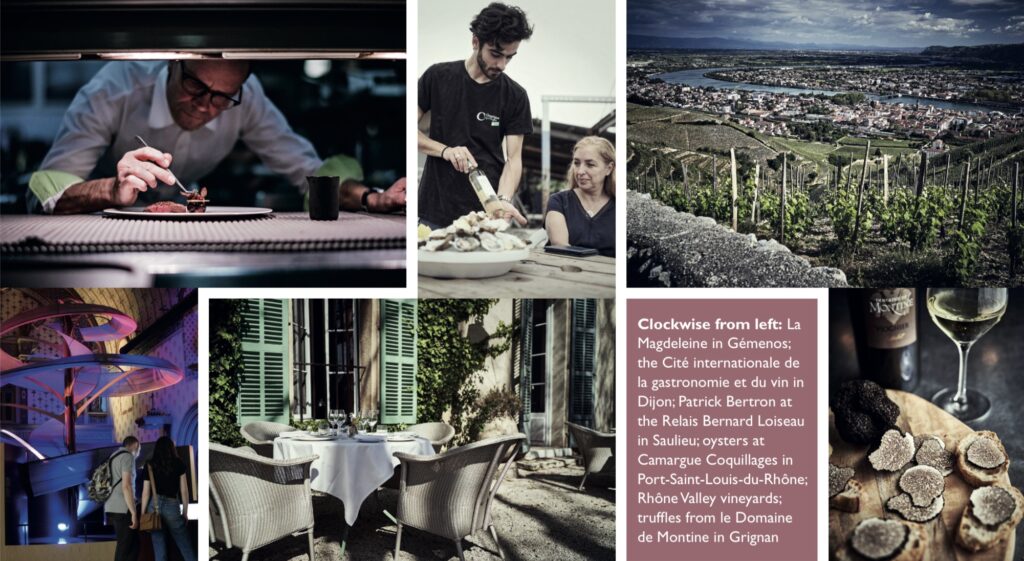 Meet the artisans: truffles, olives and more
In Burgundy, join the truffle experts for a tasting at the Maison aux Mille Truffes by l'Or des Valois at Marey-lès-Fussey, just north of Beaune. Or indulge your sweet tooth on a visit to the Anis de Flavigny factory where the secrets of these delicious aniseed-flavoured sweets will be unveiled.
In Provence, keen cooks will want to stock up on the prestigious olive oil of the Vallée des Baux. In Mouriès, France's leading olive-growing town, you'll find the Moulin Saint-Michel, which dates back to 1744. Here you can enjoy a guided tour, tasting and stock up on goodies in the shop.
Or head to Port-Saint-Louis-du-Rhône to visit Camargue Coquillages, the only producer of organic oysters in the southern region of France, and learn all about its unique oyster, La Perle de Camargue®. Of course, all this sightseeing will have built up your appetite and, not surprisingly, there are more than a few Michelin-starred restaurants along the Vallée de la Gastronomie®. The Relais Bernard Loiseau in Saulieu, with its chef Patrick Bertron, is an icon of French gastronomy. Georges Blanc's three-star restaurant, meanwhile, has transformed the village of Vonnas, in the Ain department, into a true gastronomic destination.
Gourmet getaways: dining adventures along the route
Treat yourself to the flavours and fragrances of Provence at La Magdeleine in Gémenos, where dishes reflect the local products carefully selected by Michelin-starred chef Mathias Dandine.
But it's not all about Michelin stars. The route is lined with all kinds of eateries, from village auberges to city brasseries.
How about the charming Bistrot du Quai in Charolles (Saône-et-Loire), or the quintessential Lyonnais bouchon, Daniel et Denise? Or shake out your napkin at Le Grand Puech in Mimet, the highest village in the Bouches-du-Rhône where you can enjoy exceptional views of the Étoile mountains while you dine. Here, you can even take part in a cooking lesson with Chef Michel Basaldella. Just make sure you leave enough room for your next adventure along the Vallée de la Gastronomie®!
Read 6 Mouth-Watering Food Experiences Along the Vallée de la Gastronomie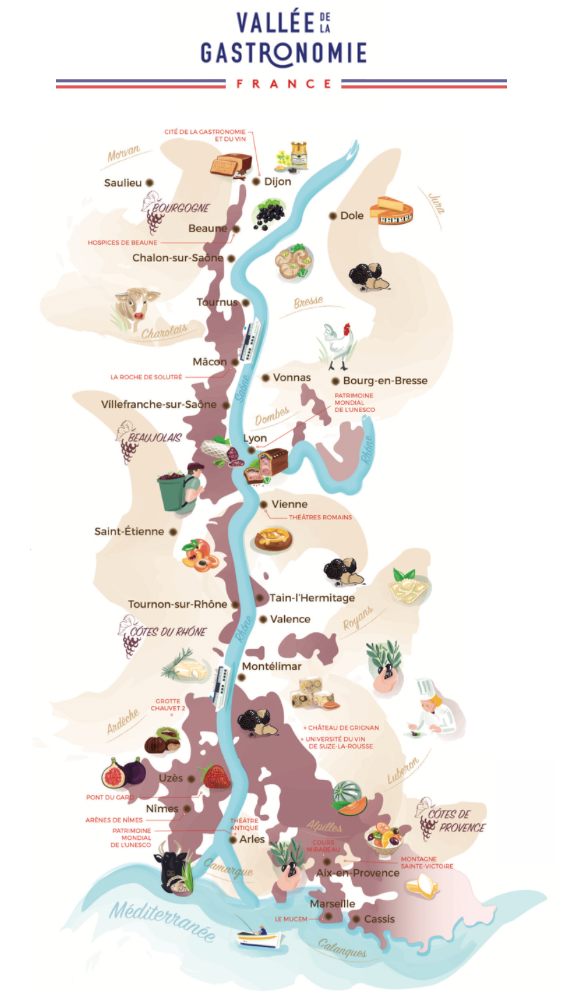 ---
Article originally published in France Today Magazine.
Buy the latest France Today August/September Issue.
---
Latest posts: