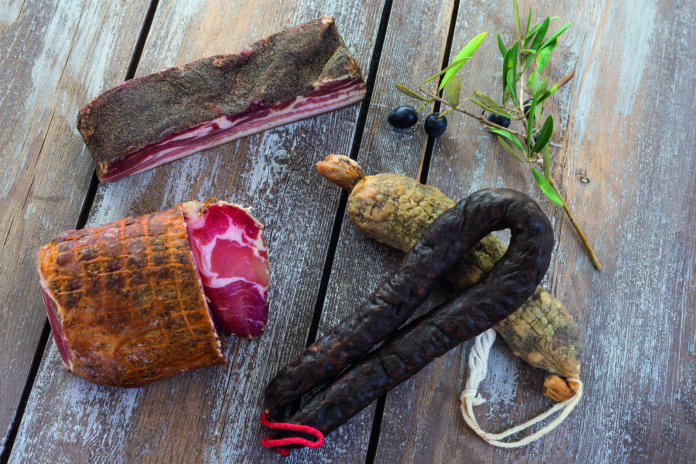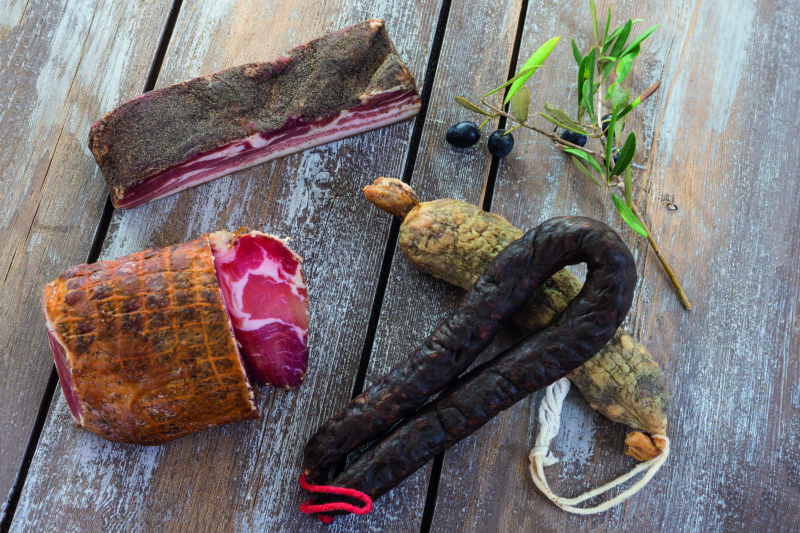 Deeply infused with Italian flavours, Corsica's gastronomy is as varied as it is intense. Richly-marbled charcuterie and hearty cheeses reign supreme, but Rhiannon Rees unearths plenty more culinary gems on 'L'Île de Beauté'
"Kallisté", said the ancient Greeks of Corsica. Meaning "the most beautiful", we fancy this was the first word that rolled off their tongues upon discovering the island, mouths agape. Ringed with crystalline waters and soaked in sunshine for most of the year, it's nothing short of paradise.
Even inland, the scenery is prepossessing: a surprising mix of pine and chestnut forests, surging rivers and mountains which, come winter, are snowy enough for skiing. It's this diversity which sets Corsica apart – that, and its literal separation from mainland France.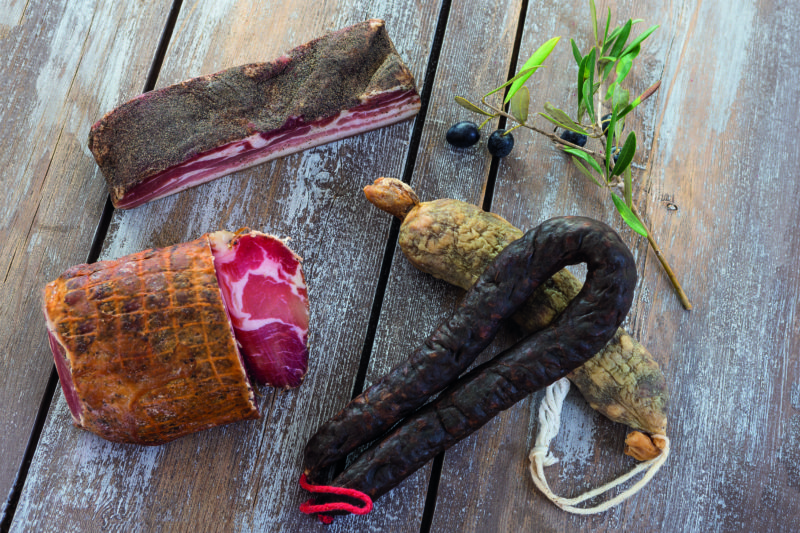 Nearer the west coast of Italy (it's just two and a half hours from Bastia to Piombino by ferry), the isle is geographically and spiritually closer to its hot-blooded neighbour than the Hexagon. This starts with the language. Although unofficial, Corsu is widely spoken and strongly resembles the Tuscan dialect. The biggest cultural crossover, though, can be sampled at the dinner table.
Like everything else here, food is hugely varied, drawing on numerous influences to create something uniquely Corsican. Expect Mediterranean vegetables drenched in the region's prized olive oil, Italian-style cured meats and punchy cheeses rivalling even Alpine knockouts.
Marvel at the prolific use of chestnut flour, dive into a smorgasbord of seafood, or get your fill of pasta and wood-fired pizza. Whatever your predilection, the Island of Beauty caters.
VARIETY IS THE SPICE OF LIFE
'Terroir' describes the link between soil and crop; environment and flavour. Nowhere is this clearer than Corsica, whose earthy dishes are a direct result of its lush and shifting landscape. We start in the mountains. Splitting the island from head to tail, this long chain of peaks holds the key to the area's most popular dishes.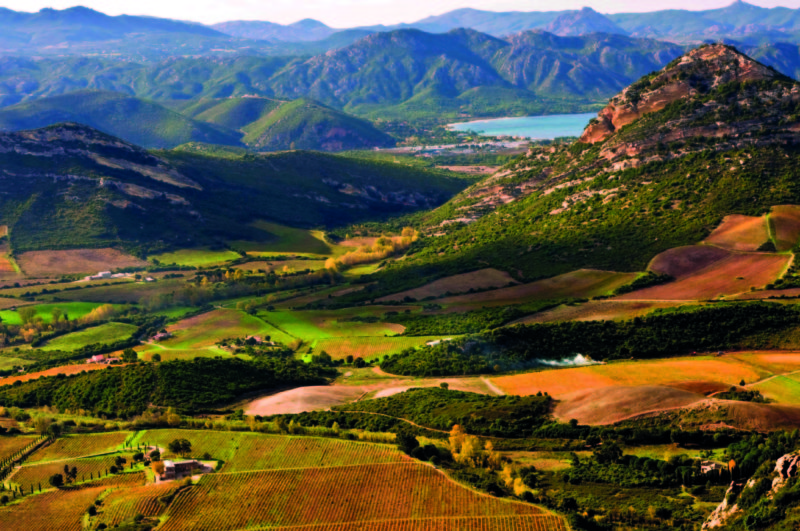 Up and down their slopes, sweeping forests harbour fruit-bearing trees which, in turn, attract tribes of hungry swine. Corsica's wild boar and nustrale (black pig) come to these patches rooting for figs, mulberries, acorns and olives, but most of all for the fat chestnuts littering the ground.
This rich diet makes for some seriously flavourful meat, so it's little wonder that pork is the cornerstone of this region's cuisine. Boar is the most celebrated, and well worth a try for the passionate carnivore – keep an eye out for civet de sanglier on the menu, Corsica's signature casserole dish, in which the meat is slow-cooked alongside a thick stew of chestnuts, vegetables and a splash of red wine.
If you're heading to the delicatessen, meanwhile, Corsica is the only answer to maxing out your charcuterie platter. Rubbing shoulders as it does with the home of salami and pepperoni, this corner of France boasts an ample range of cured meats.
Don't miss the dark, U-shaped figatellu, a smoked pork-liver sausage that lends itself well to grilling and lentil soups. Other must-eats are peppery lonzu (salted pork fillet) and prisuttu (cured ham), which both possess appellation d'origine contrôlée (AOC) status.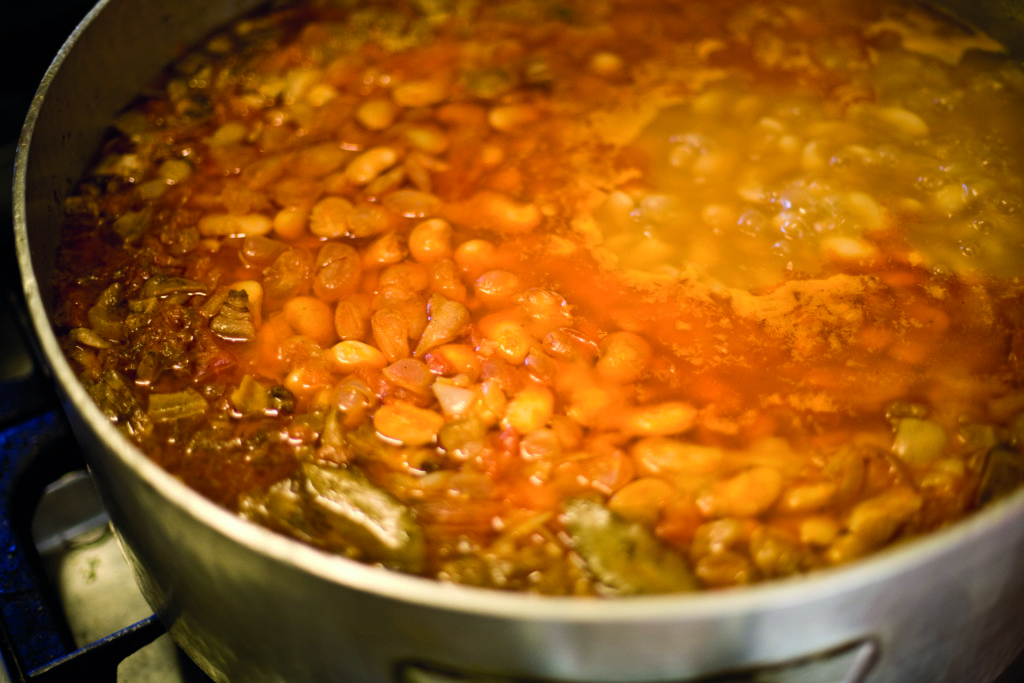 There's one thing that the native porkers and people both scoff in common, however, and it just so happens to be the holy grail of local ingredients. To Corsicans, the humble chestnut, or chataîgne, is their bread and butter (quite literally in some cases).
Hilly Castagniccia in the northeast is especially famed for its dense chestnut forests, as is the centuries-old Chataîgneraie de Pianellu. Historically, chestnut trees were planted on the island in the 13th century as an alternative to cereal crops, which were more difficult to cultivate, and have become a staple food source ever since.
Most commonly, these burnished gems serve their purpose by being crushed into flour. Farina castagnina corsa is beloved for its versatility and sweet, biscuity taste and has even earned the AOC badge of honour.
Traditionally, it's used to flavour loaves of bread, bacon fritters, polenta and a wealth of puddings… ah, the puddings. Gourmands, prepare to gorge yourself silly on beignets (doughnuts), tarts and – our personal favourite – fiadone, lemon cheesecake with a soft, spongy and ever-so-slightly grainy texture. This zesty treat is particularly refreshing as a dessert on a balmy summer's evening…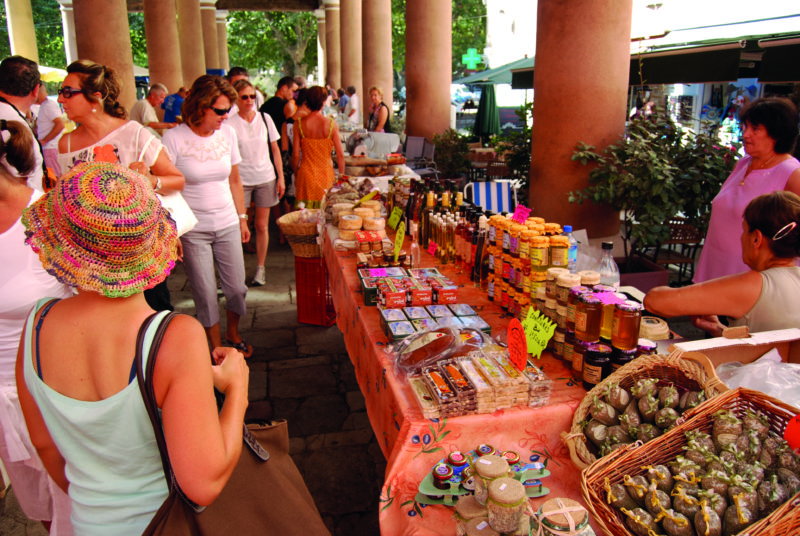 LAND OF MILK AND HONEY
There's another crowning ingredient that makes fiadone so special: Brocciu, Corsica's AOC whey cheese and a 'national' emblem. "He who has not tasted it does not know the island," proclaimed 19th-century poet Émile Bergerat of the cherished fromage. Although, you'd be pretty hard-pressed not to consume it in your day-to-day noshing; it pops up in so many dishes.
To better understand it, we head to the hillside pastures populated by roving herds of goats and sheep, whose milk is favoured in these parts. Brocciu production begins in November after the kids and lambs are weaned, and lasts until about June. It can be consumed immediately and tastes much better fresh, although the aged variety takes about a month to mature and becomes harder and saltier. When crumbled, Brocciu is a dead ringer for ricotta, except that unlike its Italian cousin it's supposedly lactose-free (or contains considerably less, at least).
As well as the hallowed cheesecake, it stars in savoury beignets, cannelloni, omelettes, dumplings, ravioli and salads. Eaten on its own, it makes for a deliciously tangy mouthful, often jazzed up with a sprinkling of sugar and white wine. Other exquisite cheeses include pungent Niulincu, soft Calinzanincu and semi-firm Corsu Vecchiu. The less said about Casgiu Merzu, the better… that one's for the iron stomachs among you!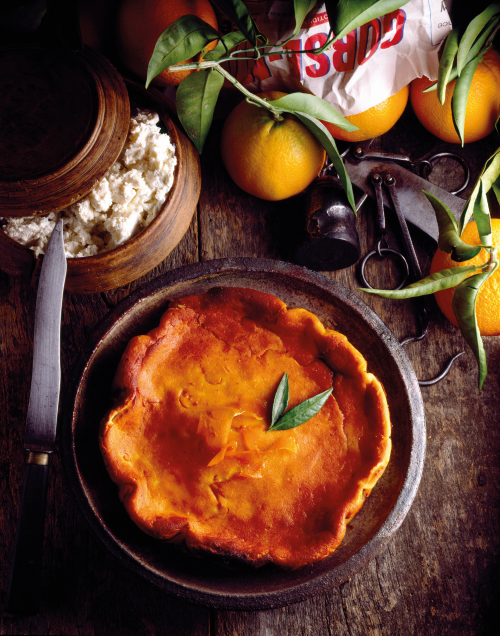 So, you've had your fill of meat stew, nutty pastries and cheese. It's high time for something sweet, don't you think? Corsica is home to France's only AOC-stamped honey, and this liquid gold is the best representation of the island's diversity.
Much like the roaming pigs, whose meat is accented by their foraged diet, the flavour of honey depends on what sort of pollen and nectar the bees have consumed. There are those that have fed on the aromatic maquis wildflower in spring, whose honey bears notes of caramel and cocoa, whilst those supping it in autumn produce a more bitter syrup. Others dine on the flowering chestnut or citrus trees.
These jars of goodness pair beautifully with local cheese; the region's official tourism website even lists a 'Corsican honey purse' recipe which blends Brocciu and maquis honey in little pastries. Of course, it can be dripped into a number of your favourite dishes – this is your cue to get creative!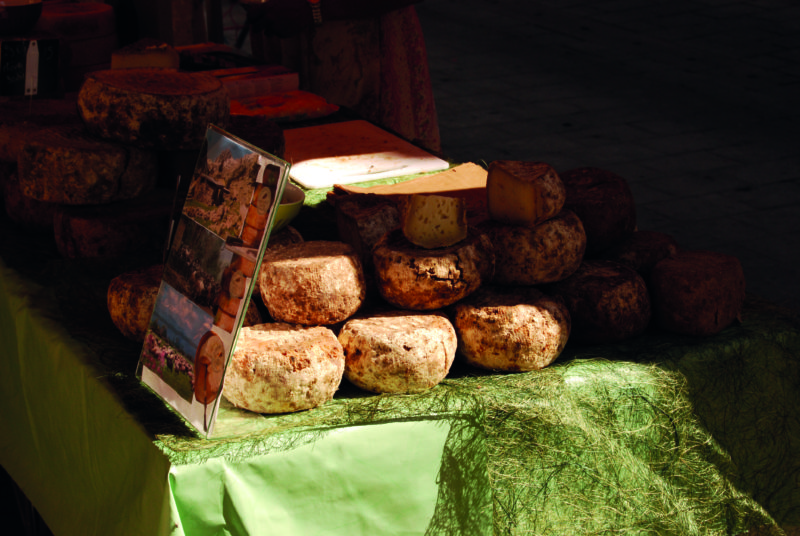 The final destination on our whistle-stop tour is the shimmering Mediterranean coastline. Much like the UK, despite being an island, Corsica is not a nation of fishermen and instead thrives on its meat and crop production.
That said, don't make the mistake of skipping the seafood scene here. Whilst freshwater fish like trout and eel are snapped up in the island's rivers and streams, the ocean serves up all sorts of tasty catches, such as red mullet, sea bream, lobster and (bien sûr) oysters on the east coast – lots of them!
From Porto-Vecchio in the south to Calvi in the north west, all the way to the tip of the Cap Corse appendage, Corsica's harbour towns are peppered generously with seafood restaurants and markets. With its overwhelming bounty of surf, turf and everything delicious in between, the biggest problem in this land of plenty is where to start…
---
WHERE TO EAT AND DRINK: The best eateries in the region, from seafood to hillside farmhouses
A PIGNATA
Based in the south of Corsica, in the staggered hillside town of Levie, this charming ferme auberge offers food as sumptuous as its surroundings. From caramelised lamb and homegrown charcuterie to Brocciu cannelloni for vegetarians, everyone can enjoy the traditional cuisine and far-reaching treetop views. Don't miss the cheeseboard for dessert, or the region's signature chestnut cake or doughnuts! www.apignata.com
CHEZ PACO
A flaking, rust-coloured exterior is the first thing you'll fall in love with at Chez Paco. This lively eatery is a beacon for locals on L'Île-Rousse's rue Napoleon and, thanks to the town's position on the northwest coast, it's replete with seafood. A firm favourite is the paella, heaped with fish. We can guarantee that you'll waddle away happily stuffed to the gills.
DA PASSANO
Miam! Spider crab soup and sea anemone sound rather intriguing, don't they? All sorts of delights lie in wait on Da Passano's menu, and it's not just exotic seafood – ready your taste buds for veal chop doused in a holy trinity of honey; lamb and goat terrine; and the sinfully cheese-drenched and garlicky aubergines à la Bonifacienne. Having earned Gault & Millau recognition, this ritzy eatery is one of the most coveted in Bonifacio. www.da-passano.com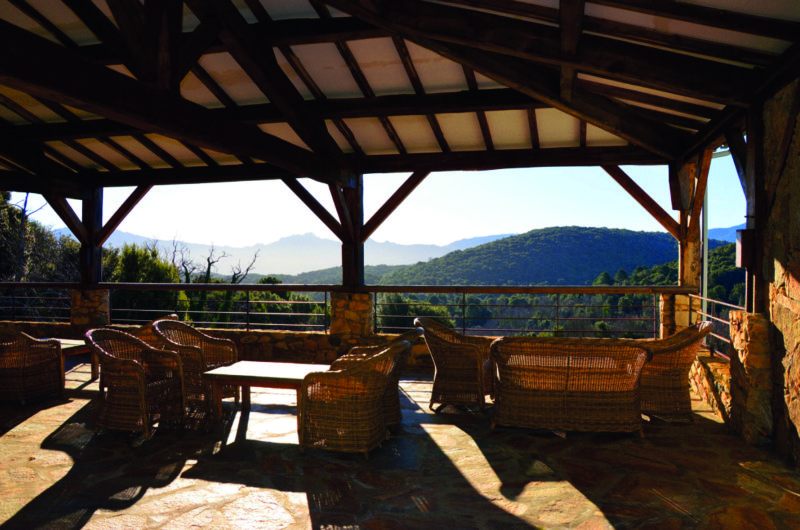 DOMAINE D'ALZIPRATU
The Balagne region is located in the island's northwest corner, around L'Île-Rousse and Calvi. This romantic landscape stretches from the coast inland to hills covered in olive groves and vineyards, and it's here you'll find the Domaine d'Alzipratu wine estate. Come for a tasting Monday-Saturday and sample the superb roster of reds, whites and rosés, hailing from Corsican grape varieties that enjoy sea and mountain climates on the vine. www.domaine-alzipratu.com
PIERRE GERONIMI
Fancy something cool after a robust Corsican feast? Coffee, chocolate, salted butter caramel and pistachio (Sicilian, no less) are just a handful of the tantalising ice cream scoops you can expect from maître glacier Pierre Geronimi. There are also less conventional flavours… mustard, anyone? www.glacespierregeronimi.com
U VALDUNIELLU
If you're hankering for some classic fare, make a beeline for this friendly roadside restaurant in Calacuccia, Haute-Corse. Its mountain views put you straight in the picture, and the range of simple-yet-scrumptious meals include wild boar casserole, wood-fired pizza, cheesy doughnuts, fiadone, chestnut desserts and ice cream. Sadly there's no official website to drool over, but you'll find this welcome pit stop on 40 avenue de Valdoniello.
---
WINE AND LIQUEURS: Zhuzh up your apéro game with Corsica's famous tipples
CHESTNUT LIQUEUR
Surprise, surprise, the nation's sacred nut makes a guest appearance in its alcohol. Look out for chestnut cream liqueur and chestnut brandy!
NIELLUCCIO
One of the most famous grapes on the island, Nielluccio grows prominently in the limestone-rich north, around Saint-Florent and Patrimonio. Its origins are cloudy – was it born on the island or in Tuscany (where it's known as Sangiovese)? Some are still undecided, but best not bring this up – the Corsicans are nothing if not a proud bunch! Nielluccio is mostly used to produce full-bodied reds and rosés, such as Patrimonio's AOC wines. Typically, it forms a dark fruity and slightly spicy flavour.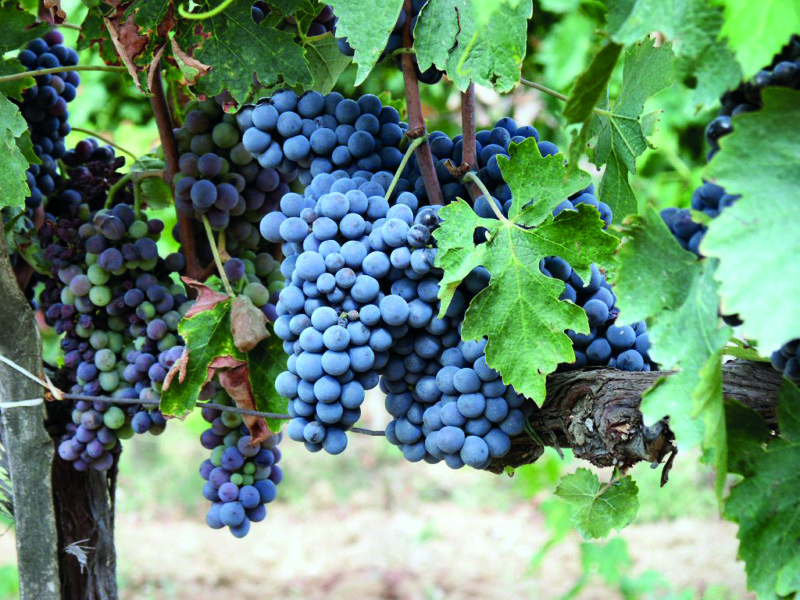 PIETRA
True to form, this amber beer is made the Corsican way: with chestnut flour (what else?), brewed with malt. The result is faintly sweet and dry, with subtle caramel notes and a bitter finish. Drink it chilled on a hot summer day for the most pleasure. www.brasseriepietra.corsica
VERMENTINO
If vin blanc floats your boat, Vermentino wines are well worth your attention. Likened to Pinot Grigio, these blends tend to smell pleasantly floral, feel silky and creamy on the tongue, taste zesty and finish with a slight sharpness. They pair well with fish. Produced with 100% Vermentino grapes, Patrimonio's AOC whites should be your first port of call.
---
MARKETS AND FOOD HALLS: The freshest produce – and treats – are only a stall away
AJACCIO
Corsica's capital and proud birthplace of Napoleon, Ajaccio on the west coast is a buzzing port city steeped in history. It's also home to one of the island's largest food markets, held daily under colourful awnings in Square César-Campinchi. Here you're likely to find fresh fruit, honey, fig jam, wild boar sauces, wine, stacks of cheese and mountainous bowls of olives. There's also an energetic farmers' market in Place Foch, worth browsing for its artisanal meats, breads, chutneys and plenty more besides. www.ajaccio-tourisme.com
BASTIA
Point your compass north for Bastia's broad spectrum of markets, ranging from the stalls littering the tree-lined Place du Marché every weekend, to the charcuterie and textiles sprawl at Saint-Florent, and the daily (bar Mondays) gathering at the Place de l'Hôtel de Ville, touting fresh fruit, vegetables and fish. Keep your eyes peeled throughout for freshly-baked treats like biscuits and pancakes to sweeten up your market crawl! www.bastia-tourisme.com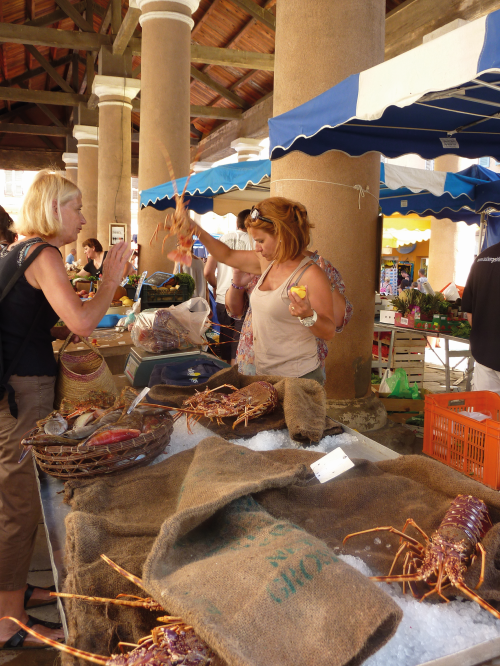 L'ÎLE-ROUSSE
For the quintessential marché, look no further than Place Paoli. The covered market is an appealing sight, with a rainbow's worth of fruit and veg displayed between the structure's grand columns. Everything you can dream of is sold in this small space: figs, melons, honey, cheese, jams, herbs and spices, olive oil, sausages, lobster… we could go on – or you could catch the first ferry over and experience it for yourself! www.balagne-corsica.com
PORTO-VECCHIO
A humble market takes place in Porto-Vecchio's Town Hall every day, and on Sunday mornings you can meander through the Monuments aux Morts square for a festive spread of the usual cheese and charcuterie, and other staunchly Corsican products. Visit the official website for more ideas: www.ot-portovecchio.com