A beautiful dish combining the tangy sweetness of peaches with the nutty flavour of the Comté and toasted hazelnuts, the beautiful umami tang and fatty creaminess of the prosciutto, the acidity of the lemon and the freshness of the mint.
This is a simple dish that really relies on the quality of the ingredients used: the peaches need to be sweet and ripe, the Prosciutto should be the best quality you can buy, the mint must be fresh and – it goes without saying – the Comté will be excellent.
---
Related recipes:
---
Recipe card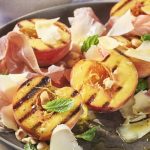 Print Recipe
Burnt peaches with Comté, prosciutto and hazelnuts
This is a simple dish that really relies on the quality of the ingredients used.
Ingredients
50

g

hazelnuts

skinned / blanched

4

ripe peaches*

cut in half and pits removed

2

tablespoons

light olive oil

100

g

younger aged Comté

cut into fine slivers (a vegetable peeler works well)

8

slices

Prosciutto

1

lemon

zest and juice

1

tablespoon

good quality hazelnut oil or extra virgin olive oil

Optional: about 1 teaspoon aged balsamic vinegar

or a similar vinegar – you want tart and sweet flavours and a syrupy consistency

Leaves

from 10g fresh mint
Instructions
Preheat your oven to 180℃ and spread your hazelnuts out on a baking tray. Cook these in the oven for about 10 minutes, giving the tray a shake half way through, until they have turned a light golden brown and smell toasty. Remove from the oven and leave to cool a bit, then chop roughly.

Heat a griddle pan until it is very hot. Brush the peaches lightly with the oil, then place, cut-side down, onto the pan and do not move them for 2 to 3 minutes, until they are ready to release from the pan – do this using a flexible spatula and gently prod the peaches. If they move, carefully turn them over to cook the other side. Once both sides of the peaches are nicely charred, move them onto individual serving plates or onto a big platter and sprinkle over a little salt and a few grinds of black pepper.

To serve, arrange the slices of Prosciutto around and over the peaches, then the slivers of Comté, drizzle over the hazelnut oil or extra virgin olive oil, squeeze over a little lemon juice, drizzle over a little vinegar (if using) and finally sprinkle over the grated lemon zest, chopped hazelnuts and mint leaves.
---
Did you enjoy the recipe? Let us know in the comment section below.
Enjoy Taste of France? Well you're in luck as Taste of France Issue Five is out of the oven!
---
Latest posts: