With his brigade of 25 staff, executive chef Arnaud Dermerville cooks for 500 guests every evening at the iconic Moulin Rouge in Paris. Taste of France caught up with him for a chat…
What's your earliest memory of cooking?
My first memories of cooking and gastronomy are to do with my grandparents, particularly my grandmother. She cooked everyday and I have memories of the smells, the sounds of cooking, butter sizzling, ovens ringing. I was lucky enough to be able to taste all of her dishes, sometimes directly from the pots and mixing bowls. Simple dishes but very well cooked, with an incredible precision and a feeling of comfort.
Did you always know you wanted to be a chef?
I knew very early on, at 14 years of age. I didn't expect to become a chef, but I knew I wanted to work in a kitchen. I've always loved to eat.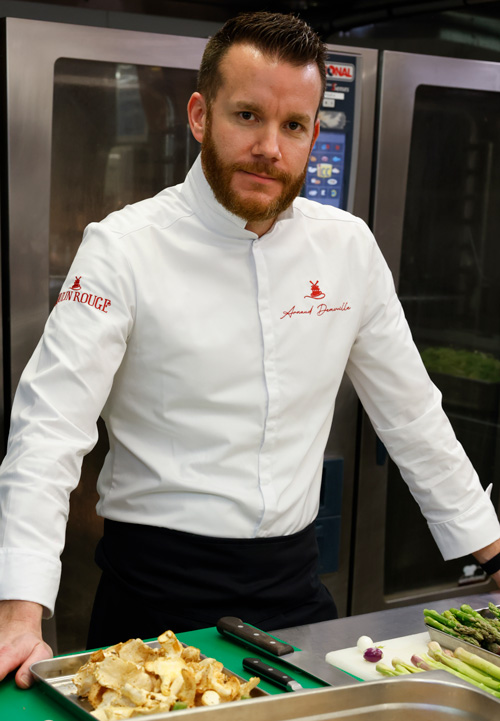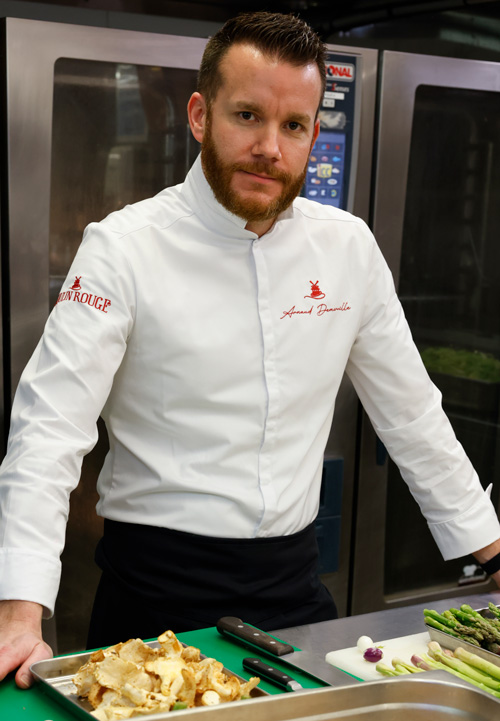 Where did you train?
I had a general school education. My parents were not sure if I would stick to this profession. They always pushed me to study. When I graduated from high school, I was able to take a course in the hotel and catering industry, then a BTS (two-year degree) in the hotel and catering industry. I then took a year's additional qualification as a restaurant dessert cook in order to acquire a good basic knowledge of pastry-making at the Albert de Mun school in Paris.
How would you describe your style of food?
It is hard to describe your own cooking style. I really like Asian cuisine. I'm also very attached to North African cuisine, because of my mother's origins. I also like traditional French cuisine, so I actually like to mix all these styles together frequently. I try to stay reasonably clear and coherent by not mixing too many different tastes on the plate.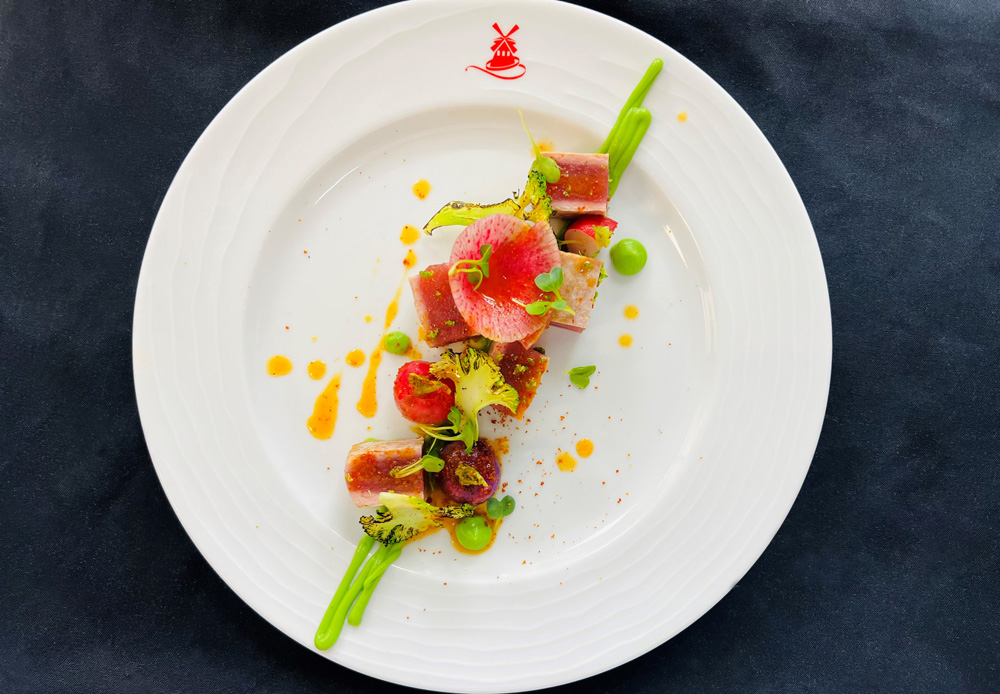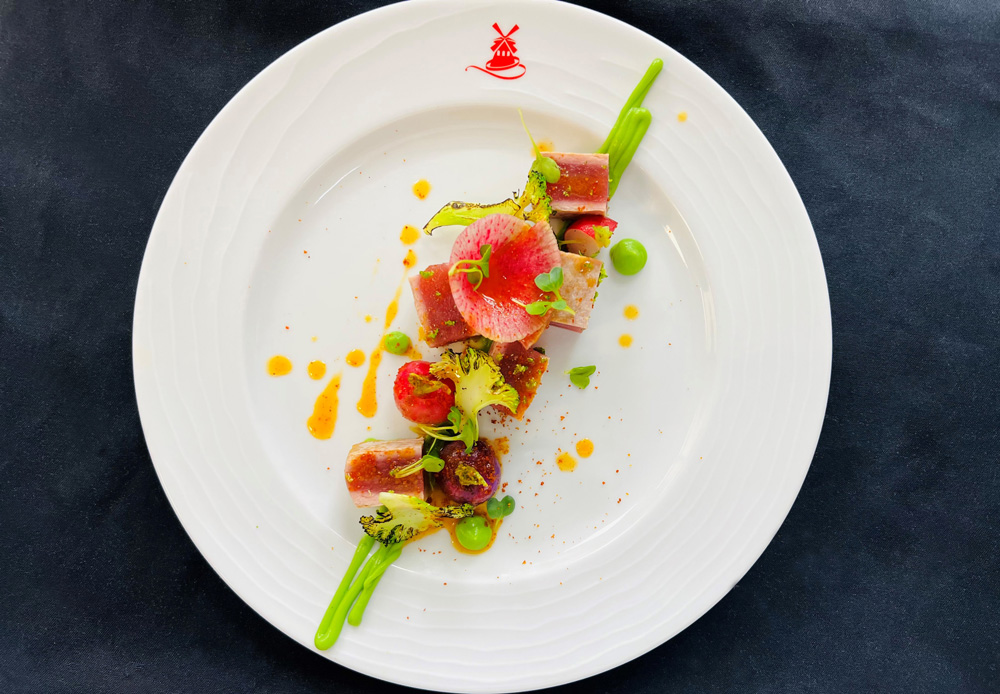 What can people expect when they come to the Moulin Rouge to dine?
The basic idea is to get close to the excellence of the show. When a place becomes so mythical and representative of its country, you have to be on the level. Guests can expect to eat good, traditional, homemade food. We have a team of 30 people who work tirelessly every day of the year to enhance the experience of an evening at the Moulin Rouge.
What has been the highlight of your career so far?
The highlight of my career, in my opinion, is having chosen beautiful establishments for my apprenticeship. I was lucky enough to work in some great Parisian hotels and to meet some great restaurant professionals. I've worked in Michelin-starred restaurants, including the Prince de Galles Hotel and the Scribe Hotel in Paris. As a result, I have never stopped questioning myself and looking for the next step. It is something that I to pass on to my team today.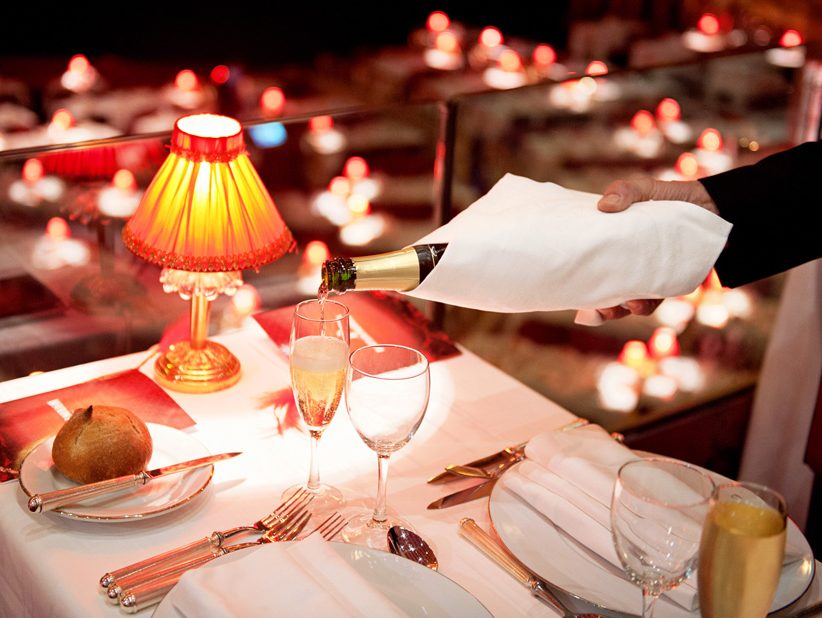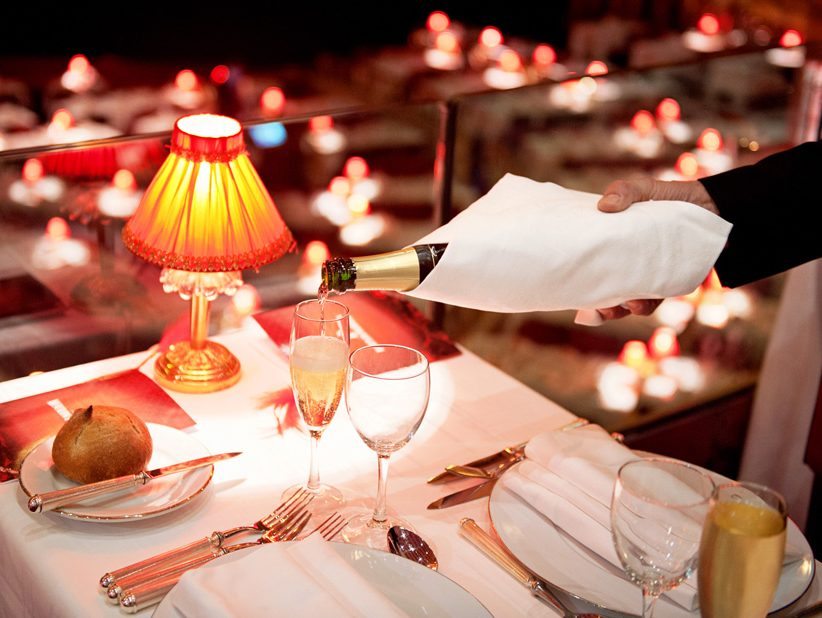 What is the best thing about your job?
This is very personal, but I would say team management. We are, in my opinion, very close to psychology. It's very energising. You have to know how to renew yourself constantly, every day. It's impossible to manage the same person in the same way every day. You have to adapt, explore, listen, talk, understand and guide. Management is essential for me and I attach great importance to it. I work like in a sport team. A lot of dynamism. A lot of mutual aid.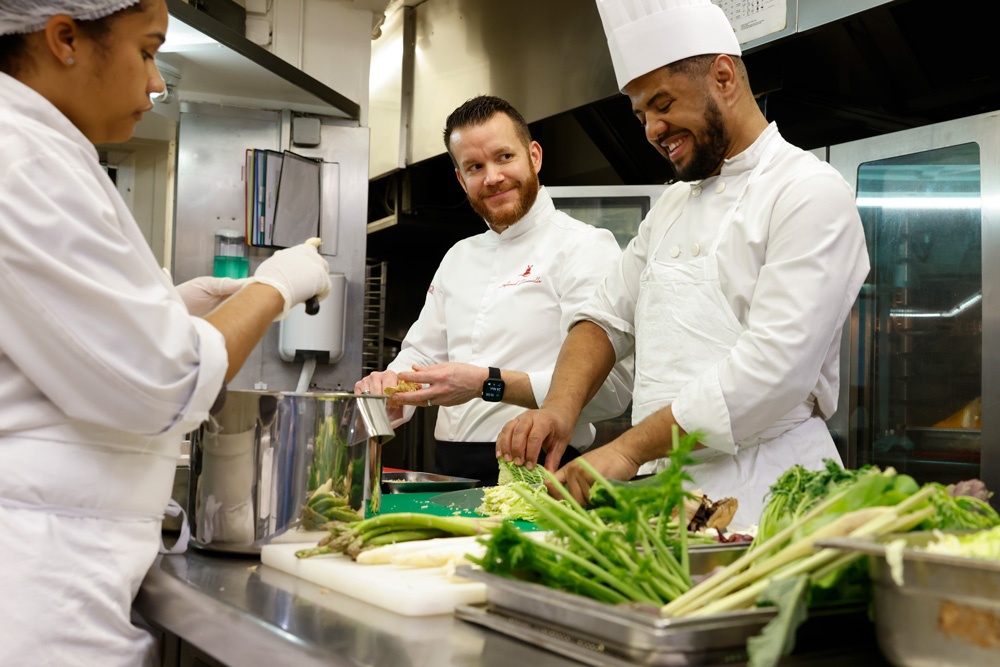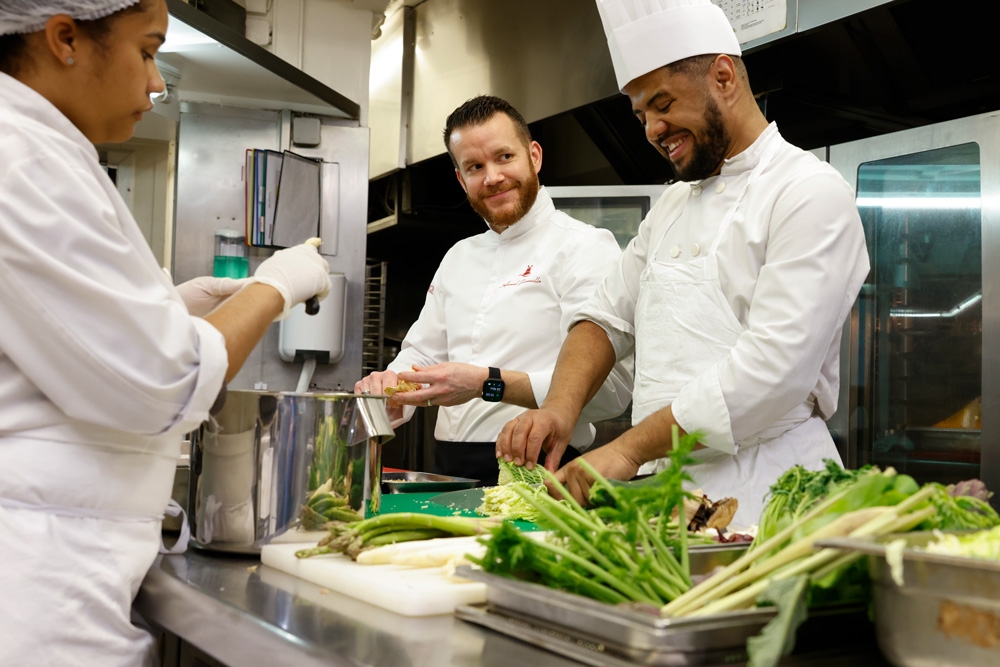 How do you feel about sustainability in the world of cuisine – are we doing enough?
I think you have to move with your time. You really have to question yourself and reposition yourself. At the Moulin Rouge, we do between 350 and 500 dinners every night. I can't say that we have zero waste. With this flow, it's very complicated. On the other hand, since I took up my post in September 2021, I have been able to share my vision of today's cuisine with my management. We have a gastronomic menu with courses that already change very regularly, in order to be as close as possible to the seasonality of the products. We used to offer three different menus in addition to a vegan offer that we changed twice a year. A spring-summer menu and an autumn-winter menu. I quickly wanted to change the frequency of the menu and it now changes each season. The idea was to reduce our stocks, and therefore by extension, our waste. We also do our utmost to recycle our dry waste. With, for example, meat powders to delicatessen trimmings. Or crumbles or crisps with vegetable peelings. It's never enough, but I feel like I'm participating in zero waste. The team is aware of this on a daily basis in order to get closer to a more responsible cuisine.
---
Related articles:
Parisian chef says insects are the future of sustainable dining
Six new eco-aware restaurants receive the Michelin Green Star
France to ditch meat in favour of vegetarian food
---
What's your favourite ingredient and why?
It's hard to name one particular ingredient. The possibilities are endless. There are so many choices. I was very much into meats when I was younger. As time has passed, I'm starting to appreciate vegetables and cereals. But one thing I could never live without is bread. Bread in almost any form. I don't know if it's because it's part of our French culture, but it's impossible for me to resist a fresh baguette.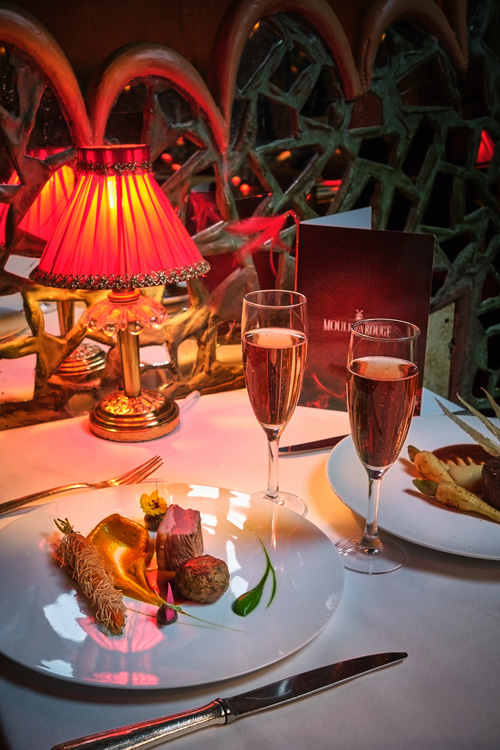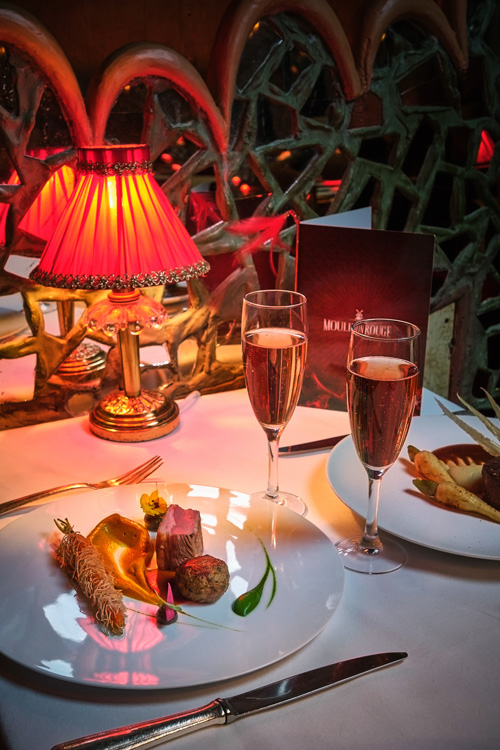 What meal do you most like to cook at home?
To my family's dismay, I hardly ever cook at home, if at all. I am often asked this question, but I spend so much time cooking at work that when I get home, often at staggered hours, I don't necessarily have the desire to cook. I only cook during my holidays, very simple things with good products.
What do you do to relax when you're not working?
I like spending time with my family, sharing good moments. I do a bit of sport too, to keep fit for our very energy-consuming job. I also do a bit of music.
What's your biggest ambition?
I never limit myself to one ambition. I'm always looking for the next step. It's very personal and it's a natural need of mine. We have been awarded the highly prized title of Maître Restaurateur. I would say that my next ambition is to get a Michelin award. On one hand because it is a personal award that is recognised worldwide, but also and above all because these distinctions reward a team effort. For me, obtaining a Michelin star is a management achievement. We work on it every day on our gastronomic offer at the Moulin Rouge Prestige table, a seven-course menu with frivolities, amuse-bouche, starters, main courses, cheese, dessert and mignardises. We are lucky enough to have two toques and a good score of 14/20 in Gault et Millau.
What would you choose for your last ever meal?
This is a difficult question. I hesitate between something very simple and reassuring like a nice barbecued rib of beef with home fries and a nice Béarnaise sauce… Or a three-star meal, but that's complicated too – there are so many that I would have difficulty choosing.