Hazel Smith chooses her top picks of places to dine in France
I'm not a foodie – I just like good food when I'm on the go in Paris. Occasionally I plan, sometimes I am pleasantly surprised, sometimes I'm not. The best part of eating in Paris is the unplanned surprises.
PINK MAMMA, PARIS
The staff at Pink Mamma found room for me – a solo eater – at their burnished bronze and green bar, a good vantage point to observe this four-floor hive of gastronomic industry. The recipes in this trattoria stick to Tuscan tradition – there's a whole lot of grilling going on – but I chose gnocchetti in pesto topped with a generous dollop of chêvre. Served in a copper pot, it was simply melt-in your mouth good. Pink Mamma, whose wine cellar represents every corner of Italy, personifies the 'new Paris," a creative, open-minded sensibility that remains oh, so tasteful. The lunchtime crowd was abuzz, most chowing down on luscious-looking pizzas bigger than their bellies. Dessert, ahh…was frozen yoghurt di bosco, with red berries, raspberry coulis and crumbles of meringue topped with Chantilly. Enough said.
20 Bis rue Douai, 9th Arrondissement, Paris
www.bigmammagroup.com/fr/trattorias/pink-mamma
LOULOU FRIENDLY DINER, PARIS
Morning in Paris. A slight drizzle and I needed a place to hunker down while waiting for my hotel room to be readied: tucked under the striped awning of Loulou Friendly Diner seemed like the best place. Located across from the gardens of the Cluny Museum, Loulou's boasts a lengthy menu with bio-drinks, and bio-bowls, gluten-free and vegetarian options. My selection was eggs Benedict, made with poached eggs in a delicious crunchy coating, bacon, with an arugula salad, and the ubiquitous big, fat frites. The coated eggs are not de rigueur but somehow they found their way onto my plate. The patio is a lovely as could be expected on Boulevard Saint-Germain and the interior was a cool and classy white and green with wood and brass accents. Oh, the other accent here might be Australian, as that's where the owners hail from. And they're friendly, as the name suggests. Loulou Friendly Diner is open all day, every day – and is probably even better in the sun!
90 Boulevard Saint-Germain. 5th Arrondissement. Paris
www.louloufriendlydiner.com
LA ROTONDE STALINGRAD, PARIS
La Rotonde rocks. This creative hangout was built originally to serve as a customs house at the southern end of the Bassin de la Villette, way back in pre-Revolutionary days. This former taxman's lair has been transformed into a multi-purpose bar-brasserie and enjoys the renaissance the canal is experiencing today. It sounds like I'm eating Italian again, but this time Italy meets France somewhere in the middle– the chef, Christophe Poligani, is Corsican. Fifteen wood-fired pizzas are on the carte or you could have your pizza fix in a Rotolini. Lunchtime salads, soups and pastas are available. I opted for ravioli made from goat's cheese, figs and honey. Topped with a light gorgonzola sauce and a gratin of Salinu, a Corsican topping made from hazelnuts, did it really have to end? It was over all too soon. The neoclassical building is intriguing: with nooks, bars, patios and food trucks on site there is lots of people watching to be had while waiting for your food. The trattoria is open from 9am until 1am and the attached cocktail bar, Le Refuge, thumps on until 2 am.
6-8 Place de la Bataille de Stalingrad, 19th Arrondissement, Paris
http://larotondestalingrad.com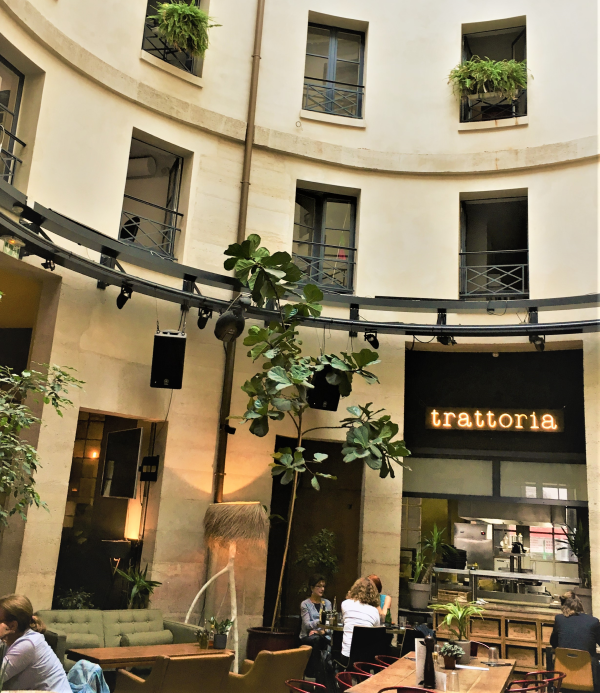 CAFE INEKO, PARIS
So I'm in Café Ineko. Behind me, at the long back table, there's a loud wedding party erupting in a crescendo of laughter. Ines, the ever-smiling owner, asks me if I'd like to be reseated. No – the hubbub is delightful. This small slice of a restaurant is big on healthy flavours and happy attitude. Ines returns with the chalkboard. The daily menu centres on a super-fresh selection of vegetables and fruit. The cold aubergine soup was wholesome and subtly spiced with Middle Eastern flavours, its taste more than compensating for its ambiguous colour. The carrot torte, which glowed golden with turmeric and was topped with pumpkin seeds, had a half cake/half quiche texture which was wholly unusual. A vegetarian and vegan-friendly space, where whole grains, seasonal roots and shoots rule, there is usually one meat or fish option, so all tastes are catered for. Since Ineko's menu is market-based, every chalkboard will be a surprise. The light and airy interior has a fresh, whitewashed Mediterranean feel. Ineko is usually only open during the day, but the chefs are experimenting with a prix fixe dinner menu called Dineko! There's also a little shop inside the café featuring rustic yet tasteful bowls, boards and knives.
13 rue Gravilliers. 3rd Arrondissement, Paris.
https://www.facebook.com/pages/Cafe-INEKO/433923836981689 or https://www.instagram.com/cafeineko/?hl=en
THE AUBERGE RAVOUX, AUVERS-SUR-OISE
A planned and perfect meal. This is the inn at Auvers-sur-Oise where Van Gogh lived and died. Auvers is reachable by train (or a variation thereof) from the centre of Paris. At noon, I found the staff talking in hushed tones as if Van Gogh had died the night before. But the murmurs gave way to active conversation as lunch reservations were filled. One entourage waved their hands – "no photos!" – I don't know who they were. The Auberge Ravoux is a small traditional inn with just ten oak tables, a traditional zinc bar, and a dizzying "tumbling block" tiled floor. The linens with their red lettered borders are available at the gift shop one floor up. The chef at the inn uses small, local producers where possible and tries to replicate 19th century gout de terroirs. It worked – my food was sublime. After helping myself to some communal dried sausage lowered from the rafters, I ordered rabbit terrine with lentils and a seven-hour lamb stew. The potatoes dauphinoise that were redolent with onion and herbs were my favourite part of the meal. I topped it off with a pyramid of home-made almond ice cream and appreciated every bite. To be where Vincent spent his last 70 days is remarkable. His bedroom can be seen at the top of the Auberge. This is a special place.
52 Rue du Général de Gaulle, Auvers-sur-Oise,
www.maisondevangogh.fr/fr/auberge-ravoux_menu-ravoux.php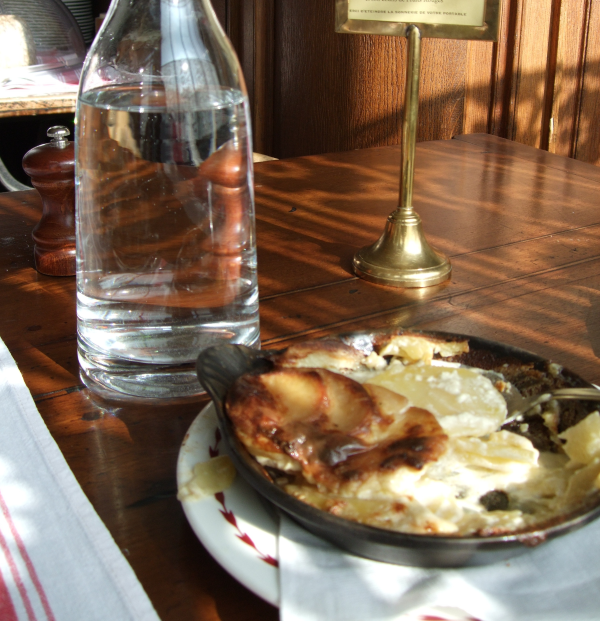 ---
About the Author
Blogger and amateur historian Hazel Smith has written for the online travel guide PlanetWare.com and for davincidilemma.com. A recent graduate of art history at the University of Toronto, she is fascinated with the lives of the Impressionists and has made pilgrimages to the houses and haunts of the artists while in France. She is continually searching for the perfect art history mystery to solve. She maintains the blogs Smartypants Goes to France and The Clever Pup (http://the-clever-pup.blogspot.ca)