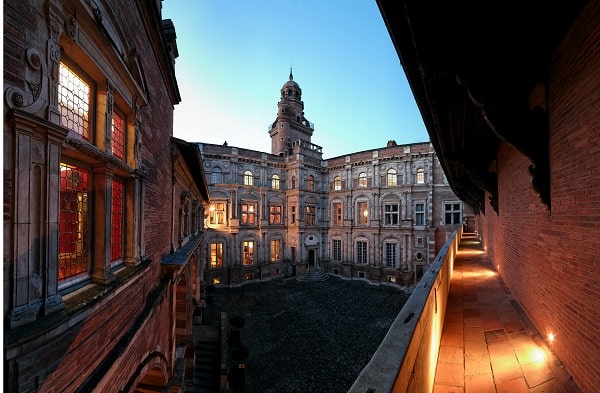 Toulouse is not only one of France's most fascinating cities but it's at the cutting edge of the culinary scene too
Known as La Ville Rose, Toulouse has plenty to offer visitors, from its beautiful Vieux Quartier to walks along the Garonne riverside to the Romanesque gem of Basilique Saint-Sernin.


Of course, all that sightseeing will have given you an appetite, and there's a fantastic choice of eateries in Toulouse to satisfy the hungriest gourmet traveller.
Chefs from all around the city have taken their passion for creating quirky dining experiences to the next level by experimenting with local ingredients to offer entirely new concepts. From fine dining in the early hours of the morning, to an urban jungle with vegetables aplenty, there's a gastronomic experience for all visitors to try.
Here are our top five new restaurants in Toulouse for you to enjoy. Bon appetit!
DES ROSES ET DES ORTIES
Located in a picturesque spot overlooking the pink city's aeronautical district, Des Roses et des Orties comprises a restaurant, bistro, trattoria, pâtisserie and wine cellar under one roof. With Michelin-starred chef Yannick Delpech at the helm, its convivial vibe and affordable meals made with quality, locally sourced ingredients make it a must. Des Roses et des Orties' authentic cuisine mixes techniques of the past with current culinary trends. Complete with a wine list of more than 800 options, the eatery offers tastings from the best winemakers in the region for self-service, on-site or to take away. Aside from Mondays, Des Roses et des Orties opens daily at 9 am until 11 pm.
Ô FAIM DE NUIT
Designed for the night owl or the early riser, Ô Faim de Nuit's doors remain open at unusual times. Serving until 2am on Thursdays and Fridays and then from 5am to 8am, city-breakers planning to frequent Toulouse's top bars and clubs or cultural venues will then have the opportunity to indulge in fine dining rather than relying on fast food. The establishment offers meat, fish, pasta, cheese platters and much more, so customers will find just what they need to start the day or end the evening. Located at 24 Rue de Bayard, Ô Faim de Nuit is open Tuesdays and Wednesdays from 7pm to 11pm and Thursdays and Fridays from 7pm to 2am and 5am to 8am. Saturday's hours are from 7pm to 3am and then from 5am to 8am.
M BY MO BACHIR
Chef Mo Bachir's newest establishment, M by Mo Bachir, brings a modern cuisine, tasty and refined yet delicately spicy, to Toulouse's Old Town. Located at 8 Rue Mage, the cosy restaurant seats just 20 people and serves Chef Bachir's famous signature dish, deconstructed cassoulet, as a starter. This means tourists wanting to taste the famous dish can do so without being too full to try more Toulousain treats. M by Mo Bachir offers a lunch menu with a starter, main course and dessert to choose from, and two tasting menus of four or six dishes for dinner. The restaurant is open Tuesday to Saturday.
VIVANTS
Located on the banks of the Canal du Midi, Vivants offers a concise menu comprising exclusively fresh and raw ingredients. The menu changes every fortnight, emphasising the constant change of the seasons and the importance of locally sourced produce. The restaurant's chefs are careful to present food that is a true reflection of the land from which it originates. Vivants' sommelier is on hand to offer the most harmonious wine pairing for any dish so that every experience allows guests to discover a new sensation. Located at 40 Rue Gabriel Péri, Vivants is open for lunch and dinner from Tuesday to Friday, and for dinner on Saturday.
CAPSULE
Part garden café, part urban jungle, Capsule is a hybrid destination where customers can purchase plants and local products, take part in creative workshops and indulge in a range of local cuisine. This urban greenhouse describes itself as a veritable green bubble where vegetables entertain, relax and feed the guest. Open from Monday to Tuesday from 9am to 7pm; Thursday to Saturday from 9am to 10pm, and from 10am to 6pm on Sunday, guests are invited to grab a cup of tea or an evening drink as they explore this new garden concept. Find Capsule at 7 rue Temponières.
For more information on Toulouse visit www.toulouse-visit.com