Complimentary treats will include Champagne and foie gras
A Paris hotel is taking the mini-bar to a whole new level of mouth-watering luxury. Fauchon L'Hôtel Paris, on place de la Madeleine in the 8th arrondissement, is wowing guests with a custom-designed armoire in each of its 54 rooms and suites filled with complimentary delights from its delicatessen.
In-keeping with the hotel's motto, ''La rose est la couleur des hommes qui osent" (pink is the colour of a man who dares), the decadent armoire is rose pink with a metallic multi-faceted finish, and was designed by Sacha Lakic from eminent Parisian design company Roche Bobois, whose previous clients include Jean Paul Gaultier, Missoni and Christian Lacroix Maison.
But enough of its pretty pink exterior – what counts is what's on the inside. Guests will be able to explore drawers and shelves stuffed with delicacies from madeleines, macarons and chocolate truffles to tapenade, foie gras and brioche toasts. Then you can wash it all down with a choice of Fauchon's signature gourmet tea selection or a bottle of the finest Champagne – all on the house, of course.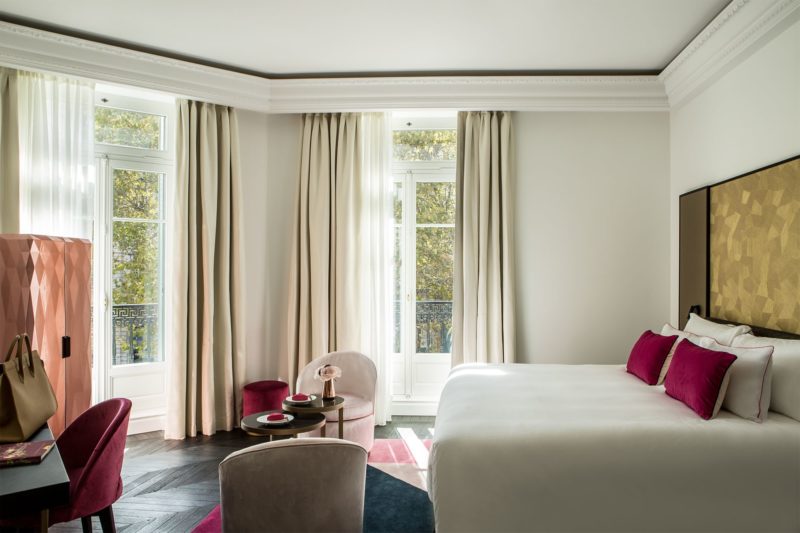 Not so keen on the foie gras? Can't abide macarons? Worry not. Before you visit, the hotel will email you to check your likes and dislikes, ensuring the Gourmet Bar is tailored to your preferences. Worth the nightly rate of €450 alone – you won't want to leave your room! www.hotel-fauchon-paris.fr