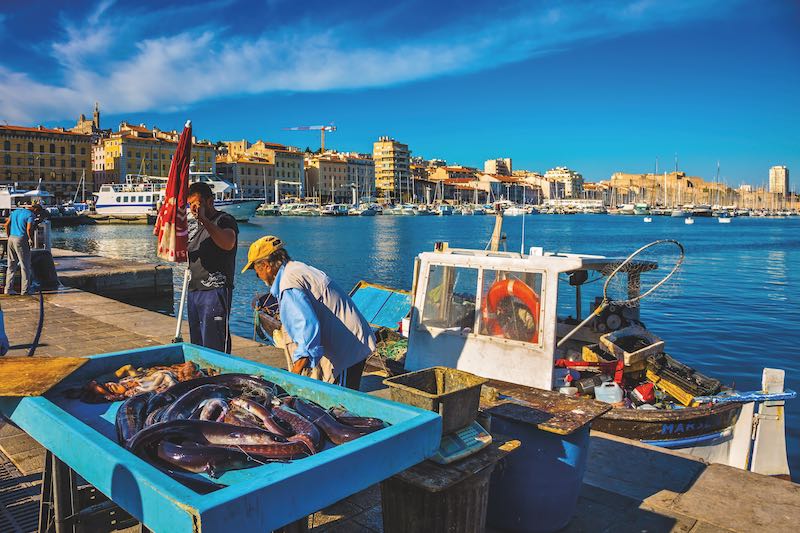 From lamb's trotters to a McDonald's-meets-bouillabaisse twist, a new breed of innovative chefs is shaking up Marseille's culinary scene
Marseille's reputation for edginess is so widespread that nowadays it is almost impossible to see the city's name in the mainstream media without the word "gritty" attached to it. Yet gang warfare is a million miles from the world the average culinary traveller will encounter and, for those with a watchful eye, Marseille is no riskier than any other large European metropolis. So, where to begin? Simply head straight to the port city's historic heart to discover a few of the taste sensations that make this stretch of coastline unique.
A must for the culinary adventurer is the InterContinental Marseille-Hôtel Dieu's legendary Les Fenêtres brasserie, where Michelin-starred chef Lionel Levy serves his unmissable signature dish, milkshake de bouille-abaisse. The story behind this unconventional version of the Marseillais favourite – served in a glass instead of a dish – is an intriguing one. Determined to create a distinctive flavour which would make his take on bouillabaisse stand out from that of other restaurants (despite working in the birthplace of the southern staple), Levy opted to jazz up the classic. Thumbing through La Cuisinière Provençale by Jean-Baptiste Reboul, he came across a vintage recipe with a vegetarian twist. The rest, as they say, is history…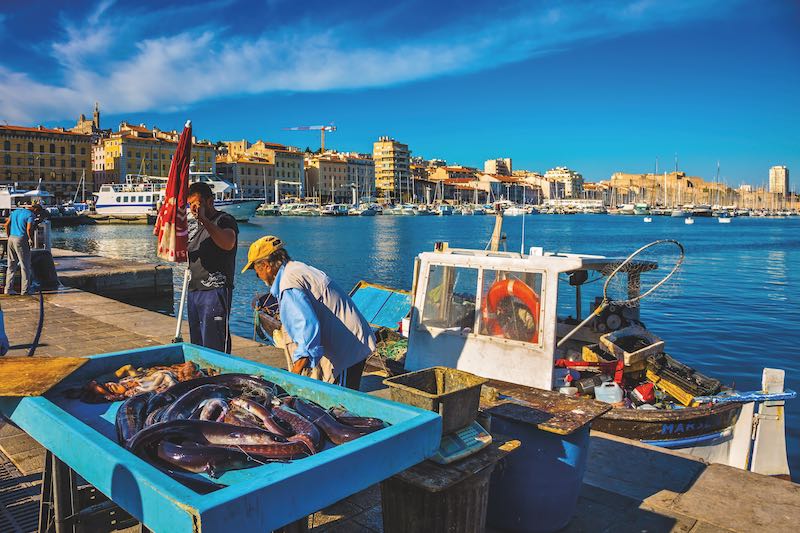 "I wanted to create something lighter and more delicate in consistency and [the vintage bouillabaisse borgne recipe] gave me the inspiration to add a sort of foamy egg cappuccino to the soup," he recalls. He didn't forgo the traditional poisson but the addition of the 'shake' and his own special seasoning was enough to zhuzh up the age-old recette and attract curious gourmets in droves.
Les Fenêtres certainly lives up to its name, with its terrace offering an impressive window out onto the sweeping skyline and the iconic Notre-Dame de La Garde basilica perched at the very top. Levy's passion for vegetables is apparent in all of his trademark dishes, including the fennel Tatin pie and – one of his personal favourites – the Pissaladière. "I love to mix the crunchy potato with the soft onions," he muses. Of course, the dining scene here is not solely about Michelin-starred chefs. Elsewhere in the inner city, against a backdrop of poverty and political tension, many up-and coming young chefs have thrived on the adrenalin present in times of trouble, surviving in spite of – and in many ways because of – the unrest.
HUMBLE ORIGINS
The historical origins of bouillabaisse are quite fitting. The fish version of the soup was initially brought to life not for diners in posh restaurants but for the humble fishermen who supplied their produce to them. Surviving on a much more modest budget than their clients, they would select what they believed to be the lowest quality and least appealing samples among their catch – the bony, meagre rockfish and shellfish they knew they would struggle to sell – and keep them for their own lunches.
How ironic that a dish with such lowly origins, once regarded as second best, would ultimately become one of Marseille's most sought-after delicacies. Traditionally the equivalent of a ploughman's lunch, it has evolved into the refined, mouth-watering soup we relish today.
Sylvain Robert, of L'Aromat, is a prime example of the talented new generation of chefs redefining Provençal classics with his own witty spin on the culinary stalwart: the hamburger de bouillabaisse, which presents the fish inside a home-baked bun served in a McDonald's-style container. As for the broth, it comes (not unlike Levy's milkshake) in a glass complete with a straw. "For this dish, I was inspired by fast food menus that offer a hamburger, fries and drink," Robert explains. "I took all the elements of bouillabaisse and reinterpreted them in the burger."
It might surprise the uninitiated diner to learn that the side of fries is no ordinary chip dish – on the contrary, they are made of fried chickpea flour.
While some restaurants are so committed to preserving the prized bouillabaisse recipe they follow a 40-year-old charter to keep the various elements of the dish exactly the same – Le Rhul, L'Épuisette and Chez Madie are three such examples – Robert's version is an unapologetically postmodern parody. Clearly then, from high-end Michelin restaurants to low-key, back-street cafés, and from recipes inspired by ancient cookbooks to brand new ones that satirise junk food culture, there are a myriad of reinventions of Marseille's most traditional dish.
But, of course, to focus only on bouillabaisse would be to fall prey to a cliché – there are many other scrummy choices on the scene. For instance, Lionel Levy highly recommends pieds paquets (a local dish consisting of lamb's trotters and stuffed lamb's tripe stewed together), les alouettes sans tête (stuffed beef rolls), tapenade (olive spread) and panisse (chick pea patties). He also relishes the Provençal brand of daube, a beef stew characterised by its orange zest flavouring. When not at his own restaurant, he greatly admires Chez Michel for its authenticity.
Then there is La Mercerie, where a sardine is not merely a sardine – instead it is infused with the likes of homemade miso, elderberry, saffron and basil vinegar, not to mention generous helpings of herbal salts. Led by British chef Harry Cummins and his team, the restaurant has already won numerous awards, including that of Best Newcomer at the 2019 World Restaurant Awards.
BEST-KEPT SECRETS
Amid the glitzy award ceremonies and accolades, it also pays to appreciate the unsung heroes that are as yet undiscovered by the mainstream. Interestingly, some local hotspots deliberately maintain their mystique, such as Chez Étienne on rue Lorette. With no phone number or website, it has remained largely under tourists' radar – and all the better for it. While a lively local atmosphere reigns, the bane of modern commercialism does not. A Marseille-style pizza starter here is borderline obligatory, while dishes such as fried soupions (squid) and Levy's favoured pieds paquets make for hearty mains.
And if you happen to be in Marseille in August, be sure to make the most of the annual couscous festival, which pays homage to the North African flavours that play such a big part in Marseille's cultural fabric. Go forth and indulge – and keep your eyes peeled for new restaurants popping up on the city's constantly evolving culinary scene. You might just discover the next taste sensation.
This comes courtesy of Taste of France Issue Two. For more great recipes, food news and interviews with top chefs, buy your copy here!