What wouldn't you give to be sauntering through a French vineyard right now, before settling down to watch the sunset from the terrace, glass of wine in hand? We know, us too!
Well Katie Jones is giving us the next best thing. Through lockdown, Katie, who is originally from Leicestershire in the UK, invited her community of fans to join her for regular 7.30am (GMT) tours of her vineyards via Instagram live, as well as Friday evening wine tastings.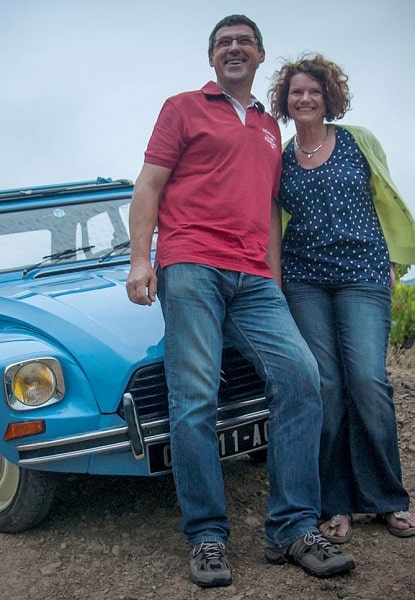 Viewers can watch as she checks the vines and learn all about the different grape varieties, identifying them by the leaves, the challenges of the weather, and wildlife, such as wild boar! There are even quizzes and prizes. You can watch previous rambles on YouTube.
Katie has lived in Languedoc for the past 20 years, working as marketing director in the local Fitou cooperative, and in 2009 she swapped the suit for pruning shears, bought her own tiny vineyard in the village of Tuchan, and turned her hand to making her own wine, which is now highly acclaimed.
We tasted three of her wines (all available online from domainejones.com) and here's what we thought…

DOMAINE JONES FITOU 2018 AOP
Made exclusively from old, low-yielding Carignan, Grenache and Syrah vines, this is a handsome wine – elegant and full of backbone. It has a rich vegetal bouquet with juicy bramble fruits on the palate. Katie says: "The secret of my Fitou is definitely in the age of the vines – most of them are over 100 years old and bring freshness, depth and a beautiful texture to the wine." She's not wrong! We think this would go beautifully with roasted game and earthy winter root vegetables.
DOMAINE JONES GRENACHE NOIR 2018
This is a beautiful, easy-going wine, full of character and easy to enjoy by itself or with food. Packed with mellow blackberries and pink peppercorns and cardamom, it is heady with spices and luxurious with fruit. It's oh-so-very drinkable – stock up fast!
DOMAINE JONES GRENACHE GRIS 2018
The plump fruitiness of melon is underscored by hints of liquorice and wild meadow flowers with juicy, honeyed tones. This generous white is larger than life – serve it icy cold and enjoy the way it blossoms with ever-growing complexity as it warms slightly.