Do you enjoy a glass of cider? Wondering what to drink it with other than the classic ploughman's lunch?
Worry not. Alistair Morrell and Roddy Kane, from Cider Is Wine, are here to help. The duo are on a mission to inspire people to take a new look at ciders and perries and put this genre of sophisticated, high-quality drinks in their rightful place alongside fine wine.
As part of this mission, they are keen to introduce people to ways of pairing cider with food – they've even produced a handy infographic!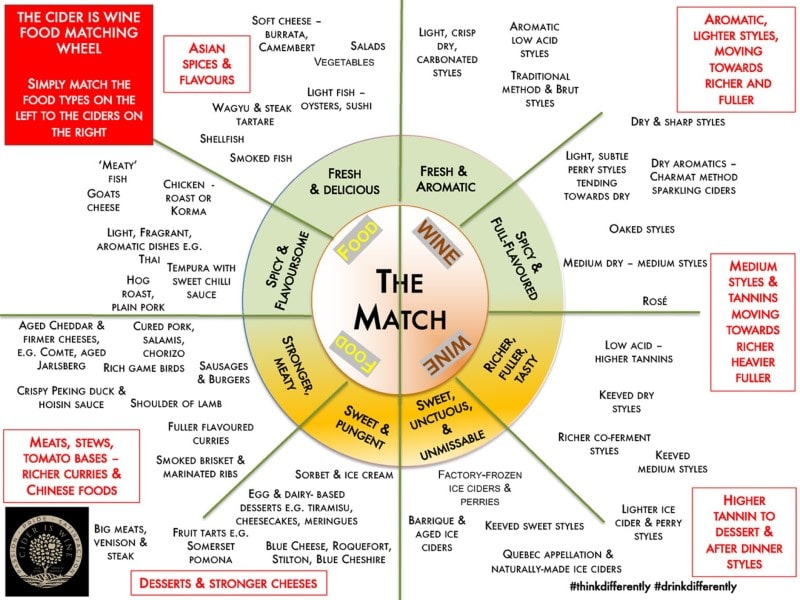 One of the producers in the Cider Is Wine portfolio is Templar's Choice, made in the heart of Normandy by British couple Anna and Adam Bland, who upped sticks from the UK in 1989.
Cider can trace its history in France back for more than 2,000 years, all the way back to the Celts, and Anna and Adam Bland are tapping into that rich history by producing natural, low intervention ciders and perries using the traditional Norman keeving process. Keeving is the artisan cider-making technique used to create a natural cider without sweetening or pasteurisation. Wild yeasts, cool cellars and low nutrient orchards are all key elements in the process. Only 100% fresh pressed cider apples are used, with nothing else added – no sugar, no water, nothing.
The Templar's Choice cidery is based at The Knights Templars Seigneurie farmhouse near the town of Vimoutiers, in the Pays d'Auge in the département of Calvados. The farm's 45 acres grow 100% traditional cider varieties in orchards which are untreated and bursting with insects, birds, wildlife and wildflowers.
Here are some tasting notes for their ciders and perries – and which dishes to enjoy them with!

Templar's Choice Naturally Sparkling Dry Cider
Tasting Notes: Pronounced rich and autumnal nose of aromatic, ripe apple with some floral notes. The front palate is fresh, with a fine mousse and good depth leading to a layered, creamy mid-palate. The back palate displays a fresh fine acidity and long, complex length. Overall, a beautifully balanced clean cider that finishes with a warm handshake.
Food Pairing: A classic 'méthode traditionelle' Normandy naturally sparkling dry cider is really always paired in Normandy with food, just as a dry wine would be. You can add little during the cooking (just as a dry wine would be) before drinking with roasts, casseroles, grills, vegetarian and vegan meals, but also fine curries. This pure juice, naturally sparkling ,dry cider pairs exceptionally well with most main courses, as well as being an excellent accompaniment to cheese, particularly Camembert (located just 2km from the cider farm), Livarot (part of the canton), as well as English cheeses such as farmhouse Cheddar and Stilton.

Templar's Choice Naturally Sparkling Medium Cider
Tasting Notes:Extremely well-balanced Normandy 'méthode traditionelle' medium pure juice naturally sparkling cider made with apple varieties that include Saint-Martin, fréquin rouge and petite jaune which provide the tannins that give it body, structure and depth. The very essence of Normandy Pays d'Auge demi-sec cider, the front palate has slight apple sweetness countered by back palate acidity and moderate tannins. A classically balanced cider.
Food Pairing: Pairs wonderfully well with pork and charcuterie, as well as a range of main courses for those who prefer demi-sec to brut. Great with cheeses, too: traditionally paired in in Normandy with Camembert, Brie, and Pont-l'Évêque, or British cheeses such as Cheshire, Wensleydale and Caerphilly would also be an excellent match. Also serve with desserts incorporating Bramley apples, plums and other such fruits.

Templar's Choice Naturally Sparkling Late Harvest
Tasting Notes: Made from apples picked later in the season, typically around Christmas, the extra depth and richness is counterbalanced by a crisp backbone of acidity, fine tannins and a natural, soft underlying sweetness.
Food Pairing: The pure juice of this sweet cider is perfect with desserts using fresh figs, dessert apples, bananas, or with cheesecakes, fruit charlottes and myriad other sweet desserts, but also with pâté entrées and crudités, for example.

Templar's Choice Naturally Sparkling Vintage (2016)
Tasting Notes: Made by the Normandy 'méthode traditionelle', this naturally sparkling 2016 vintage brut uses Domaine, Mettais, Bisquet & Raimbault cider apple varieties to produce a well-balanced all with genuine cider apple tannins to give it body, structure and depth.
Food Pairing: To be served with a range of traditional venison, beef, game, pork and lamb dishes, also rich vegetarian meals.

Templar's Choice Perry
Tasting Notes: The smooth and aromatic depths of this pale gold drink are enhanced by its natural effervescence.
Food Pairing: Goes very well with fish and seafood dishes, as well as chicken dishes – in fact it's a great alternative to a medium-dry white wine. A small glassful used in the cooking enhances many dishes with the bottle then served with the meal. It also pairs exceptionally well with chocolate or citrus-based desserts.
Where to buy
Cider Is Wine sells a growing list of 100% fruit content ciders, perries and fruit wines from more than 20 producers, part of a range of over 100 products from across four continents that you'll find in the Cider Is Wine portfolio and which are available nationally on the UK mainland. These are ciders that are redolent of their locality – what winemakers call 'terroir' – the varietals used, their year of production and the skill and passion of the maker. Visit www.cideriswine.co.uk.