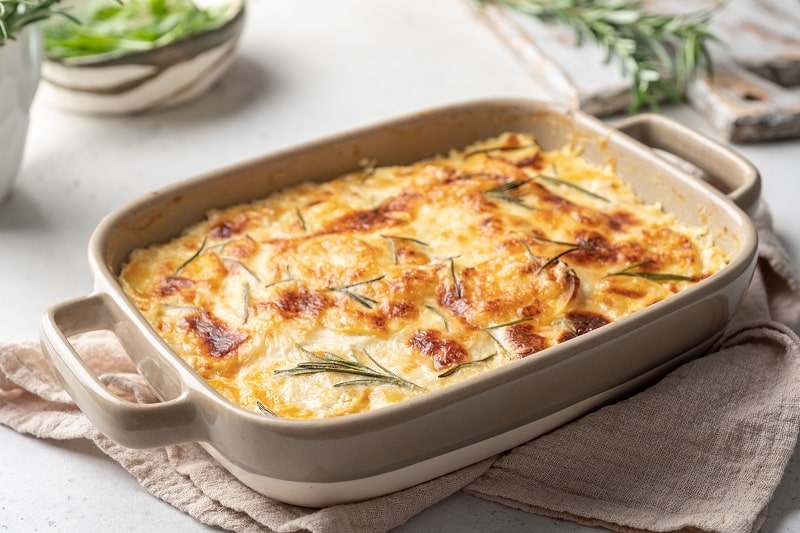 The humble pomme de terre reigns supreme in British, American and French cuisines, its warm, earthy flavours adding cockle-warming comfort to any dish. And with winter on its way, it's this time of year that the spud really comes into its own. So set aside your roasties and your mash and expand your repertoire with some of our favourite French potato dishes. They're so easy, you don't even need a recipe!
Peel and thinly slice large potatoes and a large onion, and layer, sprinkling with thyme as you go, into a baking dish. Pour over chicken stock to cover and bake for an hour in the oven at 180C. You can cook at a lower temperature over a longer period if that's more convenient. And for an easy-peasy Sunday roast, pop your lamb joint on top of the dish (it will add extra gooey deliciousness) and then leave the potatoes in the oven to finish browning on top while the meat rests.
Very similar to boulangère potatoes, but much naughtier and richer! Peel and thinly slice the potatoes (baking potatoes work especially well). Heat 500ml milk and 500ml double cream in a saucepan with three large cloves of garlic (peeled but kept whole) and bring to a simmer. Add the potatoes and allow to simmer for a couple minutes (be careful not to let the potatoes overcook and fall apart). With a slotted spoon, remove the potatoes into a baking dish. Discard the garlic and pour over the milk and cream mixture so the potatoes are just covered. Grate some Gruyère cheese over the top and bake at 190C for about 30 mins until the potatoes are soft and browned on top. Allow to set a little before serving.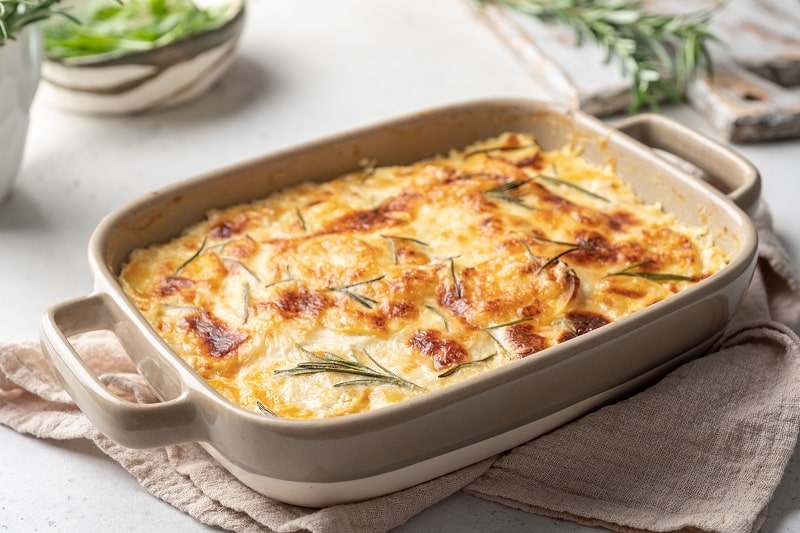 Peel and dice the potatoes into small cubes, season with salt and pepper, brown in olive oil in a frying pan and then transfer to a baking sheet, sprinkle with rosemary and flecks of butter and pop in the oven to cook through and crisp up. They should take about 30 mins at 180C.
FONDANT POTATOES
Peel your potatoes and cut off the ends so they stand upright. They need to be the same size or they won't cook evenly. Heat some oil in a saucepan (you need one with a lid) and brown the potatoes on either end. Add butter and baste the potatoes well. Add in sprigs of rosemary and thyme, some bruised garlic cloves and chicken stock and then pop the lid on, letting the potatoes simmer for about 40 minutes. Keep an eye on the pan to make sure it doesn't boil dry! Pop a knife into a potato to make sure it's cooked all the way through and serve.