While there are many activities to enjoy in all seasons and weather in the Vercors, there's also the perfect opportunity to relax and unwind in nature, and what better way to do that than with a delicious meal.
There's a heavy focus on organic food and an emphasis on local suppliers at most restaurants on the plateau, with chefs proudly sharing that the cheese is made only a short walk away on the nearest sheep farm, and one chef foraged for edible flowers in the garden as we were being seated.
It's reassuring to know where your food came from, and even better to learn the stories behind the restaurants and farms that are dotted across the Vercors.
Quite often the meals are seasonal and prepared fresh on the day of consumption, and gluten-free, vegan, and vegetarian options are readily available at most of the venues.
Auberge de la Croix Perrin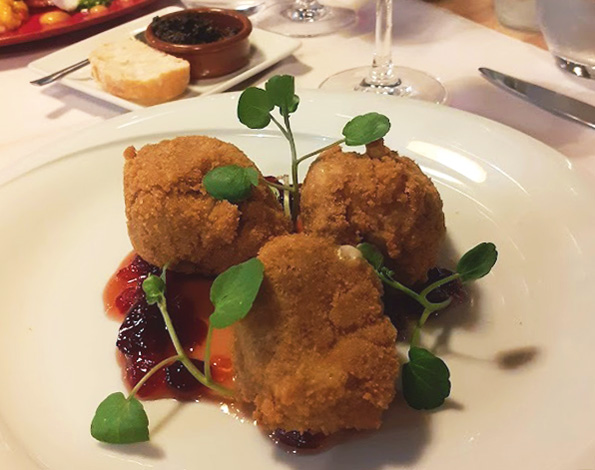 Halfway between Lans-en-Vercors and Autrans, this chalet-style hotel and restaurant is nestled atop the Col de la Croix Perrin and surrounded by a dense forest. The restaurant offers lunch and dinner menus of seasonal dishes crafted from locally sourced ingredients with short supply circuits. A list of their local suppliers is also available – we were told that the cheese was from either the Chatelard Goat Farm or Collombière Farm in nearby Méaudre.
Mouthwatering breaded camembert paired with a cranberry sauce was followed by a tartiflette made with Reblochon cheese, and then a rich crème brulée dessert with a shortbread biscuit.
3-course dinner from 34€
---
Les Hauts Plateaux Restaurant
---
La Bohème
---
Bistrot Ermitage
---
Musée de l'Eau
---
Le Vernay
---