Most of us have patiently stirred a béchamel while praying for all the lumps to disappear, or served up a chicken chasseur as a winter warmer. Some of us early-morning gourmands have even rustled up a hollandaise for a breakfast of eggs Benedict. But do you know what goes into a bordelaise sauce? Or the main ingredients required for a gribiche? And why shouldn't you put herbs in a périgourdine? Unfurrow that brow right now – our handy guide to French sauces will tell you (almost) everything you need to know.
Béchamel 
Butter, a little flour and creamy milk. Can be flavoured with stock, vegetables, mushrooms etc, but is far richer and tastier than the British 'white sauce', which is made with water. Actually thought to have originated in Renaissance Tuscany, it made its way to France in the early part of the 16th century thanks to the chefs of Catherine de' Medici. It is now one of the country's five sauces mères, as listed by the legendary Escoffier.
Béarnaise 
Clarified butter emulsified in egg yolks and white wine vinegar, flavoured with chervil, tarragon, peppercorns and shallots. A 'daughter' of Hollandaise, it was invented by chef Jean-Louis Françoise-Collinet in 1836. It's commonly served with steak.
Beurre Blanc
An emulsified butter sauce made with a reduction of white wine (normally Muscadet) and shallots. It hails from the Loire Valley and can also be made with red wine, which would give you a beurre rouge.
Beurre noisette
Named for its nutty scent, it is made by heating unsalted butter over a low heat until it separates and the solids sink to the bottom of the pan where they are allowed to brown. As well as being great with savoury dishes such as fish and chicken, it's also found in the batter for cakes, such as madeleines and financiers.
Bordelaise 
Red wine, bone marrow, butter, shallots, beef stock and sauce demi-glace. It is named after its place of origin, Bordeaux, and is traditionally made with one of the region's famous red wines. It has a big, rich flavour and works well with red meats.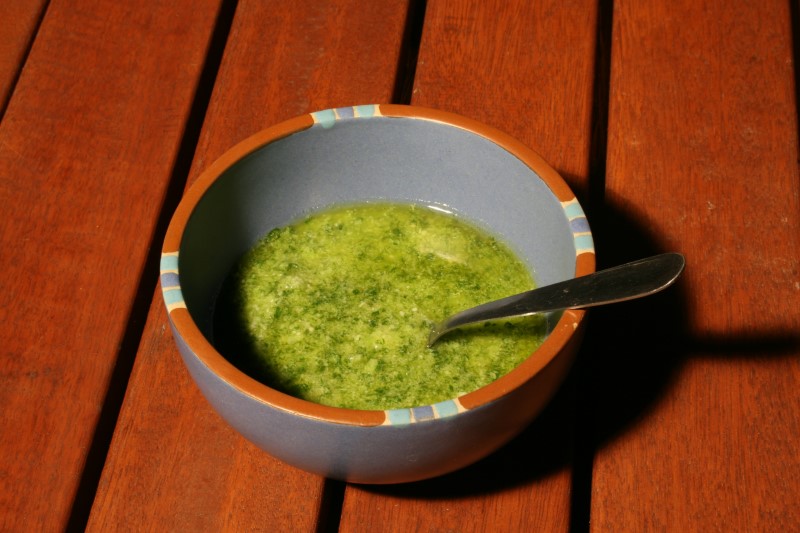 Chasseur 
This 'hunter's' sauce is made with demi-glace or Espagnole as a base and includes mushrooms and shallots, herbs and tomatoes. Classically used with chicken, it's great with rabbit and venison too.
Demi-glace
A rich brown sauce made by combining one part Espagnole sauce and one part beef or veal stock. Usually used as a base for other sauces, such as Bordelaise.
Espagnole
This basic brown sauce was popularised by Escoffier and is considered one of the mother sauces. It is made by adding veal stock to a dark brown roux, along with browned bones, pieces of beef, vegetables and brown sugar. Cooked slowly and reduced over a long period of time, tomato paste is added towards the end of the cooking time. Its strong, intense flavour means it is usually used as a base for other sauces rather than on its own.
Gribiche 
This cold sauce is made from emulsified hard-boiled egg yolks, mustard, chopped pickled cucumbers, capers, parsley, chervil and tarragon. It works well with cold meats and can even be used as a dip.
Hollandaise
This 'mother sauce' is an emulsion of egg yolks, melted butter and lemon juice, popularly served with asparagus. The earliest recipe for Hollandaise dates back to 1651 and contained the warning, "take care that it doesn't curdle". Quite.
Marseillaise 
Shallots, lots of garlic, olive oil, paprika and stock. Not surprisingly, coming as it does from the glorious sea port of Marseille, it's fantastic with seafood.
Mornay 
Béchamel with the addition of grated Gruyère cheese, and sometimes mushroom stock.
Perpignan 
Stock, dried ham, truffles, mushrooms, herbs and madeira. Frankly, it's delicious enough to eat on its own!
Périgourdine / Périgueux 
Like Perpignan sauce, but with white wine, and no herbs or mushroom.
Pistou
Not a million miles away from pesto, but lacking the pine nuts, pistou is made with garlic, fresh basil and olive oil all mashed up together in a pestle and mortar. Its name is Occitan for 'pounded'.
Provençal 
Tomatoes, herbs, onions, garlic, olive oil. This classic from the south of France simply bursts with the flavours of the Mediterranean and is great with pasta, fish, or vegetables to form a ratatouille.
Robert 
Chopped onions, white wine, demi-glace, pepper and mustard. Serve it with pork and you have a marriage made in heaven.
Tomate
Another 'mother sauce', sauce tomate is made with a roux and salted pork belly, onions, bay leaves, thyme, tomato purée or fresh tomatoes, roux, garlic, sugar, salt and pepper.
Vierge
Olive oil, lemon juice, tomatoes, red onions and basil, it commonly accompanies seafood and chicken and was made fashionable in the 1980s by lean cuisine inventor Michel Guérard.
Velouté
The last of Escoffier's five mother sauces, it is made with a roux and a light stock (ie. a stock made with bones which haven't previously been roasted) and seasoned with salt and pepper. Famously served with chicken or seafood, the key is its texture, velouté being French for 'velvety'.