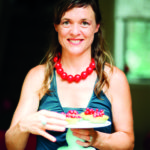 Serves: 4

Aside from un oeuf à la coque et des mouillettes (eggs and soldiers), the French are not notorious for including eggs on their breakfast menu. I'm still French, but I've lived abroad long enough that I've grown to find eggs indispensable. Individually baked frittatas like these frequently find their way to our table. I like to use ramekins to give them their nest-like shape and favour herbs freshly picked in the garden when possible. I suggest marjoram and parsley because I always grow some, but you can really choose whatever herbs you prefer. You will need: four ¾-cup (180ml), 4 x 2 in (10 x 5cm) ramekins.


---
Ingredients
2 tbsp olive oil, plus more for the ramekins
16 slices (2¾ oz; 80g) coppa
4½ oz (125g) crimini mushrooms, cleaned or peeled, and thinly sliced
1 garlic clove, peeled and minced
¼ cup diced red bell pepper
1 tbsp white vermouth or dry white wine
Sea salt and pepper
4 large eggs
2 tbsp crème fraîche
1 tsp finely chopped parsley
1 tsp finely chopped marjoram
1 oz (30g; ½ cup) Cheddar cheese, finely grated
Directions
1Brush the insides of the ramekins with oil, and line each with 4 slices of coppa, making sure the sides and bottoms are well covered, like a nest. Set aside.
2Preheat the oven to 350°F (180°C). In a frying pan (skillet), heat 2 tablespoons of olive oil over medium heat. Add the mushrooms. Cook for 3-4 minutes, stirring frequently, until they are soft. Add the garlic and bell pepper, and continue cooking and stirring for another 3 minutes.
3Add 1 tablespoon of vermouth and season with sea salt and pepper. Cook for 1 minute more, or until all juice has evaporated. Transfer to a small bowl to cool. In a large bowl, beat the eggs until uniform in consistency. Stir in the crème fraîche, parsley, marjoram and cheese.
4Season with pepper (the cheese and coppa provide enough salt). Stir in the mushroom mixture. Divide the batter evenly between the ramekins. Bake the frittatas for 25 minutes until golden brown. Serve with a simple green salad on the side.
IMAGE © BEATRICE PELTRE
---
Want more mouth-watering recipes? Order this wonderful book by clicking the link below!