Jessica Préalpato, head pastry chef at Alain Ducasse au Plaza Athénée, has been named the World's Best Pastry Chef 2019. She tells us about her culinary journey…
Did you always know you would choose this career?
I come from a gourmet family – my dad and my brother are both bakers, and my second brother is a chef and has just opened his own restaurant. But when I was in high school, it wasn't my dream to become a pastry chef – I wanted to be a psychologist because the human brain has always fascinated me. Then the fear of all the studying and the desire to do something more manual and work closely with a product led me to the kitchen. It was during my internships – and my encounters with Frédéric Vardon and Alain Ducasse – that my passion for pastry grew.
Do you have a specific dish which transports you back to your childhood – a madeleine de Proust?
I come from an Italian family and when I was a child, on Sundays we enjoyed getting the family together round the table. My father used to make a "Religieuse" (a cream puff) with a light Chiboust cream. I'm a big fan of this cream because I like its light texture and the subtle taste of vanilla… It's a real throwback to childhood when I eat it now in pastry shops.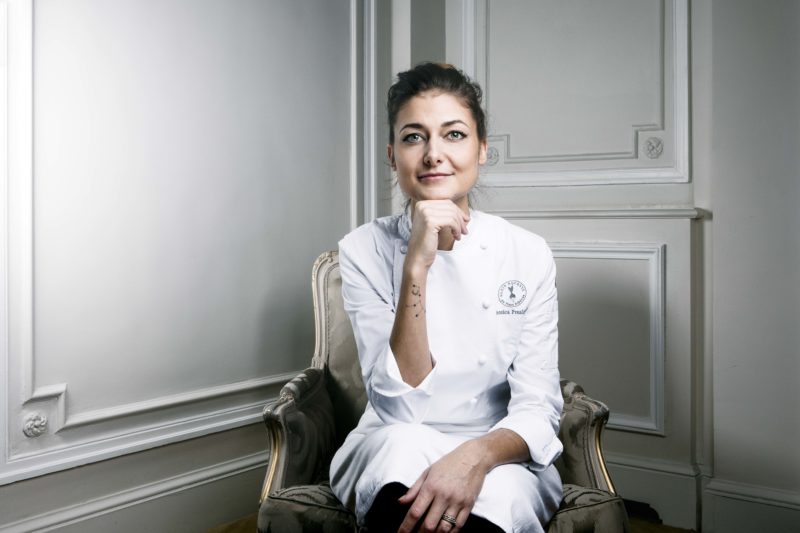 The name of your book, Desseralité, is a portmanteau of 'dessert' and 'naturalité', which is the basis of Alain Ducasse's approach to cooking. How would you describe desseralité and your style of pâtisserie?
Desseralité is a different way of thinking based on the product; respect for the product, the season, and the producer. The goal is to sublimate the product, to put its taste and rawness forward. Desseralité is about bringing the sugar out of the fruit – today, sugar is used as a seasoning.
The book traces my first three years in the restaurant, and the creation and the evolution of my desserts. When a dessert is imagined, there is always a story behind it, either from a meeting with a supplier or the discovery of an unusual product… Then we compose and prepare the dessert with the aim of surprising the diner with each bite. I like to use vinegar, alcohol… the goal is that the customer does not get "bored" and that each bite brings something new, a new emotion.
How do you create a dish and what influences can we see on your menu?
As my pastry is very "cooked", I am lucky to be able to work as cooks do. As a result, we weigh little, make all our condiments while tasting… We adapt our preparations to according to the product's sugar, its acidity, its bitterness… I am rigorous about the choice of products but less so about presentation, which comes last.
The inspiration for my desserts is diverse. It can come from a supplier who offers us a new product or a new variety of fruit. It can come from an interesting taste and we imagine the marriage of flavours that we could do. It comes from an idea from my pastry team or from my chefs. We must not put up barriers, and instead constantly say "why not?".
With so many French recipes to master, why is it important for you to innovate and create?
During my first years of studying pastry I learned the basics and the techniques, and I often worked with the same flavours and revisited classics… And the weighing used to bore me a little! These days, I stick to the kitchen of Romain Meder and the pastry of naturalness, which allows me to discover new products and realise new flavour combinations. I can also use a lot of cooking and baking techniques. I like to innovate and create.
IMAGE © ALAIN DUCASSE AU PLAZA ATHÉNÉE

IMAGE © ALAIN DUCASSE AU PLAZA ATHÉNÉE

IMAGE © ALAIN DUCASSE AU PLAZA ATHÉNÉE
What are your favourite ingredients to work with? And are there any ingredients you really don't like?
Fruits are by necessity my favourite products. I am lucky to have incredibly good products; a good fruit means 50 per cent of the work is done! The remaining 50 per cent is to sublimate it. I'm less comfortable with chocolate, coffee… they are more difficult to work with and I have to go back to "real" pastry recipes. I find bitterness complicated to work with.
You've worked around the world in locations such as Dubai, Tokyo, Beirut and St Petersburg. Has this inspired your work at all?
My experiences abroad have been very rewarding from human, cultural and culinary points of view. I brought back many Japanese techniques like fermentations and kakigōri, and the incredible lightness of their biscuits. In Russia, I only remember cream and cottage cheese buns and disguised fruits; complicated techniques to master! Beirut was also a revelation for me. I love their pastry. Honey, spices, dried fruits, flavours of roses and orange blossom… It was a real journey for the senses. I just regret not being able to learn more about their techniques.
You've just won the prestigious title of World's Best Pastry Chef 2019. What do you think has been the secret to your success?
I never imagined I would win this title. It was unexpected, but I am so proud and so happy for the team at the restaurant. It puts desseralité in the spotlight. Naturalness – working and presenting the product in the rawest way – was a real challenge five years ago. I am delighted that customers around the world understand our pastry and our message.
Can you share any secrets with our readers baking at home?
I'm a very bad example of a pastry chef at home – I don't have a pastry robot or fancy equipment. When I make desserts, I keep them pretty basic… French toast, pancakes, clafoutis or desserts based on fruit and pesto, all very simple and fast. I would just tell people to select their fruits and eat them perfectly ripe and at room temperature! Their taste will be changed.
Pâtisserie seems to be one area of the gastronomy which can be very trend-driven, especially with the rise of "Instagrammable" restaurants and desserts. Are there any patisserie trends you really can't stand?
No, I'm curious about all styles of pastry. The only thing I do not understand is the pastry chefs who create desserts every day to feed their social networks. Some are inventing a new dessert every day… How is it possible to create in such a short time? For me, creation is a real work of research around the products, the suppliers, the textures… It is also about asking oneself "how can I make my pastry evolve?". I can't imagine people can do this process in one day. I think it becomes a mechanical pastry in which there is no soul.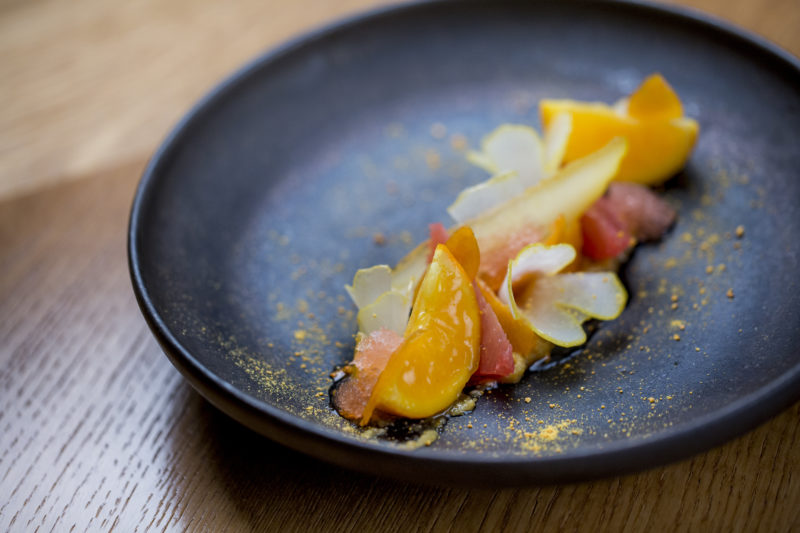 Where would you recommend our readers go for dessert in Paris, apart from the Hôtel Plaza Athénée?
I love Michael Bartocetti's desserts at the Shangri-La Hotel in Paris. His desserts are not overly sweet and I think his gluten-free work is carried out perfectly. On top of that, the setting is also idyllic.
Do you have any future plans that you can share with us?
Firstly, to welcome my daughter to the world! And then to continue to develop naturalness with Alain Ducasse. I think I have grown naturalness to only 50 per cent of its capacity. There are still many partnerships to create, and products for our customers to discover and rediscover. And I am very attached to my team without whom nothing would have been done; I want to keep moving forward with them.
Jessica's delicious desserts can be found at Alain Ducasse au Plaza Athénée. One of Jessica's creations will also be available at La Galerie, La Terrasse Montaigne, Le Relais Plaza and via Le Room Service from September priced 22€.
https://www.dorchestercollection.com/en/paris/hotel-plaza-athenee/