At the tender age of 17, Senegal-born pastry chef Jean Marc Diop came to France to attend culinary school. He was in his final year when the school's director invited him to stay on and join a new restaurant dessert course that he had just added to the curriculum. It was a year-long, intensive programme that cemented Diop's desire to work as a pastry chef – and he has gone on to enjoy a long and successful career in an extremely competitive field, being named French Champion of Dessert in 1998. Renata Haidle finds out all about his inspiration…
Do you have a role model in the pastry world?
When I was young, my father often said to me, "He who does not have a taste for the absolute is content with a quiet mediocrity." That still resonates with me today. In my dorm room, I had placed on the wall above my bed the photos of all the great chefs who were the stars at the time. Every night when I went to sleep, I dreamed of following in their footsteps and making a name for myself one day. You must always believe in your luck and know how to seize it when it comes to you. I've had the chance to meet great men, who shaped and guided me. My only way of saying thank you was to succeed, to show them that their efforts were not wasted. It wasn't an easy journey because at the time there were very few people of colour in the pastry world who managed to break the glass ceiling and become successful.
Do you have a preferred combinations of flavours?
When I arrived in France for my studies I underwent a profound cultural metamorphosis. As a result I am like a chameleon, adapting and gathering inspiration from my surroundings. I have a solid knowledge of spices and exotic fruits thanks to my African heritage and I have acquired a solid knowledge of Western products, as well. This cultural cross-fertilisation – that I share even in my personal life with my Scottish-born wife! – gives me a huge freedom of creativity based on the idea that knowledge is freedom. I'm open to every taste combination to seduce all palates.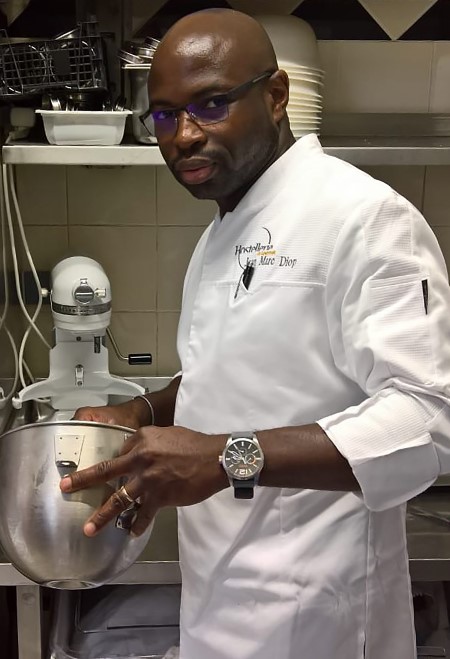 What is your favourite ingredient?
Chocolate – it is a complex product in its origin, its production, and the possibilities it offers. It is mysterious, warm, captivating, fragile, powerful and sensual. It conquered the entire world, appealing to all tastes and all social strata. To see what I mean, try taking a bite of chocolate, close your eyes, and let your senses awake and undergo this whirlwind of sensations. The complexity of this ingredient is simply magical and, to me, it has no equal.
Is there a baking tip you could share with our readers?
Whenever using dry spices such as cinnamon or cardamom, I advise you to soak them for a few minutes in cold water to rehydrate them before use. Their aromas will be significantly enhanced. Where do you find inspiration for new recipes? Everything around me can be an inspiration. For example, if I'm in a waiting room with green plants, a pink sofa, and yellow tables, all these colours correspond to ingredients in my imagination. I will automatically associate flavours with them and a culinary composition will begin to emerge. Then I go to test the idea in the pastry lab, before sharing it with my team. This step is the most exciting part of the process. It is this notion of sharing, of human relationships, that gives this profession its beauty and value.