He single-handedly put artisan break back on our tables 20 years ago but boulanger Éric Kayser is just getting started
You are a fifth-generation baker. Did you always know you'd follow in your forebears' footsteps?
Nothing forced me to follow in their footsteps… But when it came to deciding what to do with my life, I knew immediately that bread would be at the heart of it. Work, passion and a love of sharing are in the DNA of a boulanger. The boulanger is at the heart of a village and his bread is on every table. I didn't think twice about it when it came to embracing my father's job.
What is your fondest childhood memory?
It's often said that olfactory memory is the most developed and I believe it! My oldest memory is the smell of warm butter… in croissants. The morning batch would fill the boulangerie, our house and part of the street with a wonderful smell. Every time I breathe in that wonderful smell, it transports me straight back to my parents' boulangerie in Lure and the little boy I once was.
You created the Fermentolevain machine in the 1990s; what's the concept behind it?
In the 1990s making artisan bread with natural leaven was going against the grain. White bread made with chemical yeast could be baked in record time. Leaven bread on the other hand requires time; just making the leaven (a key ingredient of bread dough) and then allowing it to ferment took a very long time. So in order to make bakers' jobs easier I came up with the idea for the Fermentolevain which produces and allows for the continuous use of liquid leaven.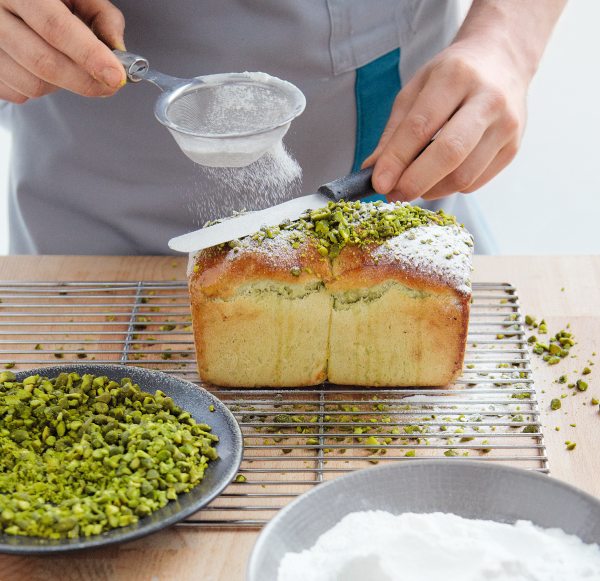 You opened your first bakery at 31. Why did you wait so long?
When I finished my training with the Compagnons du Tour de France [craftsmen's guild], I didn't really want to work for myself. I had been around France, and I was keen to pass on the savoir-faire I had learned from the boulangers I had met along the way; so, quite naturally I turned to teaching. I trained boulangers around the world in the tradition of artisanal breadmaking before finally opening my first bakery in 1996, in rue Monge in Paris. After creating the Fermentolevain I decided it was time to put what I had learned on my travels into practice.
What's your ethos as a boulanger-pâtissier?
Use seasonal fruit and vegetables as much as possible. And where bread is concerned: good bread takes respect and time. You need to use sustainable flour, leaven and make sure it's properly fermented. To respect nature's rhythm and harmony means not being "outside of time". I really believe in this subtle equilibrium.
Have you seen a change in the way people make and buy bread?
The public really aspire to a return to good old-fashioned bread, wholesome and nourishing. The post-war years took a terrible toll on the way we eat. White industrial bread is still a big part of the market today. The time has come to right this wrong. The foundations have been laid but it will take some time to completely change course. But I'm confident. Consumers are a lot more aware. They know the best medicine is watching what they eat each day.
Boulangerie is not immune to trends. Is there a particular fad that gets your goat?
I don't think trends should be dismissed. All trends are the product of research, and work and they highlight a need. Everyone is then free to follow them or not. And if one is particularly annoying, just bide your time. They all pass eventually!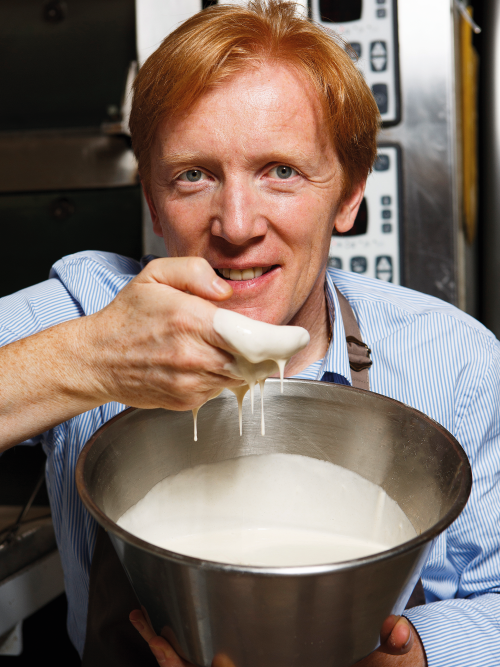 You own more than 200 boulangeries around the globe. Is introducing 'real' bread to the world your ultimate goal?
Through my travels I learned that bread is always synonymous with friendship and taste. Breaking bread is a symbol of sharing. This means that a boulanger is not just an artisan who happens to wake up early but someone who helps to foster relationships. The universal nature of the job definitely nurtured my taste for world travel. As a Compagnon, passing on my knowledge is crucial. Spreading the love of French bread and boulangers' know-how has always been an ambition.
What has been your greatest challenge?
Promoting craftsmanship and artisanal careers and helping young people to find their way to these traditional professions that were neglected for a long time. There is a real paradox today: our knowledge is the envy of the world and yet there's a shortage of boulangers. It's a shame, it's such a wonderful profession. Every day the fruit of our labour ends up on dinner tables, ready to be shared, tasted. There is nothing more rewarding, surely?
What is your péché mignon (weakness)?
I love coffee in every shape or form. There's nothing better than dipping a croissant or buttered toast in a nice cup of coffee.
Is there a pastry or ingredient you really can't abide?
I hate onions just about as much as I love coffee.
IMAGE © PHAIDON, MAISON KAYSER, ALBAN COUTURIER, THIERRY SAMUEL

IMAGE © PHAIDON, MAISON KAYSER, ALBAN COUTURIER, THIERRY SAMUEL
What's the secret to the perfect baguette?
The perfect baguette is the product of several secrets! The first is the quality of the flour: it needs to be traditional and sustainable. The second is the leaven, water, flour and a pinch of salt. The third is time. The perfect baguette needs a long time to ferment. It's only with time that bread reveals its subtle flavours, its soft and airy crumb. The boulanger is a sort of conductor who brings these elements – water, fire – to life to a set tempo. He is also a bit of a magician; therein lies his skill.
What's your next project?
I would like to see bread recognised as world heritage by UNESCO. Last January at the annual Galette des Rois ceremony at the Elysée Palace the president backed this bid and I'm convinced we will succeed.
What's the most important lesson you've learned?
"On est tous les jours apprenti", you're an apprentice every day. That's what my grandfather used to say. Never stop learning or perfecting what you think you already know.