A rare slice of French culinary history is going under the hammer in the form of a book by the 17th-century 'father of French cooking' François Pierre La Varenne, who introduced the British to the bouquet garni, bisque, bechamel and mille-feuille amongst other things.
It is part of Caroline Crisford's private collection of exceptional culinary literary works that spans five centuries and charts the progression of cooking in Europe.
La Varenne (1615–1678) transformed Renaissance and Medieval French cooking in the 16th and early 17th centuries. He wrote the famous Le Cuisinier François in 1651 and it is considered to be one of the most important cookery books in early French cuisine, in use right up until the French revolution. This rare Italian second edition carries an estimate of £2,000-£3,000.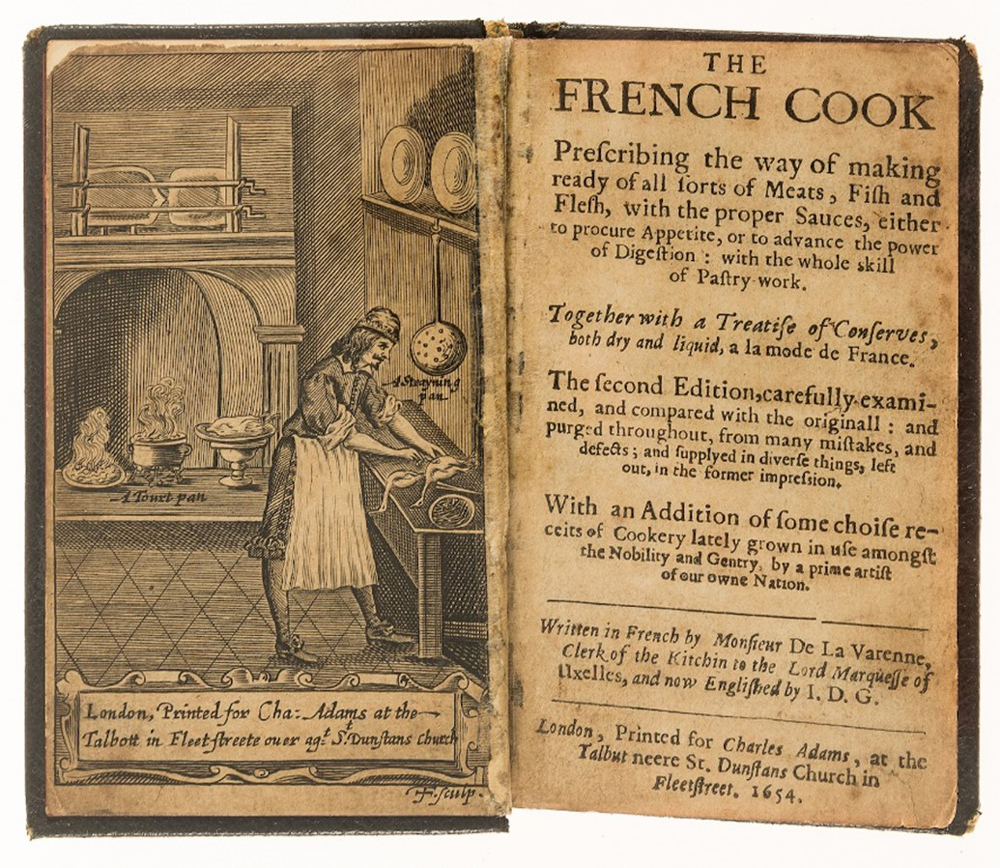 In the same collection is a rare copy of a cookbook by Louis-Auguste II de Bourbon, Prince de Dombes (1700–1755), who was the grandson of Louis XIV and his mistress Francoise-Athenais de Montespan. An accomplished amateur cook, he compiled his highly original recipes into a book titled: Le Cuisinier Gascon, with a dedication to himself at the front of the book, believed to have been written deliberately to put readers off the scent of the identity of its author. His recipes were much admired, as they were easy to follow, yet impressive and delectable. His creativity radiates throughout the book, his culinary skills most likely to have been developed via small intimate dinner parties held for other members of the aristocracy. This rare First Edition dates from 1740 and is bound with a First Edition of Marin's Les Dons de Comus, Paris, 1739. It is estimated to fetch £1,500-£2,000.
Rupert Powell, Deputy Chairman and International Head of Books at Forum Auctions, said: "The Caroline Crisford collection was assembled with a genuine passion and depth of knowledge of not only British food and drink, but also that of the other two major European cuisines of France and Italy. The books and manuscripts from five centuries take us from the raw ingredients (be they in a kitchen garden, or on a farm), on to the recipes that transform them and thereby chart the evolution of eating and drinking across Europe." The collection is estimated to fetch between £60,000-£80,000.
The collection also features a rare First Edition by the well-known 17th century Physician Dr. Daniel Duncan, titled: Wholesome Advice Against the Abuse of Hot Liquors, Particularly of Coffee, Chocolate, Tea, Brandy and Strong-Waters. Coffee, tea and chocolate, which today are a huge part of everyday life, arrived in Britain in the mid-17th century, to great bemusement. With tea coming from China, coffee from North Africa and chocolate (initially in liquid form until the 18th century), originating from the tropical rainforests of Central and South America, they were seen as highly exotic by the public and therefore very desirable.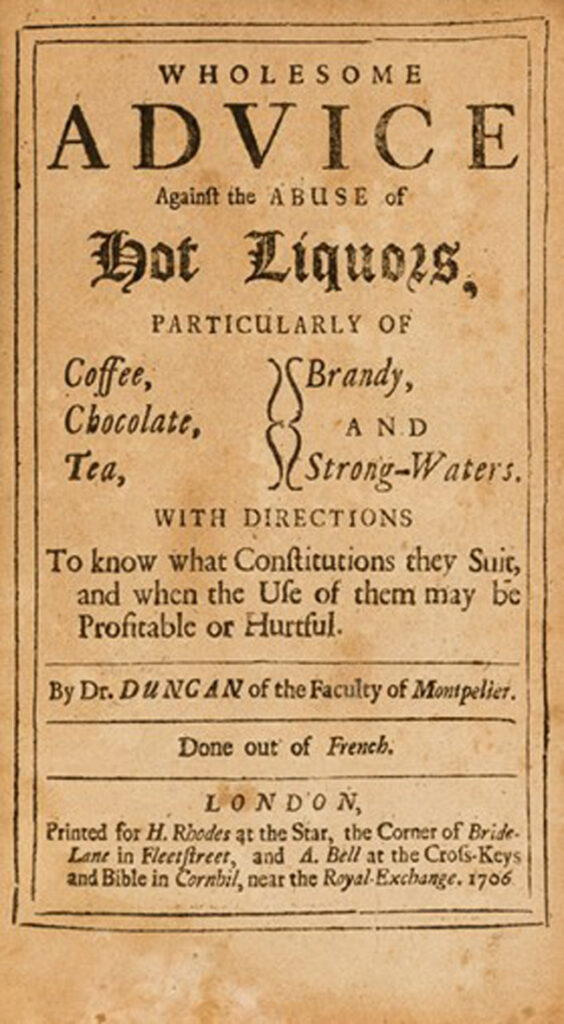 However, their arrival and consumption caused concern amongst some of the medical community, such as Dr. Duncan Daniels, who feared the impact that these new 'substances' might have on the country's health. He was from the prevailing 'four humours' school of thought, in which the body was comprised of four distinct substances that needed to be in balance: blood, phlegm, yellow bile and black bile. Their imbalance was thought to threaten well-being and trigger disease, which Dr. Daniels believed was instigated by the effects of caffeine and alcohol.
When they emerged in Britain, coffee, tea, chocolate and brandy were officially classified as drugs rather than food, by doctors that saw them as health-inducing, with recommended dosages being prescribed only by physicians and chemists. Tea was considered a decongestant, coffee was believed to help headaches and digestion amongst other things, while chocolate was thought to help with childbirth and to also have beauty benefits, causing women to start drinking chocolate across the country! Brandy had been introduced in the 16th century and was also first used as a medicine for its antiseptic qualities. This treatise is a First Edition in English and was printed in 1706. It is estimated to fetch £600-£800.
The Gastronomy Library of the late Caroline Crisford goes under the hammer at Forum Auctions on Thursday, June 23, 2022. Online bids can be placed via the website.