Jean-Marc Espinasse explores the vineyards near the Spanish border
Just by the Spanish border, not far from Bayonne and on the steep slopes facing the majestic Pyrénées Mountains, are the vines of Irouléguy.
This small appellation is the only French Basque vineyard (the others are Spanish Basque) and it reveals the strong personality of an area which has always claimed its own identity.
Winemaking in the area dates back to at least the 3rd century, earning a mention by the Romans, and by the 11th century the monks of the Abbey of Roncesvalles were busy planting the first large-scale vineyards to provide wine for the pilgrims travelling along the Way of St James. Eventually, winemaking was taken over by local villagers and by their peak in the 17th century, the Irouléguy vineyards comprised some 500 hectares.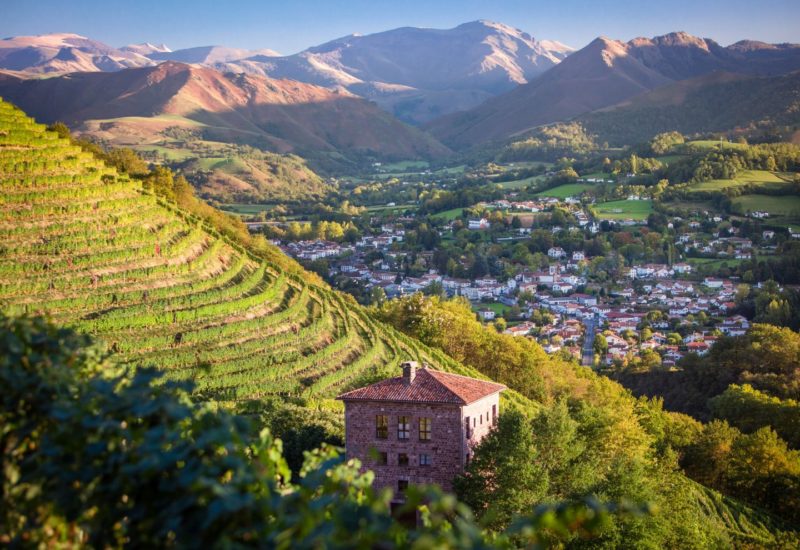 Production was boosted considerably by the Viscount of Urdos, who encouraged the locals to grow grapes even on the steep slopes. The 18th century saw relatively high levels of employment in the area due to increased mining activity, further boosting the consumption and thus production of local wine. Sadly, a period of decline followed, and the vineyards were hit hard by the devastating Phylloxera in the early 1900s. By the 1980s, only 70 hectares of vineyards remained.
The reds produced here are a combination of Cabernet Sauvignon, Cabernet Franc and Tannat. The whites are made with more "exotic" grapes like Courbu, Gros and Petit Menseng, producing a deep and complex wine perfect for enjoying with the local charcuterie, such as the famous jambon de Bayonne. Note that the rosés, with their deep colours, are very interesting, especially since I think the reds are sometimes a bit rustic when they are young.

Besides the Cave Coop, which produces most of the wine, and does a fine job of it too, there are not a lot of producers. Domaine Brana is the most famous; I also enjoy the rosés from Abotia and my personal preference is for Domaine Ilarria.
This area is just beautiful, with its ocean, mountains and valleys, great food and a strong identity. If you enjoy good food, good wines and beautiful landscapes, I would highly recommend a visit.