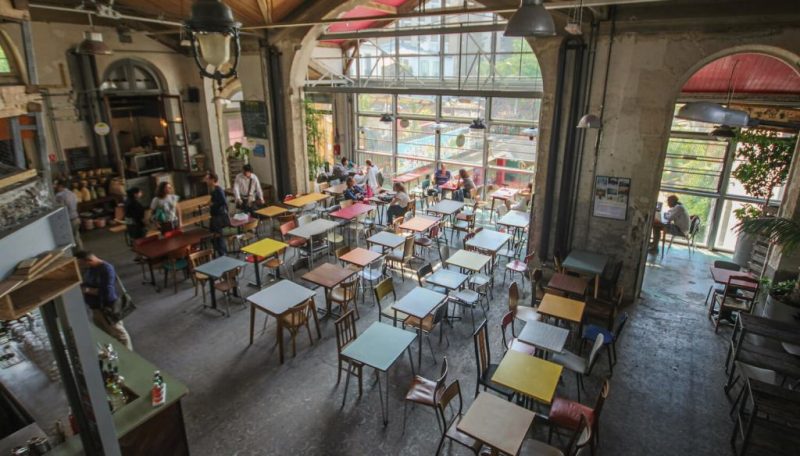 Helen Massy-Beresford, author of The Food-Lover's Guide to Paris, picks her top spots to enjoy the watching the world go by in Paris
MONCŒUR BELLEVILLE
One of the city's best open-air spots, with a breathtaking view across the city to the Eiffel Tower and a good quality and inventive menu including a sumptuous Sunday brunch.
1 rue des Envierges, 75020
moncoeurbelleville.com
PANAME BREWING COMPANY
A lovely spot to sip a craft beer and enjoy the last of the sun's rays and the long views over the basin de la Villette reservoir.
41 bis quai de la Loire, 75019
panamebrewingcompany.com
CAFÉ KITSUNE
Great coffee and cakes in the beautiful setting of the colonnaded Palais Royal Gardens.
51 galerie de Montpensier, 75001
maisonkitsune.com/mk/fr/cafe-kitsune-2
CAFÉ SUEDOIS
The café of the Swedish Institute, in the heart of the Marais, is a wonderful semi-hidden location in a touristy spot. Enjoy a cinnamon bun or a slice of blueberry tart at one of the tables in the courtyard of this beautiful hôtel particulier.
11 rue Payenne, 75003
paris.si.se/que-proposons-nous/cafe-suedois
BERTHILLON
You can't come to Paris – at least when it's sunny – and leave without sampling a Berthillon ice cream as you stroll along the banks of the Seine.
29-31 rue Saint-Louis en L'Ile, 75004
berthillon.fr
LE RESTAURANT DE LA GRANDE MOSQUÉE DE PARIS
Sip a mint tea and nibble a honey-scented pastry in the shady courtyard of Paris's beautiful green-and-white-tiled main mosque.
39 rue Geoffroy-Saint-Hilaire, 75005
la-mosquee.com
CAFÉ A
Come to this arts venue for the quirky menu and above all, for the lovely peaceful surroundings of this former convent that provides a calm space in the midst of a busy district.
148 rue du Faubourg Saint-Martin, 75010
cafea.fr
LE PAVILLON PUEBLA
Cocktails, pizza and hammocks – a perfectly relaxed combination in the wonderful, fairy-tale parc des Buttes-Chaumont.
39 avenue Símon Bolívar, 75019
leperchoir.tv/location/le-pavillon-puebla
LE CHALET DES ÎLES DAUMESNIL
A Parisian dining experience with a twist, this restaurant is located on an island in the bucolic setting of the Bois de Vincennes, one of the city's main green spaces.
Ile de Reuilly, Bois de Vincennes, 75012
lechaletdesiles.com
LE BISTROT DES DAMES
You can't book the courtyard tables at this neighbourhood favourite, but if you get there in time to nab one it's a magical spot to enjoy the inventive bistrot cooking.
18 rue des Dames, 75017
eldoradohotel.fr
LA RECYCLERIE
Try the homemade lemonade at this urban farm overlooking an abandoned railway line, where the food waste from the café gets recycled into food for the chickens and compost for the vegetable garden.
83 boulevard Ornano, 75018
larecyclerie.com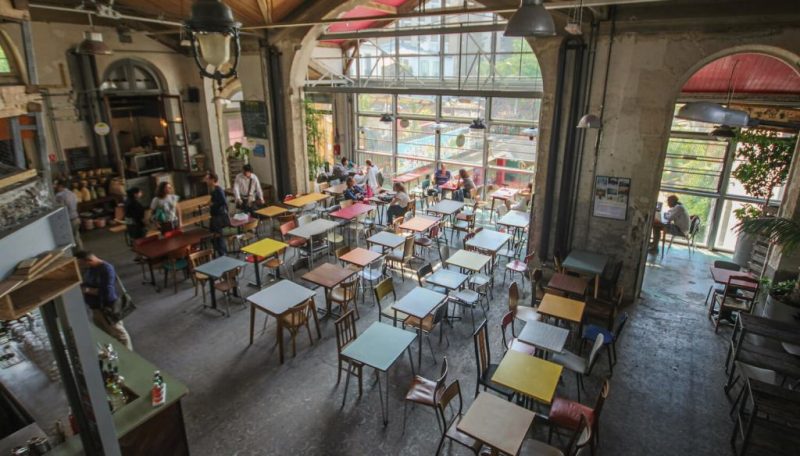 For 25% off The Food Lover's Guide to Paris, buy direct from the website using the code PARIS25: https://bit.ly/2ItAFMm