From dainty madeleines and Champagne to pig's trotters, the food of Grand Est is both refined and hearty with a distinctive Teutonic twist. Claire Vaughan investigates this enigmatic region
Kougelhopf, anyone? Fleischnacka? Sauerkraut? There's an unmistakable German flavour to Grand Est – hardly surprising when you consider that much of this eastern region borders Germany and Switzerland (and parts were, for a time, under German rule). From its sparkling Champagnes to winstub-worthy Alsace beers, sublime quiche Lorraine to Christmas-spiced bredele and dainty madeleines, this region's food reveals a tale of two countries.
So let's head east and pile our plates high with the best Grand Est has to offer – with a large side order of German culture. Guten appetit!
New kid on the block, Grand Est encompasses the former regions of Alsace, Lorraine and Champagne-Ardenne. It comprises no fewer than ten départements: Ardennes, Marne, Aube, Haute-Marne of the old Champagne-Ardenne region; Meuse, Moselle, Meurthe-et-Moselle, Vosges forming Lorraine; and Bas-Rhin and Haut-Rhin, belonging to Alsace.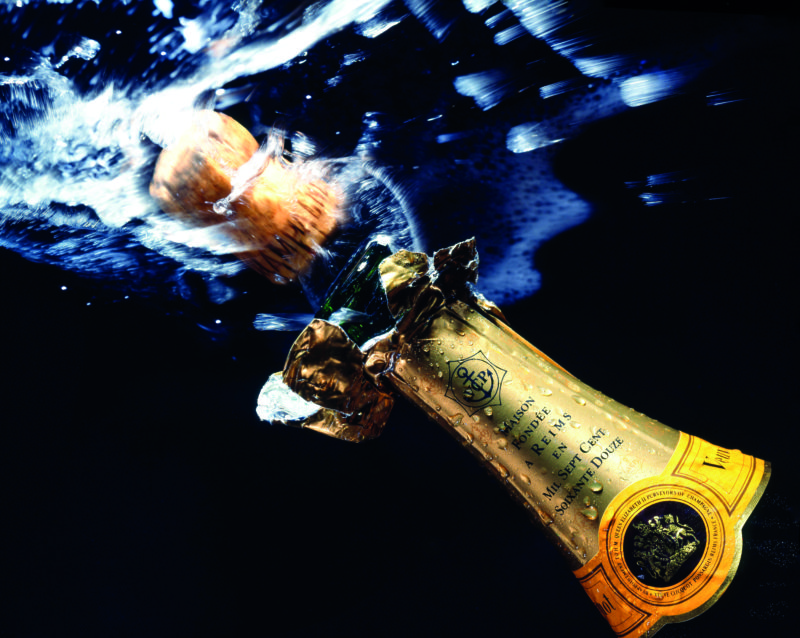 A gastronomic tour of Grand Est is a big undertaking: it covers more than 57,000km2. With such a vast region to explore, it makes sense to split our foodie odyssey into these three fascinating, but very distinct, areas. With its strategic location, World War One saw Champagne-Ardenne in the thick of hostilities, particularly Ardennes and Marne, and it still bears the scars. Despite this, its beautiful countryside, pretty half-timbered cities and towns – including Reims, Troyes and Châlons-en-Champagne – radiate a joie de vivre, and a love of great nosh (and the finest of wines). Food in this region is all about cuisine du terroir.
Classics such as boudin blanc (a speciality sausage from Rethel) and potée champenoise (a hearty stew of pork, sausages and root vegetables) are typical family staples across the region. A favourite in Marne is pieds de porc à la Sainte-Ménehould – pig's trotters – the recipe is a closely-guarded secret. Trot down to the annual Foire aux Pieds de Cochon de Sainte-Ménehould, held every spring, to find out more.
The cheese here ranges from soft, creamy Chaource, often used in mushroom fondues; to pungent Langres; and Rocroi, a soft, square cheese with a brown rind.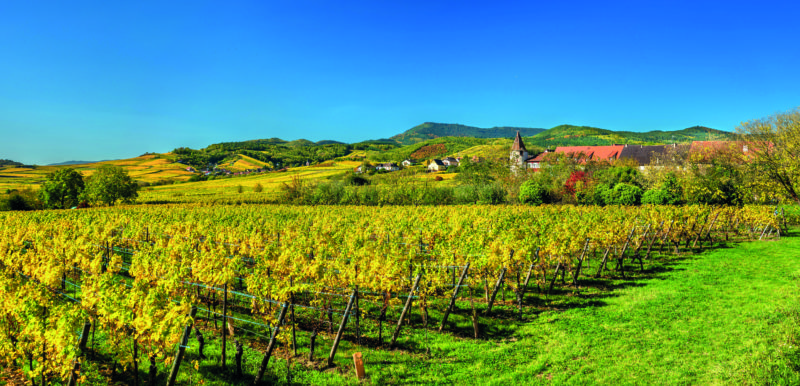 BOTTOMS UP!
Of course, Grand Est is also home to that most iconic of sparkling wines, Champagne. Every two seconds, somewhere in the world, someone opens a bottle – there goes another one! Of the (approximately) 300 million bottles produced annually, 50 per cent are exported.
Despite its exclusive reputation, you don't need the income of a film star or royalty to enjoy it on its home turf. The region's capital Reims (famed for its UNESCO World Heritage sites), along with Épernay, is at the epicentre of Champagne production in the Marne, and you'll also find producers around Troyes and Côte des Bar to the south.
Such is the reverence for Champagne that many of the hillsides, houses and cellars around here are UNESCO-listed. Reims sits on top of 250km of Champagne cellars, holding 200 million bottles of the fizzy stuff. The biggest names are all here – Pommery, Lanson, G.H. Mumm, Taittinger and Veuve Clicquot Ponsardin – so dive right in, pick your favourite(s) and get tasting. (You'll find Moët & Chandon and Mercier in Épernay).
Reims Tourist office (www.reims-tourism.com) organises trips to many of the vineyards. If a tour isn't enough, ask about the region's wine festivals, or investigate the 500km-long Champagne Wine Route (www.champagne.fr/en) that wends its way through the vineyards and pretty villages.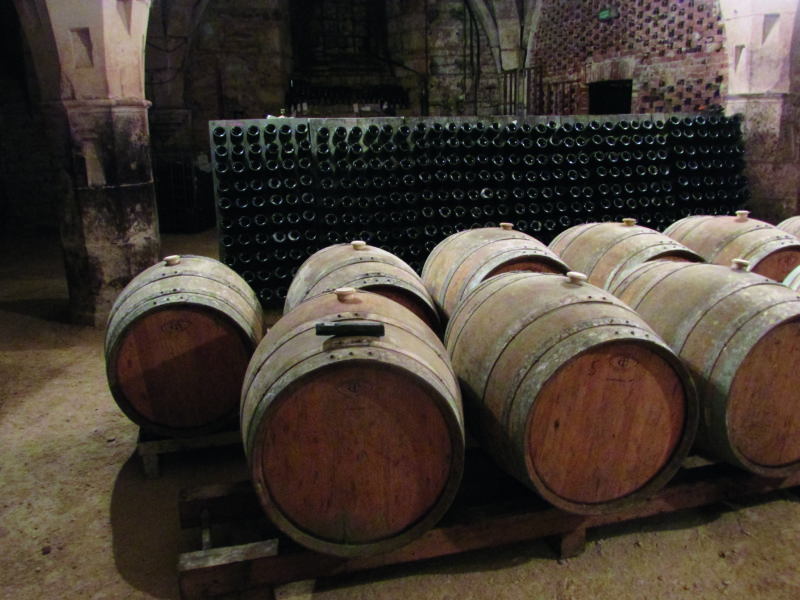 The city has non-liquid delights too. Bouchons de Champagne, shaped like Champagne corks, are chocolates filled with a Champagne liqueur. Xavier Thibaut at the Chocolaterie Thibaut in Pierry will happily show you how they're made.
Even more iconic is le biscuit rose de Reims, created in the late 17th century. These delicate pink biscuits are produced by Reims-based Maison Fossier biscuit company and often make guest appearances in the region's desserts. Swing by artisan pâtisserie Waîda & Fils in place Drouet d'Erlon for more of Reims's divine delicacies – or see and be seen in its stylish Art Deco salon de thé.
For something savoury after all that sweet indulgence, try jambon de Reims, a tender, boned ham made from pork shoulder, cooked in stock, pressed and rolled in breadcrumbs, or the local andouillette de Troyes. Reims is also famous for its vinegar and mustard – perfect to spice up your ham and sausages. Terroir des Rois on rue Robert de Coucy by the cathedral can furnish you with gourmet foodstuffs for a luxury picnic, but Reims's bustling Boulingrin covered market (open Wednesday mornings, Fridays and Saturday mornings) is probably the best place to stock up on local specialities. Look out for truffles here in autumn. These heavyweights can reach the size of a fist!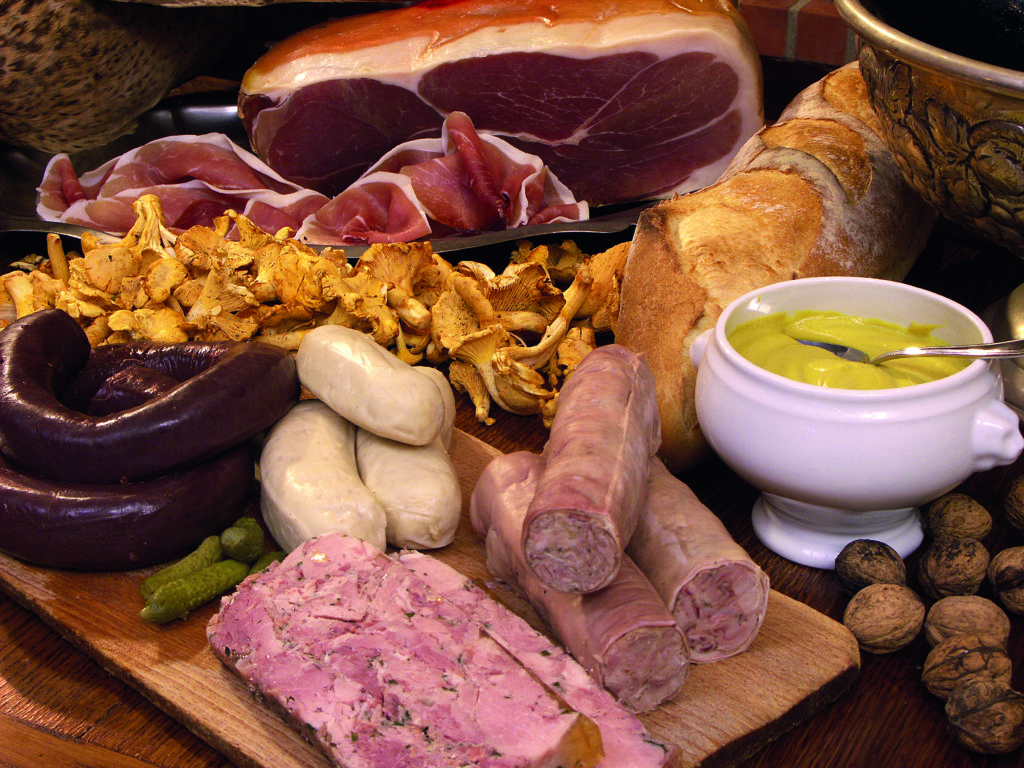 There's no shortage of top eateries in the area. For fine dining try l'Assiette Champenoise, a chic, refined three-Michelin-starred affair near Reims, or there's two-starred Château Les Crayères set within tranquil gardens. Les Berceaux in Épernay and Hôtel d'Angleterre, modern and innovative under young chef Jérôme Feck, in Châlons-en-Champagne, are worth checking out too.
To the east of Champagne-Ardenne is Lorraine – a tapestry of mountains, rolling countryside and woodland bisected by the Moselle. Big gourmand favourites in this region include andouille du Val d'Ajol, a delicious orange-red sausage from the Vosges smoked with beech wood; Lorraine hotpot; pâté Lorrain, wine-soaked meat cooked in flaky pastry; and, of course the dish it made its own, quiche Lorraine, a rich pastry dish made from eggs, cream and bacon.
Commercy in Meuse is home to the famous shell-shaped madeleine, flavoured with finely-grated lemon zest or ground almonds. Its origins are lost in the mists of time, but Proust immortalised this distinctive cake in his novel À la recherche du temps perdu, describing fondly how it evoked childhood memories ("an exquisite pleasure had invaded my senses"). Make a beeline for producer La Boîte à Madeleines and learn the secrets of the madeleine for yourself!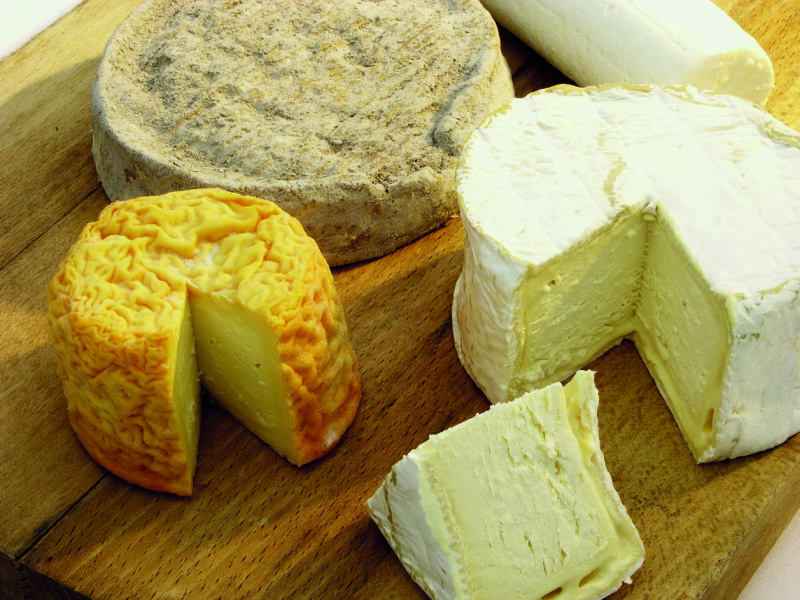 READY, STEADY, UNWIN(E)D
Lorraine's local produce markets are packed with all sorts of goodies including the region's cheeses: Carré de l'Est, square with a buttery, smoky bacon flavour; Brouère, similar to Gruyère; Bargkass, a mountain cheese best eaten with black sourdough bread; and Munster Géromé, a pungent, smooth-tasting cheese.
Though not particularly known for its wine, Lorraine has two very drinkable appellations. The first is Côtes de Toul from the area west of Nancy. Most popular is the Gris de Toul, a beautiful salmon pink and the perfect accompaniment to quiche Lorraine. Then there's vins de Moselle from the area around Metz. These mainly white wines don't often make it onto the export market, so if you find one you like, snap it up.
Lorraine is famed for its fruit, however – particularly its mirabelle plums (it accounts for around 70 per cent of worldwide production). In late summer, market stalls are piled high with these fragrant golden spheres. They find their way into everything – tarts, liqueurs and even savoury dishes. Try them at the Fêtes de la Mirabelle in Metz in August – pure plummy heaven!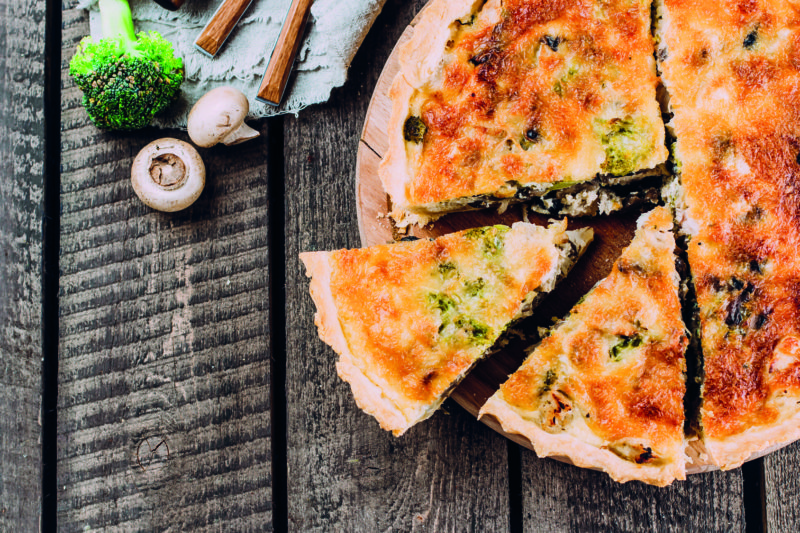 Regional capital Nancy is a bit of a stunner, with no less than four UNESCO World Heritage sites – including the place Stanislas, commissioned in the mid-1700s by Polish king Stanislas I (father-in-law of Louis XV).
Another legacy of sweet-toothed Stanislas is the city's many sugary specialities, including the bergamotes de Nancy, a bergamot-flavoured candy created by his chef Gilliers; macarons de Nancy and baba au rhum. Gilliers left a remarkable book containing numerous anecdotes about the king's gastronomic peccadilloes and truly massive appetite.
Head out for a meal in Nancy and you'll have a tough choice picking a restaurant. For fine dining, a good bet is La Maison dans le Parc; its clean lines and urban elegance are the perfect foil for chef Françoise Mutel's masterpieces incorporating sea bass, oysters and caviar. La Toq', with its extensive wine list, and Le V-Four, chic and minimalist, are also worth adding to your Nancy wish list. As is the Art Nouveau L'Excelsior brasserie. Come here for mouth-watering steaks and to marvel at the waiters carrying teetering seafood platters aloft.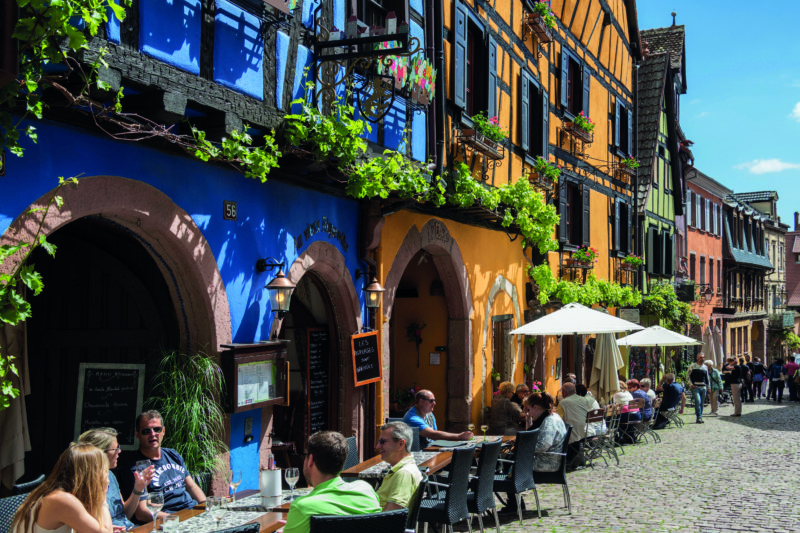 THE CAPITAL OF CHRISTMAS
Christmas cracker Alsace looks sublime during the winter months – like something out of a Grimm fairy tale, with its gorgeously wonky, half-timbered houses and crisp, cold air. Wrap up warm and join the throngs that flock to its Christmas markets in November and December to soak up the festive atmosphere.
The biggest, best – and oldest – is Strasbourg's Christkindelsmärik (hence the city's "capital of Christmas" nickname). Come and fill your bags with goodies like iced gingerbread and bredele (spiced biscuits), and glug glühwein as you browse the stalls against an almost edible backdrop of ancient fondant-coloured buildings surrounding the cathedral.
Other places to get your Christmas fix include Colmar, Mulhouse, Metz and chocolate-box Riquewihr.
Of course Alsace is a great place for a culinary adventure at any time of year and it's here that France most obviously meets Germany. You'll find sauerkraut on most menus, plus baeckeoffe, a meat and vegetable casserole simmered in white wine; flammekueche (or tarte flambée), the Alsatian take on pizza; and fleischnacka, meat-stuffed fresh egg pasta.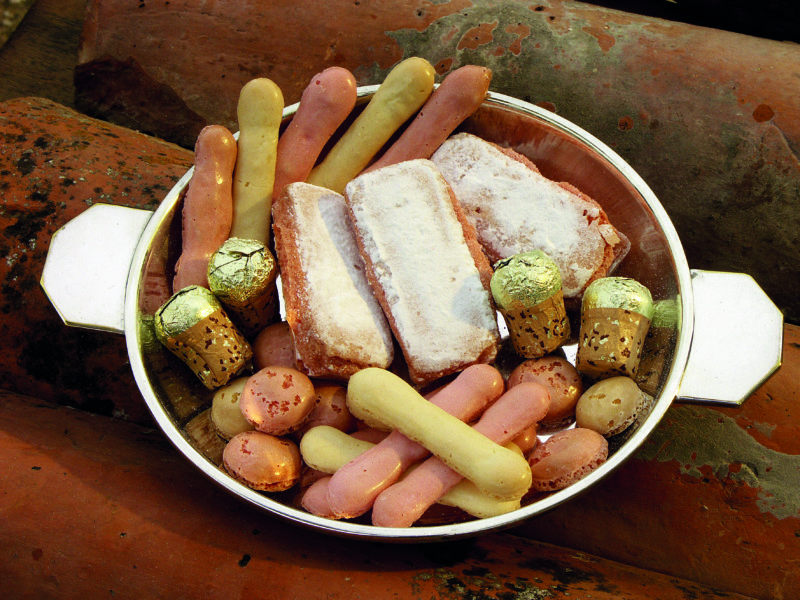 You're as likely to find food heaven in a winstub (German-style wine bar) in Alsace as a bistro. Au Pont Corbeau in Strasbourg is a warm and charming winstub offering superb traditional Alsatian cuisine and wines, or try Fink'Stuebel – all dark wood, hops and gingham table cloths, plus great food.
You must also visit Maison Kammerzell in Strasbourg's place de la Cathédrale while you're here. Built in 1427, it's a half-timbered beauty and the perfect setting to enjoy truly delicious sauerkraut; they serve it with (almost) anything! For something a bit more haute cuisine, you'll love Le Chambard in Kaysersberg, a spa hotel in the heart of Alsace wine country, with two-Michelin-star dining at its restaurant; while in a 16th-century building in Riquewihr you'll find one-starred La Table du Gourmet with a creative and vibrant menu.
Champagne aside, Alsace is responsible for much of Grand Est's wine production. Alsatian wines are very German in style – crisp and aromatic with a lovely fruity intensity and a hint of spice. This region has 13 appellations. Key grape varieties include Riesling, Silvaner and Pinot Gris.
It also produces sparkling Crémant d'Alsace, one of the most popular fizzes in France. Get to know these wines better on the Alsace Wine Trail (www.la-route-des-vins-alsace.com) or visit an annual wine festival. Colmar's major summertime Foire aux Vins d'Alsace is one of the best.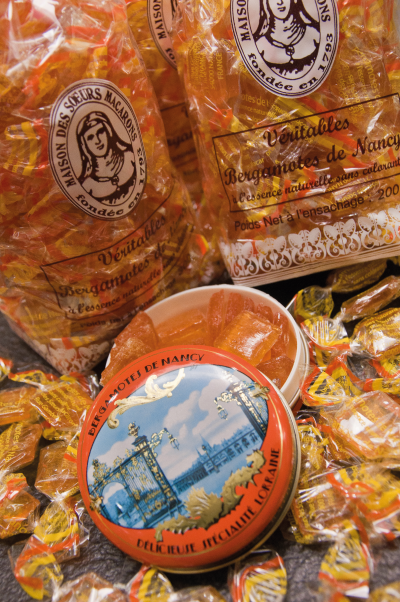 SOMETHING IS BREWING
Alsace is also home to five top breweries that together produce over 50 per cent of French beers: Fischer, Heineken, Karlsbräu, Kronenbourg and Meteor. There are many micro-breweries dotted around the region too. Seasonal beers including a March variety, made in spring with the new barley crop, and Christmas beer (which is dark and stronger in flavour) are very popular. Look out for the craft brewery in Saint-Pierre for an interactive tour. So get ready for a big plate of hearty, satisfying food – French and German style – washed down with a glass of Champagne or Alsace beer, plus a big helping of Grand Est warmth and charm.
---
ALSACE'S CHRISTMAS TREATS
Alsace has umpteen Christmas markets to get your festive fix at – the best known being at Strasbourg and Colmar. Sweet treats are big during Yuletide – here's our guide.
The most famous of these is probably pain d'épices (gingerbread), which comes in all shapes and sizes, prettily glazed with icing sugar. Bredele are the small spiced biscuits baked during the period of advent – often beautifully packed and given to family and friends. They have different names depending on their flavour: butterbredele (iced with lemon), anisbredele (round aniseed-flavoured biscuits), and lebkuchen (spiced cake fingers with satin frosting). On Christmas morning, many families tuck into kougelhopf, a moist, brioche-style, melt-in-the-mouth cake.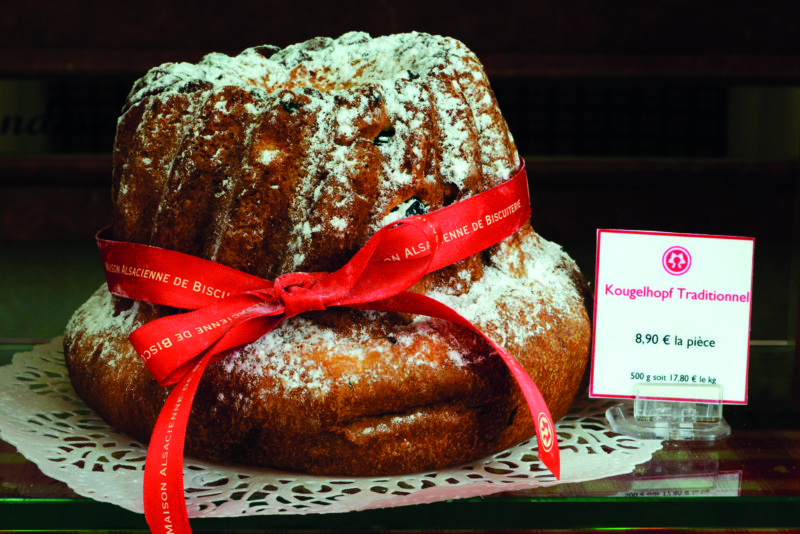 In Alsace, the locals like to eat a slightly drier version, which they dunk in their morning coffee. Another brioche delicacy is mannele, which comes in the shape of a man – it's traditionally eaten on St Nicholas Day.
Baked with candied fruit and cinnamon, christolle is filled with almond cream and represents the baby Jesus. To wash all this down, there is mulled wine or glühwein. In Alsace, it's made with star anise, cinnamon sticks, vanilla pods and orange peel infused in red wine.
---
WHERE TO EAT AND DRINK: The best restaurants in the region, from Michelin-starred eateries to unmissable auberges and brasseries
AUBERGE DE L'ILL
Auberge de l'Ill in Illhaeusern near Colmar is an Alsatian gastronomic institution. It's had three Michelin stars since 1967 – no mean feat. Stars of the show here are the salmon soufflé and the whole black Périgord truffle coated in foie gras and wrapped in pastry (which costs an eye-watering €164). There's a 850-strong wine menu to take your mind off the price though. www.auberge-de-l-ill.com
MAISON KAMMERZELL
Built in 1427, this almost edible confection is without a doubt the most beautiful house in Strasbourg. Lucky for us gastronomes, it's also a historic restaurant – and a wonderful setting to enjoy the delicious local speciality sauerkraut with various accompaniments. The alcove on the first floor is a cosy spot to enjoy dinner. See if you can find the dice players and cat in its frescoes. Mains start at €19. www.maison-kammerzell.com
CHÂTEAU LES CRAYÈRES
Stay overnight at this beautiful château or just enjoy a meal at its Michelin-starred restaurant, Le Jardin, where chef Philippe Mille uses his culinary imagination to create great food – crayfish, razor clams, pigeon and veal are presented with cuttlefish waves, caramelised brioche and pink mushrooms. Definitely something for the gourmand explorer to get their teeth into. Lunch (with wine) starts at €95. www.lescrayeres.com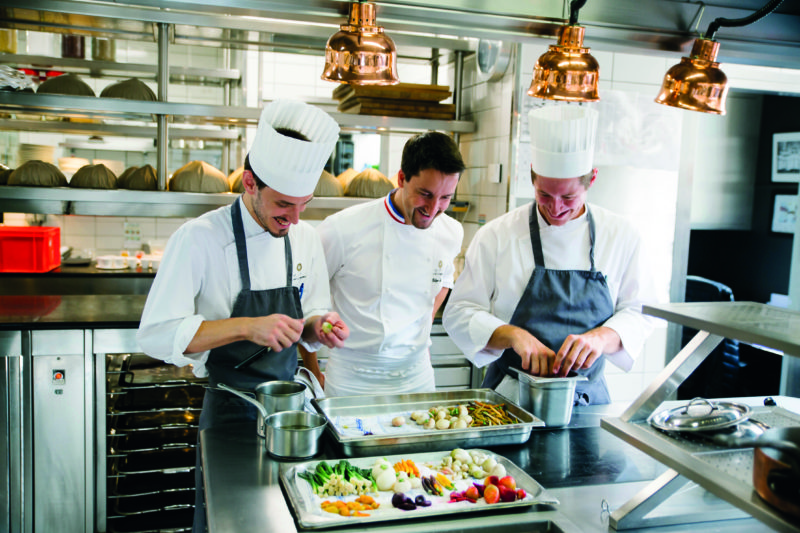 O DÉLICES DES PAPILLES
Roughly translated the name means 'Oh! Delights of the Taste buds'; happily the food lives up to this bold claim. The restaurant is located just north of Lac du Der, and was recently awarded a Bib Gourmand. The chef serves up simple, modern food – from luscious veal bavettes and roasted duck to regional cheeses and mirabelle bavarois. Your taste buds will definitely be delighted… www.odelicesdespapilles.fr
CAFÉ DU PALAIS
For an amazing Art Deco stained-glass ceiling and a wine list with more Champagnes than you can shake a stick at, book a table at Café du Palais in Reims. On the menu, to go with your Champagne, you'll find a hearty mix of local favourites from jambon de Reims and foie gras, to duck confit and baba au rhum with West Indies Rum. Mains cost around €24. www.cafedupalais.fr
L'EXCELSIOR
Hop off the train at Nancy and straight into this delectable eatery (and historic monument). High vaulted ceilings and stained-glass windows bring fin-de-siècle elegance to proceedings. Oysters and seafood are big favourites with the regulars. Make like a local and order the seafood platter – it won't disappoint. Menus start at €28.50. www.brasserie-excelsior-nancy.fr
---
WINE AND LIQUEURS: Zhuzh up your apéro game in Grand Est
CHAMPAGNE
Grand Est produces more than 80 per cent of France's iconic fizz. To be true Champagne, it must come from the area around Reims and Épernay. Here you'll find familiar names – Moët & Chandon, Lanson, Veuve Clicquot – pick your favourite and pay them a visit. Reims Tourist Office arranges paid-for tasting trips including to the UNESCO vineyards of Hautvillers, birthplace of Champagne, where Dom Pérignon once lived. www.reims-tourism.com
ALSACE BEERS
Welcome to the home of several big-name beers. Beer brewing in Alsace began in the monasteries. It really caught on and by 1268, it was an official trade in Strasbourg. Today Alsace is home to five top breweries producing over 50 per cent of French beers: Fischer, Heineken, Karlsbräu, Kronenbourg and Meteor, plus lots of smaller micro-breweries. Try the Meteor Brewery (www.brasserie-meteor.fr/en/villa-meteor) for tastings.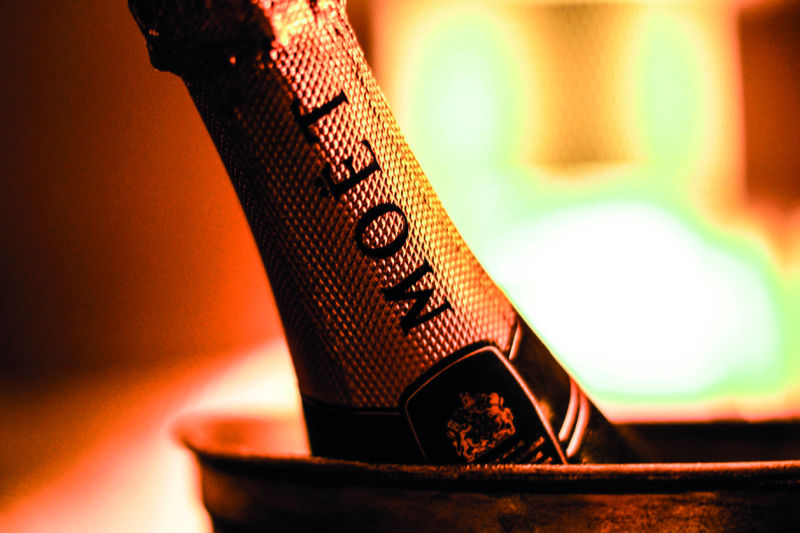 WINES
Wine production in Grand Est is centred around Alsace. The dry, sunny climate results in crisp, aromatic wines with a lovely fruity intensity, just a smidgen of spice flavour – and a distinctly German vibe. This region has 13 appellations and key grape varieties including Riesling, Silvaner and Pinot Gris. It's also home to Crémant d'Alsace, a top-quality fizz that the French adore. Hit the Alsace Wine Trail and take your pick of the tastings on offer.
LIQUEURS
You'll come across some top-notch fruit brandies in Grand Est. Maison de la Mirabelle (www.maisondelamirabelle.com) produces Mirabelle de Lorraine, distilled from mirabelle plums. In Ribeauvillé, north of Colmar, artisan Distillerie Metté (distillerie-mette.com) also uses local fruit to make its 87 (yes, 87!) eaux de vie from pear, wild raspberry and mirabelle plums to the more unusual garlic and truffle. Many Champagne producers also make Ratafia, from leftover pressings. This smooth, sweet liqueur has plenty of grape aromas and tastes of marzipan. Mmmm.
---
MARKETS AND FOOD HALLS: The freshest produce – and treats – are only a stall away
CHRISTKINDELSMÄRIK, STRASBOURG
No round-up of Grand Est's markets would be complete without Strasbourg's marché de Noël – first held in the city in 1570, and the largest of its kind in Europe. Shop for seasonal supplies at over 300 stalls, piled high with gingerbread, spiced biscuits and sausages (or just munch on the move) – don't forget the glühwein to warm frozen fingers as you soak up the good cheer. noel.tourisme-alsace.com
COLMAR CHRISTMAS MARKETS
Set in Colmar's fairy-tale old town, this enchanting market is worth including on your to-do list as you get five for the price of one. Foodies should head to the Marché de Noël de la Place Jeanne d'Arc, where the stalls are packed with treats to tempt: foie gras, bredele, local brandy and Alsatian wines among them. www.noel-colmar.com/en
MARCHÉ DU CANAL COUVERT
Mulhouse's quai de la Cloche is home to this massive covered market – the biggest in Eastern France and perhaps the most diverse, with goodies from Italy, Portugal and further afield. Outside you'll find edibles from closer to home. In summer, these include berry fruits (especially strawberries), rhubarb and asparagus. Look out for the big bundles of Moroccan mint too. www.tourisme-metz.com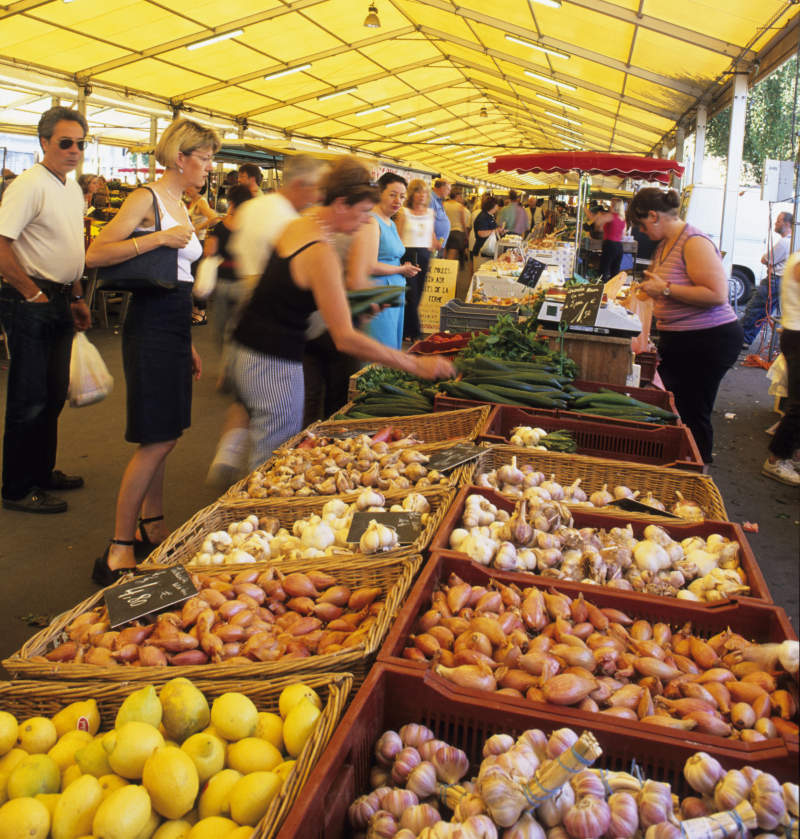 METZ MARCHÉ COUVERT
A real visual treat, it is one of the oldest and grandest of its kind in France. Set next to the cathedral, it was originally built in 1785 as the palace for the Bishop of Metz. The French Revolution broke out before he could write his change of address cards and the locals decided it would make a great food market. Come here for regional cheeses, meats, produce and seafood, plus quiche, pain d'épices and moreish pastries. www.tourisme-metz.com
HALLES DU BOULINGRIN
Built in 1927 and classed as a historic monument, you'll be mesmerised by the sweeping Art Deco arches of the covered market in Reims – though the produce on sale here is the real star. Expect tantalising regional delicacies and field-fresh fruit and vegetables from local producers. www.reims-tourism.com
---
TOURS AND TASTINGS: From vineyards to breweries, your quaffing spree starts here
ALSACE WINE ROUTE
Tasting opportunities abound on the Route des Vins d'Alsace – a tour of the medieval wine-producing villages situated on the slopes of the Massif des Vosges. Walk, cycle or drive all or part of the route, which runs for 170km, north to south,
between Marlenheim and Thann taking in Strasbourg, Colmar and glorious Riquewihr along the way. Vineyards to look out for include the Domaine Émile Beyer (www.emile-beyer.fr) and the Domaine Paul Blanck & Fils (www.blanck.com). www.alsace-wine-route.com
METEOR BREWERY
If you prefer beer to wine, then head for the Meteor brewery in Hochfelden, Bas-Rhin, for an interactive tour and memorable tasting experience. You will get to experience the whole kit and caboodle: the beer's history, production process and appreciation – mostly in the bar after the tour, where you can stock up on your favourites. You are best to book ahead and bring a bag with you to stash your booty. www.brasserie-meteor.fr/en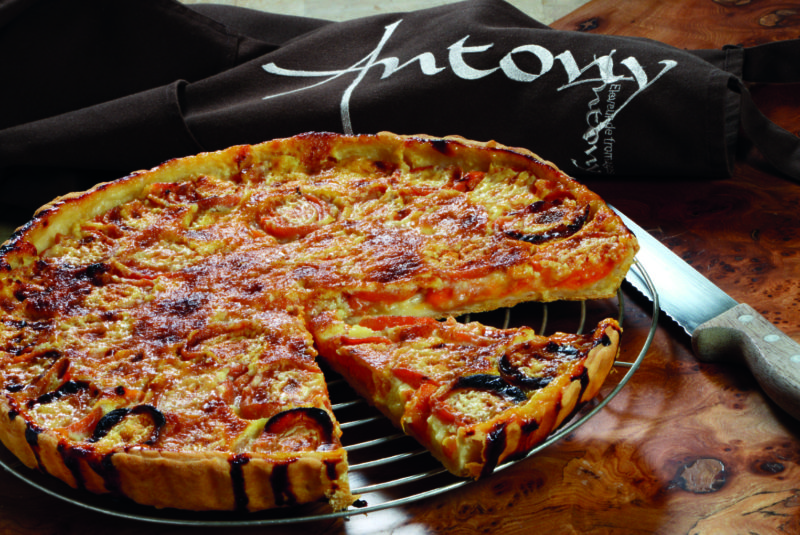 MAISON DE LA MIRABELLE
A dégustation at Maison de la Mirabelle, producer of Mirabelle de Lorraine eau de vie, includes a documentary film in English, German and French, as well as a light show and lots of activities to keep the kids entertained while you swap notes on your favourite tipple in the dedicated tasting room. www.maisondelamirabelle.com
FROMAGERIE ANTONY
Vieux-Ferrette, a small village just a stone's throw from the Swiss border, is the unlikely setting for Alsace's most famous affineur (cheese ager) and fromager, Jean-François Antony. His cheeses, including the scrummy but oh-so-smelly Munster, are beautifully displayed, some in artfully lit glass cases. Stop off for a cheese dégustation (starting at €75) in his tasting cellar. Wine is optional but why not go the whole hog? www.fromagerieantony.fr