French TV station TF1 is hosting the fourth year of Votre Plus Beau Marché, in which viewers vote for the very best market in the whole of France (including its overseas territories). Last year, the winner was Dieppe. So which market will topple it this year? Here are the 2021 regional finalists – see what you think! And let's face it… whichever market wins, the rest of them will still be worth a visit.
MARCHÉ D'OBERNAI, ALSACE
The Obernai weekly market on Thursday mornings is one of the most popular markets in Alsace, taking place on the medieval ramparts of this beautiful city. It attracts a strong local clientele who like to come and buy their food here. On sunny days in high season when the crowds swell with tourists, you'll find local gifts as well, such as tablecloths and accessories. The market welcomes up to 130 exhibitors – people who visit the Obernai market are always surprised by its size.
Thursdays 7.30am-12pm, Rempart Maréchal Joffre
MARCHÉ DE SARLAT, AQUITAINE
Sarlat's market is one of the most beautiful in Périgord noir, just a stone's throw from the ancient Église Sainte-Marie in the heart of the historic centre of this medieval city. Stalls offer seasonal produce, with market gardeners and poultry farmers from the region gathering to sell their wares here.
Wednesdays and Saturdays 8am-12.30pm, Rue de la Liberté
MARCHÉ DE BESSE-ET-SAINT-ANASTAISE, AUVERGNE
The medieval city of Besse, at an altitude of 1,000 m, attracts visitors as much for its architecture as for its traditional Monday market, which has won praise from residents and tourists alike for the quality of its local products, especially the cheese. People drive hours in order to savour one of the jewels of French gastronomy, Saint-Nectaire, a cheese made from the milk of the local Salers cows. Plus it's a great excuse to discover the beauty of the surrounding landscape.
Mondays 7am-1pm, Besse-et-Saint-Anastaise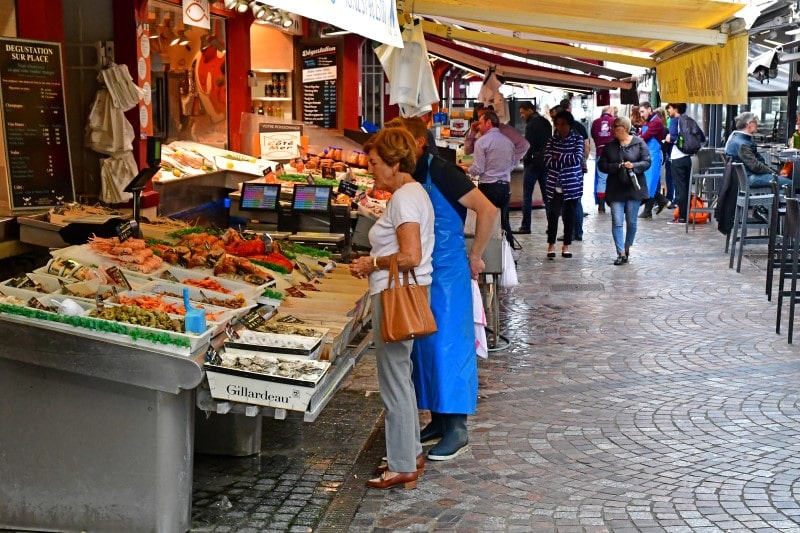 MARCHÉ DE TROUVILLE-SUR-MER, BASSE-NORMANDIE
The Trouville market stretches as far as the eye can see along the quays. You'll find everything you could wish to buy, and this must-see event brings together locals and tourists in an atmosphere full of bonhomie.
Wednesdays and Sundays 8am-1pm, Boulevard Fernand Moureaux
MARCHÉ DE CHABLIS, BOURGOGNE
Appreciated by locals as well as tourists and Parisians with second homes in the Yonne, this market gives pride of place to local producers and local specialities, such as escargots, gougères and, of course, terrines made with Chablis. In the summer, craftsmen also come to mingle with other vendors.
Sundays 8.30am-2pm, Rue Auxerroise
MARCHÉ DE LESNEVEN, BRETAGNE
Every Monday during summer, nearly 150 merchants set up their stalls on the four squares of the city in a market which remains one of the most important in the département. The small Friday morning market offers mainly food.
Mondays and Fridays 8.30am-1pm, Place du Château
MARCHÉ DU QUAI DU ROI D'ORLÉANS, CENTRE
The quai du Roi food market is always full on Saturday mornings. In an exceptional setting, on the banks of the river and just a stone's throw from the historic centre of Orléans, guests can benefit from the hundred or so merchants, who offer organic vegetables, local specialities, meats, cheeses and seasonal fruits. As well as shopping, the locals like to take the opportunity to enjoy a stroll and a catch-up.
Saturdays 7.30am-12.30pm, quai du Roi
HALLES DE TROYES, CHAMPAGNE-ARDENNE
The market welcomes 30 traders who offer a diverse range of product with one thing in common: quality. Deli, cheesemonger, fishmonger, butcher, Mediterranean specialities, chocolatier… there is something for everyone and you can easily pick up every single element needed to prepare a three-course meal! Completed in 1874, the halls are the work of municipal architect Edmond Bailly.
Mondays 8am-1pm; Tuesdays, Wednesdays and Thursdays 8am-1pm, 3.30pm-7pm; Fridays and Saturdays 7am-7pm; Sundays 9am-1.30pm, Place Hôtel de Ville
COVERED MARKET OF ÎLE-ROUSSE, CORSICA
The covered market is the beating heart of the city of Paoline on the beautiful island of Corsica. Built in 1884, this slate esplanade is covered with a massive roof supported by 21 columns. It has been listed as a historic monument since January 1998. For nearly a century and a half, the building has retained its original function; that of being a space open to trade in fresh products from the local region. A stone's throw from Place Paoli, in the city centre, you can find fruit and vegetables as well as fish caught that morning and cold meats. Farmhouse cheese, AOC honey and the famous canistrelli (local cookies made with chestnut flour) are present all year round, as is the good humor of the traders and artisans who keep the market alive.
Mondays to Sundays 8am to 1pm, Centre-ville, L'Île-Rousse
HALLES DE VESOUL, FRANCHE-COMTÉ
Built in Place Pierre-Rénet in the second half of the 19th century, the 1,000m2 Les Halles were restored in 2011 with a Polonceau-style frame reminiscent of the original market garden buildings of the time. The market takes place in and around Les Halles and is a wonder filled with local produce and delights.
Thursdays and Saturdays 8am-1pm, Place Pierre-Rénet
MARCHÉ DU FRANÇOIS EN MARTINIQUE, MARTINIQUE
Saturday is the day this covered market in the middle of the town comes to life with about 40 merchants plying their trade. Hundreds of locals turn up to shop for the wonderful array of local products.
Saturdays 6am-1pm, Place des Fêtes
SOTTEVILLE-LÈS-ROUEN MARKET, HAUTE-NORMANDIE
People come from all around to buy not just vegetables, meat and fish from local producers but also clothing, shoes and household items… It is the place to shop locally.
Thursdays and Sundays 8am-1pm, Place de l'Hotel de Ville
HALLES DE L'ISLE-ADAM, ÎLE-DE-FRANCE
Created by Les Charpentiers de Paris, the old-fashioned hall of l'Isle-Adam has been home to one of the most beautiful markets in Île-de-France since 1982. More than 130 merchants offer a vast range of excellent local products. It's not just a place for shopping – it's also the place where people catch up with each other, share local news and have some fun. It's a breath of fresh air for city dwellers.
Tuesdays, Fridays and Sundays 8am-1pm, Place de Verdun
SAINT-DENIS CAULDRON MARKET, REUNION
Chaudron market is one of the largest in Réunion. It attracts many regulars, but also tourists who come here to discover the heritage of the island, its tropical fruits and vegetables and its culinary specialities.
Wednesdays and Sundays 6am-12pm, Esplanade du Chaudron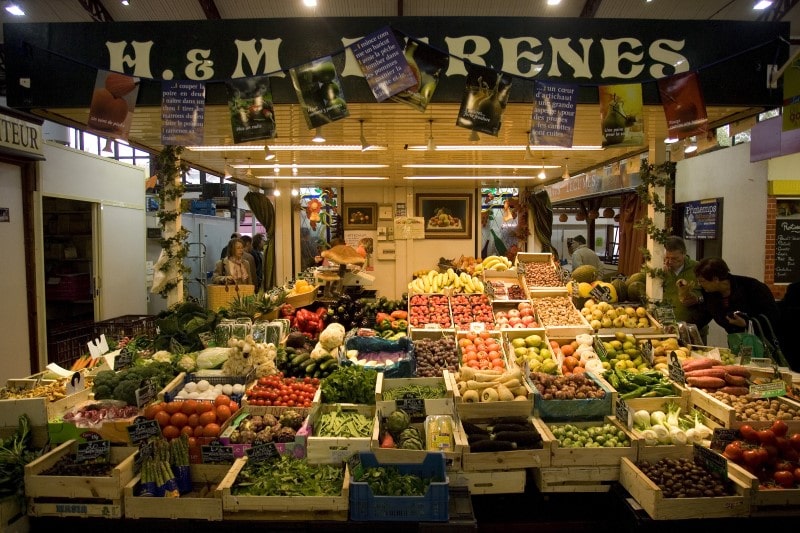 HALLES DE NARBONNE, LANGUEDOC-ROUSSILLON
Les Halles de Narbonne are a destination in their own right. The Baltard-style pavilion was built at the turn of the century near the canal de la Robine. Famous all over the South, you'll love shopping at one of the 70-odd stalls run by local professionals and indulging in the delicious free tastings.
Mondays to Sundays 7am-2pm, 1 Cours Mirabeau
MARCEAU DE LIMOGES MARKET, LIMOUSIN
Every Saturday, the Marceau market, one of the largest market in Limoges, acts as a real meeting place for the Limougeauds. Here they shop for a vast array of local, Maghreb and organic produce.
Saturdays 7am-1pm, Place Marceau
MARCHÉ CENTRAL DE NANCY, LORRAINE
The central market of Nancy, one of the plus chic in Lorraine, has been located on the esplanade bordering the rue Saint-Dizier since 1848. In 1960, a new central hall was built and to this day, around 50 traders rub shoulders with around 10 market gardeners. It's a wonderful showcase of the very best of Lorraine gastronomy.
Tuesdays to Saturdays 7am-7pm; Sundays 9am-1pm, Place Henri-Mangin
MARCHÉ SAINT-GIRONS, MIDI-PYRÉNÉES
Every Saturday, under the plane trees of the Allée du Champ de Mars, Saint-Girons welcomes its traditional and picturesque market with its glorious riot of colours and aromas. Huge professional stalls sit next to the small, artisan holdings of local farmers. It's also the place where the Couserans sell their cheeses, organic vegetables, jams and local crafts. Alongside exceptional local produce you'll find bells for animals, wooden clogs, wicker baskets and more.
Saturdays 8am-1pm, Allée du Champ de Mars
ETAPLES-SUR-MER MARKET, NORD-PAS-DE-CALAIS
Twice a week on Tuesdays and Fridays, the main square of Étaples hosts the many stalls of local traders. Just a stone's throw from the River Canche, it's one of the largest markets on the Opal Coast.
Tuesdays and Fridays 8am-1pm, Grand'Place d'Étaples
HALLES DES SABLES-D'OLONNE, PAYS DE LA LOIRE
When it's fully open, it boasts more than 50 traders mainly focused on the wonderful, local food produce. It is also loved for its architecture, having opened in 1890, at a time when the seaside resort was beginning to take off. The city's architect, Charles Smolski, was inspired by fashionable architecture in Paris by the likes of Gustave Eiffel and Victor Baltard. A visual and gastronomic feast!
Tuesdays to Sundays 8am-1pm, Rue des Halles
MARCHÉ SAINT-LEU D'AMIENS, PICARDIE
The Saint-Leu market, which takes place in Place Parmentier every Saturday morning, is a must-see for lovers of fresh, local produce. Located opposite the Quai Bélu on the banks of the Somme, the market sits in the middle of the most touristy district of Amiens, a few steps from Notre-Dame Cathedral and Hortillonnages, two of the emblems of the capital of Picardy. Once a year, in June, the market gardeners of the Hortillonnages (plots of land cultivated in the middle of canals) come in their traditional boats, called barques à cornets, to deliver their vegetables to onlookers waiting on the wharf.
Saturdays 8am-1pm, place Parmentier
MARCHÉ DE ROCHEFORT, POITOU-CHARENTES
For more than three centuries, the Rochefort market has been the place where merchants of fish and shellfish trade, but today its covered halls also boast fruits, vegetables and even ready meals… in short, every culinary delight guaranteed to please the taste buds of visitors to the market.
Tuesdays, Thursdays and Saturdays 7am-12.30pm, Avenue Charles de Gaulle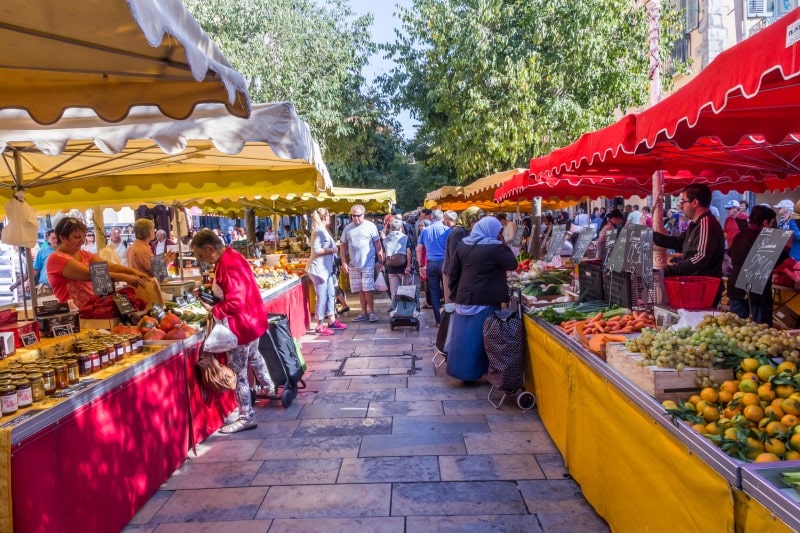 MARCHÉ DE TOULON, PROVENCE-ALPES-CÔTE D'AZUR
This is the market sung about by Gilbert Bécaud in Les marchés de Provence. The Cours Lafayette market has been here for over a hundred years, both in the heart of Toulon and in the hearts of its citizens. Olives, aromatic herbs, fruits and vegetables, dried fruits, flowers, fish… it's a joy for the senses and you will find everything your culinary heart could desire here. More than a hundred stallholders line the route to the port all year round.
Tuesdays to Sundays 7.30am-12.30pm, Cours Lafayette, rue Paul Lendrin, place Louis Blanc, rue de Lorgues and place Paul Comte
CHÂTILLON-SUR-CHALARONNE MARKET, RHÔNE-ALPES
In the heart of medieval Châtillon-sur-Chalaronne, this thriving, bustling market will lead you on a journey of discovery in which you will experience the wonderful local produce in an exceptional setting – the monumental halls look like a glorious cathedral. Dating from the 15th century, they bear witness to the importance that commerce has always held in the life of this city. About 60 producers offer local products, varying according to the seasons. Plants, flowers and live poultry are a speciality.
Saturdays 7.30am–1pm, Sous les Halles, and 8.30am-1pm, Place du Champ de Foire