France isn't all about haute cuisine and Michelin stars, you know. Sometimes even the gastronomic capital of the world fancies a burger. But this isn't just your average junk food, you understand: we're talking the mighty fine burgers of the Coupe de France du Burger 2022 competition.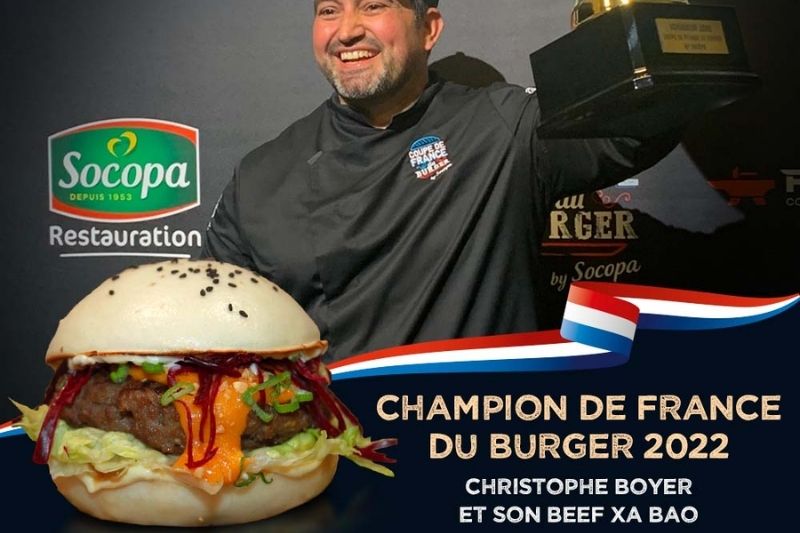 This year's winner was Christophe Boyer's Beef Xa Bao, which he says came about when the Covid confinement made him dream of his time spent travelling in Vietnam.
A former estate agent, Boyer last year opened a food truck in Violès in the Vaucluse with his Vietnamese wife. His winning burger is made with ground Charolais beef and flavoured with garlic, lemongrass, oyster sauce and satay, creating a sweet and sour balance. "The matured cheddar satay with chopped peanuts and red cabbage pickle make this burger particularly tasty and balanced," said Boyer, who takes home a prize of €2,500.
It was this "touch of creativity" that impressed the president of the jury Laurent Favre-Mot, a chef who prides himself on being "one of the first to put gourmet burgers on the menu". This year's competition chose globetrotting as its theme: "Ethnic flavours and distant spices help us set sail. The pandemic has awakened an imperative desire for exoticism, new experiences and the exploration of gourmet landscapes," explained the organisers. So if you fancy a high-class burger with an Asian twist, keep your eyes peeled for Boyer's Bao Burger Asian Street Food truck next time you're in France!