There's plenty to love when it comes to French cuisine, but two of our favourites are aperitifs and socca. And at last, someone has had the genius idea of bringing the two together – say bonjour to Socca Chips!
These chips (that's crisps to those of you in the UK) are made with chickpea flour and use 100% natural ingredients, with no preservatives or additives, so you can indulge in some guilt-free snacking.
The chef behind it all, Luc Salsedo, is a Nice native who has 20 years of experience in the restaurant industry. He was inspired by another Nice native, socca – a crispy savoury pancake made from chickpea flour and olive oil – and at his eponymous restaurant, with the help of his wife Christine, began experimenting.
"With socca, there are always thicker, more cooked and sometimes even more golden sides, and I erred towards the crisp side which is where this crisp and golden petal in the colors of the sun was born," he says.
The new snack proved a hit with friends and before he knew it, Luc was launching it on the open market – and, he says, it's ideal to serve as an aperitif.
"Socca is about sharing, conviviality, a treat for the taste buds. It is to be enjoyed with friends in the market or at the corner of a bistro."
Serve them in a bowl with dips, or use them in the place of canapés with the topping of your choice… or to zhuzh things up a little, try this simple recipe…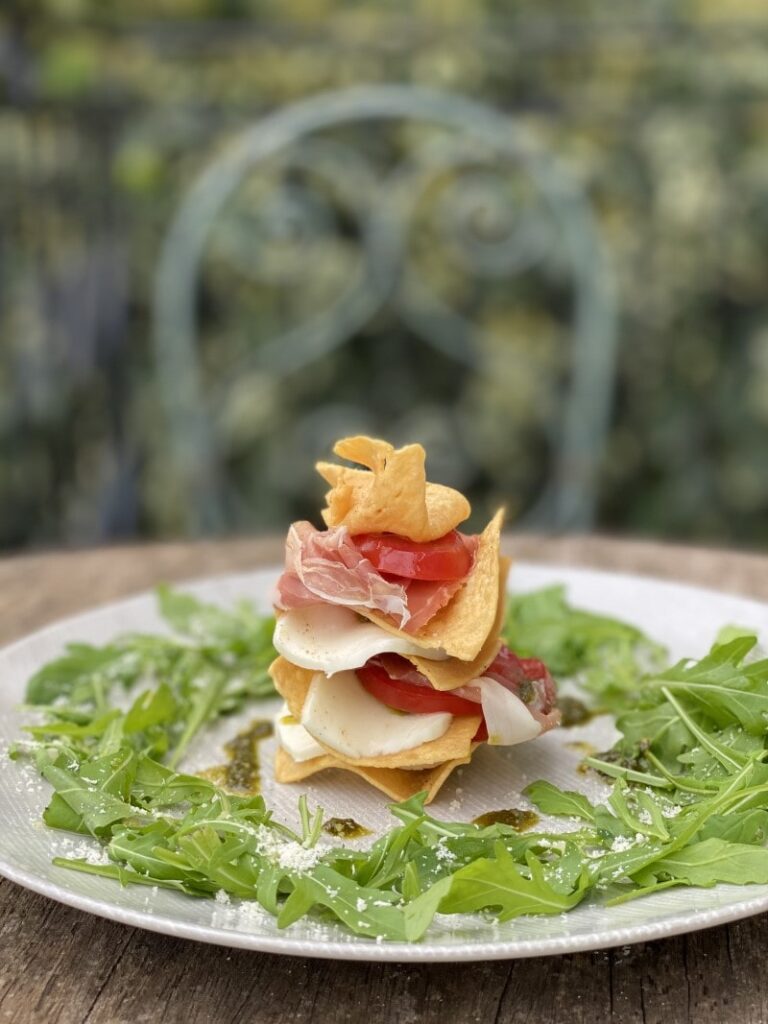 ---
Mille-feuille Socca Chips
Ingredients
1 pack Socca Chips
120g mozzarella
1 beef tomato
3 slices of ham, such as jambon de Bayonne or prosciutto
Rocket leaves
For the pesto
1 clove garlic
Some fresh basil leaves
Olive oil
Parmesan
Salt
Directions
1To make the pesto, chop the garlic and basil with a knife. In a small bowl or mortar and pestle, pour in the olive oil, the garlic and basil mixture and add a little salt and mix well.
2Select the best-looking crisps.
3Slice the tomato and mozzarella.
4Build the mille-feuille by alternating a crisp, a slice of mozzarella, a slice of tomato and some torn pieces of ham.
5Scatter some rocket leaves around the plate and sprinkle with a little Parmesan cheese.
6Finally, drizzle over some of the pesto and serve.
So the only question is, which tipple should one serve with this tasty treat?
"The advantage of socca is that it is a neutral product," says Luc. "It is goes just as well with a pastis de Provence, a glass of red or rosé wine but also with a beer,a fruit juice or a soft drink… With everything!"
We think it's well worth stocking up for Christmas – you can order online at www.soccachips.com, where you can also find more recipes. Santé!