Cheese lovers of the world, bow down before Virginie Dubois-Dhorne, for she has been declared the best cheesemonger in the world.
Dubois-Dhorne, from Arras, who has been a fromagère since 2004, took part alongside nine other finalists from around the globe (Japan, Russia, Mexico, Italy, the United Kingdom, Spain) in the three-day competition held at the Parc Expo in Tours. The event saw Grégory Giraudon, from Royan in France, take silver and Chisato Nagahara from Japan claim the bronze.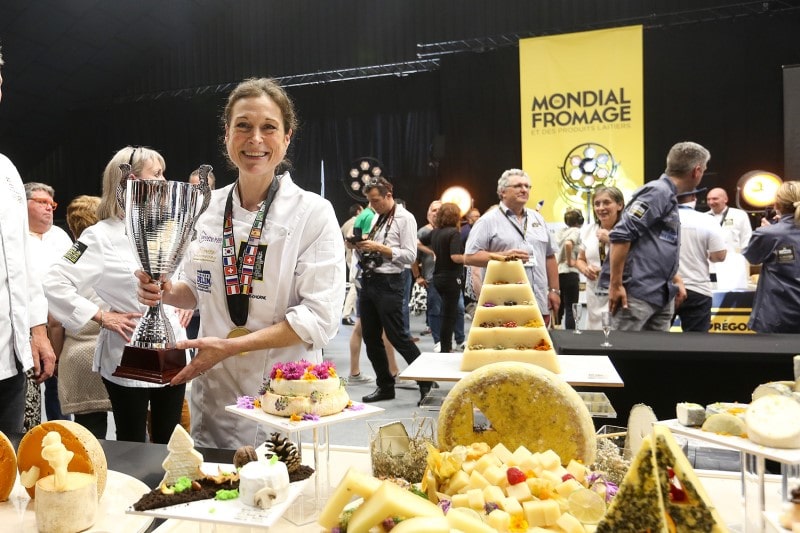 The biennial Mondial du Fromage et des Produits Laitiers is the biggest global event for everyone involved in the dairy industry, from farmers to chefs. Some 2,500 visitors attended this year's competition, which saw the finalists tackle a variety of tasks, including a blind tasting of four PDO cheeses, a cutting test in which they had to cut a 250g piece of cheese without weighing it, and the creation of a cheese platter on a given theme.
The sixth edition of Mondial du Fromage will take place in 2023. Until then, Virginie Dubois-Dhorne, who runs La Finarde in Arras with her cheese refiner husband Jean-François Dubois, remains the first ever woman to take the title. But her win can hardly be considered a surprise given her pedigree: she won the Lyre d'Or in 2016, the Fontainebleau Competition in 2018 and took second place in the 2019 edition of the Mondial du Fromage. And her fromage préféré? Saint-Nectaire.