The days are getting longer and the temperatures are climbing, bringing with them spring fruits and vegetables alongside season meat and fish. If you're off to France in the next few weeks, here's what to look out for at the market.
VEGETABLES
More than 50 varieties of radishes are grown in France: pink, red, elongated, round… Commonly eaten raw in salads, they can also be cooked – even the leaves are edible! Why not trying making radish soup for something a little different?
Asparagus comes into its own in spring. Enjoy it charred and served with a vinaigrette or Hollandaise sauce or try it in a velvety gratin. In France, varieties to look out for are the Blayais PGI and l'asperge des sables des Landes PGI. A total of 20,258 tonnes of asparagus were harvested in France 2020. Delicious!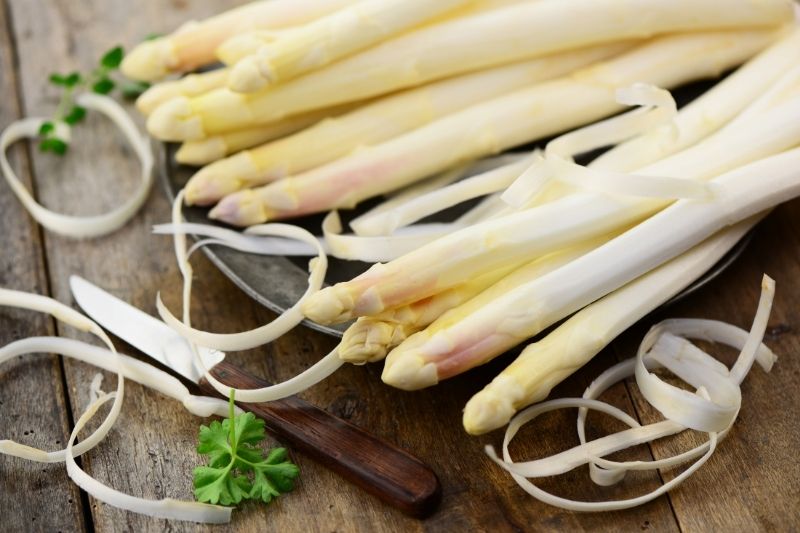 FISH
Mackerel is a migratory fish and in spring, it approaches the French coast to find more abundant food. Grill it and serve it with mustard or horseradish. If the weather's good, try cooking it on the barbecue as it really suits that smoky flavour! It also makes a great tartare served on little rounds of toasted sourdough alongside slices of tangy apple.
Whiting (le merlan in French) lives mainly in the waters of the North Atlantic and the North Sea. It can be poached in a court-bouillon, grilled whole in the pan, or cooked en papillote in the oven. Serve alongside seasonal vegetables for a delicious and healthy meal.
MEAT
Although lamb is found year-round, it remains at its best in spring. In France, the lambs of Mont-Saint-Michel and the Bay of Somme are the only ones to have a Protected Designation of Origin (PDO). Other varieties of lamb to watch out for are Limousin PGI or suckling lamb from the Pyrenees, which carry the Label rouge IGP. French sheep production has more than 40 breeds classified into five categories: early, grassland, hardy, merino and dairy.
FRUIT
The Adour kiwi made its appearance in France, between Pau and Bayonne, about 40 years ago. It obtained the Red Label in 1992 and PGI status in 2009. Nearly 350 producers grow the Adour kiwi, which was originally known as the Chinese gooseberry but was renamed by New Zealand, the main producer of the fruit, during the Cold War. It now refers to New Zealand's iconic bird, the kiwi.
Rhubarb is native to Asia and was imported to Europe for its medicinal properties. Production and consumption in France did not begin until the 19th century. Low in calories, rhubarb can be enjoyed in compote, pies and is delicious served in a fool.