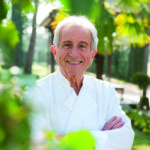 Serves: 4

Cooking and preparation: 40 minutes
Calories per person: 270




---
Ingredients
4 fillets of grouper of 90g each, without the skin
1 teaspoon olive oil
Ingredients – For the aromatic sauce
50g shallot, finely chopped
4g julienne strips of peeled fresh ginger
4g julienne strips of peeled garlic
15g pimientos del piquillo, bottled, cut into 5mm dice
2 tablespoons soy sauce
2 tablespoons concentrated tomato paste
3 tablespoons Xeres vinegar
4 tablespoons light vinaigrette
Ingredients – For the rougail leeks
500g leeks, trimmed to give about2/3 white and 1/3 green parts
40g mango, cut into 5mm dice
10g lemon zest, blanched and refreshed 3 times, cut into 2mm dice1 teaspoon olive oil15g fresh ginger, peeled and chopped2 tablespoons fresh coriander, finely chopped or snipped1 pinch of ground chilli pepper
Preparation of the grouper
1Run your finger gently over the fillets of grouper and, if you feel any remaining small bones, remove them with tweezers.
2Set aside the fillets in the refrigerator.

Preparation of the aromatic sauce
1Put the shallot, ginger, garlic and diced pimientos del piquillo – the aromatics – into a bowl. In a saucepan, stir together the Xeres vinegar, soy sauce and the concentrated tomato paste
2Bring this liquid to the boil, maintaining a brisk simmer for 30 seconds, then add it to the bowl of aromatics. Cover with cling film and set aside.

Preparation of the rougail leeks
1Cut the leeks into rounds about 5mm thick. Blanch them in simmering salted water then drain them, refresh in cold water and drain again in a small sieve that you can use to reheat them in.
2Heat the teaspoon of olive oil in a saucepan over a gentle heat and sweat the ginger for a few minutes without colouring it. Add the leeks, the mango, the lemon zest and the chopped coriander. Mix gently, then stir in the chilli pepper. Taste, adjust the seasoning and keep the mixture warm, preferably in a bain-marie

Cooking the grouper
1You can cook the grouper either over direct heat, using a heavy sauté pan with a ribbed base – in which case make sure this is hot – or you can grill it. If you are going to be using the grill, preheat it to a high heat.
2Season the grouper and lightly brush one side of it with olive oil. Cook the fillets rapidly, according to the thickness of the fillets.

To serve
1Distribute the hot rougail leeks between 4 hot serving plates. Add a fillet of grouper to each plate, laying the grilled side up so that the uncooked side can continue to cook in the heat of the leeks. This also helps to keep the fish moist.
2Drizzle the hot sauce around the fish or over it. Scatter with a few coriander leaves and, if you like, some julienne strips of lemon zest. Serve straight away.