Twenty years ago, a young Irish au pair called Neasa was outside a nightclub in Narbonne when she spotted a chap with, she thought, 'really cool' trainers. Having studied engineering at Leeds in the UK, the chap in question, Laurent Miquel, immediately impressed her with his English … and the rest, as they say, is history. In this case, quite literally history, as Neasa went on to join a family business which dates all the way back to 1781.
Today from their organically farmed vineyards in Corbières, in the south of France, Neasa and Laurent make delicious red, white and rosé wines and are the proud parents of Sean and Alaina. Laurent is one of the new generations of Languedoc winemaker, rebelliously planting and pioneering the Albarino and Viognier grapes alongside the region's traditional great varieties of Syrah. Neasa looks after the sales and marketing side of the business.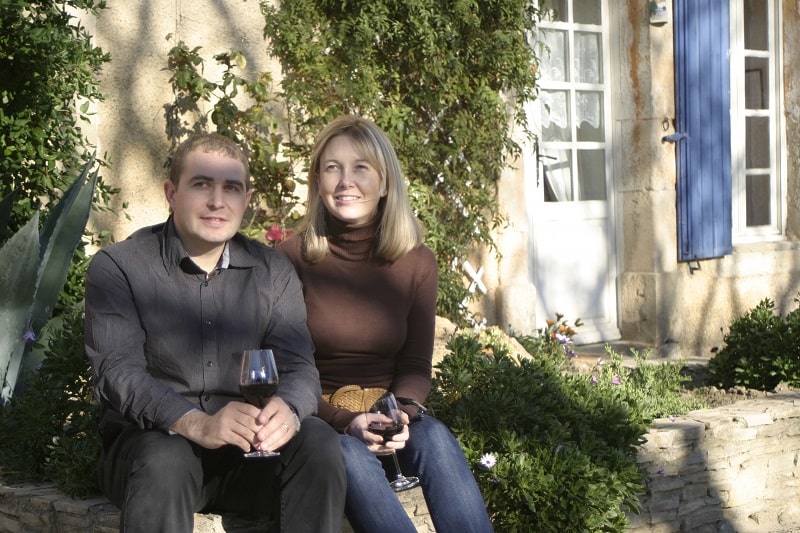 We caught up with Neasa and Laurent in the middle of their harvest to find out more…
Neasa, when and why did you go to France in the first place?
N: I first went to France in the summer of 1995 after my A-levels, with the aim of improving my French, with a gang of other Irish girls! I worked in Valras Plage (Blackpool-sur-Mer!) as an au pair.
How old were you and what were you planning to do with your life?
N: I was 18 and at that stage I was in between school and university – I had a place at Trinity to read physics – beyond that I had no plan! Other than maybe doing a PhD. My father was a scientist so I was thinking of perhaps following a similar path.
When did you know you were going to stay with Laurent and work on the vineyard?
N: At first it was a summer romance but then we kept in touch and after a six-year long-distance relationship we knew we wanted to be together. I knew Laurent's wine-making skills would be redundant in Dublin, so after graduation I decided to make the move to France and immerse myself in the world of wine. There is a history of Irish 'wine geese' – a contingent of Irish immigrants to France, and particularly to Bordeaux in the 18th-century, who then worked in the wine trade.
I was given the task of looking after export sales – with no past experience, so I had to learn on the job! I also had to get used to a very different lifestyle – everything stopped at midday for lunch with the whole family and always with a glass of wine from the estate. Over lunch it would be wine talk along with news from the vineyard and the gossip and politics in the local community. I loved it all and knew this was the right path for me.
Tell us about the terroir and your sustainable approach to winemaking.
N: One of the biggest challenges making wine in the South of France is the heat and the lack of water. The risk is that the grapes can overheat, or lose their natural acidity and get too ripe too quickly.
We plant the vineyards in a north-south orientation so that in the morning and evening the sun hits the canopy but avoids the overhead midday sun scorching the leaves. This way the grapes develop and ripen really gently and retain their natural acidity and balance with the sugar. We have also created lakes and natural reservoirs to harvest the rain in the winter that we then use during growing season to keep the vineyards hydrated and the grapes fresh and in balance.
And then, when the grapes are ready for picking, we night harvest. After midnight we harvest the grapes when the temperature is at its coolest and the grapes are at their happiest. It results in a beautifully, balanced, fresher, fruitier wine.
We are also certified sustainable – which covers the use of water in the winery and in the vineyard; how we make the wines; how we manage the cellar; adopting best practices for packaging (such as lightweight bottles and recyclable materials); and even as far as how we manage our staff and wellbeing.
The family estate is at Cazal Viel in the Saint-Chinian region, where historically we have produced traditional Languedoc reds from old vines grown on stony infertile soils.
In 2009, just before we had our son, we bought a second vineyard, Auzines, part of a beautiful estate in the Corbières appellation. Isolated on a rocky plateau at 350 metres altitude, it overlooks the village of Lagrasse in the heart of stunning, rugged countryside. The estate is situated between the Alaric Mountains and the Alzou gorge. It is one of the most prestigious châteaux in the area of Lagrasse.
Laurent was the first French winemaker to bring Albarino back to the sunny South of France 10 years ago (it's a native grape of Galicia in Spain, but Laurent saw its potential in France). He wanted to prove that Albarino could work in a hot and sunny place if it had the right conditions. It started as an experiment really and a few people thought he was mad, but has been very successful.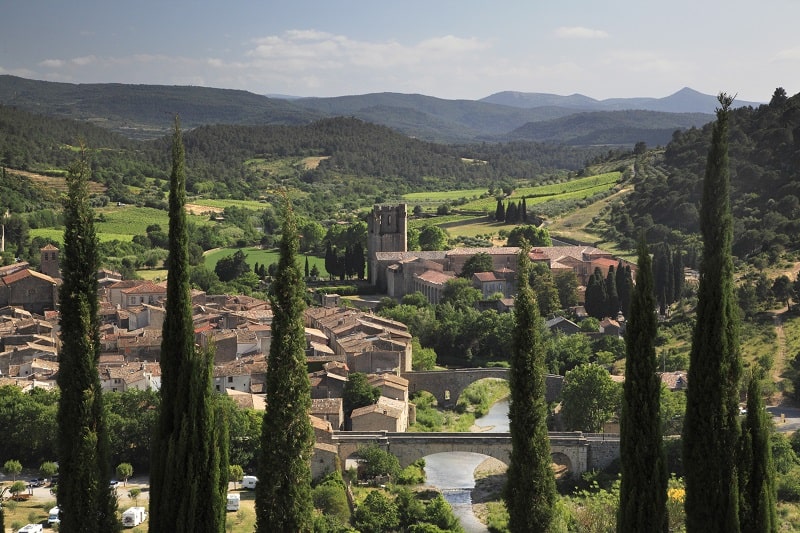 Laurent, you're one of the new generation of winemakers in Corbières – what are you doing differently?
Laurent: I am eighth generation Miquel and I have learnt many valuable things from my forefathers, yet I definitely see myself as doing things very differently, making a different style of Languedoc wine, experimenting and looking forward to new ideas and techniques. This stems from something that happened to me early on in my winemaking career, when I was challenged by a winemaker in Bordeaux. He said that 'the Languedoc could never produce wines with elegance and finesse', because of the heat and the nature of the land. So I set out to prove this wrong. Our wine style is a contemporary style – lighter, fresher, more elegant than some of the more traditional, robust and rustic styles of Languedoc wine.
I understand the family business dates back to 1781 – can you tell us more about the history?
L: Yes and it goes back even before that! The superb terroir of Cazal Viel was first planted by Roman warriors during the construction of Via Domitia. The ruins of their villas and an ancient well still stand on the grounds of the estate. For almost six centuries (from 1202) the monks of the local Abbaye de Fontcaude cultivated their wine at Cazal Viel. Following the French Revolution in 1789, the Miquel family acquired the estate and thus began the Miquel legacy of wine producers. The present generation (since 1980) continues this great tradition of top-quality and independent winemaking.
Can you talk us through your wines – some of which have won awards?
L: We are one of the largest producers in the Saint-Chinian appellation and are the Languedoc specialists of the varietals, Syrah and Viognier. We have a number of different ranges aimed at different audiences. Our night harvested wines are available under the Vendanges Nocturnes label, and our Nord Sud range reflects the careful vineyard planting direction to keep the grapes fresh and healthy.
To celebrate our French-Irish heritage we have recently launched wine ranges called Solas and Les Irlandaises. 'Solas' is the Irish word for 'light' and in old French it means 'joy' or 'pleasure.'
We have just launched a wine in Ireland called 'Alaina' – we are a family business and family is at the heart of all we do. Alaina is our young daughter's name, hence reflecting the importance of past and future generations to our family business. The label showing a lake with ripples of water reflects our use of sustainable water sources and the role that plays in creating these incredibly elegant fresh wines.
Our top wines include Lieu-Dit Vérité Viognier, a rich, opulent style of Viognier produced from our best vineyards, with subtle oak ageing. It's fantastic with sushi and sashimi and was recently voted top Languedoc white wine three years running at the Sud de France Top 100 Wines competition.
Our Bardou St Chinian is a full-bodied robust red with red fruits and spicy notes, perfect for cosy autumn nights by the fire. The 2016 was recently awarded 94 Points by Robert Parker, one of the world's most prestigious and renowned wine critics. Larmes de Fées 2014, a premium 100% Syrah, achieved 96 Parker points! There is a beautiful story behind the name of this wine which you can read about on our website.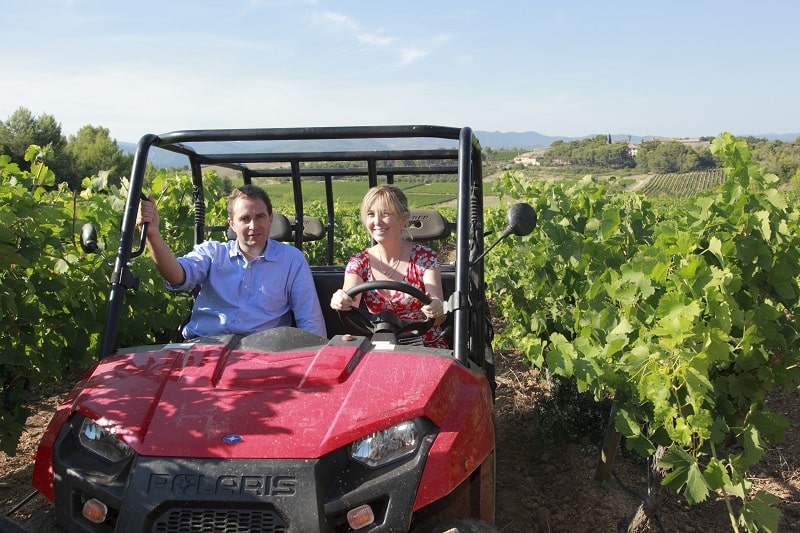 How was this year's harvest?
L: It was very successful and we are very happy with the quality of the harvest, contributing to a very elegant style with plenty of freshness and aromatic intensity. Harvest was earlier than usual – we captured the optimum picking window for perfect ripening of the grapes whilst maintaining good acidity levels. 2020 was a harvest we won't forget in a hurry, given that we had the pandemic to contend with, but our team was very professional and it didn't impact on the ability to harvest or on the quality in any way. The pruning team had to work together, based in their bubbles and the pickers had to work socially distanced.
What are your plans for the coming year?
L: As we are not able to travel due to Covid we are finally getting round to some longstanding projects – rebranding our website and working on our online shop.
We hope to keep on telling more of our stories online so keep an eye on our website. We are just launching a new range called Les Côtes – wines from specific sites that produce a unique expression of that grape variety, our signature varietals, viognier, albarino and two different Saint-Chinian wines, one more fruit-focused (Grenache) and the other, a pure Syrah with very elegant lifted fruit.
Can people visit your vineyard (once Covid restrictions allow)?
L: Yes – we have a cellar door at Auzines where peple are welcome to come and have a free tasting of our wines. If people want a more comprehensive visit they can book online via our Facebook page.
Also, please do follow us on social media and share pictures and tag yourselves enjoying our wine – we always love to hear from you!
WHERE TO BUY
Laurent Miquel wines are available online. In the UK, you can buy them from Waitrose and Sainsbury's, as well as via a selection of independent wine merchants. For US availability contact [email protected]