Young, talented, and ambitious, pastry chef Nina Métayer is one to watch. Voted Pastry Chef of the Year twice, in 2016 by Le Chef and 2017 by Gault & Millau, she is the International Creative Chef for Café Pouchkine. Ahead of her appearance at the Salon du Chocolat in Paris on November 2, she talks to Renata Haidle
Is it difficult to be a woman in the world of haute pâtisserie?
Big or small, man or woman, young or not, each attribute has its virtues and qualities. The real question is, is it more difficult if you're a woman? I have never been in the safe shoes of a man, so I do not have that perspective. I think the subject is more complex: is our society macho? Very much so, certainly. I often receive messages from young women asking for support, and to them in particular, I'm happy to say that adversity is a driving force, and I'm almost thankful for that.
Your first signature dessert was the exotic floating island, created for the Hôtel Raphaël. What inspired it?
That was a big challenge, being in the position of Chef for the first time. I wanted to create something that resembled me: light, airy, not too sweet, powerful in taste. Maybe with a zest of technique as well. It's a complicated dessert. To please Amandine Chaignot, who launched me, I wanted really beautiful desserts, worthy of a gourmet restaurant. This dessert helped me a lot, personally and professionally.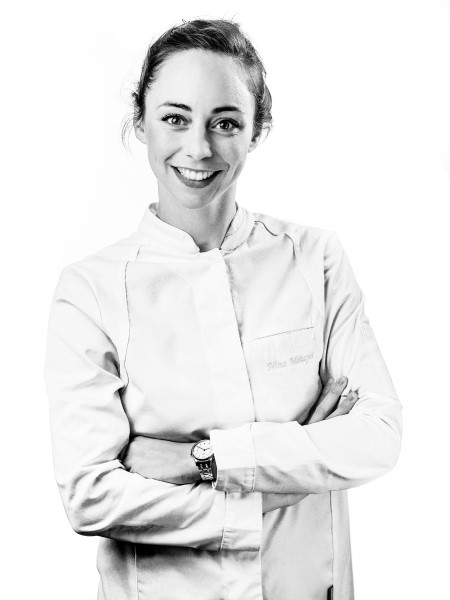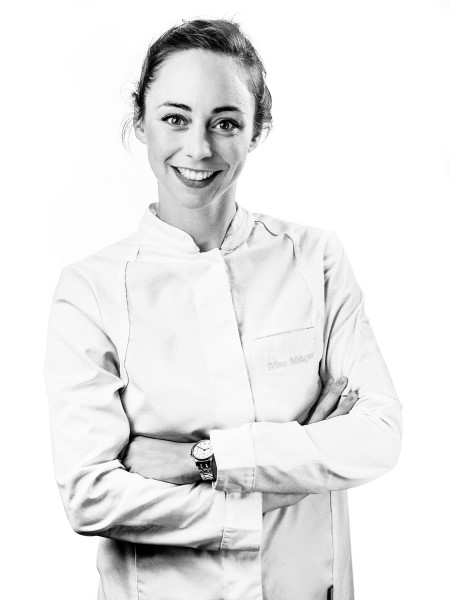 How do you come up with new, innovative flavour combinations?
I go through phases, as if I were on a passionate quest around a particular flavour. Afterwards, it's like building blocks; I have a frame, and I compose the harmony. It always starts with one flavour, then comes the second, which is replaced by the third. I remember that for my first Salon du Chocolat appearance I combined chocolate, whiskey and cigar. It was really fun.
What is your safe place, your refuge?
It's in the middle of nature, surrounded by woods, fields, and those close to me. I chose Normandy, as it is close to Paris and I can get there quickly. I built a laboratory there; from the very start, the idea was to be able to combine work and relaxation.
If you could bring something from the Charente-Maritime and your hometown, La Rochelle, to Paris, what would it be?
The harbour cafés in the sunshine, and my loved ones that I would like to see every day. My native region is in my heart, and I am happy to be an ambassador for one of its flagship products, the AOP Charentes-Poitou butter. I use it in all my preparations, and to me it is as sacred as Proust's madeleines – I would never give it up.
How do you think the social media has affected on your work?
It's difficult to answer that. The digital world seems full of promise and usefulness. I am really happy to be able to speak live via the social networks, I have the chance to share emotions, points of view or discoveries with perfect strangers. It is a great freedom. I'm autonomous, direct. It is a great source of sharing, and the positive energy I derive from it is incredible.
Tell us about your new adventures in London and your restaurants at Mercato Metropolitano.
I chose London because it's a mixture between the desire for entrepreneurship, instinct, and encounters… I liked the fact that the culture is quite similar but at the same time begs to be discovered, and was very surprised that this opportunity was so underdeveloped. I firmly believe that in terms of bakery and pâtisserie our craft has something to offer. I went for it, and for the "durable" spirit initiated by Mercato. My mission is to open three places; we are almost at two with a third on its track, and I cannot wait, because I miss Paris too!
Can you talk a bit about your next big project?
I dream of so many things, and I hope that will never stop! In the short term, professionally, I'm focused on excellence, creation, and transmission. Excellence, because I wish to surpass myself. I intend to train hard, for I hope to become Meilleur Ouvrier de France. Creation involves not having one eternal signature dessert. I really want to invent – for the shop, for the plate, or even simply for my family. And transmission, that will happen via video. Do it once, share a thousand times. Technology is incredible.
Say hello to Nina Métayer in person at the Salon du Chocolat on November 2nd, where she will be demonstrating one of her recipes. The salon runs until November 3rd – find out more at www.salon-du-chocolat.com.