One of the surprise hits of lockdown in France has been the soaring popularity of food trucks. And we don't mean your common or garden burger van either!
These mobile restaurants offer a wide range of gourmet delights, and are well-loved not just for the quality of their food but for their social aspect – and a welcome night off from cooking.
British expats Sam and Angus Mclelland, who are based in Ernée in the Mayenne département, run The Hungry Cow food truck. We caught up with Sam to find out more…
Whereabouts in the UK are you from and what were you doing before moving to France?
Both Angus and I have lived and worked in the London and Tunbridge Wells area for most of our working lives. We have always been in hospitality and used to run gastro pubs (before they were called gastro pubs!). Angus was the chef and I was front of house but I have always had a passion for cooking and knew that the kitchen side of hospitality was where my passions lay. Once we were married and started to have children in the UK we soon realised that the ties of running a pub seven days a week was not something that we wanted to do anymore.
When did you and Angus move to France?
We moved to France in August 2008 with our two sons, Louis (14) and Fraser (13) − Maddie (10) was born in France in 2011. Angus had a dilapidated holiday house on the Brittany/Normandy border and it had always been the plan to eventually move out to France but not for quite a few years, but fate had a different plan for us! Angus had left his final pub in early 2008 and he was totally disillusioned with the pub trade so he decided to make a career change and go into landscape gardening and decking. This lasted four months and then he slipped a disc and was incapacitated for two months so we decided to go out to the house in France so that he could recover. We went for a month and on the second to last day we noticed that the bar in one of the local villages was building an extension, so we built up the courage to go in and ask what they were building (in very bad French!) and they replied "a restaurant" − so we said "are you looking for a chef?", and they were. So Angus had a proper interview the next day and an offer of a job in three months time. So we returned to the UK, told our friends and family that we were moving to France and have never looked back.
How did you start your business?
By 2019, we'd finished renovating the house back to its former glory and the kids were bit older so we started to think of the next steps to best monetise our talents for cooking but also give us the best quality of life. Angus had been ask to cater for two weddings in the summer of 2019 and it got us thinking that we could make a fantastic business that could give us a good quality of life while fulfilling our passion for food. So in August 2019 I finished my salaried job and took the plunge into self-employment!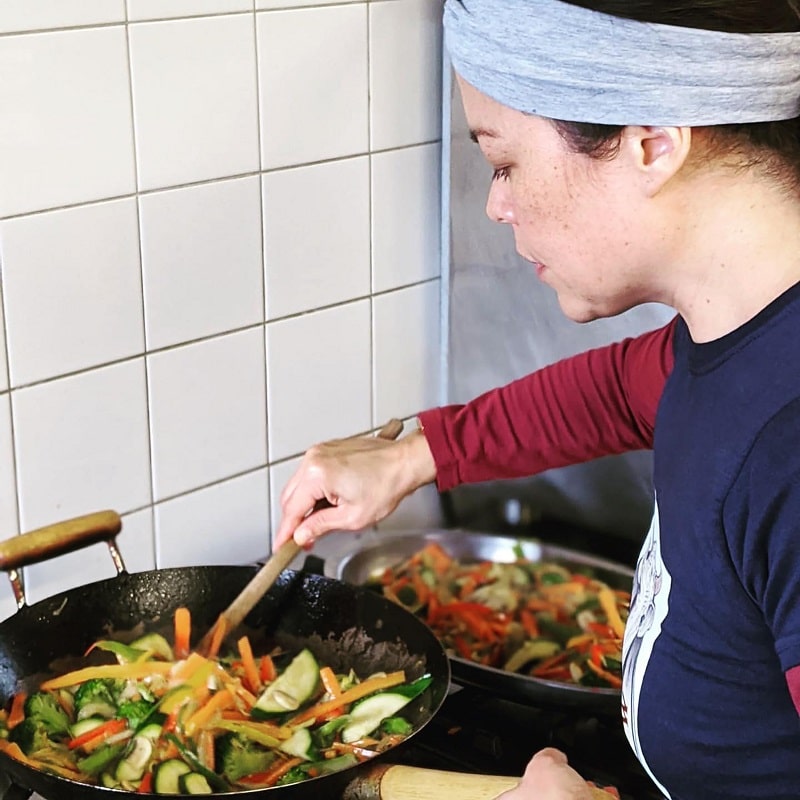 We understand you changed direction slightly when Covid hit?
Initially our business plan was to do destination weddings and by early 2020 our calendar was looking very good, especially for the first year. Our retro food truck was going to be an add-on to the services we could offer a bride and groom for their wedding weekend, whether it was a pre wedding barbecue, a five-course wedding breakfast, gourmet burgers in the evening or delicious Pad Thai for the next day after-party. But when Covid hit we knew that our destination wedding business wouldn't be going ahead, we had to have a rethink. We now do one night a week in the town centre of Ernée and the weekends are free for private events (dependent on group restrictions).
Was it difficult to get the business off the ground?
We have been very lucky − the mayor and most of the people on the town council had eaten in my last restaurant so when I approached them for help they knew that they could get behind us because they knew our product. They helped us with what permits that we needed and how they could help promote our business, which was a video that they posted on the town's Facebook page and our business information in the town magazine. But the best publicity that we have done is the Friday night food truck. It makes us visible within the community and we are located right on the Route National so even if people don't stop, they see our name.
How is life for you now?
Becoming self-employed is the best decision I have ever made. I feel I can work as much or as little as I want and I can do it from the comfort of my own home. We spent the second lockdown making a commercial kitchen to make our work lives easier and also so my beautiful family kitchen doesn't get ruined.
What area do you cover and what kind of food do you make?
We are based in Ernée and travel a maximum of two hours for the right event but most of our business is within a 45-minute radius of us. At the food truck we concentrate on street food from all corners of the world. We change the menu every week and offer a meat dish, a veggie dish and a dessert. We post the menu on Wednesday and people can order in advance for the Friday evening. People love the fact that every week is different. The local takeaways in our town only offer pizzas or kebabs so it was our aim to offer something completely different. And now due to Covid people can't travel to different countries so we are offering them flavours from all over the world in France! Because all our food is homemade we do adapt the spicing towards the French palate but always make sure we have chillis to hand if people want to ramp up the heat!
How have you been received by the locals?
From the first night of the food truck we have been so warmly welcomed by the locals. It is so nice to see the faces of customers who have previously eaten my food but never met because I was stuck in a commercial kitchen. Most nights we only have one or two English locals and the rest are all French locals.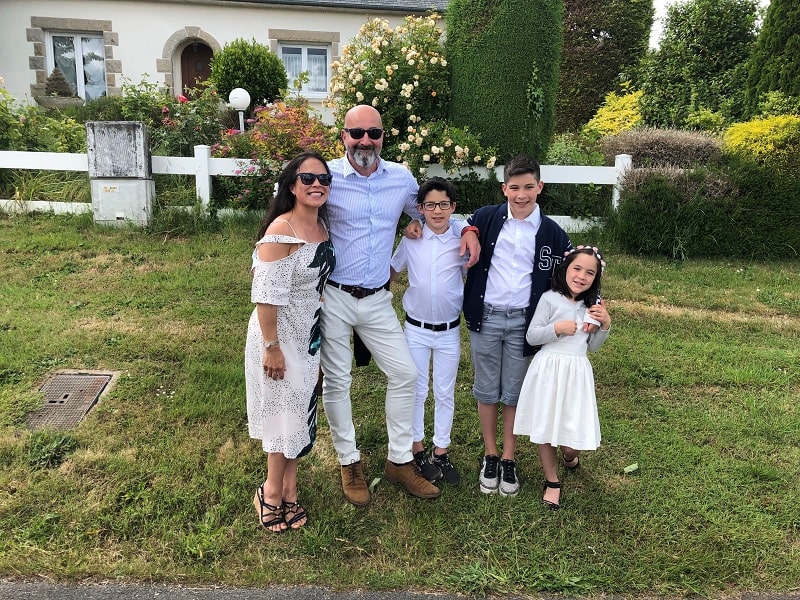 What are your plans for 2021?
We are looking at slightly rebranding the food truck as a pop-up restaurant for events and weddings. This way people don't have to worry about servers and guests come up to the hatch and collect their starter, main and dessert. People have said that the food and concept of the food truck so different that "pop-up restaurant" would be a better description because the you go to a normal food truck you usually have the same menu every week
What is it you love about your job?
I absolutely love meeting my clients. Everyone I deal with is so lovely and wants something unique and I am so happy to be able to provide them with truly unique food. Last year we did a Mexican-themed baptism − it was fantastic! I also love going to see all the different venues, whether it's a beautiful château or a country barn
Do you think food trucks are here to stay?
I think Covid has shown that food trucks are here for good. In a lot of remote villages in France the weekly pizza van or crêpe van has been people's only chance to get a takeaway. The French are becoming much more open to global cuisine and have welcomed us with open arms. I think chefs are realising that after the initial cost of setting up the food truck (similar to a restaurant) that the running costs are much less and you have much more freedom. People often ask why we don't have a restaurant and I say because the food truck is better.

For more information click here.