Raised in Salò, Italy, chef Simone Zanoni was just 18 when he headed to London to start his career in gastronomy. He trained under Gordon Ramsay, working for him in London before spending eight years at the two-star Gordon Ramsay au Trianon at the Trianon Palace Versailles. Zanoni is now head of the Michelin-starred Le George at the Four Seasons Hotel George V, Paris. He talks to Nicola Leigh Stewart
When did you first fall in love with food?
Oh gosh, I was in love with food because I'm from a foodie family. We always loved to eat well and feed ourselves with farm food. My dad had a farm because he said to me, "Simone, I want to eat well and healthy". We would go to the local lake to pick up trout, my dad would raise poultry… food has always been part of my life. Most of my greatest memories are linked to a lunch or dinner with family – food is a fantastic excuse to spend time with people you like. If the environment is wrong, you won't remember it. You can go to an average restaurant but if everything is punchy and wow, you think the food is great! It's the experience.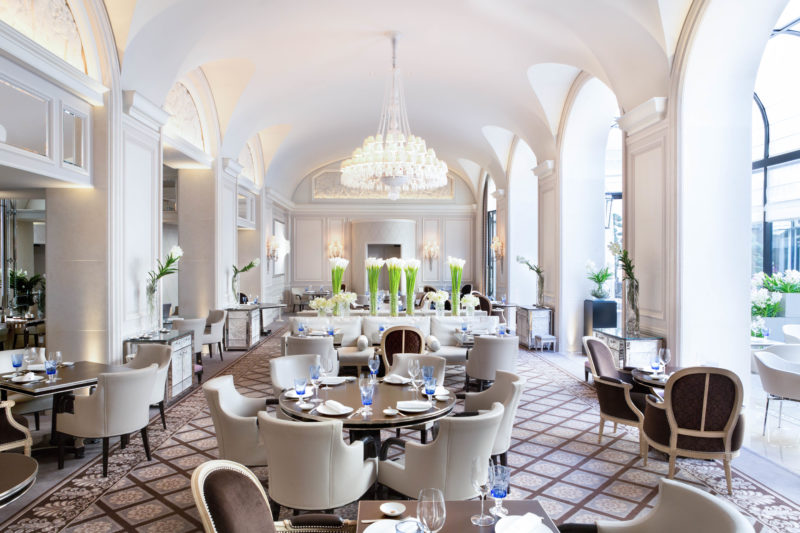 Your menu has been designed for sharing, with many dishes available as half portions. This seems quite unusual for Michelin star dining in Paris…
I wanted to create a very relaxed environment, with conviviality. I want people to feel comfortable. I didn't want to eat in a stiff restaurant, so I couldn't create my restaurant to be stiff. If I think a restaurant is overpriced, then I can't create mine to also be overpriced. If I'm not happy to pay €200 for a meal how can I create mine to be over €200! What I like is what I put on the table, and I like a friendly place.
Also unusual is offering a vegetarian and vegan menu, especially in fine dining. Is this something which is important to you?
Yes. The vegetarian and vegan menus are fairly new, but a huge part of the main menu is veggie too. I had two vegans from Australia here who said it was the best vegan meal of their life. Usually people just get the leftovers! I've had a great response to vegetarian and vegan dishes. Chefs think that the clients are not ready, but it is the chefs who are not ready. You just need to explain it to them.
After spending many years in London working under Gordon Ramsay, what brought you to France?
I was missing the Latin mentality and there are some Latin values I missed, I can't really explain it. I have this Italian passion. But I also developed efficiency in London, so now I have passion with efficiency.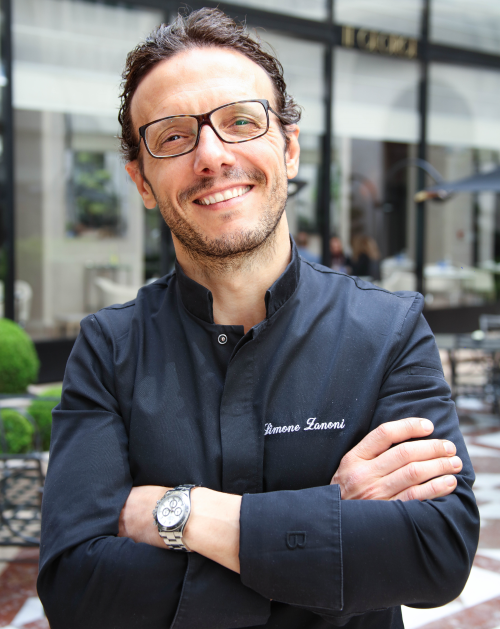 Are there any French chefs, past or present, who you admire, or who inspire your work?
I like people like Passard, Ducasse, they're really fantastic.
What are your favourite ingredients to work with?
I don't have a favourite ingredient. For me, it is what nature has given me. The ingredients need to have a story behind them – even the simplest ingredient with a story becomes fantastic. For example, if it has grown in an organic environment, then a roasted courgette makes more sense. The way we create the menu nowadays is different – before the chef was asked to be a great chef and create great food – now I believe they also need to respect the land and be eco-friendly. These chefs are going to be the chefs of the future. Now when we create a dish we have to think, is this acceptable for the environment?
Last year you launched a Sustainable Kitchen Garden, which provides Le George with locally grown organic fruit and vegetables. Can you tell us a little more about it?
As well as growing the fruit and veg locally, we work with a company who can speed up the composting process to make compost in three weeks not six months, which we then take back to the garden. We have our own lemon trees, our own herbs… we're not creating a perfect world but it's small individual action that will make a difference, not a singular big action. The garden is part of our philosophy, it is part of our commitment to the world.
IMAGE © MME ELIZABETH

IMAGE © GREGOIRE GARDETTE
Are you taking any other steps to make your kitchen more sustainable?
We decided to take all the bottled water away. For us it is not a sustainable business anymore. Used to sell 60,000 bottles a year, that's 30 to 40k tonnes of glass. We created our own carafe and we have these machines that purify the water – it's just tap water, but we clean it and you can have it natural or sparkling. You pay €6 per person then you can have as much as you want.
We're also recycling the coffee wastage – 100 kilos a week goes back to a company called La Boîte à Champignons. They mix the coffee with wood and chips in a bag and then put mushroom spores into it. They control the environment, the right temperature etc., and then mushrooms grow out of it. We buy one tonne of these mushrooms from them each year.
What steps could we be taking at home to make our own kitchens more sustainable?
I suggest you buy less, but better quality. Concentrate on buying less packaged food, try and cut down your meat consumption to twice a week maximum, and fish once a week. And then you can concentrate on better quality. I believe your body is meant to eat protein, but you should control how much. I also prefer vegetarian to vegan as you can have eggs, butter etc., I think you should eat those things, they're good for your body. Also, vary your diet, try to learn a bit more about cooking, and vegetarian meals. For example, a lentil salad, with goat's cheese and some herbs is simple but makes a fantastic vegetarian meal.
Do you have any other future plans that you can share with us?
I would like to find a way to be 100 per cent sustainable with all vegetables. I want to find a farm where I can grow 100 per cent of my vegetables all year round. And I want to find a way for the hotel to recycle 100 per cent of my food wastage. And then keep explaining it to people. By seeing us doing it I hope people will understand that it is possible.
https://www.fourseasons.com/paris/dining/award-winning-talent/chef-simone-zanoni/
IMAGE © JEAN-CLAUDE AMIEL

IMAGE © JEAN-CLAUDE AMIEL

IMAGE © JEAN-CLAUDE AMIEL