Celebrity pastry chef Éric Lanlard lifts the lid on his career-defining highs and 'fanboy moments', and shares some handy tips for amateur pâtissiers
My biggest make-or-break moment was… Making chocolate Easter eggs in 40-degree heat. After I graduated I got called up to be the pastry chef on the French Navy's flagship, Jeanne d'Arc, for my military service. In French you have this expression: Il faut faire avec les moyens du bord (You have to make do with what's on board). And it never hit me how true that was until I had to cook for dignitaries on a ship. It moved all over the place, it was super hot and there was no rushing to the supermarket for ingredients. We were in Trinidad and Tobago once and the wife of the captain joined us for Easter, and I was asked to make Easter eggs. I made them straight in the freezer and jammed the door with a wooden spoon so I could still let some light in. You're not supposed to freeze chocolate but it was 40 degrees indoors. I took them out at the very last second so the guests could see them before they started gently melting away.
When I first moved to the UK I discovered… Novelty cakes. It's something completely un-French and it's not really pâtisserie. And to be honest I'm not very good at that kind of work because it wasn't part of the classic training. I am a bit more passionate about what's inside. You can have a beautiful cake but if it doesn't taste right, that's all people will remember.
The cardinal rule of baking is… Precision. I'm completely lost without scales. That's why the kitchen is called a laboratoire. We're more like alchemists than chefs. I see people scooping flour out of the bag and I just don't know how it can work.
My all-time favourite dessert is… Lemon tart and tarte Tatin.
My pet hate is… Boring cakes that taste the same right to the end. I like liquid centres, crunchy bases… I want little surprises to come through, right through to the very last bite. And at the same time I want to keep it uncomplicated. The fashion at the moment is to add so many flavours and layers that you can't taste any of it.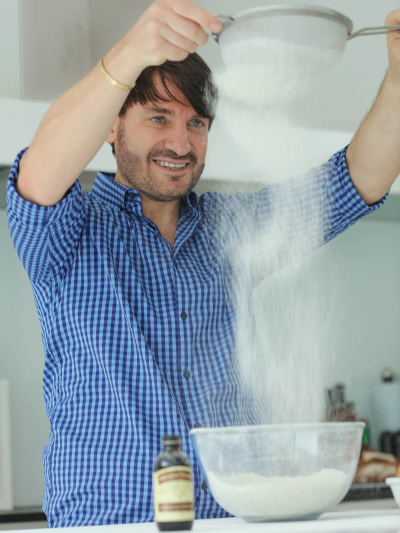 You never stop… Feeling star-struck. When someone says, "It's a phone call from Clarence House or Elizabeth Hurley or Elton John's office", you go, "Oh my god, Oh my god". But then you pick up the phone and you play it cool and professional. The highlight for me was being introduced to the Queen. I've been working with P&O Cruises for five years and she is the godmother of their ship Britannia. She came to the launch and when she realised I was French she switched to French straight away and she asked me if I had sea legs. It was a real arm-pinching moment. We were having our own little discussion in French with everybody around…
It may sound surprising but… I've never had a sweet tooth. As a child I would always raid the fridge for cheese and charcuterie. A dessert full of sugar really puts me off. If you use the right ingredients you don't need to use three tonnes of sugar. I always say, if there is too much alcohol or sugar, it's to cover something up – bad chocolate or a bad sponge.
I'd love to get my hands on… A Japanese cheesecake. I'd love to try one. It's fascinating the way they bake it, and it comes out all wobbly and fluffy. It's so un-French and it's quite odd. I might hate it when I taste it, but it looks fun.
I would never… Make cronuts again. I can't imagine anything worse – ever. We were asked to make some once for a video. Deep-frying croissant pastry… It's my nightmare. It's the last time I would ever do that.
One of the biggest myths about the French is… That they eat cake all the time. They don't. They might go once a week to the pâtisserie or a nice salon de thé. It's an occasion, not everyday.
My top tip for amateur bakers is… Start small. Don't start with a three-tiered cake. There's nothing worse than getting frustrated from day one. Disasters always happen. You can forget the sugar or baking powder and sometimes you have no idea why it's gone wrong. That's life and you start again.