This lovely Mirabeau goodie bag consists of an artichoke dip from Aix & Terra, chestnut honey from Philip Prior, a handmade clutch bag from Etincelle, and our very own aluminium drinks bottle and an apron.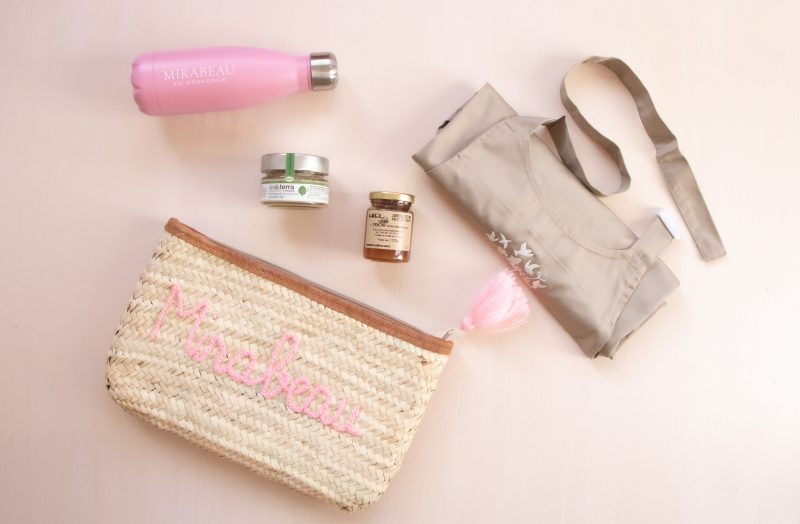 Artichoke Dip – Aix & Terra is a brand created in 2010 in Aix en Provence, to capture the creativity of the culinary arts of Provence. Aix & Terra use the finest ingredients in the region to create their delicious deli goods. This Artichoke dip is vibrant, fresh and perfect as a spread, as a dip or used in stuffed vegetables.
Chestnut Honey – Philip Prior is a passionate local beekeeper. For this honey, his bees pollinated the delicate flowers of the Castanea sativa tree, also known as the sweet chestnut! The honey is excellent on a slice of buttery toast, as part of a cheese board, or simply by the spoon.
'J'aime Mirabeau' Clutch Bag – the fashionable Etincelle 'pochettes' (clutch bags) are made by hand with love in Morocco, from dried palm tree leaves.
Mirabeau Drinks Bottle – this pink, aluminium drinks bottle is a fab way to get your daily intake of water, without using single-use plastic, and is also great for hot drinks, like a cuppa to go.
Mirabeau Apron – a much-loved apron from the Mirabeau wine boutique in Cotignac and best worn when cooking up a storm! The apron is embroidered with the family logo that is based on the 'Tree of Life', and represents how the Cronks uprooted from London to pursue their dream of making award-winning rosé in Provence.
ENTER FOR YOUR CHANCE TO WIN
Sorry, this competition has now closed. Thank you for your interest. Keep up to date with all our latest competitions by following this link.
Terms & Conditions
Employees (and their relatives) of France Media Group are not eligible to enter. The judge's decision is final and no correspondence will be entered into. The competition closes on December 5th 2019. Once contacted, winners have one week to claim their prize. In the event that a prize cannot be supplied, no liability will attach to France Media Group.