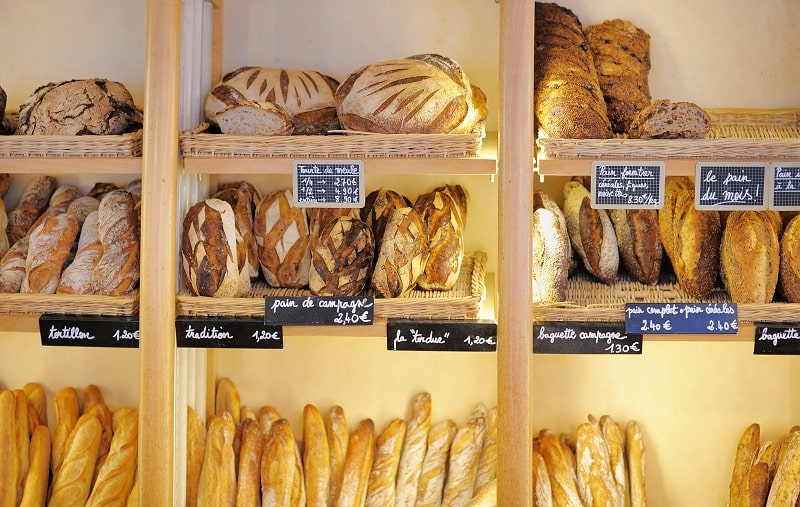 Next time you're in the boulangerie, here's what to look out for
A glass of wine, some deliciously smelly cheese and a hunk of crusty fresh bread – you don't even need to be able to cook to enjoy a taste of France!
Now that borders are starting to reopen slowly, no doubt you're looking forward to your next visit to the Hexagon – and to your next trip to the boulangerie, bien sûr. To make your mouth water in anticipation, here are our top five breads to look out for when you go…
BAGUETTE
Everyone knows the baguette – pop to the boulangerie and buy one to tuck one under your arm as you stroll through town and you'll look as French as you possibly can. But there are actually two types of baguette (of course there are!). The classique – commonly known as baguette ordinaire – varies in quality and additives can be used, making it the cheaper version. The baguette tradition tends to be bigger and crispier and more flavoursome. Various rules apply to the tradi, such as it must be made on the premises where it is sold (so unlike the classique, it can't be made with dough delivered frozen from a factory) using only flour, salt, yeast and water (no additives allowed) and it must be allowed to prove twice. The artisanal baguette tradition was introduced by the government in 1993 in response to falling bread sales in France, though many French people remain committed to the classique. To decide which you prefer, you should probably try both.
Did you know – the first known mention of the word baguette dates back to 1920, although the loaf's roots go back to the 19th century when its long thin shape was designed to avoid bread tax?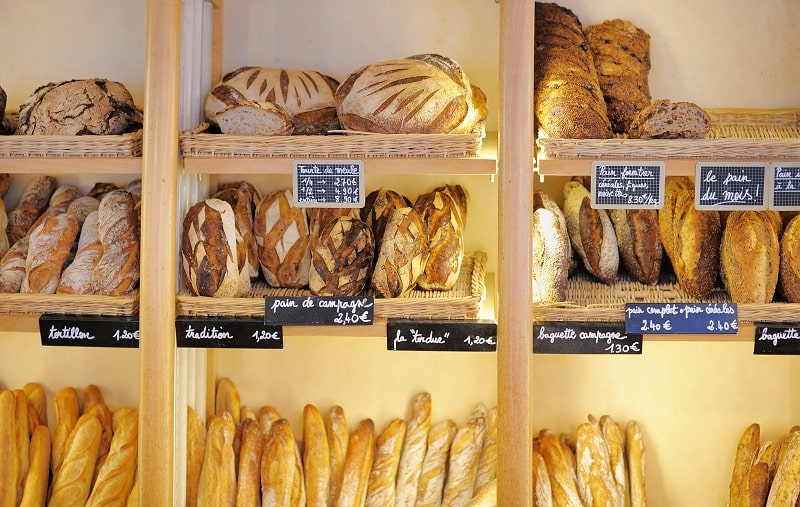 PAIN DE CAMPAGNE
Larger and plumper than its better known cousin the baguette, pain de campagne – literally country bread, though we would probably call it a rustic loaf – is France's answer to sourdough. It's made using a starter, just like sourdough, and traditionally uses a combination of white and wholewheat or rye flour.
Overtaken by the baguette in the 20th century, pain de campagne is enjoying a renaissance, not just in France but in Britain and the USA as well.
PAIN POILÂNE
Created by Poilâne family, whose use of stone-ground flour and natural fermentation earnt them a global reputation for quality, artisanal bread, this round sourdough loaf is also known as a miche.
It contains 30% spelt, an ancient ancestor of wheat which can be traced back to 5000BC and which is gaining popularity as a healthier alternative to wheat. If you fancy trying it in the comfort of your own home, you can order from Poilâne online in the USA!
CROISSANT
If you've ever tried making your own, you will appreciate how much work goes into making these flaky, buttery breakfast treats. The dough is rolled, dotted with butter, folded and rolled again several times over in a process called laminating before being formed into the croissant (crescent) shape. Developed from its Austrian forebear, the kipferi, no continental breakfast is complete without a croissant, served with fruit-laden jam and strong coffee.
PAIN AU CHOCOLAT
Literally translated as 'chocolate bread', the pain au chocolat is made from the same dough as croissants, with a couple of cubes of dark chocolate tucked in the middle. Best served warm straight from the oven, it is also delicious cold. Try dipping it in your coffee for a truly French experience. Miam!