I love Paris in the summertime…. so the song (almost) goes. Sadly for many of us right now, Paris is just a dream. But if you're hankering after a taste of les terrasses, you need look no further − Nio Cocktails can bring the flavours of a French cocktail bar to your front door.
Nio's cocktails come in niftily packaged boxes, which could technically fit through your letter box, although given you're likely to want more than one, you may have to wait in for the postie. Then simply pinch and tear off the corner, pour over ice and voilà!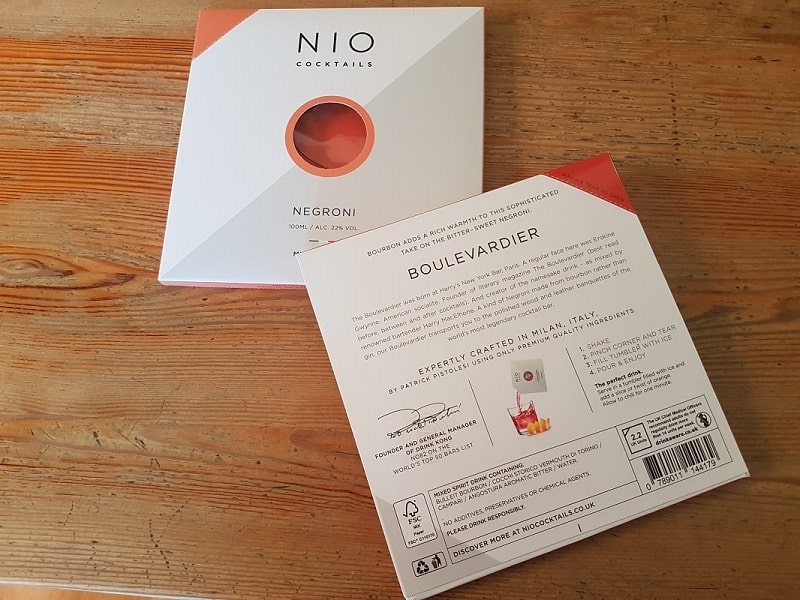 Nio (which stands for Needs Ice Only) boasts a menu of 15 cocktails, such as Manhattans, Old-fashioneds and Cosmopolitans. But to recreate the atmosphere of a French bar in the height of summer, the Boulevardier is a must.
Born at Harry's New York Bar in Paris in the late 1920s, it's a heady mix of bourbon, vermouth, Campari and angostura bitters. Think Negroni, but with the toffee warmth of whisky instead of gin. One of Harry's regulars was American socialite Erskine Gwynne, founder of the literary magazine, The Boulevardier (loosely translated as man about town), the title of which legendary bartender Harry MacElhone pilfered for his new creation. Nio promises their handcrafted cocktail will transport you "to the polished wood and leather banquettes of the world's most legendary cocktail bar". Delightfully heady, this very grown-up cocktail is gorgeously moreish.
I also had the pleasure of tasting their Negroni, bursting with the summery swagger of gin, the earthy bluntness of Campari and a tender background of vermouth. And if you prefer a hint of citrus, you'll love the Gin Proved, invented in an Alpine chalet in front of an open fire and designed to be something a little different before dinner. Given its snowy origins, it works just as well in the summer heat, with its fragrant combination of Tanqueray gin, floral Bols Parfait Amour liqueur, organic citric acid and Toschi liquid sugar.
It's not the cheapest way to enjoy cocktails (though there are various special offers available and you can earn points by joining the Nio Speakeasy) but think of all that money you're saving by not going to the pub! I think posted not stirred is a fantastic new way to enjoy cocktails…