On the high plateaux of Provence, a handful of hog farmers pamper their livestock to produce the high-quality meat labelled Porc du Ventoux
Northwest of Manosque at an altitude of 1,000 metres, in a shed adjoining his farm, La Grande Pélissière, pig farmer Vincent Maurel cautiously approaches a magnificent 300kg sow who is sprawling blissfully in the straw.
"That's Blanquette," he says proudly. "Three years ago, she escaped from her pen and I decided to keep her. I became attached to her. She's like a pet."
Vincent is a native of this vast, deserted expanse between the villages of Saint-Christol and Revest-du-Bion on the Plateau d'Albion, where, to quote Jean Giono, "the rocks roar under one's feet". He is a pig farmer with a difference: when he brings his animals to the nearby village slaughterhouse each week, he always has a slight heartache. You see, he doesn't like to stress them.
And he's not the only one. Vincent is part of a small group of farmers – three, to be precise – who raise stress-free pigs, whose meat is then sold under the label Porc du Ventoux (named after Mont Ventoux, the fabled mountain of the area). Distribution may be limited but, over the years, Porc du Ventoux has earned a solid reputation for quality throughout the whole of Provence.
"The rule is to have a breed adapted to the area, lots of space, healthy feed and, above all, no stress," explains Vincent. Around him, in spacious pens, dozens of friendly, plump, pink pigs – dead ringers for Babe – bustle around a feeder or take shelter from the sun in specially designed wooden huts.
STAR PRODUCE
Raised under the blue skies of Provence and fed on vegetable flours, soy cake and cereals, these pigs experience neither intensive breeding nor cramped indoor spaces. For them, there are no feeding chains, treadmills or genetically modified organisms. Vincent, who is president of the Union for Promotion and Defence of Ventoux Pork, takes care of his 350 animals the old-fashioned way.
"We take our time," he says. "It leads to a pork which is unstressed, very well trained – a beautiful carcass with little fat and healthy meat." Porc du Ventoux was initiated in 1998 with the idea of creating a label similar to Taureau de Camargue, the free-range bulls raised in Camargue, which, in 1996, became the first French beef to be labelled as PDO. Today, Ventoux Pork production remains minuscule at 300 tons a year, compared with the 2.2m tons produced by the rest of France. Some 85 per cent of it is sold in the southeast, and the brand has gained the interest of the best tables in the region.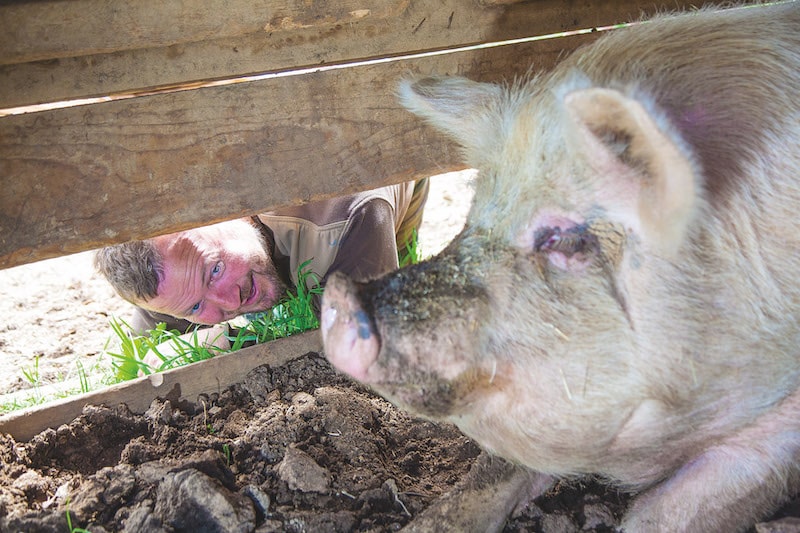 In Avignon, a stone's throw from Vincent's farm, Guilhem Sevin, chef at Michelin-starred Christian Étienne, regularly puts Porc du Ventoux on his menu. "It's a local product, the pigs aren't raised in battery cages, it has a lot of flavour, and there are enough producers to supply demand," he explains. "The meat is easy to work with, has a very good texture and is firm without being tough."
In September, Ventoux Pork was the star of the annual Avignon, tu me régales! picnic. Needless to say, Blanquette did not attend.
This comes courtesy of Taste of France Issue Two. For more great recipes, food news and interviews with top chefs, buy your copy here!