Stylish box-sets from the city of Cognac itself make ideal Christmas gifts
Cognac house Meukow, based in the famous French city of Cognac itself, has a couple of rather fabulous Christmas specials up its sleeve for the brandy connoisseur in your life. And the two elegantly boxed gift sets of its AOC cognac, bearing la maison's famous panther logo, mean gift-wrapping will be a doddle!
The Meukow VS comes beautifully packaged with a 70cl bottle and two stunning Melodia crystal glasses, at €35.90. The iconic bottle shows off the amber colour of the brandy while the multifaceted cut of the crystal will reveal its rainbow of shades and its amazing olfactory palette. Its top notes of almond, candied orange and liquorice, heart of vanilla and background of liquorice and nutmeg are just perfect for a Yuletide drop by the fire.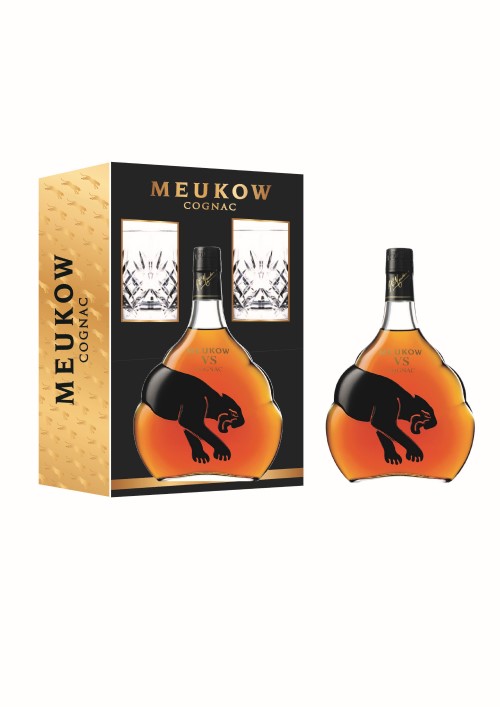 Meukow VS Cognac received an outstanding silver medal at the International Wine and Spirit Competition in 2018 and a double gold medal at the San Francisco World Spirits Competition in 2015.
The limited-edition bottle of VSOP Red is a stunner to look at and comes in an equally exquisite box, both designed especially for Christmas, at a price of €38.50.
The flamboyant shiny red bottle contains a brandy with intense aromas: its nose presents a beautiful harmony between grilled apples, caramel and nut aromas; while in the mouth, it reveals notes of dried fruit. Again, a perfect palate of scents and flavours for the festive season.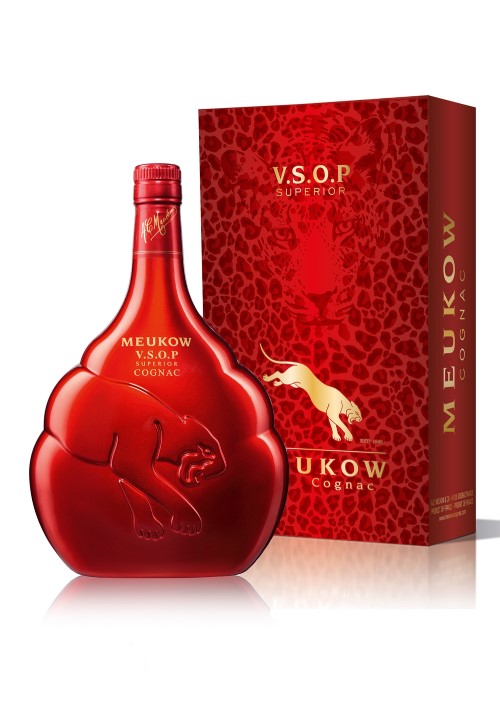 The Meukow VSOP won Silver Outstanding 2018 at the International Wine and Spirit Competition and Double Gold Medal at the San Francisco World Spirits Competition 2015.
Founded in 1862, Meukow is located in the heart of the city of Cognac and has been owned by the Guyenne Company since 1979.