Chocolatier Weiss serves up some festive fun with street artist PEC
Chocolate supremo Weiss has revealed a mouthwatering choice of Advent calendars for you to drool over in the build-up to Christmas.
The 137-year-old chocolate factory in Saint-Etienne makes luxury chocolate from the finest, raw materials and was awarded Living Heritage status in 2014. This year it has teamed up with Lyon-based street artist PEC, who is well known for his crazy and colourful birds.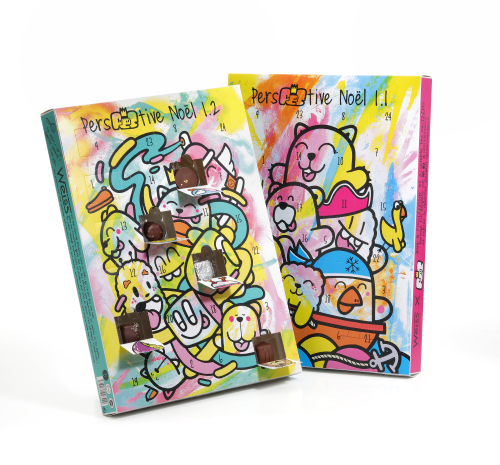 The limited-edition PersPECtive Christmas Advent Calendar is splattered with his funky creations so it looks good and tastes good too! Young ones can cut out and keep the collection of characters dubbed "the susPECts" as a charming souvenir.
And with ingredients such as dark and milk Neapolitan chocolate and Ivory Coast Bassam coconut, it easily earns its very reasonable €24.90 price tag.
Or if you prefer your chocs without a countdown, snap up the Crock'ines box set, again brightly decorated by PEC and boasting three flavour combinations of pistachio, cherry and cocoa bean; pecans and cranberries; and hazelnut, white grapes and rice balls. A 225g box will set you back €29.50.  
Finally, if your sweet tooth can take just a little bit more, there are two gourmet and stylish PEC-inspired bars to choose from: the Gingerbread with marbles of puffed rice; or the smoky dark chocolate with candied ginger cubes. A snip at €5.10 for 100g.
Buy from www.chocolat-weiss.fr