If you're planning a city break in Bordeaux or a visit to some of the most exalted wine estates in the world this autumn, then you might want to take in a wine festival while you're at it.
In the city itself, there's been plenty happening in 2022 to intrigue the travelling gastronome. The 'city of 1,000 restaurants' continues to increase its offering, from trendy new eateries, vegetarian cuisine, food courts, and outdoor terraces where you can enjoy tapas with a glass of wine.
Crème de la crème of Bordeaux food scene
Michelin-starred chef Vivien Durand has opened Gauta in the Saint-Michel district, while chef Jérôme Billot's second restaurant Ginette is dedicated to the rediscovery of traditional French cuisine. In Chartrons, French chef Philippe Etchebest has opened a second Maison Nouvelle and in the historic heart of the city, the bistronomic Bistro Bon has opened its doors. Meanwhile, the fashionable new gourmet chocolaterie Ganache offers cocoa heaven amidst chic designer décor.
If you want to go for the crème de la crème, Bordeaux has nine Michelin-starred tables, including the two-star Pressoir d'Argent Gordon Ramsay. And finally, for a true institution, head to one of the city's temples to fine dining, the Chapon Fin, which, with its grotto-style interior is, the oldest restaurant in Bordeaux.
Food markets in Bordeaux
If you love a foodie market – and let's face it, who doesn't? – head to the Marché des Capucins covered market (nicknamed 'the stomach of Bordeaux' for a reason!) where you can fill your panier with all sorts of delectable goodies and if you're peckish, you can dine in or take away. And on Sundays, nothing could be more pleasant than a stroll along the quays to the open-air Chartrons market.
New Halles opened their doors in 2022: Halles Bacalan and Halles de Talence. There are the perfect places to taste local specialities: lamprey à la Bordelaise, oysters, tricandilles (chitterlings), grenier médocain (a local variety of andouille sausage), dune blanche pastries, and macarons, to name but a few. Of course, it wouldn't be a trip to Bordeaux without indulging in the gorgeous little vanilla and rum treats known as canelés. Good places to indulge include La Toque Cuivrée, Baillardran or Cassonade.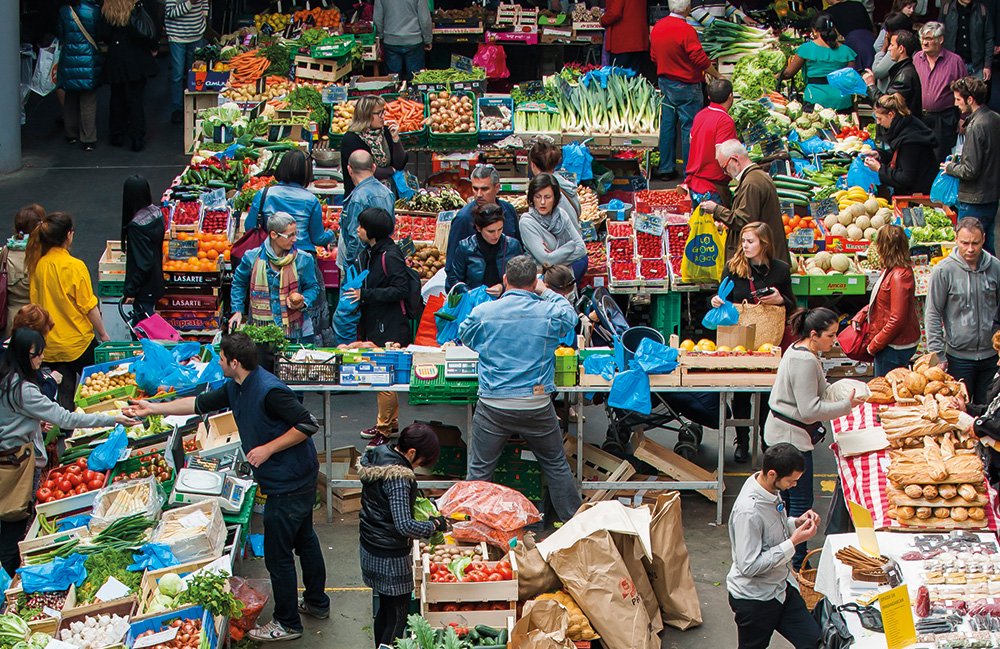 Environmentally friendly eateries
If you prefer to eat ethically, there's plenty available in the organic and veggie sector, such as Casa Gaia and Les Vaillant, which aim to use short supply chains with local, organic ingredients. Bordeaux also boasts an exceptional gourmet vegetarian restaurant, Rest'O, and the largest organic restaurant in France, Le Magasin Général.
Food festival
La Recontre de Vins au Naturel will have stalls, music, food and, of course, wine tastings aplenty courtesy of 20 local winemakers at Chez Alriq, one of the city's popular ginguettes. It takes place on Sunday, November 6 (2022) from 10 am. L'Appétit du vin, which has been distributing natural wines for eight years in the Gironde, will bring a selection of its winemakers, while Les Chais du Port de la Lune, an urban winery in Bordeaux which has been going since 2017, will also bring along a selection of its winemakers. It's a bargain price of €7 to attend but be sure to take your wallet – wines will be available to buy directly from the makers on the day.