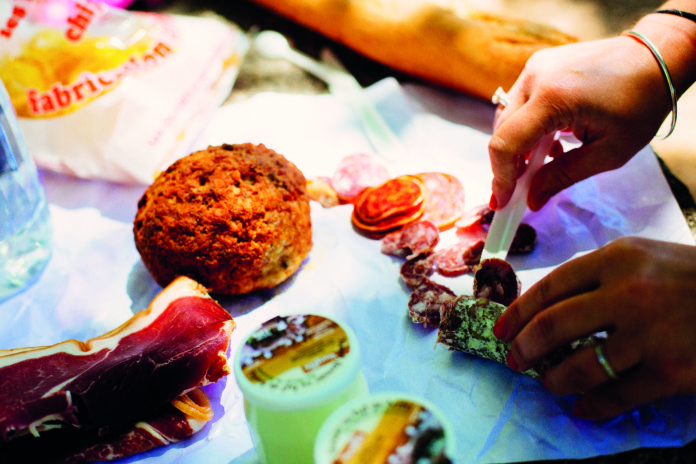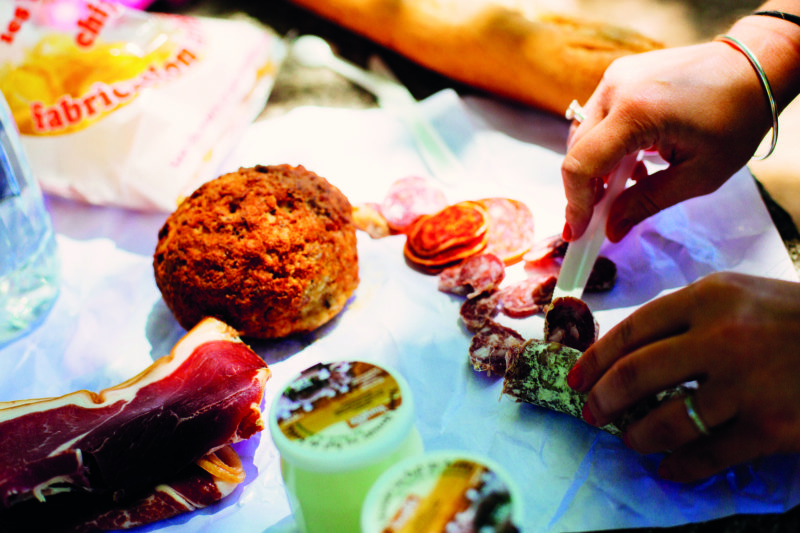 With a larder packed full of culinary traditions, top talent and plentiful produce, Occitanie is hard to beat when it comes to gastronomy, says Rachel Ifans
As I write this piece, I need to keep reminding myself that Taste of France is about celebrating Gallic gastronomy. It's about informing the reader. It's not a competition and it's definitely not about proving that your region could knock all the others into a cocked hat. But I'm finding it hard not to be slightly smug – like you are when you back the obvious winner on MasterChef right from the very first episode.
Occitanie – the new region formed from the merger of Languedoc-Roussillon and Midi-Pyrénées – is not only fortunate with its land, sea and climate, it's also awash with tradition and heritage, alongside top talent and techniques.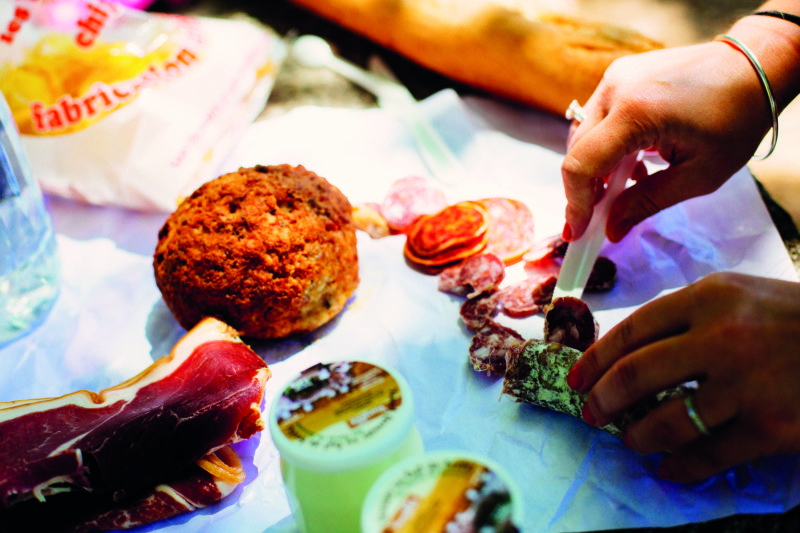 Let's look at the facts. Occitanie has the highest number of hectares of organic crop in France by region, and is the second biggest fruit producer in the country. It is the number-one winemaking region, with a third of all France's wine being produced here, boasting 260,000 hectares of vines. And it counts 250 food and drink products with quality marks (AOC, AOP, Label Rouge, IGP, AB) in its portfolio. The only downside to covering Occitanie is its size. By area it's second only to the neighbouring (jumbo) Nouvelle-Aquitaine, so we're going to have to be systematic about our tour.
We'll start with regional produce, then we'll look at heavyweight chefs, foodie festivals, amazing restaurants, markets, dégustations and more. Come on, Team Occitanie! We can do this! Sorry, I've gone all competitive again…
TOURING THE TERROIR
Occitanie's cuisine boils down to two things: the quality of the produce and the know-how with which it is treated and cooked. The latter is long-acquired. In many cases it is handed down through generations of families, and in others it is written in the history books of world-famous kitchens.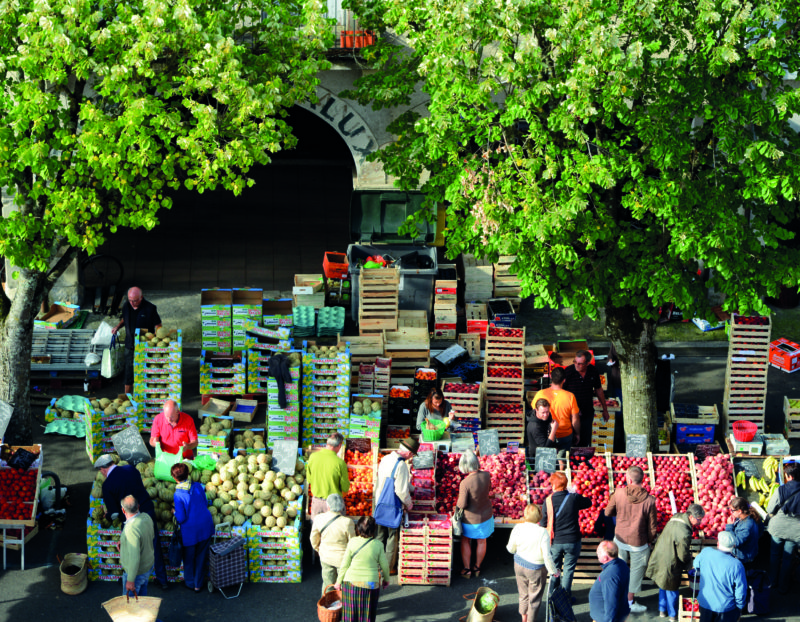 Foie gras, for instance, is at the centre of French gastronomy and although its tradition dates back to the 18th century, its production is often still a local, family affair. Yes, the controversial delicacy may enjoy global fame (or infamy), but its roots are still growing resolutely in Occitan soil.
The Label Rouge quality mark, which guarantees that the ducks have been raised, force-fed, slaughtered and processed in the area, has been awarded to 900 producers and you can visit many of their farms, smallholdings and conserveries to see it being made.
Likewise the ham from the Gascony black pig is said to be the best in France. The noir de Bigorre ham, which has 57 per cent fat, is cured for two years, cut into thin slices and served at room temperature, perhaps with a fig jam on the side.
The species nearly died out in the late 1970s but efforts to revive numbers have now paid off, much to the relief of the locals to whom the thought of its demise was unbearable. And let's not forget Quercy lamb. A flock reared only in the Lot (and certain adjacent areas), fed from its mother's milk for a minimum of 70 days, and slaughtered not long afterwards results in a bright white-fatted meat unrivalled for its subtlety and tenderness.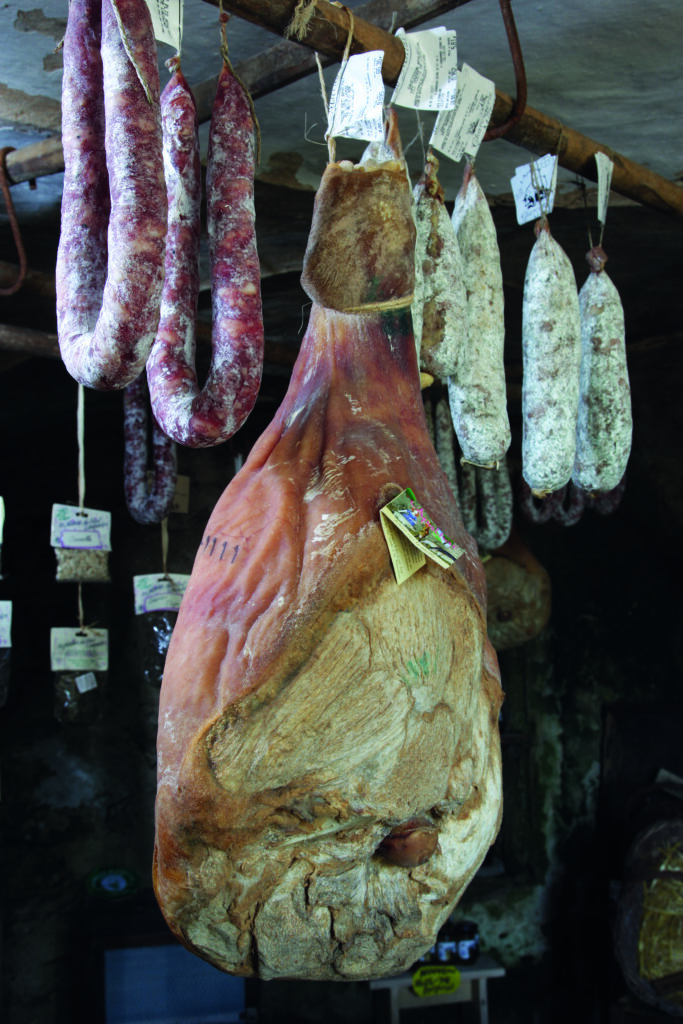 And so, from herds to hearsay. Occitanie is rich with aged meat recipes passed down through generations. From the Pyrenean garbure (a soup of cabbage, meat and seasonal beans) to gardiane de taureau – a rancher's stew from Camargue – the food reflects the land and its history.
The most famous, though, is perhaps the Castelnaudary cassoulet. A slow-cooked stew with melt-in-the-mouth white beans, pork skin and confit duck, it's named after the pot it's cooked in, an earthenware dish with slanting sides called a cassole.
A DIP IN THE OCEAN
Occitanie's seemingly never-ending coastline is quite the boon for seafood lovers. Stretching from the edge of the Camargue national park, it sweeps south, ending at the Spanish border.
Often referred to as the "shy sister" of Provence, Languedoc-Roussillon – for this is the part of Occitanie that claims the coast – will reveal to you gastronomic gems you've likely never heard of before.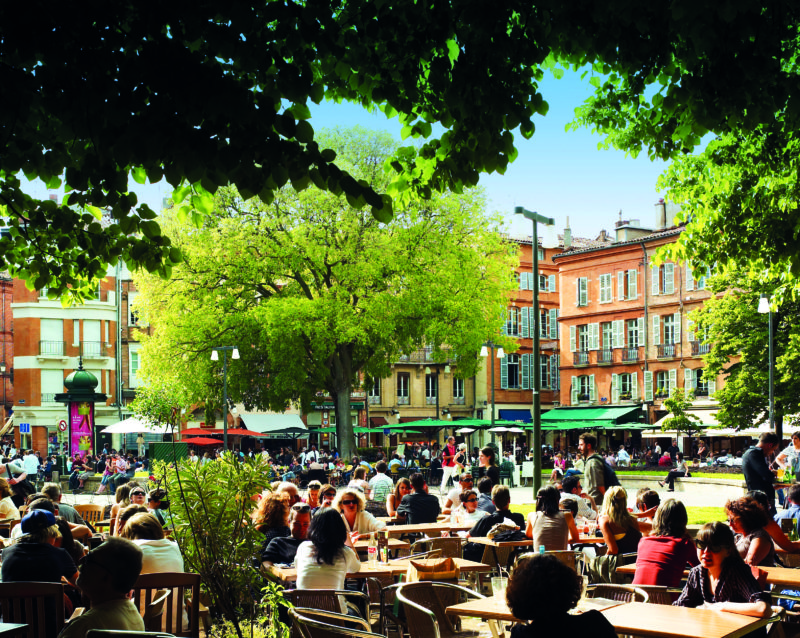 You'd do well to base yourself at Sète for a slice of seafood paradise. Cargolade is my starter for ten. Catalans' tasty answer to 'party food', it is made by grilling snails in their shells over a wood fire. Now, I know what you're thinking: just grilling snails is not a recipe, right? Well, here's the French twist: you've got to fill the shells with melted lard using a cast-iron funnel during cooking. My advice is to leave it to the chefs and concentrate on having fun.
Cargolade is traditionally eaten standing up, with a slice of bread slathered in aioli, and a glass of Catalan wine. The brandade de morue de Nîmes combines salt cod and olive oil with bread or potatoes.
It's a classic winter dish but you'll often find more inventive treatments; for example, spread on crostinis, or stuffed into some hot peppers. And another traditional recipe that shouldn't be missed is la tielle sétoise, a spicy octopus pie. Once a workaday lunch for fishermen, it's now one of Sète's true gastronomic institutions and traditional tielleries guard their secret recipes with their lives.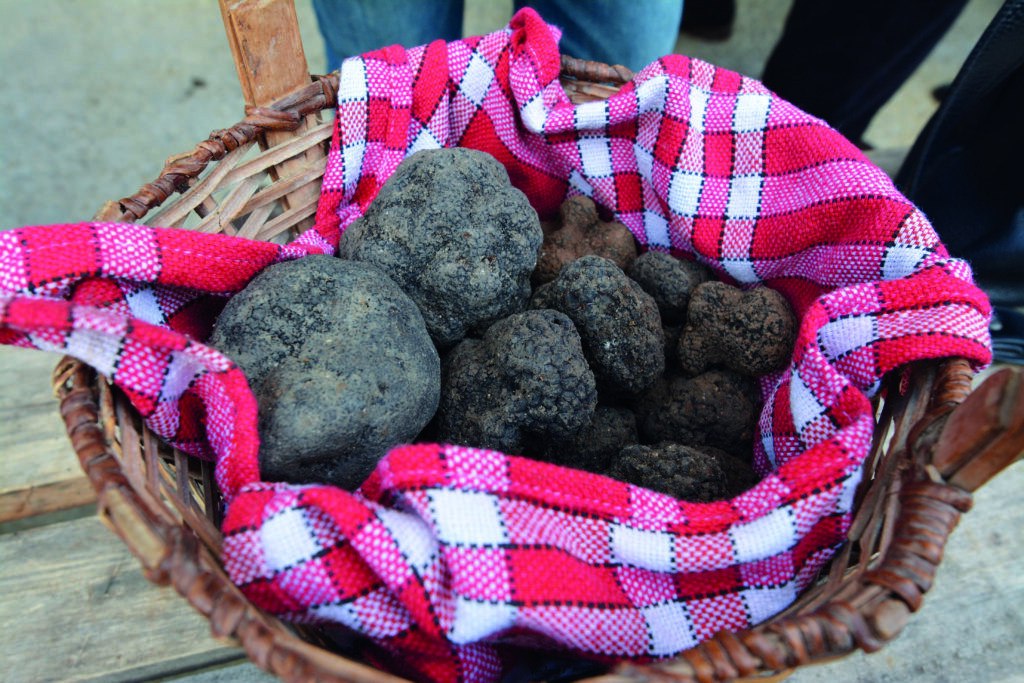 While you're at it, why not treat yourself to Bouzigues oysters, from the Etang du Thau lagoon, and named after a nice village in the basin? These babies are bigger and more highly-coloured than deep-sea oysters with a salty, nutty taste. Most people enjoy them raw but if the thought of it makes you squirm they are delicious cooked and eaten (rather like mussels) in a wine and shallot sauce, au gratin, over a barbecue – or, if they're really big, stuffed.
Heading down south, the anchovies of Collioure are definitely worth a detour. Often served on toast, pizza or in salads, these anchois are preserved whole in salt; a practice that's been perfected here since medieval times.
COLOUR ME HAPPY
Keen to cover all the greats in this roll-call, we can't ignore la truffe. With its perfect soil and climate, the Lot is one of the main truffle-producing areas in the country.
Joining in an autumn truffle hunt is great, of course, but I'm not sure there's anything more memorable, or theatrical, than attending Lalbenque truffle market on a Tuesday afternoon.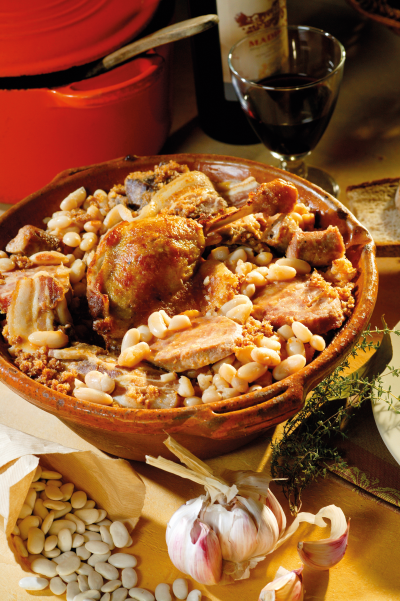 As lunch ends, a hushed silence falls over the tables set up along the main street; expectant people huddle round the closed bags and then, pffffft!, a whistle blows at 2pm, the bags of truffles are ripped open, eyes blink, noses quiver, and the buying and selling begins.
Colourful Occitanie also boasts the greens of Lucques olives in Languedoc, and the reds of the nutty riz rouge de Camargue and blushing strawberries from Nîmes. Sweet and fragrant and the happy offspring of Gariguette and Cliforette varieties, the berries are early to ripen in the nurseries just south of the city.
The emblematic violets of Toulouse are another burst of colour and taste – used to make many products like soap and perfume but also liqueurs to splash into your Champagne and fragrant honeys and syrups. Staying in Toulouse, the black of pharmacist Léon Lajaunie's iconic liquorice, Cachou, is something that Toulousains remember from their childhoods and still call on today as a punchy breath freshener. And let's not forget the white of the Tarbais beans used in cassoulet throughout the world, picked and sold fresh in September or dried and sold a month later.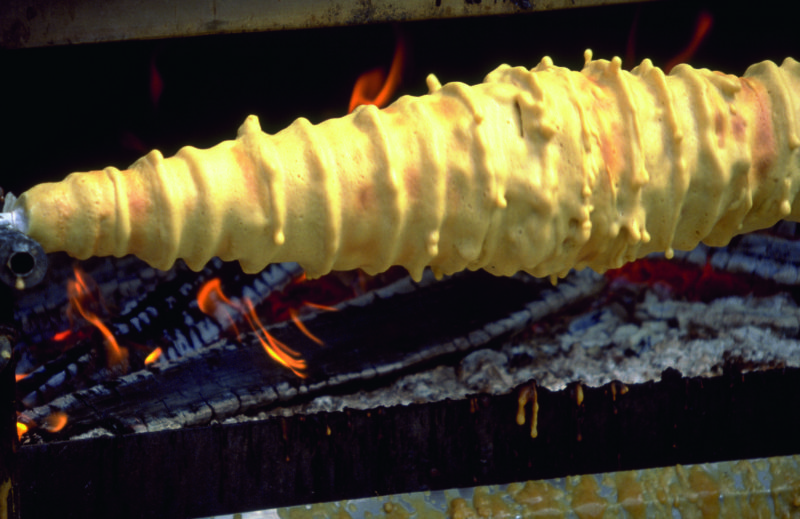 THE PROOF IS IN THE PUDDING
Let's talk desserts. Nothing puts a smile on a Pyrenean's face faster than the sight – and smell – of a gâteau à la broche cooking over an open fire. The method is as laborious as the ingredients are simple: the mixture is poured into a mould which is then turned on a spit over the fire, and the cake is built up gradually in layers.
While the broche is enjoying much popularity as a wedding cake, some ancient (and I'm talking Roman-ancient, not Grandma-ancient here) cakes, like Toulouse's fénétra, have all but died out. It's a glorious concoction of candied lemon peel, almonds, apricot jam and butter, higher than a jam tart, but lower than a sponge. You can buy a slice at Régals on rue du Taur in Toulouse, but be quick, it sells out early! Other specialities include bougnettes, from Roussillon.
Wafer-thin, crisp and light doughnuts the size of a dinner plate but the thickness of a crêpe, they're traditionally scoffed around Easter, but they are worth trying any time of year.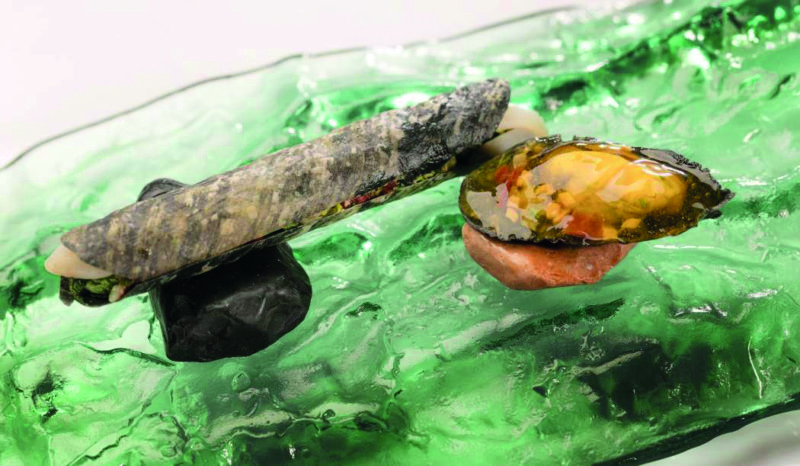 COOKING UP A STORM
As you'd expect from a region so rooted in gastronomy, Occitanie has an army of mind-blowingly talented chefs dreaming up fresh ways to celebrate its bounty. Among them is Gilles Goujon, who worked his way up the ranks from waiting tables in 1970s Béziers to being awarded his third Michelin star in 2010.
His restaurant, L'Auberge du Vieux Puits, in the remote village of Fontjoncouse in Aude, serves up fabulous fare inspired by French and Catalan cuisine. But there's a twist. Goujon is known for leaving many dishes unfinished, meaning a spot of interactivity (and imagination) is often required from you, the diner. Typical ingredients at L'Auberge du Vieux Puits range from stalwarts like cabbage and tomato, potato and apple, to lamb, seasonal game and Bigorre black pig.
Gers native Michel Sarran is another of the region's supremos. His eponymous restaurant in Toulouse has been sweeping foodies off their feet since 1995. The two-starred chef and self-proclaimed "seller of pleasure" only opens on weekdays so booking is essential.
His light fare is inspired by his home turf in the south-west as well as his travels in Europe, Asia and South America. Sarran does have a hand in a few more restaurants – one in Barcelona and another in Paris – but nothing quite beats the sheer pleasure (there's that word again) of a scoffing spree at his flagship eatery in Toulouse…
---
THE BEST OF THE FESTS
What will it be: a waistline-busting cassoulet fair or apple bonanza?
Where normal festival-goers might grab a jaunty fedora and a handful of biodegradable glitter before heading off, we foodies would be well advised to travel light with just a knife and fork stuffed in a back pocket. Because the French really know how to do food festivals and celebrate their glorious terroir.
Just shut your eyes (well, after reading this!) and imagine the sight of butted-up trestle tables in the dappled shade of plane trees, the feel of dry, sandy earth between your toes and perhaps the odd oompah band ringing in your ears. And that's not even mentioning the constant clatter of hundreds of high-quality three-course meals that are seemingly conjured from the back of a refrigerated Transit.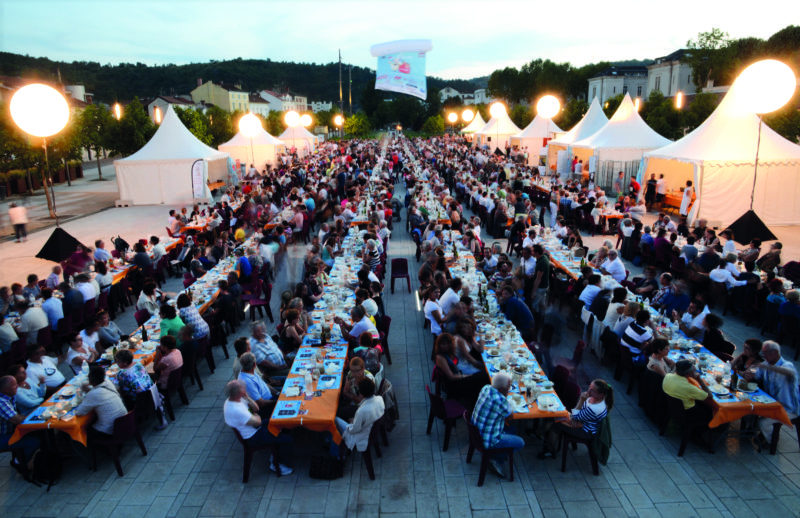 Occitanie has a festival paying homage to almost every ingredient in your food cupboard. But let's start with that culinary icon, cassoulet. The Fête du Cassoulet de Castelnaudary takes place at the end of August, laying on music and meals and packed with French eccentricities like the walking race, the UFO race (!) and the flower parade.
At the end of October, Le Vigan celebrates local produce at the very niche Foire de la Pomme et de l'Oignon with Reinette apples and the sweet onion from Cévennes taking centre stage. It's a one-day affair that includes a local food market, meal and a giant onion soup.
The Lot of Saveurs festival is another big one. Held in Cahors at the beginning of July, it's been going for nearly 20 years and is a gastronomic celebration of the area. Local producers, chefs and galloping gourmets come together to celebrate the well-known foie gras, confit of duck and goose, and black truffles, but also the lesser-known stars of the region like the Périgord walnut. Its delicate oil has been produced in the region since the 11th century. Going back to the food cupboard you really can make a hero of most ingredients in Occitanie.
Doff your bérets to cherries at the Fête de la Cerise in Céret at the end of May, melons in Montady (and Lectoure and Pezens – all around the end of July, beginning of August), say 'olé' to olives in Bize-Minervois (mid-July), and give grapes a cheer in Moissac at the Chasselas Festival (third weekend in September). You can also celebrate nuts in Thégra (October), figs in Mas-d'Azil (early October), artichokes in Sainte-Marie-la-Mer in May, saffron in Cajarc (October), not to forget garlic in Beaumont-de-Lomagne (July) and in Lautrec (August). Phew!
---
WHERE TO STAY AND EAT: The best restaurants in the region, from Michelin-starred eateries to bistros
LE CHALET DE BEAUREGARD
Make a beeline for this auberge in Guzet where local chef Paul Fontvieille feeds peckish travellers. In winter, visit on skis or by chairlift. Look out for themed evenings, night skiing or a ride home on a snowmobile. www.chaletdebeauregard.com
LE SUQUET
Taste the food of Sébastien Bras, son of famous French chef Michel, here. Dishes and setting in Laguiole are both to die for. www.bras.fr/en
LE JARDIN EN VILLE
Both a store and restaurant, this Carcassonne institution boasts quality cuisine and local produce. www.lejardinenville.fr
LE PAPARAZZO
In Gruissan, this beach bar – or guinguette – with a splendid setting, overlooks the sea. Expect tapas and classic menus, and seafood as a speciality. www.lepaparazzo.fr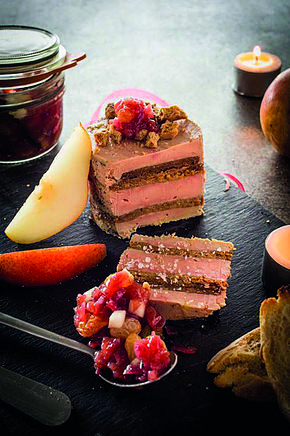 MIDI À L'OMBRE
Dine on regional specialities at this restaurant in wonderful Uzès that uses local produce. In summer, eat outside in the lovely garden and terrace. www.midialombre.com
ENTRE VIGNE ET GARRIGUE
Try this one-Michelin-starred eatery in Pujaut. An old Provençale house sits in vineyards, offering high-quality service and elaborate market cuisine. www.vigne-et-garrigue.com
MONSIEUR GEORGES
Monsieur Georges in Toulouse serves traditional cuisine in one of the most beautiful squares in the city: Place Saint-Georges. An excellent place to try cassoulet. www.monsieurgeorges.fr
N°5 WINE BAR
N°5 Wine Bar in Toulouse was voted best wine bar in the world in 2017. It does a great job of highlighting the harmony between wine and food. www.n5winebar.com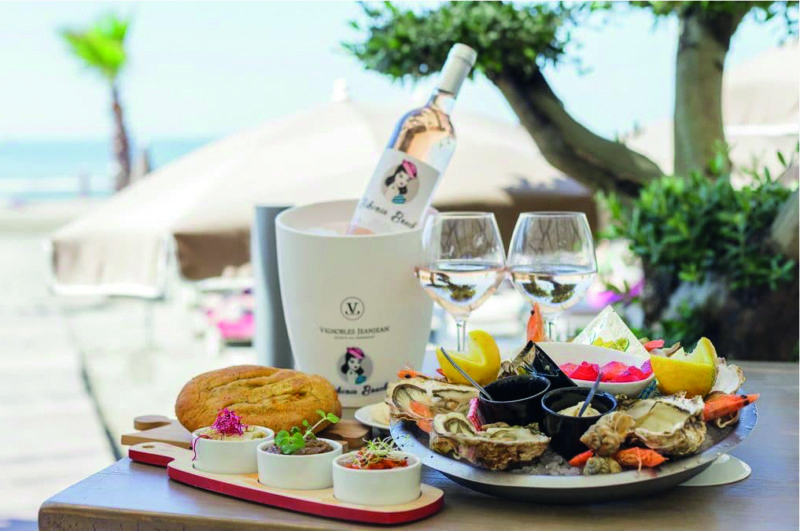 BIKINIS BEACH
Bikinis Beach in La Grande Motte is a paillote, or pop-up, summer-only beach bar, offering home-cooked food. Eat with your toes in the sand. plage-des-bikinis.fr
LE CAFÉ DE LA PANACÉE
Head to Montpellier for this café in a contemporary art gallery. The menu changes each week and features only local produce. www.lecafedelapanacee.com
LE DOMAINE TARBOURIECH
Come to this great spot in Marseillan and enjoy the famous Tarbouriech oyster, known for its pink shell. www.domaine-tarbouriech.fr
LE CHÂTEAU DE LA TREYNE
This restaurant in Lacave is where Stéphane Andrieux creates modern classics using traditions from Périgord and Quercy, but with a twist of invention. www.chateaudelatreyne.com
LE BURON DU CHÉ
Located in Nasbinals, this is the place to go for aligot! There are two restaurants: Le Grand Buron, with a panoramic view over the Aubrac and its little sibling, Le Petit Buron. www.buronduche.com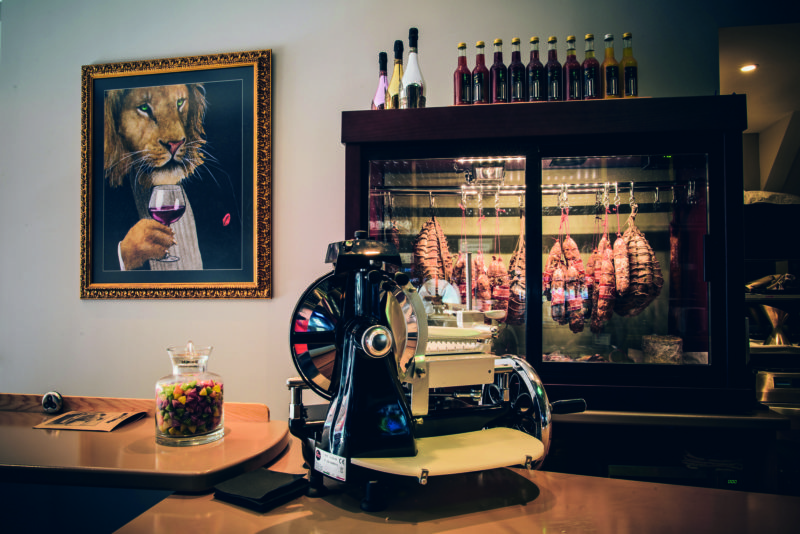 RESTAURANT L'ALCHIMY
If you like a bit of Art Deco style with your food, come to the Restaurant l'Alchimy in Albi located in a lovely old building. alchimyalbi.fr
BISTROT CONSTANT
Originally a lock-keeper's house, this bistro lies in the port of Montech, and is now a bright and contemporary space. www.maisonconstant.com/bistrot-constant
RESTAURANT LE VISCOS
Located in Saint-Savin, this family restaurant's doll's-house appearance belies its gastronomic clout. www.hotel-leviscos.com
DOMAINE RIBERACH
Don't miss this Michelin-starred restaurant set in Mediterranean gardens in Bélesta. www.riberach.com
LA CASA PARDAL
Enjoy tapas, fish and Catalan dishes on a beachside terrace at La Casa Pardal in Torreilles. restaurant-lacasapardal.com
---
WINE AND LIQUEURS: Zhuzh up your apéro game with Occitanie's famous tipples
LANGUEDOC-ROUSSILLON WINES
These have long shrugged off the five-franc reputation they had a few decades ago, and now count some highly respected names among them – the aged, full-bodied and fine reds of Corbières rub shoulders with the more youthful, scented, beach-hugging bouquets of the Minervois in this area. Not far from Narbonne, just a few miles inland, lies La Clape, which produces good eating wines like Saint-Chinian and Faugères.
WINES OF THE MIDI-PYRÉNÉES
In terms of the Midi-Pyrénées there are some well-established stars: the ever-improving Gaillac and Cahors, for example. But there are some really lovely lesser-knowns too. Côtes de Millau, Marcillac, Madiran and Pacherenc show off the diversity of the land in this area, and Côtes du Frontonnais wines, grown in the hot, dry soil near Toulouse (sometimes nicknamed 'Toulouse wines' along with Saint- Sardos and Lavilledieu) are soft and subtle, and often fruity and consequently best drunk young.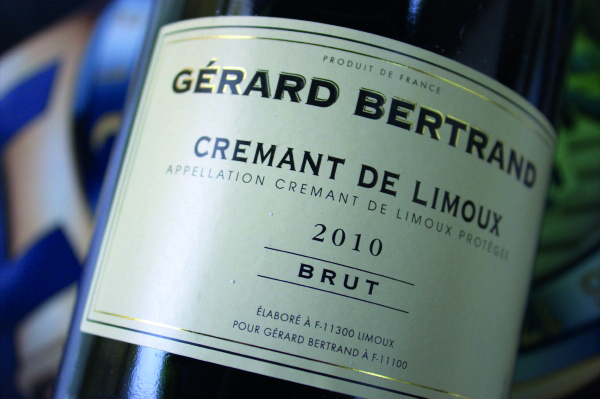 ARMAGNAC
Armagnac is another local speciality – a brandy which is made from distilling white wines and then aged in oak barrels. It's handmade in small quantities and often drunk as a digestif (although it also does the trick as an apéritif or pick-me up) and is one of the ingredients in the fruity fortified wine Floc de Gascogne. The Midi-Pyrénées is also a great place to discover little-known liqueurs made with chestnuts, violets and berries.
CRÉMANT DE LIMOUX
Crémant de Limoux is another must-try. It's a really good sparkling wine that, for my money (a tenner usually), beats Prosecco and many Champagnes hands down. Limoux has had AOC status since 1990 but hasn't seeped into the British Isles' aisles yet… More's the pity. Buy a case or two next time you're in town and marvel at the interesting, slightly appley taste.
---
MARKETS AND FOOD HALLS: The freshest produce – and treats – are only a stall away
AUCH MARKET
Enjoy a taste of the Gers countryside at Auch market. Highlights include its poultry, preserved duck, garlic, melon and Gascony pastis. Open Thursdays and Saturdays.
SOMMIÈRES MARKET
Here you'll find local products like Pélardon goat's cheese, peaches and melons, but it is also a good spot for trying Etang de Thau oysters with a glass of rosé. Head here on Saturdays, and there's also a farmers' market on Wednesday evenings in summer.
SAINT-GIRONS
A much-celebrated market, it comes complete with a Marché de France stamp. Open Saturday mornings throughout the year.
PORT-LA-NOUVELLE
For traditional Mediterranean foods, come to this market held on Wednesdays and Saturdays.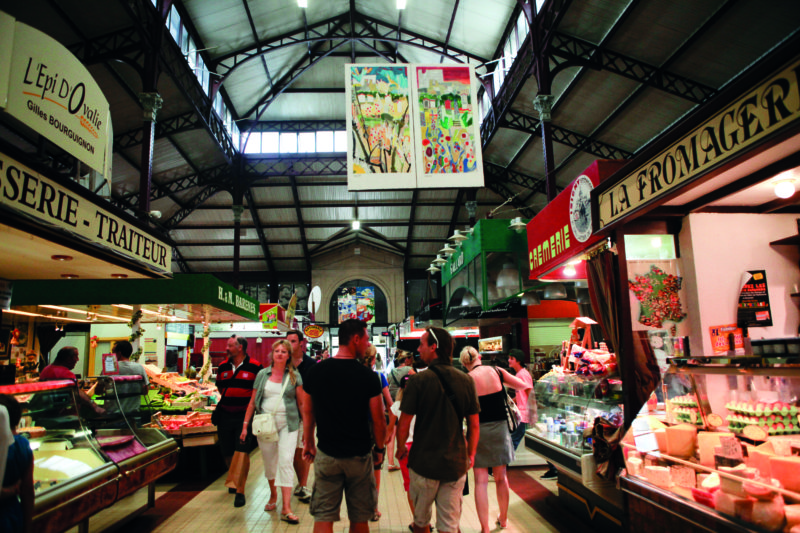 SAINT-ANTONIN-NOBLE-VAL
Watch the sleepy little lanes come alive every Sunday.
REVEL
This takes place in a beautiful covered market in the town square. It's highly recommended for the marché and also for its duck and goose fairs which are big attractions in winter.
TRUFFLE MARKETS
If you're on the lookout for specific regional foods, you'll need a seasonal market. For truffles, try Uzès in the wonderful tree-lined square during the third week of January, Lalbenque on Tuesdays from December to mid March, and Roullens and Trausse both in June.
FOIE GRAS MARKETS
These are usually an autumn affair, generally taking place from October to December. Most noteworthy are the markets in Caussade and Montauban (Tarn-et-Garonne), and those in Gimont and Samatan (Gers).
THE BEST OF THE REST
Fancy leaving the big towns and going more rural? Try the markets in Uzès, Cahors, Carcassonne, Villefranche-de-Rouergue and Montauban. If you're after a traditional covered market (halles) I recommend Narbonne, Sète, Lourdes, Albi and Langogne.
---
TOURS AND TASTINGS: The best caves with a side of jazz – your quaffing spree starts here
WINE TASTING
Given its wonderful climate and expanse of land, Occitanie has a long history in winemaking; but the region has always been better known for quantity rather than quality, servicing bog-standard restaurants far and wide, and even supplying the plonk for the troops during wartime.
Although a third of all French wine is made here, the new focus on quality means that much of its output is of world-class standard – wines from the region doubled in export to the US recently. The laid-back Mediterranean feel of the area gives its wines a fresh new taste, in contrast to its heritage-laden Bordeaux or star-studded Provençal rivals. Here are three places that should be high on your list for tours and tastings.
CHÂTEAU L'HOSPITALET
This is one of the 14 wine estates run by the flamboyantly nicknamed 'Prince of Languedoc' and ex-rugby player Gérard Bertrand. Château L'Hospitalet, in Narbonne, is the only one open to the public and is considered to be the heart of Bertrand's wine world.
It's a great place to visit: 2,400 acres of vineyards, tours, tastings, masterclasses, the wonderful L'Art de Vivre restaurant (its young chef Laurent Chabert is tipped for Michelin fame in the near future) and even the odd jazz festival. Bertrand is committed to growing biodynamically and is in the process of moving all estates to chemical-free production. www.chateau-hospitalet.com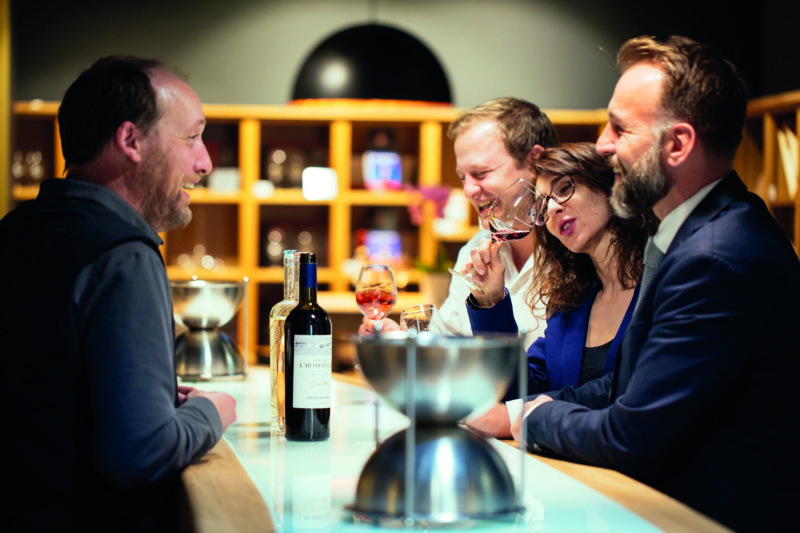 MAS AMIEL
Steeped in 200 years of history, and covering 170 hectares at the foot of the Pyrénées in Maury, Mas Amiel's grape varieties include Grenache, Grenache Passerillé, Macabeu, Carignan, Syrah, Muscat and Grenache Gris.
Having long been esteemed for its good sweet wines, owner and winegrower Olivier Decelle has recently launched a new selection of dry Maury wines, to great applause. While away the hours with tours and tastings, learn about the mas's history, and take a look at horse-drawn farming, a historical cellar dating from 1880, and the innumerable glass demijohns, into which the wine is poured and left for a year in hot sunshine. www.masamiel.fr
CHÂTEAU DE MERCUÈS
Georges Vigouroux bought this medieval marvel in Mercuès, overlooking the Lot valley and Cahors, in the 1980s with the aim of restructuring its vineyards and building a chai (wine cellar) under the castle gardens. After its first harvest in 1987, the château became one of the few cru hôtels where guests can take part fully in the harvest and vinification process. The viticultural method used here reduces yield per stock and increases the quality of the wine, giving it a very high concentration and ageing potential. www.chateaudemercues.com