Blessed with a long Atlantic coastline, magnificent rivers, lush grazing farmland, world-famous vineyards and abundant orchards, the super-region of Nouvelle-Aquitaine is the ultimate foodie paradise, writes Guy Hibbert
Eleanor of Aquitaine was the most sought-after bride of her time, having inherited a colossal acreage of land in southwest France from her father. At the tender age of 15 she was snapped up by young Prince Louis and, shortly thereafter, as he succeeded to the throne as Louis VII in 1137, she found herself queen of France. Even then, 900 years ago, the richness and abundance of the lands under her control were the envy of Europe.
You might like to keep this snippet of history in mind as we meander on our gastronomic tour of Nouvelle-Aquitaine. Why? Because, extraordinarily, all the marvellous food and drink specialities of the region that we enjoy today date back to at least Renaissance or Medieval times, and many back to Roman times. Plus ça change, plus c'est la même chose!
Indeed, a banquet held for a noble visitor 500 years ago would easily be recognised by a restaurateur from the present day. The only difference is that we content ourselves with a modest three or four courses, whereas a feast in those days would have run to a dozen or more.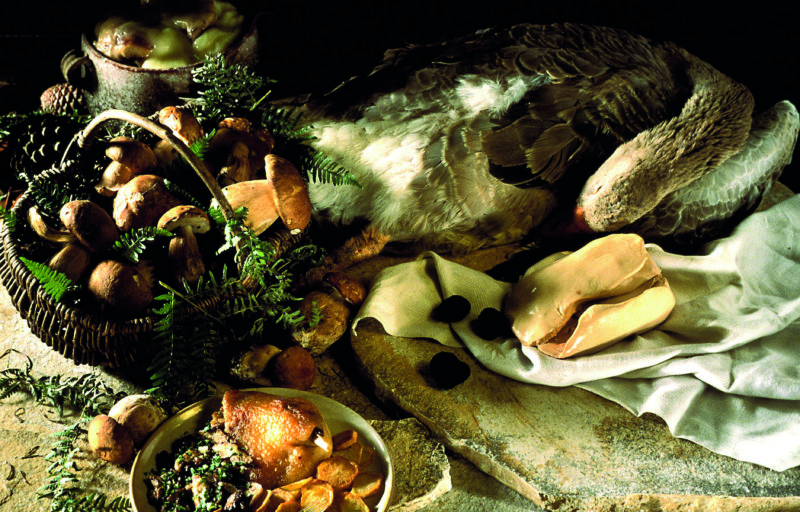 OCEAN HARVESTS AND FOIE GRAS
Let us imagine ourselves back in time, wearing our brightly-coloured tunics, our velvet hats, sitting at the long table of the seigneur du manoir as he tries to impress a royal visitor.
By the vast open fireplace at the end of the hall, with its enormous logs crackling, lie six or seven hunting hounds. Our Lord and Lady are seated at the high table nearest the fire, next to the guest of honour; a bevy of servants are filling glasses with wines and ales. But to surprise them we are going to serve the most famous modern-day equivalents of their favourite foods.
Our banquet begins with plump Marenne-Oléron oysters, refined in the famous claires, the former salt-marsh ponds of the Charente-Maritime coastline.
(Keep this in mind the next time you see fines de claire oysters on the menu; it means they have been through this special finishing process.) Oysters have been a delicacy since Roman times and, like the original Aquitaine oysters, would have been harvested straight from the salt water.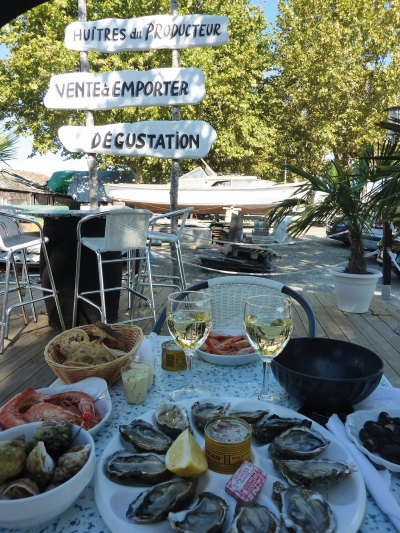 One of my favourite spots on this coast is Saint-Martin-de-Ré. Book a table at the unpretentious oyster bar Le Tout du Cru just off the harbourside for super-fresh seafood and a variety of oysters. Or, further south at the chic holiday resort of Cap-Ferret, try La Cabane du Mimbeau, where the farmer serves up his own oyster harvest right on the waterside overlooking the Bay of Arcachon. A glass of dry regional white is the perfect accompaniment, perhaps a Duras, Bergerac or Entre-Deux-Mers.
Next on the banquet menu is foie gras, probably the most famous (some might say infamous) speciality of the Périgord, served in restaurants all over the region. With the contemporary focus on the controversial aspects of foie gras production, it surprises people to learn that the goose and duck liver delicacy can be traced back to Egyptian times, when canny gourmets noticed that liver from birds preparing to migrate (over-eating to store fat for the long journey) was especially tasty. If you're a foie gras fan then the annual Fest'Oie in Sarlat is the Mecca for you.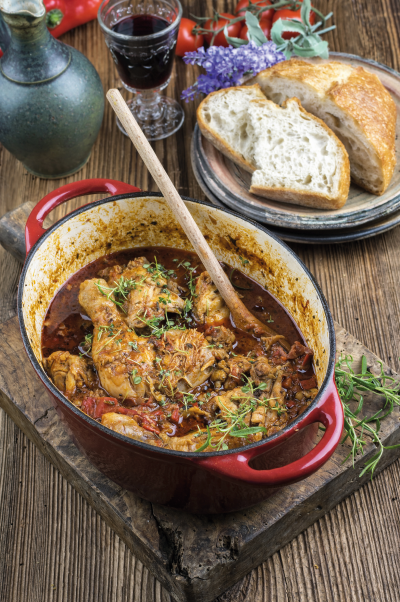 As gaggles of noisy geese honk their way through the medieval streets you can chat to the farmers about ethical production methods and taste an almost infinite variety of hot and cold foie gras creations from top chefs. With your foie gras appetiser try a glass of Monbazillac, the golden-hued sweet wine from nearby Bergerac. In the summer months the Périgourdin restaurants will serve a salad of foie gras and smoked duck, always dressed with that other local speciality walnuts.
Nouvelle-Aquitaine boasts a mighty stretch of Atlantic coastline from halfway down the west coast of France to the border with Spain. Fishermen have plied their trade here for millennia; hake, sea-bream, tuna, cod and squid are just some of the regular catch in the fishing ports of La Rochelle, Mortagne, Arcachon, Biarritz and Bayonne.
Perhaps our guests would have their taste buds piqued with cod in a spicy Basque pil pil sauce, or a wild trout from the streams of the foothills of the Pyrénées.
Our hungry banquet guests from Old Aquitaine are just getting up their appetites now, so we will follow with two meatier offerings from different parts of Nouvelle-Aquitaine.
To start, we will serve a mouth-watering poulet basquaise, an emblematic dish of the Basque region in the southwest tip of Nouvelle-Aquitaine which uses piperade sauce, a deliciously warming concoction of tomatoes, leeks, peppers and, of course, the famous piment d'Espelette first imported into the Basque country in the 16th century.
FROM MEATS TO SWEETS
The crowning glory of any Renaissance banquet would have been a beef dish, and what better than a roast rib of Limousin beef? This is one of the oldest breeds of cattle and even bears a strong resemblance to those animals on the prehistoric cave paintings in Lascaux.
Favoured by French butchers and now bred all over the world, the Limousin cattle produce a lean, tender and flavoursome meat that is as good for a barbecue steak as it is for a slow-cooked daube.
To moisten your palate, how about a traditional jus made with Bordeaux red wine and a shaving of Périgord black truffle? For a traditional flame-grilled piece of Limousin beef, make your way to the 12th-century halls of La Table du Couvent in Limoges, the very heart of Limousin.
With a rich dish of beef, a glass of Pécharmant rouge would be perfect. It's a full-bodied red wine from near Bergerac that was first produced in the 11th century.
Fancy desserts are a more modern invention. Our banquet guests would have looked forward to a mini-feast of fruit, nuts and cheeses. And they would not have had to travel far: Aquitaine has always been a land of abundance.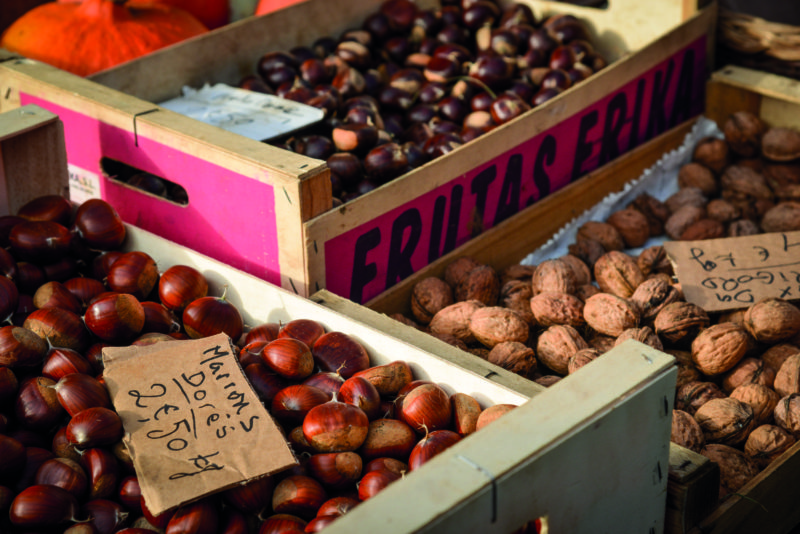 Baskets of apples, plums and prunes, and raisins from the grapevines would come from Agen; cherries and hazelnuts from Limousin; walnuts and wild strawberries from Périgord. Goat's cheese hailed from the monasteries, where it is still made today in places like Échourgnac; and the nutty Ossau-Iraty cheese has been produced in the foothills of the Pyrénées for centuries.
In fact, the monasteries were the origin of many sought-after food and drink products. In Bordeaux, the Couvent des Annonciades is considered to have been the birthplace of the rum and vanilla canelés, the famous pastries of the region.
Another sweet treat on the menu is the now almost universally loved macaron, invented in 1660 by a Monsieur Adam from Saint-Jean-de-Luz, the enchanting seaside resort in the Basque country a few kilometres from the Spanish border. The Adam pâtisserie is still going strong after four centuries.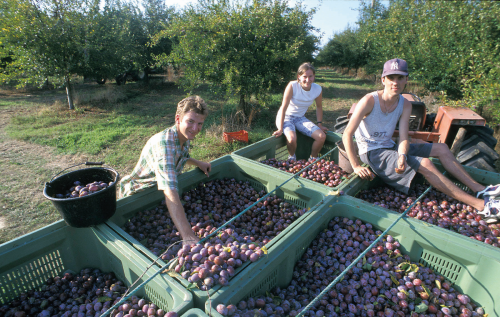 To wash down all this rich food would have required something a little stronger in the alcohol stakes. Armagnac, made in Gascony, is enjoyed all over the world as an after-dinner tipple these days, but it is also the oldest brandy made in France – it was much appreciated by the priors of Gascony in the 14th century. Its cousin from Charente and Charente-Maritime, Cognac, dates back to the 16th century.
And finally, a digestif would definitely be required at the end of such a feast – something like Liqueur de Prunelle, an eau-de-vie made from wild sloes that is still made at home by farmers and country dwellers across the region, as well as by commercial producers like Distillerie La Salamandre near Sarlat.
This great gastronomic heritage has drawn many top chefs to the region over the decades, but now – thanks to the new TGV, which can bring you to Bordeaux from Paris in two hours – the cities and surrounding regions are even more accessible for gastronomic discovery.
The food markets are legendary, so you will never be short of the freshest ingredients for your picnic or home-cooking. And for those special occasions there are plenty of fine-dining destinations.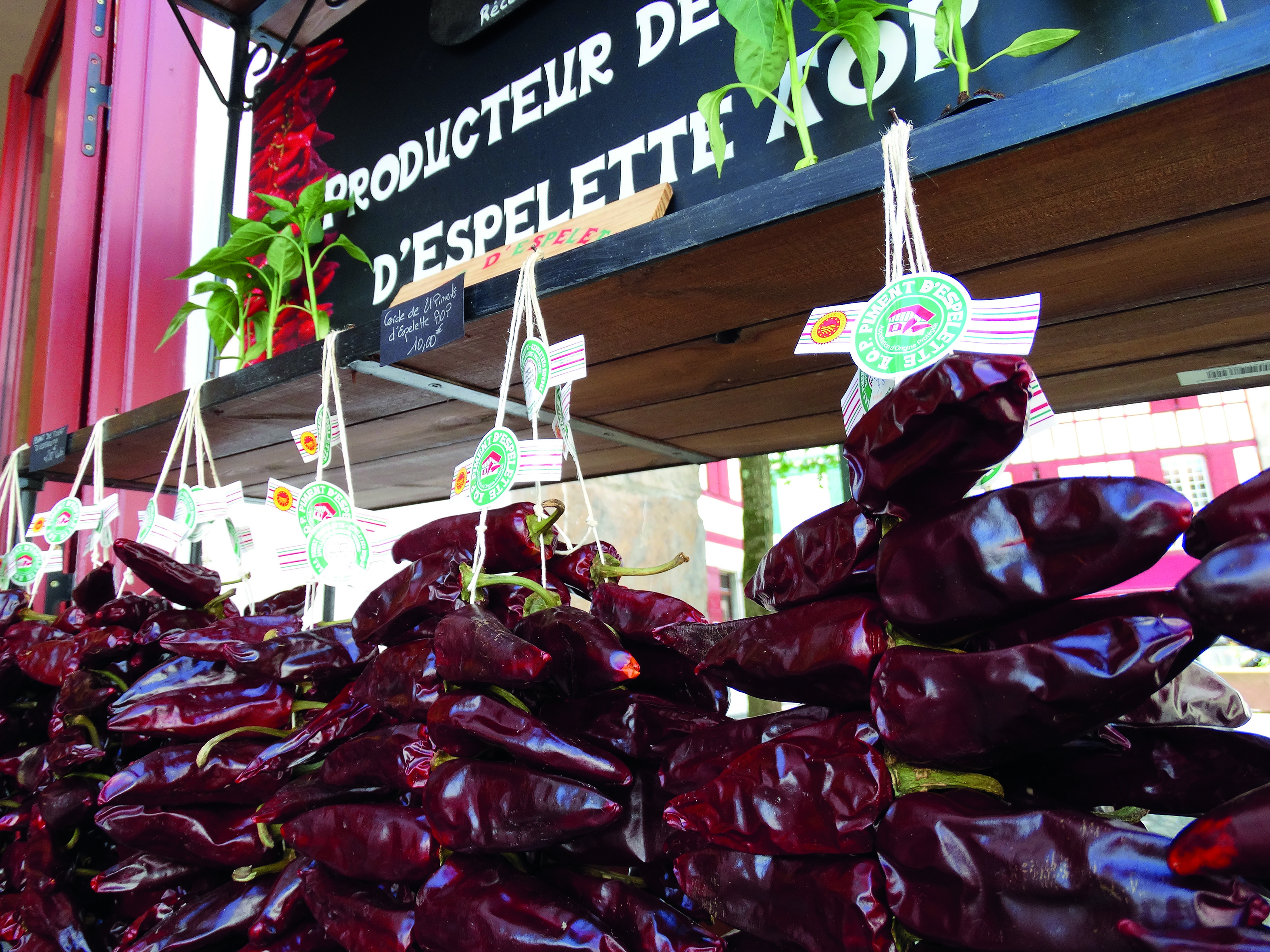 In Bordeaux you have La Grande Maison de Bernard Magrez and Gordon Ramsay's Le Pressoir d'Argent; in Saint-Émilion, L'Hostellerie de Plaisance; Michel Trama near Agen and, topping the bill, the incomparable Les Prés d'Eugénie, where Michel Guérard has held three Michelin stars for over 40 years.
But sometimes the best way to savour the gastronomy of a region is en plein air. In the northern Dordogne, on a Friday in June, visit the wonderful market in Brantôme, buy yourself some fresh bread, a saucisson of chèvre and hazelnut, a little Bayonne ham, a wedge of Tomme des Pyrénées cheese, some Périgord strawberries, plums from Agen and perhaps a bottle of golden Côtes de Gascogne wine.
On the road towards Bourdeilles are numerous picnic spots where you can spread a rug in a bucolic glade next to the rippling river Dronne and have your very own Aquitaine feast.
---
WHERE TO STAY AND EAT: The best restaurants in Nouvelle-Aquitaine, from Michelin-starred eateries to traditional Basque joints
L'AUBERGE BASQUE
Head towards the Spanish border inland from Saint-Jean-de-Luz and you will encounter Basque cooking at its finest. www.aubergebasque.com
LA BELLE ÉTOILE
Just outside Sarlat is La Roque Gageac, where La Belle Étoile is serving near-Michelin-quality food at very reasonable prices. Menus start at €29. hotel-belle-etoile-dordogne.fr
LES CLEFS D'ARGENT
At Mont-de-Marsan you can appreciate the best flavours of the region at Christophe Dupouy's Les Clefs d'Argent. www.clefs-dargent.com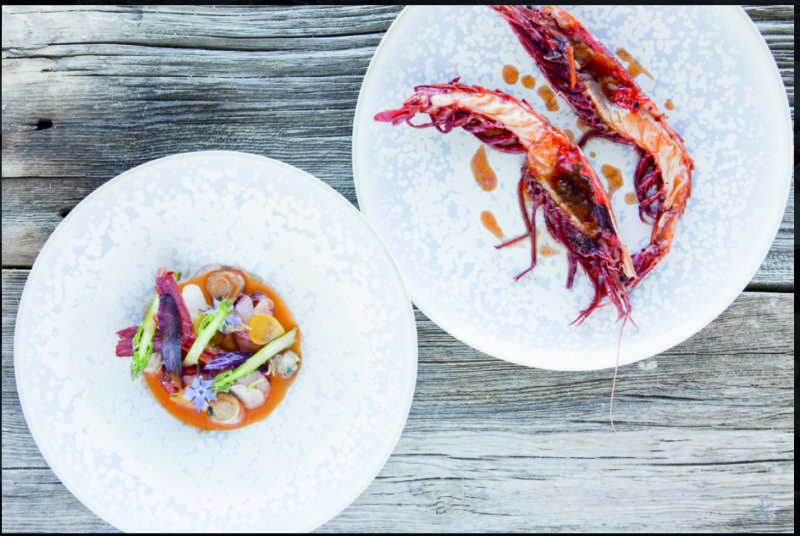 CHRISTOPHER COUTANCEAU
Christopher Coutanceau's eponymous restaurant with ocean views is a stylish Michelin two-star temple to gourmet seafood that demonstrates the ultimate respect to the marine environment of La Rochelle. www.coutanceaularochelle.com
DYADES
In the heart of Charente lies Dyades, the restaurant of the Domaine des Étangs, where chef Loïc Lecoin has immersed himself in the terroir and offers the freshest seasonal menus. www.restaurant-dyades.com
L'ENVERS DU DÉCOR
L'Envers du Décor is under the same ownership as Hostellerie de Plaisance but offers a more everyday experience with a menu du marché and a first-rate selection of wines by the glass. www.envers-dudecor.com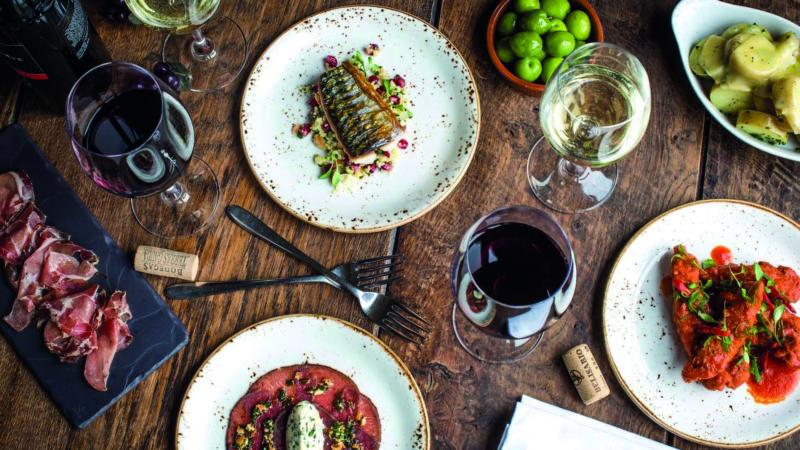 LA GRANDE MAISON
Bordeaux offers many delights, including the sumptuous Michelin two-star La Grande Maison de Bernard Magrez, which creates masterpieces using fresh, local and in-season products, many of them eco-labeled. www.lagrandemaison-bordeaux.com
HOSTELLERIE DE PLAISANCE
This is one of two Michelin-starred restaurants that complement the many charming bistros and cafés of Saint-Émilion. Two-star chef Ronan Kervarrec presides over a menu of local specialities like foie gras and Aquitaine caviar. www.hostelleriedeplaisance.com
ITHURRIA
Try some classic Landaise country cooking at Ithurria, with roast pigeon, pig's trotters and piperade sauces. www.ithurria.com
LOGIS DE LA CADÈNE
Also in Saint-Émilion is the wonderful family-run Logis de la Cadène, where chef Alexandre Baumard holds one Michelin star. www.logisdelacadene.fr
LE MOULIN DE L'ABBAYE
Head to this restaurant in Brantôme overlooking the Dronne. Lunchtime menus from €39. www.moulinabbaye.com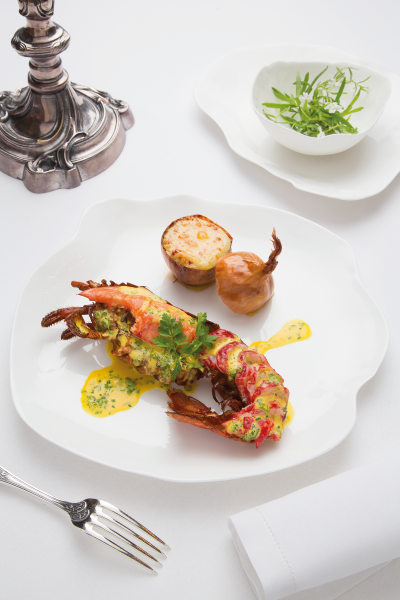 LES PRÉS D'EUGÉNIE
A true gastronomic pilgrimage destination, you will need to save up to eat here but you won't be disappointed. The creativity and flavours are sensational, the ambience incomparable. www.michelguerard.com
LE PRESSOIR D'ARGENT
Gordon Ramsay's restaurant at the Hôtel InterContinental Bordeaux is his group's second in France. gordonramseyrestaurants.com
RELAIS DE LA POSTE
The Michelin two-star kitchen of chef Jean Coussau blends the best ocean flavours with other notable local specialities like white asparagus. www.relaisposte.com
LE SAINT-JAMES
At Le Saint-James they dim the lights at dusk so you can admire the view of Bouliac. www.saintjames-bouliac.com
LA TOUR DES VENTS
For a meal with a view, head to the heights of Monbazillac, overlooking the city of Bergerac. www.tourdesvents.com
---
WINE AND LIQUEURS: Zhuzh up your apéro game with Nouvelle-Aquitaine's tipples
BORDEAUX
Bordeaux vies only with Burgundy in terms of history and iconic status among wine connoisseurs. Our top tips are to visit the Cité du Vin, the various Maisons du Vin for tasting lessons and the stylish Bar à Vin in the city centre to try great wines, before heading out on the numerous vineyard tours. The Bordeaux Wine Trip website at bordeauxwinetrip.com is a wealth of useful advice and inspiration.
BERGERAC
Considered for many years to be a pleasant and more affordable red wine alternative to Bordeaux, Bergerac is, in fact, producing some truly excellent reds, whites and rosés that deserve greater exploration. Visit the Maison des Vins de Bergerac overlooking the Dordogne river to discover the great variety on offer. Just south of the city you can visit the vineyards of Monbazillac, where the unique terroir produces delicious sweet wines.
JURANÇON
From the foothills of the Pyrénées come the much-admired sweet wines of Jurançon, a small appellation that is well worth visiting. Also in this region you can discover Madiran's red wines, produced mainly with the Tannat grape variety, and the lesser-known wines of Béarn, Tursan, Saint-Mont and Irouléguy.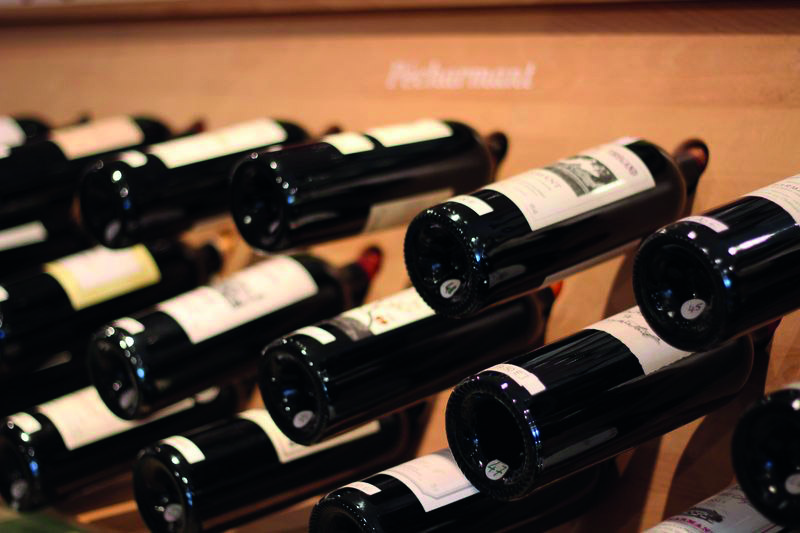 BRANDY
Armagnac has been produced in the area since at least the 15th century. Usually aged longer than its northern counterpart, Cognac, it is stored in barrels sometimes for more than ten years to create the highly desirable after-dinner drink. Cognac, however, with its double distillation method, is regarded by many as the ultimate grape brandy. Legendary producers to visit in the region include Hennessy, Rémy Martin, Courvoisier and Martell. Escapades in Armagnac (www.armagnac.fr/escapades-in-armagnac) organises tours of the top Armagnac houses.
VIN DE NOIX
Visit the distillery of the Denoix family in the historic Limousin town of Brive-la-Gaillarde and discover many delightful liqueurs and apéritifs produced in the region. The Vin de Noix is perhaps the most famous, but also popular are liqueurs made from things as varied as fennel, plums and chocolate.
---
MARKETS AND FOOD HALLS: The freshest produce – and treats – are only a stall away
BRANTÔME
Head for Brantôme (the 'Venice of Périgord') on a Friday, when the market spreads along the route of the river opposite the famous abbey. Summer is busy, so go early for the atmosphere, and to buy the freshest picnic foods you can imagine – local goat's cheeses, saucisson, foie gras, artisan breads, strawberries and melons are among the gourmet goodies on offer.
SAINTES
The city of Saintes in Charente-Maritime is a beautiful settlement of white stone buildings with a legacy of Gallo-Roman architecture. On the first Monday of every month the old city centre is closed to traffic and the place becomes one huge, thriving, bustling marketplace.
BEAULIEU-SUR-DORDOGNE
On the upper stretches of the Dordogne river lies the pretty village of Beaulieu-sur-Dordogne, where they have a charming Wednesday morning food market. If at all possible, you should try to visit Beaulieu in May in order to experience their famous strawberry festival, La Fête de la Fraise.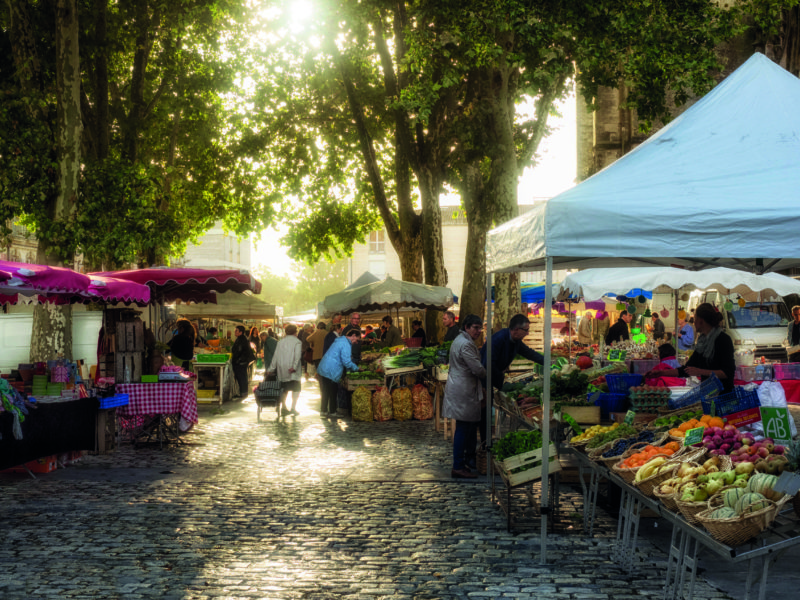 SARLAT
For the ultimate taste of French market shopping in Nouvelle-Aquitaine you need to head to the Périgord Noir, where Sarlat's Saturday market is the big favourite. With the picturesque backdrop of the town's medieval buildings, the vendors sell top-quality local produce: goose and duck rillettes and pâtés, foie gras, walnuts, cheese, saucisson, wine, oils, honeys and jams. You'll need several large shopping bags!
THE COVERED MARKETS
Don't forget to visit the delightful covered markets – Les Halles – which offer a provincial reminder of the legendary iron building that once served as the lifeblood of Paris. Biarritz and Angoulême both have covered markets, and in Bordeaux there are the stylish new Halles de Bacalan on the banks of the river near the fabulous Cité du Vin. Perhaps the finest building, however, is in Limoges, with its Eiffel-inspired traditional decorative ironwork structure, while the newly opened Halles de Pau are a futuristic vision of a covered market. You should also try some of the night markets that take place across Nouvelle-Aquitaine.
---
TOURS AND TASTINGS: Truffles, duck and oysters – your scoffing spree starts here
TRUFFLE HUNTING
Join a local expert and their friendly dog for a truffle hunting experience foraging for the famous black Périgord truffle, followed by a gourmet lunch of same combined with some tasting of local wines. www.duckandtruffle.com
COOKING DORDOGNE-STYLE
If you've savoured Périgord cuisine and want to try preparing it yourself, why not join the cookery school of Le Chèvrefeuille restaurant? You will enjoy a chef-led tour of the market, meet the local producers, and have enough time in the kitchen afterwards to prepare a multi-course menu that will include the likes of confit de canard with seasonal vegetables, pommes dauphines and Cabécou cheese tartlet. www.lechevrefeuille.com
GASCONY À LA LOCALE
Deep in peaceful Gascony, like everywhere in France, good food is at the heart of life. You can discover exactly what and where the locals eat by joining one of resident Sue Aran's tours. frenchcountryadventures.com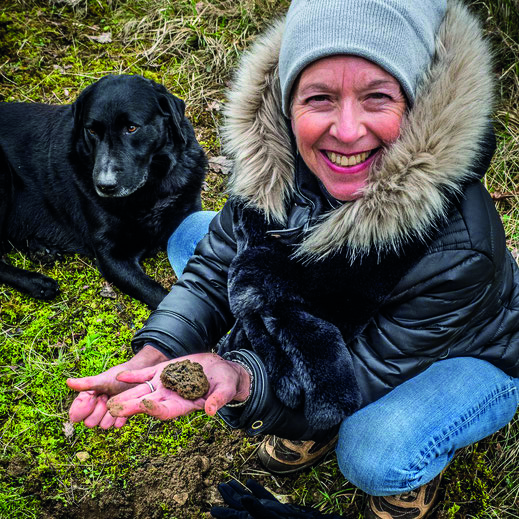 SEA AIR AND OYSTERS
Visit the seaside resort of Arcachon in Gironde and enjoy a lunch at one of the oyster cabins right on the seashore, followed by a two-hour boat ride around the bay with some more oyster and white wine tasting. www.bordeauxwithelodie.com
BEST OF BORDEAUX
For authentic Bordeaux wine tours look no further than Bordovino. Their small-group and private tours can take you walking and cycling around all the great wine tasting opportunities in Bordeaux, Médoc and Saint-Émilion. The gourmet tour will indulge your appetite at the city's best boulangeries, pâtisseries and other artisanal food producers. www.bordovino.com/gourmet-tour
COGNAC TASTING
Explore the vineyards and distilleries of the Cognac region, where a day with a guide starts with a tour of a traditional active cooperage and is followed by visits to two Cognac producers in the Grande Champagne terroir on a private tour. www.cognac-tasting-tour.com