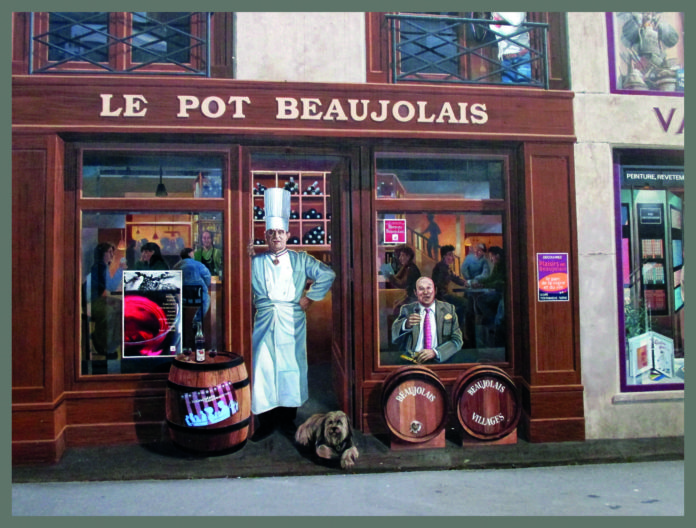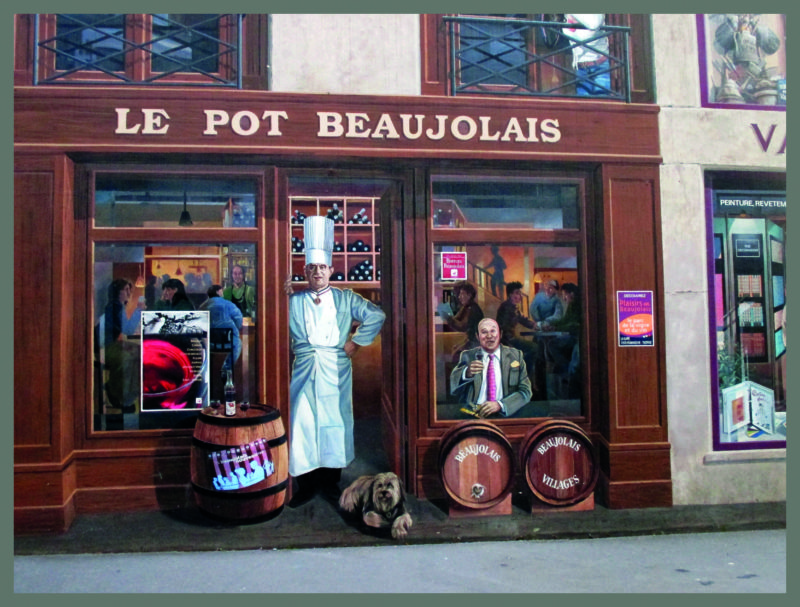 Home to Lyon, Mecca of the foodie world, Auvergne-Rhône-Alpes is a gourmand's dream come true. Claire Vaughan tucks into its natural larder and uncovers a wealth of cheese, nuts and exquisitely fruity wines…
"Without butter, without eggs, there is no reason to come to France," legendary French chef Paul Bocuse once said, deftly capturing the national passion for food and the best ingredients. This Lyon-based game-changer introduced the concept of 'nouvelle cuisine' and kept the city firmly at the world's gastronomic epicentre.
He's no longer with us, but his influence can be felt across Lyon, Auvergne-Rhône-Alpes and beyond. Bocuse, along with a long list of great chefs and wonderful produce, makes this region a truly invigorating place for a gastronomic expedition.
From hearty and filling to the height of fine dining, with an astounding 93 Michelin-starred chefs working their magic with Auvergne-Rhône-Alpes' local produce, you can expect some surprises. But what's in the region's larder?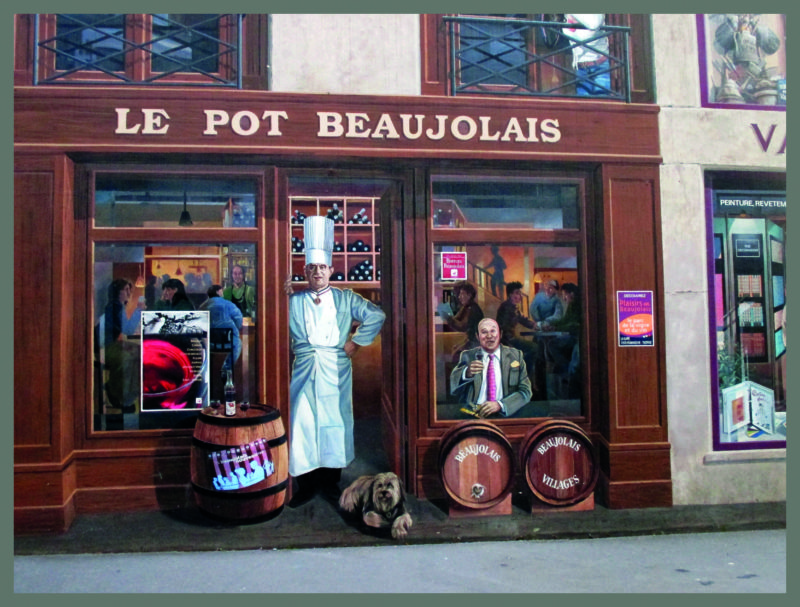 There are succulent Ardèche chestnuts (used to make marrons glacés, crème de marron and ground into chestnut flour for bread, cakes and biscuits), Grenoble walnuts (the first AOC certified nut and used in walnut wine), Nyons olives, Puy lentils and Fin Gras beef from Mézenc. Not forgetting a fine vintage from the wine cellar – an easy-drinking Beaujolais perhaps, a Côtes du Rhône or maybe a crisp white Savoie?
In 2016, the Auvergne and Rhône-Alpes were merged to create a new super region, bringing together the départements of Allier, Puy-de-Dôme, Cantal, Haute-Loire, Ardèche, Loire, Rhône, Ain, Isère, Drôme, Savoie and Haute-Savoie, covering almost 70,000km2!
It's a land of wild, rugged panoramas, mountain peaks, lush countryside, vineyards galore, ski slopes, fields of lavender – and volcanos. By anyone's standards, Auvergne-Rhône-Alpes is a varied and exciting place to be. The foodie figures are breathtaking too: 10 wine areas with 43 AOPs, 79 PDO regional products and 21 AOC cheeses (the most of any region in France).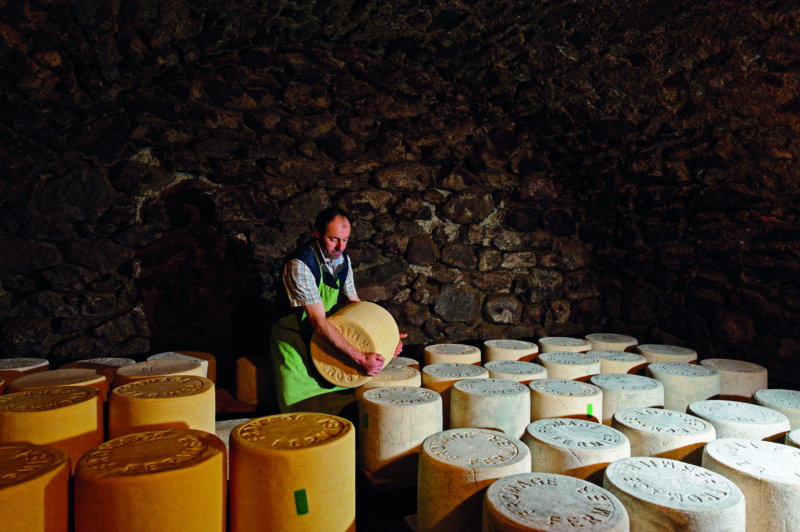 In fact, cheese is at the heart of much of the Auvergne-Rhône-Alpes' flavourful, comforting staples and its cheeseboard positively groans under the weight of what amounts to 46 per cent of the country's PDO cheeses – that's almost one in two…
Among the names you might recognise are Reblochon, a strong Alpine cheese that gives tartiflette its flavour; Beaufort, firm and not unlike Gruyère; Saint-Nectaire, creamy, nutty and semi-soft; Cantal, a firm cheese and one of the oldest in France; Bleu d'Auvergne, rich, tangy and great with Port; Tomme, which you'll come across in truffade; Abondance, Picodon, Fourme d'Ambert – the list goes on…
F IS FOR FROMAGE
A round-up like this might seem daunting. With so much of the stinky stuff to get to know, it might be time to hit the Route des Fromages d'Auvergne and test drive your favourites.
Visit www.auvergne-tourism.com to formulate your cheesy plan of action. Or make a beeline for one of the many annual cheese festivals: Saint-Nectaire in Puy-de-Dôme in May; the Fête des Fromages de Savoie in July; and the Fête du Bleu d'Auvergne in Riom-ès-Montagnes, Cantal, in August.
To go with your cheese, you'll need a glass of wine. Happily, this region has ten wine areas – the three best-known ones are Beaujolais, Rhône Valley and Savoie. With 5,200 winegrowers and 400 wine cellars open for dégustations, it is truly a wine lover's paradise.
If you're not sure where to start, book an organised wine tour, follow one of the wine routes such as the Route des Vins du Beaujolais (which straddles Rhône-Alpes and Burgundy), or visit a wine festival such as the annual Salon des Vins des Côtes du Rhône Septentrionales in Tain l'Hermitage, Drôme, in February.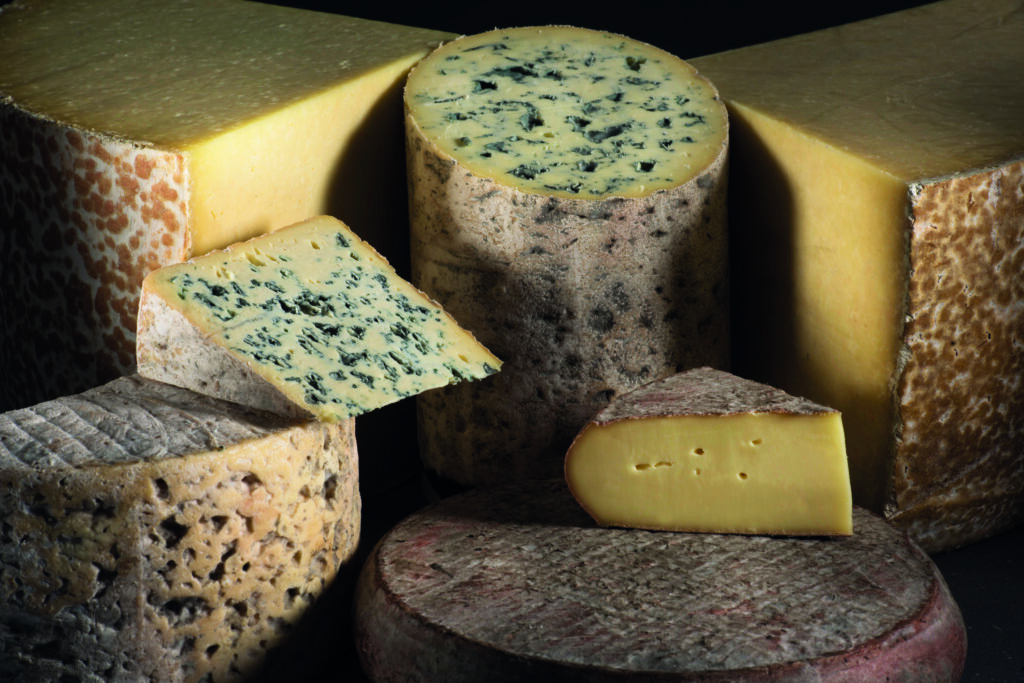 The Beaujolais vineyards can be found just north of Lyon. This light, unpretentious red made using Gamay Noir grapes is sometimes drunk very young (think Beaujolais Nouveau day). It can be quite tart, with lovely flavours of raspberry, cherry and cranberry coming through.
The biggest appellation Beaujolais AOC are easy-drinkers: fruity, light and great with lunch, while at the pricier end, the Beaujolais crus deliver more complex flavours. Try 'the King of Beaujolais', Moulin-à-Vent, with its plum and cherry aromas. Also worth seeking out is Côte de Brouilly – bright with a delicate mineral flavour. For tastings, visit Château de La Chaize in Odenas.
The famous Rhône Valley vineyards lie within the region, so make sure you include the local wines on your tasting list too. The most notable of the northern Rhône wines are Côte-Rôtie AOC – pricey, but with a wonderful raspberry flavour and hints of truffle and chocolate.
For tastings, try winemaker Stéphane Ogier's wine cellars. In the southern Rhône, the sunnier climate gives the wines a warmer character. The main grape variety here is Grenache, with Côtes du Rhône (including rich reds, gorgeous whites and rosés to enjoy in the garden on a sunny day) being the largest AOC.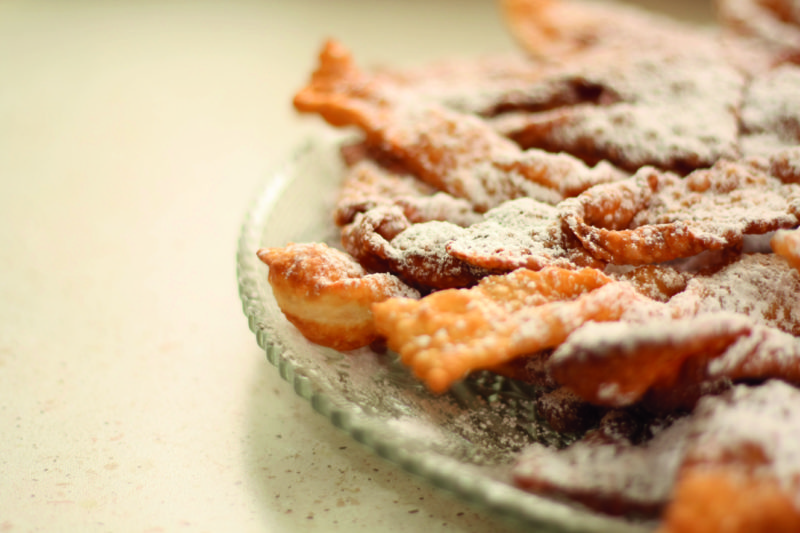 Hidden gem Vinsobres AOC is a delicious red, with complex, peppery, blackcurrant flavours. Try La Vinsobraise in the Drôme for a tasting. Savoie wines are relatively unknown and almost 70 per cent of them are white.
There are just three appellations: Vin de Savoie AOC includes 16 crus from crisp, light whites such as Apremont, Chignin and Crépy, to reds such as Jongieux. Other appellations include Rousette de Savoie and Seyssel, plus a very pleasant Crémant de Savoie. Vermouth is also made in Savoie – Dolin and Routin are well-known locally-made brands.
If you only have limited time for your gastronomic tour of the region, make straight for Lyon. France's beautiful, dynamic second city – with its UNESCO-listed architecture, and strategic location at the confluence of the rivers Rhône and Saône – was an important centre of the silk-weaving industry. It has also been the biggest gastronomic destination in France ever since food critic Curnonsky described it as the "world capital of gastronomy" in the 1930s; and it's easy to see why.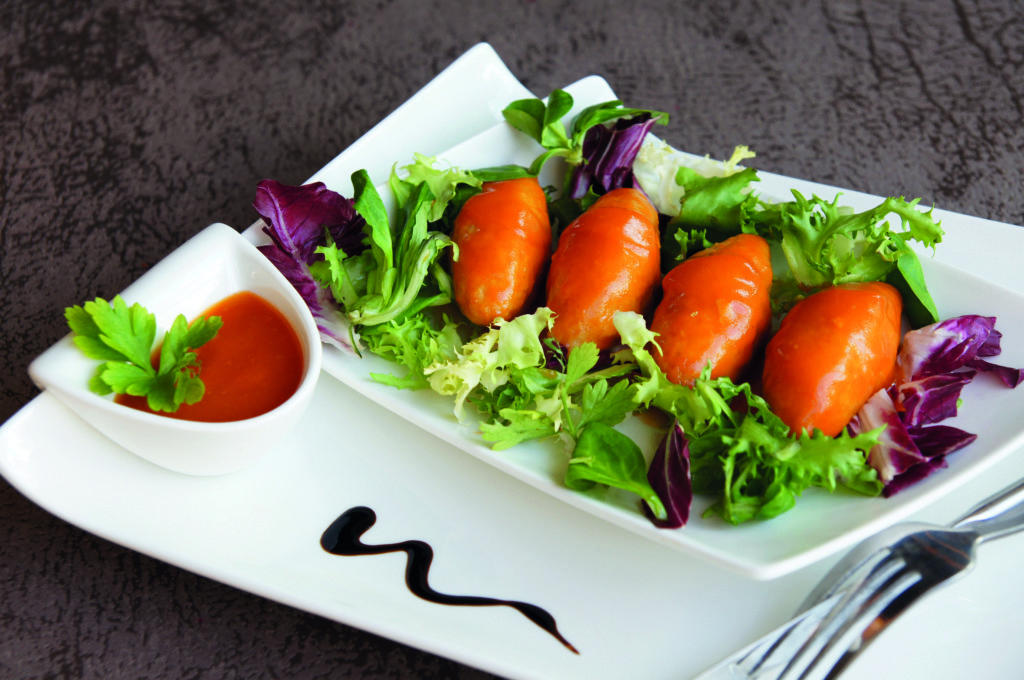 It's surrounded by a ready supply of great produce – fruit and vegetables from local farms, fresh fish from Savoie's lakes, pork from Monts du Lyonnais, beef from Cantal, and a huge array of cheeses and wines.
The produce markets in Lyon are second to none, from the famous Les Halles Paul Bocuse (renamed in the chef's honour) to great outdoor markets. There are specialist food shops galore too. For top-quality hams and sausages, try Charcuterie Sibilia; Fromagerie Galland has an extensive range of local cheeses; or pop into luxury chocolatier Bernachon for choccies to die for.
THE LYON'S SHARE
Lyon also has more than 1,500 wonderful restaurants to choose from. One of the best is three-starred L'Auberge du Pont de Collonges, formerly presided over by superstar chef Paul Bocuse.
The city is also famous for its bouchons – a unique type of bistro. The history of these small family-run businesses is entwined with the city's industrial heritage. Make sure you include at least one on your list of places to visit. You'll also find other restaurant networks in Lyon and throughout the region, including Beaujolais Bistros (which has its own app) and village-based Bistrots de Pays.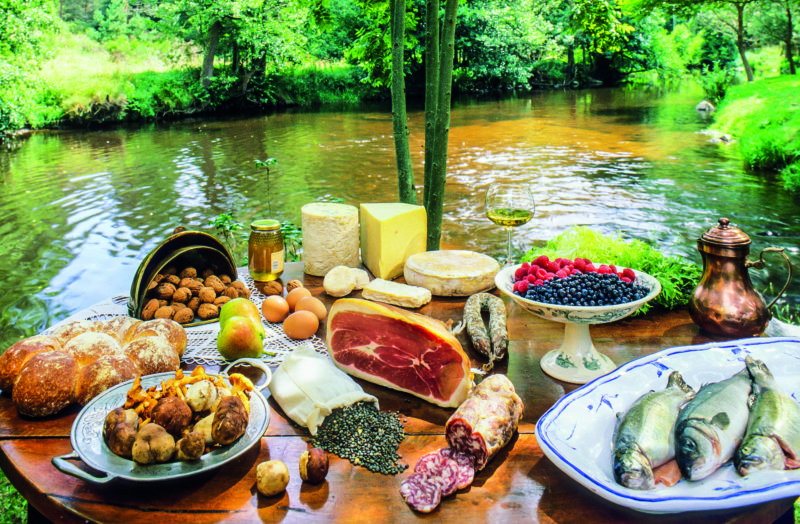 When it comes to local specialities, Lyon has a lot on its plate. Rosette de Lyon, a cured saucisson, is a firm favourite and perfect with a hunk of freshly baked bread.
Quenelles are creamed fish, shaped, poached and served with sauce – or there's gras double (tripe cooked with onions). Bugnes – little pieces of dough, twisted and fried in hot oil like doughnuts, then sprinkled with sugar – are traditionally sold in the run-up to Lent.
If you're visiting Lyon in May-June 2019, look out for the La cité Internationale de la Gastronomie exhibition at the Grand Hôtel-Dieu. It's set to be a full-on celebration of the pleasures of food and wellbeing and features educational and interactive events: food histories, regional focuses, sensory experiences and a kitchen area where cooks, pastry chefs, cheesemakers, butchers and winegrowers will demonstrate their skills.
Outside Lyon's gravitational pull, you'll find the olive groves and peaceful rolling countryside of Drôme, home to more than 500 organic farms – along with Anne-Sophie Pic's wonderful Maison Pic. Montélimar nougat is also on home turf here, while truffles, mushrooms and chestnuts all grace the local menus and farmers' markets from mid-November until the end of March.
Over in rugged Auvergne, the food is fantastic but far from refined. One dish to try while you're here is aligot, creamy comforting mashed potato and cheese, often made with Cantal cheese. Keep out the winter chills with potée auvergnate, a pork and vegetable hotpot. Petit salé is another pork dish, this time cooked with Puy lentils.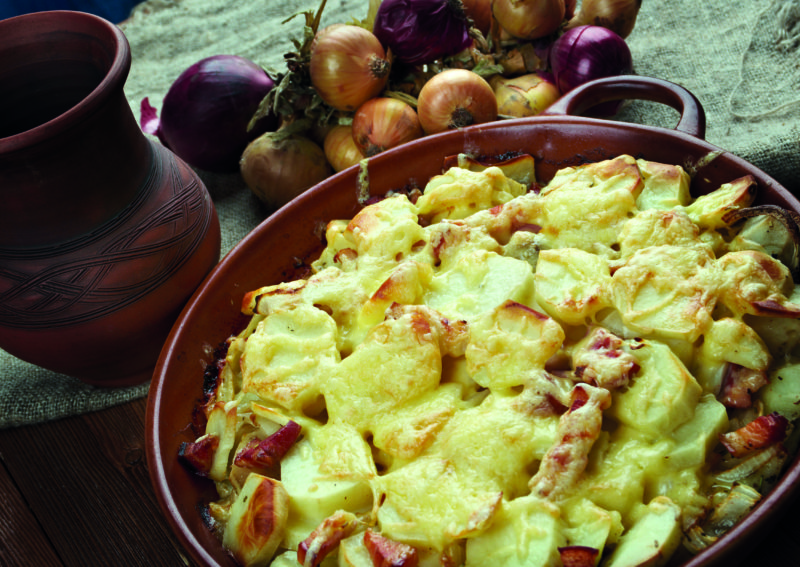 Try it slathered with the local Charroux mustard. If you prefer a good steak, you're in luck, thanks to this area's Salers cattle. Move over Brittany, Auvergne has its own crêpes. Bourriols are made with buckwheat, but can be enjoyed with all the standard Brittany-style toppings.
Rather more refined are Auvergne's world-famous pâte de fruits, fruit jellies, enjoyed by the rich and famous (among them Madame de Sévigné and Voltaire) for centuries. Made from apricot, pear and quince, they should never wobble. Created in Clermont-Ferrand they developed from the practice of candying the fruits from the area's extensive orchards.
Ski fans will be glad to hear that Auvergne-Rhône-Alpes has the world's largest ski area with 173 popular destinations such as Chamonix Mont-Blanc, Megève and Val d'Isère. So pack your gear and make for its snowy peaks for some guilt-free scoffing (all those winter sports will burn off the calories in no time).
Savoie Mont-Blanc has a total of 48 Michelin stars – so there's no shortage of opportunities for fine dining: Emmanuel Renaut presides over cosy three-starred Flocons de Sel in Megève, while Yannick Alléno at Cheval Blanc's Le 1947 in Courchevel has recently achieved his third star.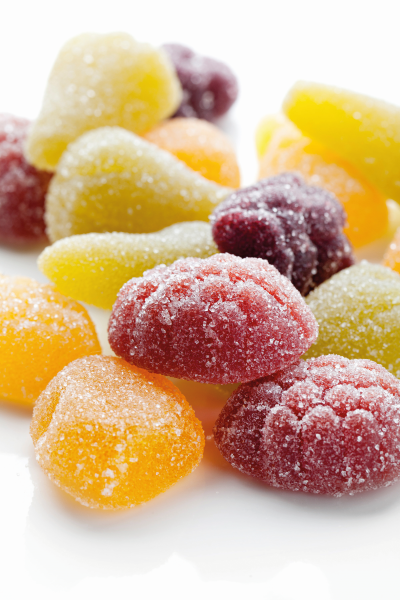 Snow business is tiring and you might just want to wrap up warm and head out to a friendly auberge to indulge in something gooey and stodgy to sustain you for the next day's skiing. Tartiflette will hit the spot: potatoes layered with Reblochon cheese, cream and bacon – pure comfort food.
Or for some audience participation, go for raclette, which involves melting cheese and pouring it over meats and potatoes; yummy truffade, sliced potatoes cooked with cheese and garlic; diots (Savoyard sausages); and matafan aux pommes (apple tart) to finish.
The people of this region are rightly proud of their produce and celebrate it with a gusto that is infectious. So if you spot the tell-tale 'fête' posters, go along and see what all the excitement is about. Whet your appetite with the annual Fête de la Transhumance in Die, Drôme, in June – an exuberant event with markets selling local produce, concerts, and a procession of sheep – or Lyon's Biennale Internationale du Goût, a huge celebration of the city's produce and gastronomic traditions with markets, demonstrations and more.
Or join the locals in honouring their chestnuts at Les Castagnades in Ardèche in October and November; their truffles in Saint-Paul-Trois-Châteaux, Drôme; and new-pressed olive oil in Nyons each February.
Celebrating its produce – whether by creating 'nouvelle cuisine' masterpieces, cooking up hearty peasant fare, or simply coming together with fellow food lovers to indulge and have fun – is what makes Auvergne-Rhône-Alpes, and France as a whole, tick. Long may it retain its butter and eggs…
---
BOUCHONS LYONNAIS: A potted history, plus our little black book of the cream of the crop
Lyon is famous for its bouchons – a unique type of bistro with a warm, friendly atmosphere and a menu of local specialities that keep alive culinary traditions handed down over the centuries. The term 'bouchon' originated from the bundle of twigs (known as 'bousche') restaurant owners hung on their doors as signs.
The history of these small family-run eateries is entwined with the city's industrial heritage, in particular silk-weaving, as it's in these bouchons that the workers returning from a night shift would eat their fill. Expect to see lots of pork dishes and offal (Lyon saveloy, marbled calf's liver, andouillette, quenelles, plus cervelle de canut (cheese dip), and praline tart. They have a very recognisable décor and atmosphere, plus their own quality label, promoted by Les Bouchons Lyonnais association – visit www.lesbouchonslyonnais.org. Two to check out include Le Bouchon des Filles, a charming female-run outfit on rue Sergent Blandan, or for a bit more of a knees-up head for Les Café des Fédérations.
---
WHERE TO EAT AND DRINK: The best restaurants in the region, from Michelin-starred eateries to bouchons
L'ATELIER YSSOIRIEN
This is a chic, modern restaurant in Issoire with one Michelin star and an exciting, creative menu. Try the foie gras, smoked herring and beetroot and raspberry brioche; or the red mullet with sweet leeks, mussels and onion broth. Lunchtime menus starts at a very reasonable €28. www.atelier-yssoirien.com
L'AUBERGE DU PONT COLLONGES
No trip to Lyon would be complete without a visit to the flagship restaurant of chefs' chef Paul Bocuse, three Michelin-starred for 50 years. Now sadly no longer with us, his legacy lives on in the amazing food still served here. It's simple and sometimes surprising but always wonderful. You may need to save up for this treat though, as the menus range from €175-€275 per person. www.bocuse.fr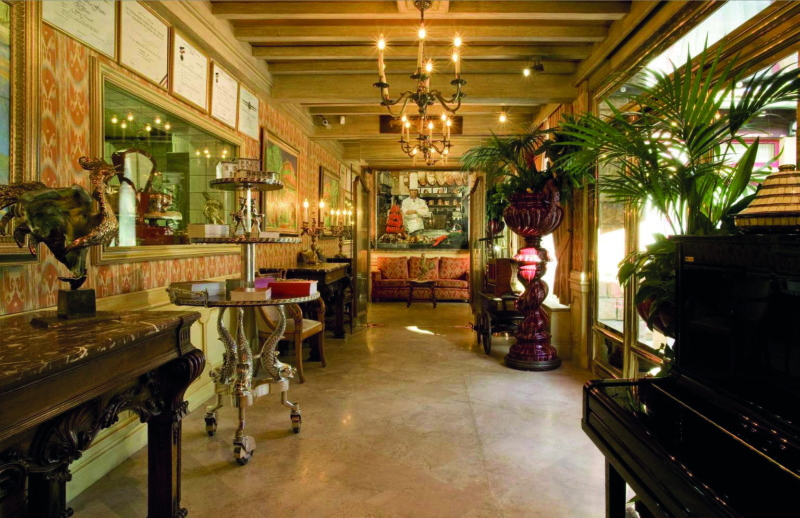 ANNE-SOPHIE PIC, LE RESTAURANT
Of the nine three-Michelin-starred chefs in the region, Anne-Sophie Pic is the only woman. Her legendary Valence eatery is unpretentious and friendly and the food sublime. She combines unusual ingredients, flavours and textures – such as beef marinated in gin, smoked with Liberica coffee – but never misses the mark. www.anne-sophie-pic.com
LE 1947
For an immersive experience while you eat, visit Yannick Alléno's three-Michelin-starred restaurant in Courchevel. The white-draped decor of the dining room is all part of the gastronomic adventure – bringing a hygge-style cosiness as you enjoy the seasonal produce and outstanding cuisine. www.yannick-alleno.com
RÉGIS & JACQUES MARCON
Set on an often cold and wet hillside in the aptly named Saint-Bonnet-le-Froid in Haute-Loire, this Michelin-starred restaurant is run by a father-and-son team. Its menu incorporates the mushrooms that grow in abundance here. Enjoy the magnificent views as you tuck into the tantalising tasting menu featuring langoustines, mussels, veal and, of course, oodles of mushrooms. www.regismarcon.fr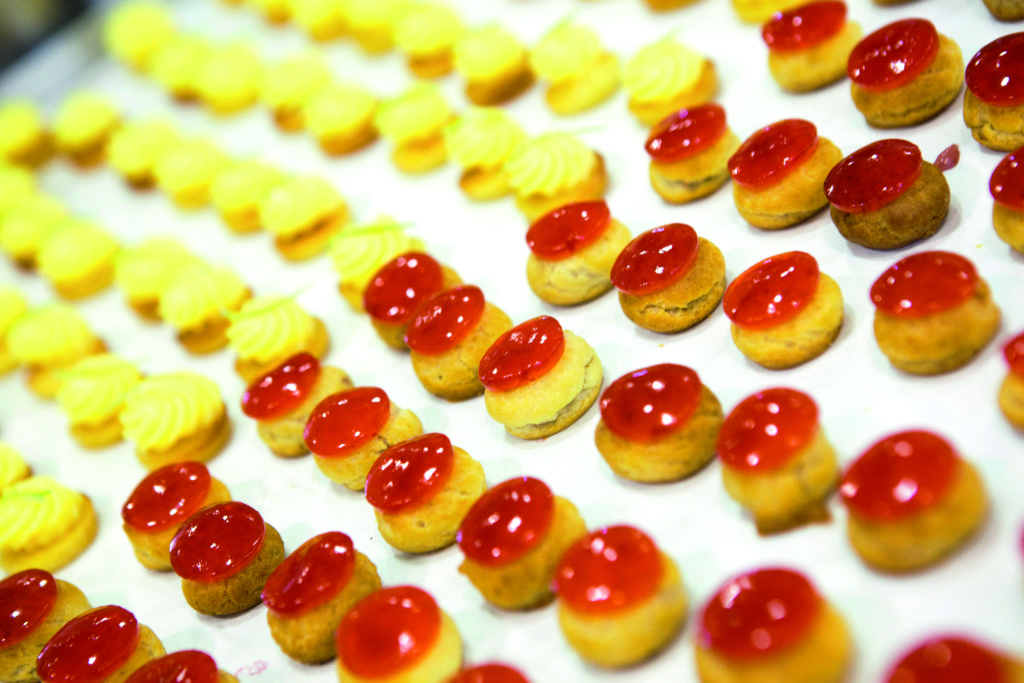 GEORGES BLANC
Combining great flavours, field-fresh seasonal local produce and a big helping of tradition, make sure a sojourn to Georges Blanc's gourmet village is on your gastronomic to-do list. This much-lauded chef produces modern, light masterpieces and there's a fantastic wine list to complement them. Unforgettable! www.georgesblanc.com
CHABERT & FILS
Chabert & Fils is one of Lyon's celebrated certified 'Bouchons Lyonnais' in the city's Presqu'île district. Its characterful decor is best described as 'quirky retro' and features a magnificent chandelier from the old Lyon opera house. You can eat your fill of hearty fare here as you soak up the wonderful atmosphere. Great value for money. chabertrestaurant.fr
---
WINE AND LIQUEURS: Zhuzh up your apéro game with Auvergne-Rhône-Alpes' tipples
BEAUJOLAIS
You may have heard of Beaujolais – the young 'nouveau' version anyway – and the mad race to get the first bottle across the Channel. Made in vineyards north of Lyon, the Beaujolais AOC is a bit more grown up. This light-bodied, usually red, wine with a relatively high acidity is a great lunchtime tipple. Its higher-priced cru cousins have more complex flavours. For a warm welcome, tours and tastings, stop off at family-owned Château de Javernand (www.javernand.com), or Château de La Chaize (www.chateaudelachaize.com).
SAVOIE WINES
Located in the foothills of the Alps, in three regions including south of Lake Geneva, the Savoie wine region produces mainly whites. There are 17 Vins de Savoie villages producing appellations. These include Chignin, which produces dry and light white wines; Mondeuse d'Arbin, a full-bodied, spicy wine with an intense red-deep colour; plus Apremont and Chautagne. For tastings of the Chautagne cru, visit the Cave de Chautagne in Ruffieux (www.cave-de-chautagne.com), or stop off at the Domaine de Méjane (www.domaine-de-mejane.com).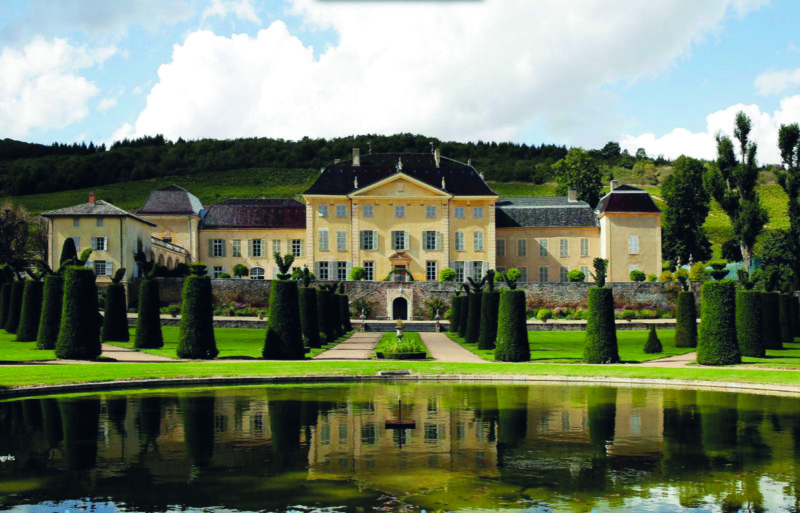 CÔTES DU RHÔNE
The Côtes du Rhône wine-producing area stretches for 200km and covers the Auvergne-Rhône-Alpes départements of Drôme, Ardèche and Rhône. The wines of this AOC are mainly reds with a rich, fruity, warm flavour that is pleasant and spicy. The whites are aromatic, light and citrusy – great for summertime drinking. For tasting sessions, head to Vidal-Fleury (www.vidal-fleury.com), or Cave Saint-Désirat (www.cave-saint-desirat.com) in the Ardèche.
LIQUEURS
If you're in the Isère département, make sure you sample the local Chartreuse herbal liqueurs, flavoured with 130 species of plant. They're named after the monastery in the mountains around Grenoble and said to have been made since 1737.
Another popular herbal drink, Génépi liqueur, is made in Alpine regions by steeping fragrant artemisia flowers in alcohol. The French drink it straight, as a Kir or in cocktails. In this region, you'll also come across walnut brandy, cherry eau-de-vie, and many other berry liqueurs.
---
MARKETS AND FOOD HALLS: The freshest produce – and treats – are only a stall away
HALLES PAUL BOCUSE
Paul Bocuse was the brilliant chef who helped to put Lyon on the foodie map. The incredible market named after him, located in La Part-Dieu near the city's main train station, is a temple to the very finest produce. Here you'll find fruits and vegetables, dried meats, poultry, truffles, spices, flowers, cheese from Fromagerie Mons, fresh fish from Maison Pupier and chocolates from Délices des Sens. Not to be missed! halles-de-lyon-paulbocuse.com
MARCHÉ DU PUY-EN-VELAY
The market in Le Puy-en-Velay in Haute-Loire has been an important part of this rural community since the 15th century, when farmers would bring their produce from the surrounding mountains and countryside. This Saturday-morning affair fills the streets around the mairie and the covered market with stalls, locals and visitors. Peruse almost 450 stalls for the best seasonal produce, cheeses (some of the local ones aren't sold anywhere else) and meats – and think about all that history….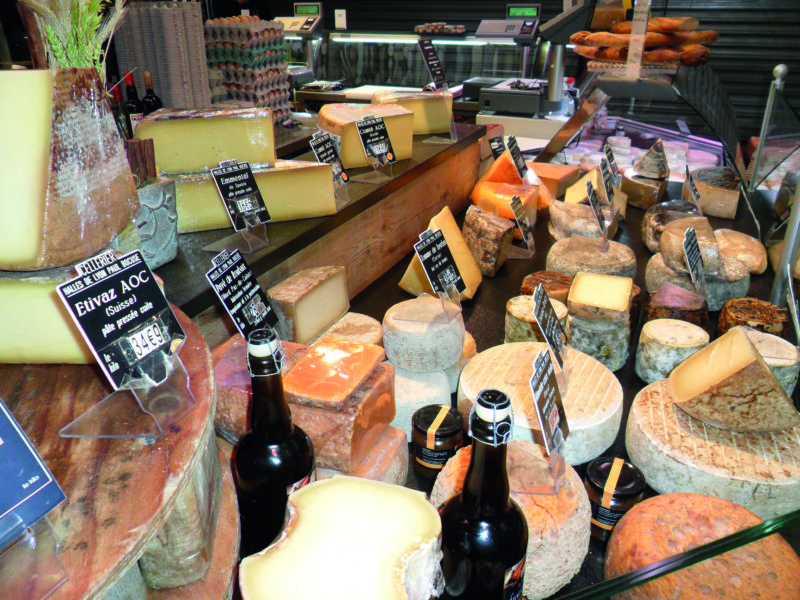 MARCHÉ DE CHÂTILLON-SUR-CHALARONNE
For seasonal vegetables, poultry, fresh-water fish, cheeses, meats and other local produce head to the weekly market in Châtillon-sur-Chalaronne, Ain. It's been a regular fixture since the 13th century, but in the 15th century this Saturday-morning market grew too big so the current halles with its wonderful wooden columns was built to house it.
LYON'S OUTDOOR MARKETS
As well as the Halles Paul Bocuse, the city has some wonderful markets that have contributed to its status as the "world capital of gastronomy". Join those in the know piling their baskets high with local produce at the Boulevard de la Croix-Rousse and the Saint-Antoine farmers' market, every day but Monday.
---
TOURS AND TASTINGS: From glorious cheese to chocolate, your scoffing spree starts here
LA ROUTE DES FROMAGES D'AUVERGNE
Crackers ready? Auvergne produces the highest number of AOP cheeses of any French region, so it's only fair it should have its own cheese trail. Follow the signs and discover its rich diversity of terroirs and cheeses – from nose-pinchingly stinky to mild and creamy. There are a whopping 40 stops across the region where you can meet producers and discover cheesy heaven. www.auvergne-tourism.com
ALPES FLAVEURS
Qualified mountain guide and viticulturist Bernard Vissoud offers a range of tours for enthusiasts keen to get to know the wines of the Savoie Mont-Blanc area. Travel using snow shoes, 2CV, Segway, mountain bike, horse, hot-air balloon – or simply on foot – from vineyard to wine cellar. Wine discovery evenings and tastings in various places can be worked into your itinerary on request. www.alpes-flaveurs.com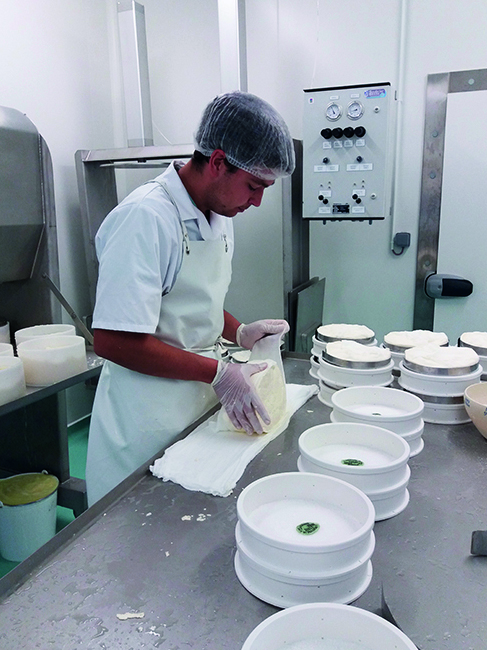 LYON FOOD TOUR
Enjoy a leisurely mooch around the 'capital of gastronomy' with a local guide who can show you the best off-the-beaten-track foodie haunts and culinary experiences. On the Lyon Food Tour, you will meet the producers, explore old Lyon and stop for tasting breaks, as well as visiting an authentic bouchon Lyonnais. www.lyonfoodtour.com
CITÉ DU CHOCOLAT
Come worship at chocolate maker Valrhona's temple to the sweet stuff in Tain l'Hermitage, Drôme. You'll discover the history of chocolate, how it's made and taste dishes made using it, created by chef Frédéric Bau of the l'École du Grand Chocolat Valrhona. You can even take a course and make gooey, yummy stuff for yourself. www.citeduchocolat.com