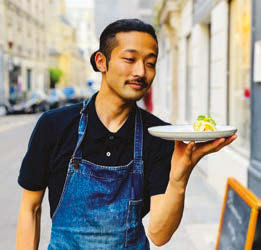 In rue Castex, a little street in the heart of the Saint-Antoine district of Paris, just a few steps from La Bastille, the small restaurant Ilô offers a world of new experiences. Enter this understated building with its stone walls and let yourself be taken on a gustatory journey between France and Japan. Talented Japanese chef Seiya Kumabe – who is just 25 years old – has designed a tasting menu of fusion cuisine, which is
both subtle and refined.
Meanwhile, pastry chef Sumire Onuma will delight your taste buds with her sublime gourmet creations. Finally, sommelier and boss Yuki Onuma imparts expert advice on the wines and sakes that make up the menu. This magical trio formed at the Michelin-starred Sola restaurant in the 5th arrondissement.
Bring together the flavours of Japan and France with this exquisite caramelised pork dish from the talented Japanese chef Seiya Kumabe, of Paris restaurant Ilô.
Ilô Restaurant chef Seiya Kumabe combines a lot of Asian elements, such as sake, mirin and rice vinegar, while keeping the classic and modern cooking techniques of French gastronomy. In making this dish, Kumabe focuses on the contrast of textures – the melting caramelised pork with the crispy lettuce.
---
Related recipes:
---
Print Recipe
Seiya Kumabe's Caramelised Pork with Braised Lettuce
This recipe combines a lot of Asian elements with classic and modern French gastronomy cooking techniques, resulting in a delicious and unique dish that is sure to impress.
Ingredients
150

g

pork

Balsamic vinegar

Anise

Cinnamon

Bay leaf

Mirin

Sake

Salt

pepper, sugar

Rice vinegar

Ginger

Garlic

Onion

Soy sauce

Lettuce

Olive oil
Instructions
Making the caramelised pork
Season the pork (150 g) with the salt and pepper and let it rest for 30 minutes, then rinse it thoroughly.

Prepare a saucepan with 500 cl of water, 50 cl of balsamic vinegar, 20 g of sugar,

20 g of salt and bay leaf/anise/ cinnamon (quantity according to preference) and place the pork in it then simmer for about 1 hour 30 minutes.

Make the sauce with balsamic vinegar (500 ml), sugar (100 g), anise, bay leaf, cinnamon and black pepper.

Prepare a frying pan and place the pork from step 2 and the balsamic sauce in it.
Making the braised lettuce
To make an original Seiya sauce mix together: 50 g ginger, 50 g garlic and 100 g onion.

Prepare a pan and add the mixture from step 1 and sweat then add 100 cl of soy sauce, 100cl of sake, 100 cl of mirin, then cook that off and let cool.

Once cooled, add rice vinegar.

To cook the lettuce, cut it into 6-8 pieces and prepare a plate then cook in the oven for 3 minutes (with olive oil), take out the plate and pour the sauce (from step 2), put it in the oven and cook again

for 2 minutes.
---
First published on Taste of France Issue Four.
Did you enjoy the recipe? Let us know in the comment section below.
Enjoy Taste of France? Well you're in luck as Taste of France Issue Five is out of the oven!
---
Latest posts