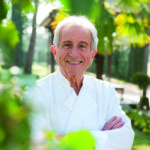 Makes: 4
Difficulty: Medium
Cooking and preparation time: 45 minutes
Calories: 220 per person

Three-Michelin star chef Michel Guérard, who owns the luxury gourmet retreat and spa Les Prés d'Eugénie in Eugénie-les-Bains, made his name as the founder of lean cuisine. So his recipe for apple and lime soufflé is not only delicious but at just 220 calories per serving, it's good for you too… well, almost!







---
Ingredients
3 apples
2 limes
4 egg yolks
8 egg whites
20g butter
2 tbsp sugar
2 tsp fructose sugar (or xylitol made with birch extract)
4 tbsp water
Equipment
4 individual porcelain soufflé moulds (8cm)
Preparation of the moulds
To start, the butter has to be very soft. With a brush, put some butter all over the inside of the moulds, and sugar afterwards.
Preparation of the soufflés
1Peel the apples, slice them and cook in a pan with the water for about 20 minutes on a small flame. Mix well to obtain a smooth purée. Leave it to cool down in the fridge.
2Take 300g of the apple purée and remove the zest from the lime. Take the juice from it and add it all to the apple purée. Mix well and add the egg yolks.
3In a bowl, whip up the egg whites, add the fructose and the apple purée. Mix them all together very gently and pour into 4 soufflé dishes.
Baking
Bake in the oven at 200°C for 8 minutes and serve straight away.
IMAGE © CÉLINE CLANET, CORENTIN MOSSIÈRE, LES PRÉS D'EUGÉNIE/MICHEL GUÉRARD