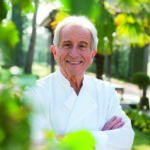 Serves: 4
Cooking and preparation time: 30 minutes
Calories: 130 per person







---

Ingredients
100g (3½ oz) puff pastry
500g (1 lb 2 oz) medium tomatoes, well matured
½ bunch fresh basil
1 tsp of concentrated tomato paste
Pinch of thyme Salt, pepper
Few fresh green and purple basil leaves
For the pesto
½ bunch fresh basil
3 tbsp of olive oil
1 tbsp of iced water
Directions
Preparation of the tarts
Divide the puff pastry into 4 quarters and roll into balls. Using a rolling pin, roll out each ball into a circle 14cm (5½-6 in) in diameter and 1mm (¹/16 in) thick. Put the circles on 4 squares of 16cm parchment paper. Put into the refrigerator.
Preparation of the tomatoes
1Peel the tomatoes, after having plunged them for a few seconds in a pan of boiling water and cooled them in cold water. Store.
2Pluck the leaves of the first ½ bunch of basil and wash it. In a saucepan of lightly salted water, blanch the sliced basil leaves for 10 seconds. Drain the leaves and refresh in cold water; drain again.
3Chop the leaves finely with a knife and mix with the tomato paste. Spread the tomato-basil mixture onto the chilled puff pastry, leaving a ½cm (¼ in) border (commonly called the "sidewalk" of the pie).
4Cut the peeled tomatoes into 3-4mm (¹/8 in) slices. Tap them lightly to get rid of the seeds. Carefully lay the tomatoes on top of the tomato-basil mixture without overlapping and respecting the ½cm (¼ in) border. If there are too many empty spaces due to the missing seeds, fill them with pulp from another tomato.
Preparation of the pesto
Mix the second ½ bunch of basil with 3 tablespoons of olive oil and a tablespoon of iced water. Store.
Cooking
1Sprinkle the fresh thyme onto the tarts and season with salt and pepper. Bake the tarts in the oven at 220°C/425°F/gas mark 7 by laying the squares of parchment paper, with pies, on a hot plate, for 10-12 minutes or until the pastry is golden and slightly puffed.
2Have ready 4 warm serving plates. Brush generously the top of the pies with pesto, and then decorate with the fresh green and purple basil leaves.
IMAGE © CÉLINE CLANET, LES PRÉS D'EUGÉNIE