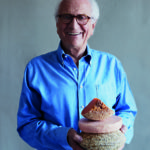 Serves: 4

This is a lovely salad to prepare when young artichokes are in season. It's particularly delicious with fresh hazelnuts – or cobnuts – but the more familiar dried hazelnuts are suitable. You can also use ricotta in place of cottage cheese.





---
Ingredients
1 tender, freshly picked corn on the cob, outer husk removed
400g lamb's lettuce (mâche)
6 small (poivrade) artichokes
Juice of 1 lemon
24 hazelnuts (ideally fresh) or cobnuts
About 160g cottage cheese
A pinch of ground Espelette pepper
A few young, tender tarragon leaves, or a few chives, snipped
For the dressing
4 tbsp light olive or hazelnut oil
4 tsp red wine vinegar
Sea salt and freshly ground pepper
Directions
1Add the corn cob to a pan of boiling salted water and cook for 5-15 minutes until tender (very fresh/early season corn takes little time). Drain and refresh in cold water, then lift onto a board.
2Using a sharp knife, slice down the cob to remove the corn kernels. Put these into a bowl, cover with cling film and set aside. Using a small knife, trim off the very end of the base of each little sprig of lamb's lettuce and place in a bowl of ice-cold water to crisp up. After 15 minutes, change the water for ice-cold again, then after 15 minutes drain the salad, dry and set aside in the fridge.
3Remove the outer, tougher, darker leaves from each artichoke by twisting and pulling them off. Using a small, sharp knife, cut the top off each artichoke, then, using a teaspoon or melon baller, scoop out the choke from the centre. Trim the bases and pare off a little of the stalk, to remove the greener and less tender areas. Cut off all but about 3cm of the stalk. Cut each artichoke into quarters, rinse in cold water and place in a bowl. Spritz with the lemon juice and turn the artichokes in the juice to prevent discolouration.
4To prepare the dressing, whisk the oil and wine vinegar together in a large bowl using a small balloon whisk and season with a little salt and pepper.
5Add the lamb's lettuce to the dressing and toss gently to coat. Divide between 4 plates and arrange the artichoke quarters on top. Scatter over the hazelnuts and corn kernels.
6Finally, using 2 dessert spoons, shape quenelles of cottage cheese. To do this, take a heaped spoonful of cottage cheese and pass it repeatedly between the spoons, turning and smoothing the sides as you do so. Place 3 quenelles on each portion of salad, dust with Espelette pepper, sprinkle with the tarragon or chives and serve.
IMAGE © LISA LINDER
---
Want more mouth-watering recipes? Order this wonderful book by clicking the link below!