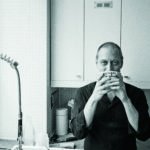 Serves: 2
Difficulty: Easy

You can't go wrong with this classic French-style steak and chips recipe. Serve it with a posh glass of red for a special occasion or enjoy it al fresco with pals in the summer. It really is a dish for all seasons and all occasions.






---
Ingredients
2 x 8 oz (225g) rib-eye steaks
½ tsp hickory-smoked salt, sea salt, or kosher salt
¼ to ½ tsp chipotle chilli powder
1 tsp finely chopped fresh cilantro (coriander) or flat-leaf parsley
Vegetable oil or clarified butter
Freshly ground black pepper
For the mustard butter
2 tbsp unsalted butter, at room temperature
2 tsp dry mustard or mustard powder
1 generous tsp Dijon mustard
For the French fries (serves 4-6)
3 lb (1.3kg) potatoes
4 tbsp olive oil
2 tsp sea salt or kosher salt
Fresh herbs, such as a big handful of sage leaves, a few sprigs of rosemary or thyme, or a mixture of them

Directions
For the steaks
1Pat the steaks dry and rub them with the salt, chipotle powder and cilantro (coriander). Refrigerate the steaks, uncovered, for at least 1 hour, or up to 8 hours.
2To make the mustard butter, in a small bowl, mash together the butter with the dry mustard and the Dijon. Form it into two mounds and chill on a plastic-wrap-lined plate.
3Heat a little oil or clarified butter in a grill pan or cast-iron skillet and cook the steaks over high heat, being sure to get a good sear on each side. For rare steaks, cook 5-7 minutes total on both sides, or aller-retour ("to go and return").
4Remove the steaks from the pan and put on plates. Top each steak with a knob of the mustard butter and some pepper and serve with a big pile of frites.
For the French fries
1Peel the potatoes, leaving on a few strips of skin as you go. Cut them into ⅓-inch-thick (1cm) slices. Lay the slices on a cutting board and slice them into ⅓-inch-wide (1cm) sticks. Put them in a large bowl with very cold, lightly salted water, and let them sit for 1 hour.
2Preheat the oven to 400ºF (200ºC).
3Drain the potatoes and lay them on a kitchen towel. Rub them with the towel to dry them very well. Spray two baking sheets with non-stick cooking spray. Place the potatoes on the baking sheets. Dribble the olive oil over the potatoes and sprinkle with 1 teaspoon of the salt. Add the fresh herbs and mix everything together with your hands. Spread the potato sticks out in a single layer on each baking sheet.
4Bake for 45-50 minutes, rotating the pans from front to back and top to bottom midway during baking. As they bake, stir the potatoes several times so they cook evenly. Once the fries are golden brown and crispy, remove the pans from the oven and serve.
IMAGE © ED ANDERSON
---
Want more mouth-watering recipes? Order this wonderful book by clicking the link below!