Mustard sommelier Harry Lalousis, from iconic French producer *Maille, tells Gill Harris why we should all be using more mustard in our cooking – from sushi to cheesecake
How did you become a mustard sommelier?
I have a very long history in foods and restaurants. My family has owned a restaurant in Greece since 1890 and it has been owned from my great great grandfather all the way to myself. Today it operates on a seasonal basis. My father was Greek and my mother Greek/Italian, so food and cooking was the centre of everything we did. In 2005 I moved to London and eventually became general manager of Divertimenti Marylebone, a cooking business that housed a café, retail, e-commerce and one of the most respected cookery schools in the UK. Here I got to meet many chefs who started small in Divertimenti and are know well known across the world. It was here that French chefs brought to my attention Maille and Dijon mustard, and I was pleasantly surprised by this humble yet royal condiment. In 2013 I was approached by Maille to open the first Maille boutique in London and the USA. It was here that I realised that Dijon mustard is so much more than just the original flavour − I was faced with 36 different flavours of mustard! I was ecstatic but at the same time I really wanted to understand why. This put me on a journey to discover mustard more deeply and start creating dishes with mustard. I then came to a conclusion – a golden moment if you like – where I discovered that by using mustard as an ingredient as opposed to a condiment you can create, flavourful, delicious dishes in no time as all the flavour you need is in the mustard. Then I set off on a journey to learn even more and before I knew it I was becoming an expert in the field. My manager at the time thought my interest and excitement on mustard was intriguing, and at the same time we received information from the national archives in Paris that our founder in our first boutique in Paris in 1747 had appointed mustard sommeliers as sales experts in the store. I was immediately chosen to revive this role and set off on my training.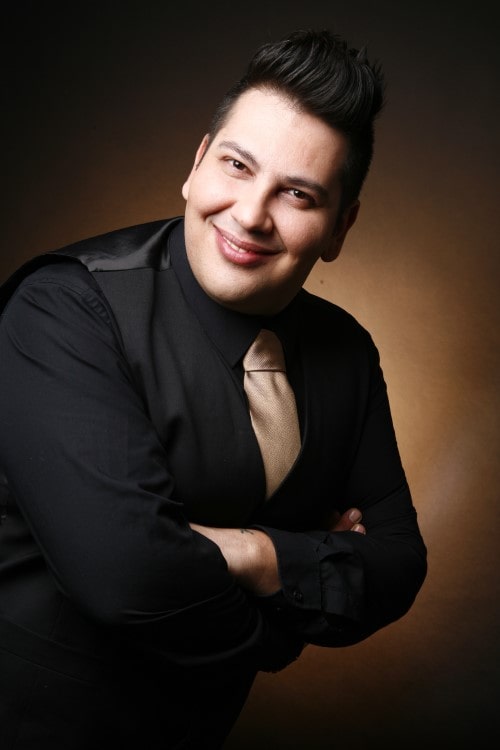 What training did you have?
As this role is unique and revived from the 18th century we knew they existed but we didn't know what made them so knowledgeable; I therefore had to set out my own training with the support of the company. This included staying in Dijon and Canada over a period of time to learn the culture, the cultivation of mustard seed, the types grown, manufacturing, food pairing, recipe creation, process and much more. In addition to my restaurateur experience this enabled me to legitimately and proudly hold the title of the only mustard sommelier in the world.
What does your job entail?
Today I lead all recipe creations in terms of dishes, I am part of an exclusive team that develops new product recipes and flavours, I lead brand activations across the world and I am the brand ambassador and spokesperson for Maille globally. We have just appointed Brandon Collins as our mustard sommelier for the USA as it was impossible to cover properly the demand in the USA on my own. It is a revived position from the 18th century, so in today's terms it sounds new and gets frowned upon by people with lack of knowledge that the word 'sommelier' has been used for millennia on occasion for butler, cargo protector and much more. It was then adopted by the wine industry to describe levels of wine experts, hence people think you can only be a wine sommelier.
Can you remember your first ever taste of mustard?
Oh I can indeed. I grew up in Australia and my dad loved mustard, but he would always say "grab me the French mustard" and that is what we knew it as. I remember loving the pungency and the feeling that my head was the cap of a steam machine – it was intriguing as a child. Years later when I told my mum of my new job she said that brand was my dad's favourite and suddenly I was flooded with memories of it which is why I am extra emotional when it comes to Maille.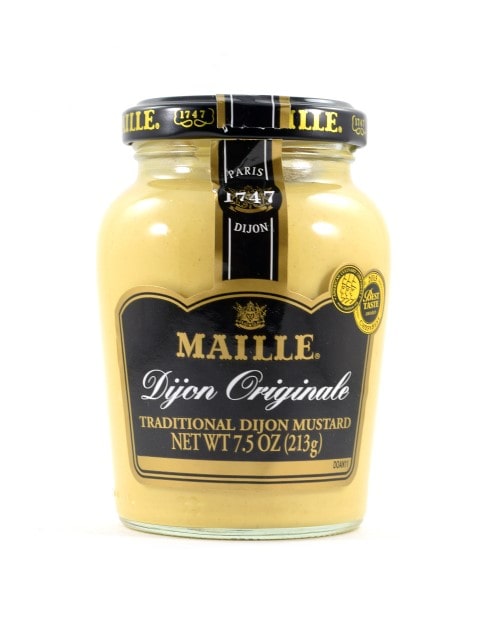 Which is your favourite mustard?
Aha, I always answer this question with a comparison to a mother who loves all her children, but I must say the Dijon original fresh poured from the tap version you can find in our boutiques is my favourite. The dish I enjoy most with it is sushi – I love mixing the Dijon mustard with wasabi and soy sauce to make an extra hot sauce for dipping my sushi! I call it Frenjap sauce!
What do you look for when judging an individual mustard?
First you should look at the freshness of it – the younger the mustard the better, as when mustard ages it oxidises, loses pungency and flavour. It is antibacterial so it won't go off but it would taste more like old vinegar, so look at the colour, which should be vibrant, and then the taste should be pungent but without over-lingering in your palate. This is a good mustard. Then I look depending on the type, for example a Dijon mustard is smooth a wholegrain grainy, so I choose depending on what I want to use it for.
We're used to the language surrounding wine-tasting – what language is used to describe mustard?
In terms of fruitiness and aftertaste it is the same. Mustard intensifies flavours so for example in our rosé wine and grapefruit mustard you will get the floral notes of the rosé wine from Provence, you will then be hit with the pungency and finally as it recedes you will be left with a fresh spring aftertaste from the grapefruit. It isn't a coincidence that Dijon mustard was created by the same monks that separated the vineyards of Burgundy into premier and Grand Cru: vines needed mustard to help with nutrient absorption from the soil and mustard needed verjuice from the wine production; these two have co-existed hand in hand for centuries.
When was mustard invented?
We have evidence of mustard seeds being used in the Hindu-European tribes, the ancient Egyptian used it, Cleopatra for example used it in her milk baths as she believed that the pungency would help her skin absorb the milk. Hippocrates in ancient Greece believed in it as a natural remedy in both eating mustard seeds and as an external application. However it was the Romans who first used it as a condiment mixing it with the must from the wine which is where it gets its name from.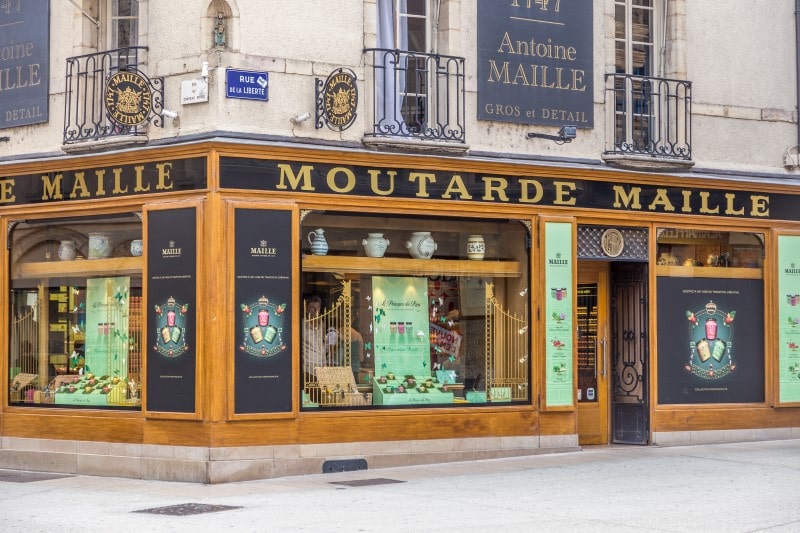 How many different mustards does Maille produce?
This is a difficult question as we have many different flavours and recipes for different markets – in our boutiques alone we have more than 30 flavours and globally there would be more than 20. We also have various types. For example, we have our open-market varieties mainly using Dijon original as a base and having other ingredients added to it; these are made with vinegar to keep the mustards at their freshest as they travel. Then we have our boutique fresh-served mustard from the pump, which are made with rosé or white wine as their base for more floral notes.
Is there anything that you would like to see people doing differently when it comes to using mustard?
Yes I would like them to not be afraid of using mustard in their cooking – mustard intensifies flavours and balances complexity in taste. This, of course, applies to Dijon-style mustard as it is the only mustard that as an ingredient uplifts dishes without leaving a residue of mustard flavour.
Are there any unusual ways to enjoy mustard that readers might like to try?
Oh, I love mustard in desserts! I have a Dijon mustard vanilla ice cream and an amazing honey mustard no-bake cheese cake to name just two.
What is Maille's mission?
It is to keep the passion for food alive: our Frenchness is determining a genuine respect and love for food (one of the first pleasures in life), a passion for ingredients and flavours. Our centuries-long dedication to craft and invention in cuisine continue to drive us. Flavour is made to be explored and we are passionate about creating more foodies around the world in our celebration for good, quality food that nurtures the body and the soul.