Gill Harris meets food writer and stylist Louise Pickford, who runs Come Cook in France from her picturesque countryside home in the Charente
"Every class takes place with such a great sense of camaraderie and passion for the love of food. I try to make the classes feel more like a group of friends getting together to cook lunch than a teacher and pupils − we cook, we taste, we eat and we laugh."
Sounds like a recipe for success to us! Having travelled the world as a food writer and stylist, Louise Pickford now shares her love of French food in her country kitchen in the southwest of France. Her laidback approach and idyllic rural surroundings make Come Cook in France the perfect place to get to know your oignons and more besides. There are a variety of courses to choose from and the hands-on lessons are aimed at all skill levels, so all you need to take part is a love of food and a sense of fun.
But how does a woman who grew up on a farm between Bath and Salisbury in the southwest of England end up teaching cookery in France? Louise's career saw her working as a food writer and stylist in London for 15 years before relocating to Sydney, where she spent the next 13 years. It was 2013 when she decided to make southwest France her home.
"This was partly due to a wish to be back in Europe as well as family commitments," she says. "I have close family in France and the thought of better weather after years in Sydney was very appealing."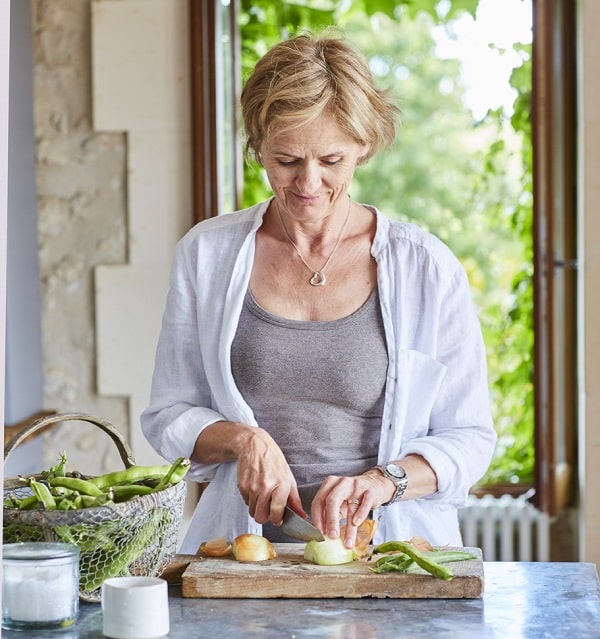 Louise now lives in the small rural town of Montmoreau in Sud Charente with her husband, Ian Wallace, a food and lifestyle photographer. "We also have the adorable Enzo, a rescued terrier-cross, and three cats, called Buddy, Louis and Martha!" she laughs.
Perhaps surprisingly, considering France's reputation as the gourmet capital of the world, Louise says it was the lack of good restaurants locally which inspired her to set up Come Cook in France in 2016.
"After a couple of years of living here, I realised, despite truly wonderful local produce, good restaurants are hard to find. This got me thinking that I should start offering cooking classes to locals (and then to holiday makers) where together we could utilise the great ingredients and cook together, learning as we went.
"Due to having worked in food publishing I have been lucky enough to cook recipes from around the world, so I offer classes on all types of cooking from Asian to Italian, bread making to mastering pastry."
Asked what she loves about food, Louise quips, "what don't I love?", but, she admits, it is the quality of the produce in her corner of France which she finds truly inspiring.
"I am passionate about locally sourced ingredients, particularly farm fresh. I like to support smaller producers, who are equally passionate about providing high-quality food. I love that eating brings us together and few countries do this better than France − cooking and eating in France is at the very heart of everything that they do."
As well as the cookery school, Louise is a successful cookery book author.
"I have been incredibly fortunate to have worked with some great photographers and editors over the years and have been able to forge really good relationships. I have written more than 25 cook books covering a vast range of subjects. Last year I was commissioned to write a book on ice pops! It was great fun and my freezer was full of crazy colourful ice lollies. I am rewriting and expanding a paella book at present for my UK publishing Ryland, Peters & Small. It's great fun, especially the part where I just had to go to Spain to research the dishes! And later this year I am planning a personal cookery book about my life as a cook in France."
Aside from her cookery books, 2020 holds other new and exciting projects for Louise, including launching online cookery courses "so I can reach people who love France and French food, but aren't able to make it over". So basically 'come cook in France from anywhere in the world'."
To find out more about the courses offered by Louise, visit www.comecookinfrance.com.
Fancy having a go yourself? Try Louise's recipe for pear and hazelnut tart.