Have you ever wondered what it is like to be an executive pastry chef in one of the most elegant hotels in Paris? Chef Angelo Musa, Meilleur Ouvrier de France, World Pastry Champion and Executive Pastry Chef of Plaza Athénée Paris, allows Renata Haidle a glimpse into his world
How do you start your mornings?
Italian through my father, I do have a special fondness for strong black coffee in the morning. Its aromas are pure bliss. Then, the French side of me takes over with traditional tartines and homemade jams. I have been deepening my knowledge of the art of confitures for over a year now, and I believe we can say it has almost turned into an obsession! Although, I do try to keep this option for weekends, and instead would consider detox juices during the week.
What's a typical day like in the pastry lab at Hotel Plaza Athénée?
I don't have a written-out plan. Routine is definitely not part of my vocabulary and neither is it part of my life. Every day is an adventure! My workday at Hotel Plaza Athénée starts by greeting and chatting with the team, checking on them, getting informed about the activity in the pastry lab, and feedback with the restaurant director. Then, I meet with pastry chef Alexandre Dufeu, who is my right hand. We work very closely. 
Working in such an establishment is pure joy, but also quite demanding. We all strive together to bring out the best for our guests. And I firmly believe that such a task can only be achieved in a good work environment, where discipline can be met with laughter – as the saying goes, "being serious without taking yourself too seriously". I am fortunate enough to be surrounded with a team of professionals and dedicated people.
What inspires you when it comes to creating recipes?
There is nothing new in what I'm about to say, but respecting nature and the ingredients' rhythm is essential. We try through our work to be more respectful of seasonality. It might be common sense but this basic principle leads to using premium ingredients, highlighting their freshness and fragrances – for instance, exploring and revealing all the flavours of a strawberry, enhancing the original taste by playing with different textures reveals all its richness. It is far more challenging than one can think, as you need to unveil new ways of expressions, dig deeper into your creative senses.
What pastry creation are you most proud of?
Each pâtisserie is conceived as a masterpiece, involving a great amount of thinking, experiments, trials, and adjustments before being displayed on the menu. I would not use the word "proud", although 100% Vanilla does embody my pastry beliefs. Built around vanilla, my favourite ingredient, my aim in this dessert is to unfold all its flavours located in four different layers. This belief has driven me to a greater ambition, allowing my imagination to roam towards exploring all the facets of the flavour profile of an ingredient, which eventually resulted in the brainchild that is the "100% Collection", setting out an extensive range of "100%" featuring fruits, citrus, nuts, spirits or chocolate. 
On a different note, showcasing tailor-made pieces crafted for special occasions such as Easter or Christmas celebrations does also reflect a strong ability for innovation, challenging new heights of creativity, requiring lavish products, techniques and designs.
How do you relax after hours?
Sport plays an important role in my daily life, bringing a crucial work-life balance. For a few years now, I have been running on a regular basis, three to four times a week. I need the body-and-soul balance, the adrenaline. It releases the tension, eases the mind, and helps me stay in shape. Running allows me to recharge my batteries.
My schedule is quite full between work and family, but I enjoy trying out new places. When in Paris, Akrame Benallal's Shirvan Café Métisse is a great option near work, offering refined fusion cuisine. For an authentic Italian restaurant, I usually head to Osteria Ferrara helmed by Fabrizio Ferrara. The ambiance, the staff, the cooking… everything takes you back to Italy.
Truth be told, I do love hosting family and friends at home during weekends – nothing beats cooking for loved ones.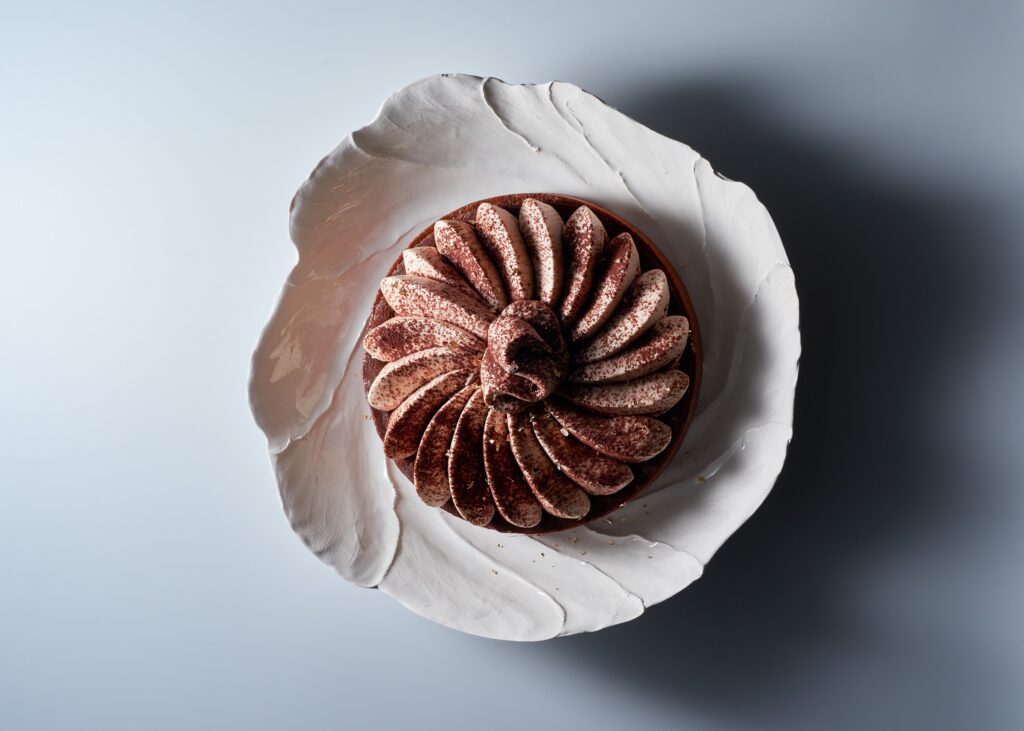 To see Chef Angelo Musa in action, head to Salon du Chocolat in Paris on November 2. You will have the chance to attend his demonstration of a scrumptious chocolate coffee tart recipe, and you can be among the first to get a copy of his book, Ma Promesse, an autobiography that also includes a collection of his most beloved recipes.